North Carolina Tar Heels:

Steve Robinson
November, 28, 2013
11/28/13
11:00
AM ET
North Carolina center
Kennedy Meeks
was scheduled to make his college announcement between Georgetown and UNC a year ago on ESPNU.
A coast away, some members of the Tar Heels' coaching staff had gathered in the sports bar at their hotel to watch. Carolina was about to face Long Beach State before heading to the Maui Invitational.
They managed to get an unsympathetic bartender to change one of the multitude of flatscreen televisions to watch Meeks, but the reception was bad and the picture grainy.
[+] Enlarge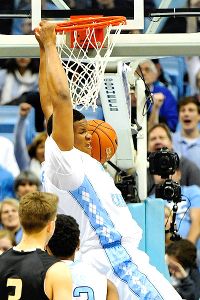 Grant Halverson/Getty ImagesKennedy Meeks is already seeing results from his offseason fitness program.
As Meeks fashioned the hat upon his head, it wasn't clear to the Carolina staff because the interlocking NC wasn't the school's trademark insignia and it was a white-gray color. UNC assistant coach Steve Robinson groaned out loud and there was a collective sigh from the Tar Heels, who all thought Meeks had chosen the Hoyas.
"It's kind of cool to think that I faked them out," Meeks said. "I'm sure they were proud about the outcome though."
They sure are now. Meeks is averaging 6.8 points and 6.4 rebounds through five games. He's performed well when challenged including what confronts him today.
Meeks admittedly would like to take part in gorging himself with turkey, stuffing and rolls during his Thanksgiving Day meal. He didn't arrive on campus weighing 317 pounds by not having big meals.
The 6-foot-9 Charlotte native said he's come too far on his diet to make an exception even on this day.
Meeks is now down to 280, which is why discipline will trump tradition at the dinner table. His decision was made a bit easier since Meeks will stay in Chapel Hill with members of the team that stuck around rather than go back home.
"Over the years, I'm so used to eating junk food and getting away with it playing games and still scoring a lot of points and stuff," Meeks said. "Now it's the total opposite, if I slip up I have to work even harder that day in the weight room or in practice."
Understand, Meeks has had to work hard to get to where he is. During summer conditioning, he realized there was no way he could play at coach Roy Williams' fast pace without shedding weight.
He was always dragging when made to run "33s," Carolina's version of "suicides." His stamina was virtually non-existent and he couldn't play in pickup games for long stretches without getting winded.
"When I first got here I thought college basketball might not be for me if I'm going to keep this weight on," Meeks said.
Initially though, Meeks thought he could somehow drop weight and still eat junk food. Strength and conditioning coach Jonas Sahratian caught wind fairly quickly that Meeks was straying from his diet.
Meeks was required to keep a log of what foods he ate. When he wasn't showing any progress early, Sahratian knew something was wrong. He got a printout of Meeks' meal card and saw an itemized list of foods and drinks he'd banned.
That was all it took for Meeks to fall in line. And once he starting visually seeing the progress, he's been a believer in the process.
"It's kind of addictive," Meeks said. "Once I see the change -- I dropped 40 pounds in three to four months -- so I think that's good enough to change the way I've been eating."
Meeks performance in the win over Louisville was the on the court equivalent to dropping 40 pounds. He had his best performance of the young season with 13 points, 12 rebounds and seven assists in 24 minutes.
It made him see himself in a new light.
"It's just like wow I'm capable of doing this on the college level," Meeks said. "And now that people can see that I do that, I'm sure that's what they expect from me. It's a challenge for me, but I'm ready to take on that challenge for my team and my coach."
January, 22, 2013
1/22/13
11:30
AM ET
North Carolina assistant coach Steve Robinson filled in for Roy Williams on the head coach's radio show Monday night, as Williams was out recruiting. A few notes:
A 'NEAT' EXPERIENCE:
After spending the past two seasons on the junior varsity team, Robinson's youngest son -- Denzel -- made the varsity team this season as a walk-on, to the delight of his dad.
"It's really pretty neat when you think about it that every day, I get to coach my own son and be around him," Robinson said. "I've spent so much of his life on the road, or coaching someone else's kids, and now I have the chance to have him involved on a day-to-day basis. He's done a nice job of coming to practice, playing hard, and understanding what needs to be done. He has an advantage in that he's seen it from afar."
Indeed, the Tar Heels' bench is a familiar pace for Denzel,
who began sitting there during games when Robinson came to Chapel Hill from Kansas
with Williams. Robinson says he often has told his son he's the luckiest kid in the world; and dad seems to feel pretty lucky, as well.
"Can you imagine what it's like as a young kid, you're sitting on the bench and you're at the Carolina-Duke basketball game, and you're in the seventh grade, and you're in the huddle [before] Marvin Williams gets the offensive rebound and basket late in that game?" Robinson said.
"… And I'm glad it's carried over that he's become a true blue Carolina Tar Heel for life. And having the opportunity to experience those moments … riding on the bus, or after a big win, when we're jumping around in the locker room, I can sneak over and see how involved he is. It's just a neat experience. I'm probably more excited about it than he is about the opportunity."
Asked if he's a little tougher on Denzel during practice or games because of the family tie, Robinson laughed.
"He would tell you I get on him a little harder; I would say I keep an extra eye out on him," he said. "But at the end of the day, it's about doing what's best and what's right for our basketball program. At the end of the day, he understands that when we're off the court, I'm dad; when we're on the court, I'm coach."
HUBERT IMPROVING:
Defensive-minded sophomore
Desmond Hubert
has now started 12 games at center, and although the minutes at that position continue to rotate among a quartet of players, Hubert has shown improvement of late, especially in his aggressiveness.
"He keeps coming," Robinson said. "He has gotten better and better throughout the season. What's he's given us is what he has. He accepts and understands who he is as a player.
"A lot of times guys, they want to average 30 points a game and they want get 15 rebounds a game. We've got an advantage if they do that. But if that's not what you do, and that's not who you are at that time, then he can be effective by rebounding the basketball, playing good defense, setting good screens, helping guys get open. And he handles that, he understands that, and I think he's gotten better."
Robinson also said that UNC's other players at that position --
Joel James
,
Brice Johnson
,
Jackson Simmons
-- have also improved. But the Tar Heels still need more.
"Again, it's by committee until one guy, hopefully at some point and time, starts to separate themselves with their play, their ability," he said. "But again, we're talking about all four of those guys are either freshmen or sophomores."
HEAD COACH AGAIN?
Along with being an assistant for Williams at Kansas and UNC, Robinson has also been a head coach at Tulsa and Florida State.
The biggest difference between being an assistant and head coach? "I get to sleep so well at night," he said, referring to all the different pressures and responsibilities that go along with having the head job.
But, he added, he would one day like to have a top job again some day.
"I love working for him," Robinson said of Williams. "Would I be interested in being a head coach again? Yes. If the right opportunity comes, it would be something I would strongly, strongly consider."
INJURY REPORT:
Robinson said reserve guard
Leslie McDonald
, who has missed three games with a sore knee, is "showing some signs of improvement, getting better." But the team did not practice Monday, and Williams said during the ACC teleconference earlier Monday that the team is hoping to know more about McDonald's status after Tuesday's practice.
QUOTE WORTHY:
Robinson said ESPN is probably his favorite channel, because if he's not watching game film, he's trying to catch a few minutes of other basketball games here and there. Asked if he can ever enjoy a game without studying it like a coach, he chuckled.
"That's like asking a person, 'Do you ever get in a car and drive like you've never driven before?'" he said. "You know? You can't help it. … You do it for a living, and 24 hours a day, seven days a week as a coach, and it's hard to get away from it. I feel like some days, when I'm at home, I want to blow my whistle, and tell the kids, 'Hey, you need to get over there and box out or wash those dishes.'
He laughed, again.
"They don't listen to you there, and sometimes they don't listen to you on the court, either."
June, 8, 2012
6/08/12
2:30
PM ET
Who will succeed Roy Williams?
Granted, it's a little early for that question, considering the two-time NCAA title-winning coach, who will begin his 10th season as North Carolina's head coach this fall, said recently he plans to remain on the sideline for another six to 10 years.
But after reading Friday's story by ESPN.com's Jason King about
how difficult it is to replace a coaching legend
, it's an interesting question to ponder.
[+] Enlarge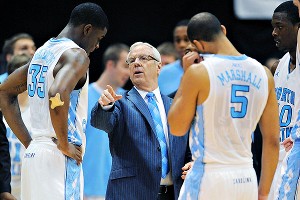 Bob Donnan/US PresswireThe Tar Heels do not have an obvious in-house candidate ready to replace Roy Williams when he decides to retire.
UNC's last three head coaches -- Bill Guthridge, Matt Doherty and Williams -- all had connections to Dean Smith, one of the winningest coaches in NCAA history. And it's likely that when Williams eventually steps down, the school will look first to Carolina's coaching tree, including those branches stemming from Williams. (Although it will no doubt go outside the "family" if it has to.)
After all, at the moment, there are no slam dunk choices with UNC and/or Williams ties (unlike Williams, the former Tar Heels assistant who had already taken Kansas to four Final Fours by the time he was lured back to Chapel Hill in 2003). So it will be interesting to watch who, if anyone, develops into a realistic candidate in the coming seasons.
In the spirit of King's story, here are some coaches with "family" ties worth watching (in no particular order) when debating who might eventually try to fill Williams' shoes:
Steve Robinson, North Carolina assistant coach:
A former head coach at Florida State, Robinson knows the rigors of the ACC. And he's been at UNC since Williams returned. But he turns 55 this year, meaning he might be in his mid-60s by the time Williams steps down. Does he want to wait that long to be a head coach again, and will he even still want to be coaching by then?
Jeff Lebo, East Carolina head coach:
Lebo played point guard under Smith in the late 1980s, and was head coach at Tennessee Tech, Chattanooga and Auburn before landing at ECU in 2010. But he's still looking for that elusive NCAA tournament berth as a coach.
Hubert Davis, North Carolina assistant coach:
When he was hired last month, the former UNC/NBA player said
he wasn't looking ahead to head-coaching possibilities
; after all, the former ESPN analyst has never coached before. But as ESPN.com's Andy Katz pointed out, with no obvious successor,
it's not unreasonable to think that Davis has a shot
if he wants to continue on the coaching career path.
Wes Miller, UNC Greensboro head coach:
Miller, a UNC guard and fan favorite from 2004-07, was named the 2012 Southern Conference Coach of the Year after being named interim head coach after the season began. He earned a five-year contract, and was the youngest coach in NCAA Division I when he was hired.
Kevin Stallings, Vanderbilt head coach:
His two closest ties to UNC are his son (Jacob, who played baseball there), and Williams (who he worked for as an assistant coach at Kansas). He's led teams to the NCAA tournament on multiple occasions, including to the Sweet 16.
Brad Frederick, Vanderbilt assistant coach:
He played for Smith and Guthridge at UNC, is the son of Williams' former athletic director at Kansas, and currently works for Stallings (a former Williams assistant). It's hard to imagine the Tar Heels hiring an assistant coach from another program, though, so he would likely need to pick up some head-coaching experience to have a shot.
Buzz Peterson, UNC Wilmington head coach:
Michael Jordan's former roommate has also been head coach at Appalachian State (where he led the team to the NCAA tournament in 1999-2000), Tulsa (where he won an NIT title), Tennessee and Coastal Carolina.
Mark Turgeon, Maryland head coach:
Another of Williams' former assistants at Kansas, Turgeon took Wichita State to the Sweet 16 and boasted four NCAA tournament berths at Texas A&M before taking over the Terps last season. Now, he gets to take on his former boss at least once a year.
Jerod Haase, UAB head coach:
A Williams assistant through the end of last season, the former player at Kansas was recently hired for his first head-coaching job, at UAB. He said it was difficult leaving Chapel Hill, so it's not a stretch to imagine he wouldn't mind coming back one day.
There are others with North Carolina connections that also come to mind, including Monmouth head coach King Rice, Milwaukee Bucks assistant coach Joe Wolf, current UNC assistant C.B. McGrath and Appalachian State head coach Jason Capel.
Who will you be keeping an eye on?
Follow Robbi Pickeral on Twitter at @bylinerp.
December, 27, 2011
12/27/11
3:00
PM ET
CHAPEL HILL, N.C. -- For seven seasons, Denzel Robinson sat near the end of North Carolina's bench, often mistaken for a player as he poked his head into team huddles and cheered every play.
Now, he's the real thing: a sophomore forward on the Tar Heels' junior varsity team.
"I am very proud of him for making that decision, for electing to want to put on the Carolina uniform," said his dad, Steve Robinson, a UNC assistant coach. "... I know it can't always have been easy, being the son of a Division I coach, but he's never complained, through the good and the bad. And I'm proud of what he's accomplished."
When Denzel – now a 6-foot-4, 20-year-old averaging 7.8 points and 4.3 rebounds in his second season playing JV – first took his place on UNC's bench as a 12-year old, he had dreams of playing for his father.
[+] Enlarge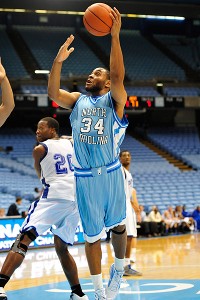 Grant Halverson/UNC Athletic CommunicationsAfter many years sitting on the end of UNC's bench, Denzel Robinson is now a sophomore on the Tar Heels' JV team.
Born the day before his dad's Kansas team beat Indiana in the NCAA regional semifinals en route to the 1991 Final Four, Steve dubbed his second son his "tournament baby." He even put a tiny pair of Converse sneakers in Denzel's crib.
All of the Robinson kids were athletically inclined. Oldest daughter Shauna played several sports; oldest son Tarron is playing baseball at Brevard College, and youngest daughter Kiaya is playing volleyball and running track at Lenoir-Rhyne.
But it was Denzel – whose earliest basketball memories are of Tulsa's Maxwell Convention Center and Florida State's Leon County Civic Center (his dad was a head coach at both schools) – who enjoyed watching basketball game film as much as cartoons.
So when his dad returned to Kansas as an assistant coach under Roy Williams in 2002, and Williams asked Robinson if his then-11-year-old son wanted to sit on the bench during games, Denzel was over the moon.
"I was like, 'Are you serious?'" he remembered, grinning.
Denzel kept his place on the bench when Williams and his staff moved to Chapel Hill in 2003. Decked out in Carolina sweats and ever-growing high-tops, he blended in, even as a pre-teen. And he matured before everyone's eyes.
"I had the braids, the afro, every year I was a different person on the bench,'' he remembered. "I heard people say I was a walk-on, or a manager, or a Make-A-Wish Foundation kid."
What he really was, Denzel said, was lucky. He got to join every huddle, where he heard strategy (and a few words he can't repeat). He got to witness, up close, great players do great things, from Marvin Williams' game-winning shot against Duke, to Tyler Hansbrough's 40-point game against Georgia Tech. He even got hit by an excited fan once when the court was rushed.
"I think the hardest thing about playing JV is having to give up that seat,'' Denzel said, laughing.
Indeed, the player said he could have played at a Division II or III university. But after he struggled on the court during his last couple of years in high school, he wondered whether basketball should be his top ambition. So he opted to enroll at UNC, where he could focus on school and try out for junior varsity team.
For the past two years, that choice has resulted in a renewed enjoyment for Denzel, while his father watches him score and rebound and defend from the stands (trying not to show too much emotion as his son battles against prep or lower-division teams). During varsity games, Denzel sits in the row behind the bench with his JV teammates. It's still a great vantage point for watching some great match-ups, as well as his dad at work.
"I do miss those moments during timeouts, when every once in a while, I would feel a hand on my shoulder – and I wouldn't have to turn around, because I knew it was Denzel, looking into the huddle, him being a part of it. That was so special,'' Steve Robinson said. "But a lot of times, before games now, he'll come sit behind the bench, and we'll talk about what happened in the JV game ... and I still know that all I have to do [during varsity games] is look over my shoulder, and he's there."
Denzel could have a chance, as early as next season, to earn back a place in that huddle – as well as his old seat on the varsity bench.
Students are only allowed to play JV for two seasons. So with three current senior walk-ons, and the possibility that multiple underclassmen could leave early for the NBA, Robinson could try out and make the team next fall.
The communications major said he hasn't decided whether he wants to do that yet, but it is tempting.
"Maybe," he said. "It's a big commitment. It's 24-7 from October to April, so if I feel like I want to make that commitment – and I know I'd have to work harder than I ever have in my life, on and off the court – then I'll try. But we see what happens."
Right now, he said, he's enjoying playing in a JV uniform, on the court where he cheered so many big games.
And in front of the bench where he grew up.
"It makes me wonder if one day, [assistant] Coach [C.B] McGrath's kids and Coach [Jerod] Haase's kids will be able to watch games from the bench just like I did, when they're old enough,'' Denzel said. "I hope so, because it's really, really special."
Robbi Pickeral can be reached at bylinerp@gmail.com. Twitter:@bylinerp.
November, 9, 2011
11/09/11
8:00
AM ET
There are a lot of neat things about Friday's North Carolina season opener against Michigan State in the Carrier Classic: playing on an aircraft carrier, competing in front of President Barack Obama (who is scheduled to attend), to name a couple.
But to Tar Heels coach Roy Williams, the importance of the Veteran's Day game comes down to one key thing: "To me, it's a way of honoring our military," Williams said during his Tuesday news conference in Chapel Hill. "That's what it boils down to. It's those people, and not just the wounded warriors -- of course, we want to give them a special place in our heart -- but just the people that serve our country and make the rest of us, everybody in here, able to do what we do. So I'm looking at it from that standpoint more than anything."
Williams has nine uncles -- five on his father's side of the family, and four on his mother's side -- who served in the military, according to
Carolina's game notes.
Two of them spent their careers serving the country.
Point guard
Kendall Marshall
's dad spent three years in the army, and his grandmother, GiGi Spearman, served 26 years in the Army and retired as a lieutenant colonel. So he has this game in perspective, as well.
"I think what they do is so much more important than what we do," Marshall said. "We're out here playing for fun, this is almost like a hobby for us. This is every day they are putting their lives of the line. I definitely have much more respect for what they go out there and do day to day as opposed to us playing basketball for fun. We're representing our university and we want to play well, but at the same time, there's a bigger thing at hand."
Included on the lengthy list of other team members with ties to the military (more specifics can be found in the link above):
Pre-season All-American Harrison Barnes has two uncles, a great uncle, and three cousins who served in various branches. Five additional cousins are currently serving.
Forward John Henson has eight cousins serving.
Reserve guard Leslie McDonald's mom, dad and uncle all served in the Army.
Freshman forward Jackson Simmons' grandfather, Butch, was a World War II Army paratrooper who earned the Purple Heart. Simmons currently has a cousin and uncle serving overseas in the Army.
Assistant coach Jerod Hasse has two brothers in the military: Steven is a lieutenant colonel and F16 pilot with the Arizona National Guard; David is an Air Fore colonel based in Germany. Matthew Holladay, son of director of player operations Joe Holladay, is a former Army Ranger paratrooper who served in Iraq.