North Carolina Tar Heels:

Stewart Cooper
March, 25, 2012
3/25/12
10:45
PM ET
ST. LOUIS -- It was an eerily familiar scene Sunday: a moist-eyed
Harrison Barnes
emerging from a long lament under a locker-room towel; talking about what went wrong, the sudden-ness of losing, the disappointment of falling one game short of the Final Four.
A season ago at Newark's Prudential Center, UNC's loss in the NCAA regional final felt like it could be a beginning – a learning process for a young team that wasn't supposed to make it that far.
This time, though, the
80-67 crumble
to Kansas at the Edward Jones Dome felt like the end – a goodbye from a squad that expected to go so much farther.
"This year, going into this season, we had a lot of weapons,'' Barnes said. "We just didn't have them all at the end. That was the most devastating thing. We didn't have
Kendall [Marshall]
, we didn't have
Dex [Strickland]
, we didn't have
Leslie [McDonald]
. That's no excuse. We had an opportunity to win it, we just didn't."
Even with McDonald and Strickland (shooting guards relegated to the sidelines since last summer and January, respectively, with knee injuries) sitting in the stands -- and Marshall (the starting point guard who missed his second consecutive game with a fractured wrist) on the bench in street clothes -- the Tar Heels looked as if they could do again what they've been doing so often the past two seasons: overcome.
[+] Enlarge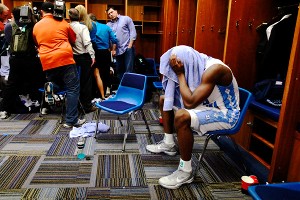 AP Photo/Jeff Roberson"We had an opportunity to win it," said sophomore Harrison Barnes, here in the locker room after Sunday's loss to Kansas, "we just didn't."
With freshman
Stilman White
playing fearlessly in his second straight start, UNC pushed back from multiple Jayhawks surges. When Kansas made a 7-0 run in the first half to take a 40-33 lead, UNC countered with an 8-0 rally.
When the Jayhawks opened the second half with another 7-0 run, the Tar Heels came back again, this time 6-0.
That's why, when Barnes went to the free throw line to try to knot the score with 3:58 left, teammate
James Michael McAdoo
(15 points) wasn't worried. "I was like, 'All right, we're good,'" the freshman forward said.
Except, they weren't.
Barnes made one of two free throws to cut the Jayhawks' lead to 68-67 lead. But then a turnover by Tar Heels sophomore
Reggie Bullock
turned into a 3-pointer by Kansas'
Elijah Johnson
. Barnes, then forward
John Henson
(who played most of the game on a twisted ankle) missed jumpers. And White – who finished with 13 assists and zero turnovers in his two starts in place of Marshall – fouled
Tyshawn Taylor
for a 3-point play to give the Jayhawks a 74-67 advantage.
That's when, as coach Roy Williams said, "we panicked a little bit out there."
Utilizing a triangle-and-two defense – something the Tar Heels hadn't faced in a game before this season – Kansas finished the game on a 12-0 run.
UNC, meanwhile, misfired on its final seven shots after the Barnes free throw and finished with its worst field goal percentage in a half in NCAA tournament history (7-31, 22.6 percent). The Tar Heels also recorded their worst 3-point percentage in an NCAA tournament game (2-17, 11.8 percent).
Yes, they missed Marshall, a Cousy Award finalist who had been key to calming, and creating for, his teammates.
But the Tar Heels also missed the rebounding advantage they had prided themselves on all season (Kansas beat them on the boards 41-35). And they missed the accuracy of Barnes, their leading scorer who finished 5-for-14 Sunday and 20-for-61 in four NCAA tournament games.
"I missed a lot of shots I usually make and big-time players come through in big-time games," the sophomore said. "And it just wasn't there tonight."
Now the question is, will it ever be again (at least in a UNC uniform)?
Barnes, Henson, Marshall and McAdoo (who are all considered first round NBA draft choices) shrugged off questions about their futures, saying they weren't thinking about their next steps during the NCAA tournament. So it's still unknown who or how many will leave along with scholarship seniors
Tyler Zeller
and
Justin Watts
; White (who is leaving for a two-year Mormon mission after this semester); and walk-ons
David Dupont
,
Patrick Crouch
and
Stewart Cooper
.
A year ago, after crying under towels in the locker room, Barnes, Henson and Zeller ultimately returned, saying the goal was to win a national title. There was a sense, even before their official decisions were announced, of what could be.
Sunday, there was more disappointment about what might have been.
"We got to this point last year, and we couldn't get over the hill,'' said Henson, who playing with a pain shot and numbing cream on his still-healing left wrist. "And this year, the same way. It hurts. But that's just how basketball is."
Follow Robbi Pickeral on Twitter at @bylinerp.
March, 1, 2012
3/01/12
7:00
AM ET
The Morning After: Thoughts, notes and anything else that didn't quite make this space after North Carolina's latest game (in this case, No. 6 UNC's 88-64 win over Maryland on Wednesday).
CHAPEL HILL, N.C. -- North Carolina point guard
Kendall Marshall
admits he was getting a bit antsy in the first half Wednesday -- as he'd pass to teammates, they'd miss shots, and he'd remain one throw shy of finally setting the school record for assists in a season.
So it felt pretty good when teammate
Harrison Barnes
converted a field with 17:59 left, marking Marshall's fourth assist for the game, and surpassing the record of 284 set by Ed Cota in 1999-2000.
"It was definitely weighing on me in the first half,'' said Marshall, who finished with eight assists, one turnover and three points. "I think we had three pitch-aheads that are usually easy baskets. And we didn't convert on them. A couple of them were bad passes on my part, others, I don't know what happened. Second half, I just wanted to go out there and play, and if it happens, it happens. If not, I'm sure I'll have another opportunity."
Making the record more special for Marshall was the fact that he passed Cota,
who helped the Tar Heels to three Final Fours and was one of the point guards he grew up watching
. "You-all talk about me, but some of the passes he had the courage to make are just ridiculous,'' Marshall said. "I have the utmost respect for his game, and I thought he was a very great player."
Next up is another great guard: Georgia Tech's Craig Neal, who set the ACC single season record for assists with 303, back in 1987-88. Marshall is now tied for third with Duke's Bobby Hurley at 289, and needs 15 more to top Neal.
For Marshall, who has already posted a dozen double-digit assist games this season, it's not a matter of 'if' -- but when.
"One thing that's been weighing on my mind lately is I don't want to be just another basketball player. I want to be remembered, I want to be able to legendary," Marshall said "From the team aspect, we can do that by winning games. Individually, this is my strength, passing the ball. So if I can make my mark in history doing that, I want to take advantage of it."
SENIOR MOMENTS:
Three of the five seniors scored during the victory, as
Tyler Zeller
set an ACC career high with 30 points, and walk-ons
David Dupont
and
Patrick Crouch
scored 3-pointers (Dupont's came with one second left in the game). As for the other two seniors:
"Stewart [Cooper] and JWatts [
Justin Watts
] played volleyball with that one early in the game,'' coach Roy Williams said. "Stewart shot it over the goal, JWatts rebounded it and shot it back over the goal. It would have been more fun if those would have gone in as well."
Williams, though, said he felt "great about the win, and great about the seniors." All five started to a standing ovation, and to an appreciative crowd that stayed late to watch their video speeches.
BRIEFLY:
UNC shot only 39.4 percent for the game, the fifth time in the past nine outings the Tar Heels have shot worse than 40 percent. But they have won all five of those games. ... Forward
John Henson
's 19 points tied his ACC career high in scoring.
Follow Robbi Pickeral on Twitter at @bylinerp.
February, 29, 2012
2/29/12
9:15
PM ET
CHAPEL HILL, N.C. -- A quick look at sixth-ranked North Carolina's
88-64 victory
over Maryland at the Smith Center on Wednesday night:


How it happened:
On senior night, it was senior forward
Tyler Zeller
's night; the 7-footer scored 30 points, including shooting 20-of-23 from the free throw line, a Smith Center record (and one off the school record) for made freebies.
It wasn't seamless early, though.
Both teams shot worse than 40 percent in the first half, as Zeller and junior forward
John Henson
combined for 25 of the Tar Heels' 36 points en route to a 36-25 lead. Maryland turned it over 11 times before the break, while the Tar Heels committed six turnovers and outrebounded the Terps by only two.
The Tar Heels were sloppy, so much so that coach Roy Williams stripped off his sports coat in frustration after a bad pass with 15:40 left, with his team leading by eight. Terps coach Mark Turgeon showed some angst of his own, picking up a technical foul about four minutes later, when his team trailed by 11. UNC, though, followed that with a 16-0 run, breaking open the game.
And the only real question then was whether Zeller would break his career scoring record. In the end, he came up two points short of tying it. But the ACC player of the year candidate took his curtain call with 6:39 left -- hugging Williams, high-fiving his teammates on the bench and waving to the chanting, standing, appreciative crowd.
Henson added 19 points for the Tar Heels, who shot 39.4 percent.
Nick Faust
led the Terps with 17 points.
What it means:
The victory kept the Tar Heels tied atop the ACC standings with Duke at 13-2; the rivals will face off Saturday at Cameron Indoor Stadium for the regular-season league title and the No. 1 seed in the conference tournament. Expect a focused showdown. Not only will UNC be trying to avenge its one-point loss earlier this month -- when Devils freshman
Austin Rivers
buried a game-winning 3-pointer to secure a double-digit comeback -- but both teams are trying to keep their hopes alive for a No. 1 seed in the NCAA tournament.
Maryland now has lost three of its past four games.
Hubbub:
It took a while, but North Carolina point guard
Kendall Marshall
set the single-season school assists record with about 18 minutes left on a pass to
Harrison Barnes
. Entering the game, he needed four to pass Ed Cota (who had 284 in 1999-2000), and Marshall finished with eight. He now needs only 15 more to pass former Georgia Tech guard Craig Neal for the ACC record; he tossed 303 in 1987-88.
Hubbub, too:
As expected, senior walk-ons
Stewart Cooper
,
David Dupont
and
Patrick Crouch
joined senior reserve
Justin Watts
and regular senior starter Zeller in the opening lineup for the quintet's final game at the Smith Center. The score was tied at 2 when the normal starters joined Zeller at the 17:55 mark.
What's next:
The Tar Heels will face the Blue Devils at Cameron Indoor Stadium on Saturday. Maryland hosts Virginia on Sunday.
February, 28, 2012
2/28/12
8:25
AM ET
North Carolina senior walk-ons
Patrick Crouch
,
David Dupont
and
Stewart Cooper
will join scholarship seniors
Tyler Zeller
and
Justin Watts
in the starting lineup for Wednesday's final home game, against Maryland, coach Roy Williams said on his radio show Monday night.
"Unless they screw it up in practice [Tuesday] ... all five of those guys will start," Williams said. "... David and Pat and Stewart have done a fantastic job for us. In football, we call it the scout team. They've really done a great job for us trying to mimic what the other team is going to do and has done, and they've really done a great job. And then Tyler Zeller and Justin Watts, to go through everything they've gone through in their careers, it's a special thing."
Zeller is the only normal starter of the quintet; Watts started two games his sophomore season. Williams traditionally starts his seniors (including walk-ons) for their final home game as a way of celebrating what they've meant to the team.
The coach,
who admits he's "corny", especially when it comes to senior day
, expects it to be an emotional night.
"I challenge all of the other guys," he said. "I don't challenge Z and Justin Watts and Paddy and David and Stewart -- I challenge everybody else to make sure they go out the right way. Because I want them to have that wonderful feeling."
Follow Robbi Pickeral on Twitter at @bylinerp.
January, 16, 2012
1/16/12
8:48
PM ET
North Carolina coach Roy Williams said he apologized Monday to the five players left on the court for the final 14.2 seconds of his team's
33-point loss
at Florida State on Saturday.
The coach said on his radio show that he was not aware that he had left the quintet of reserves and walk-ons on the Tucker Center floor Saturday -- while he and most of the rest of the team left early to avoid the floor-rushing crowd -- until he watched the tape of the loss.
"I said, 'Guys, I apologize. There was a miscommunication between [assistant] coach [Joe] Holladay and myself. I would never have left you out there to play the game.'" he said. "What I wanted to do -- needless to say, we're not going to erase a 33-point lead with 14 seconds left -- [so] I was trying to get my entire team off the court, apologize to Florida State, make sure they weren't interpreting it the wrong way; I was just doing it for safety."
[+] Enlarge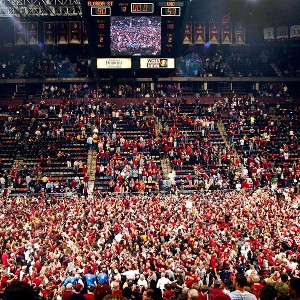 Phil Sears/US PresswireFlorida State fans rushed the court after their upset win over the North Carolina Tar Heels.
Williams, whose team dropped to No. 8 in the polls after the most lopsided loss since he became head coach at UNC in 2003, said time was winding down on the blowout when he started to become concerned about the raucous crowd. At the end of UNC's loss to UNLV in Las Vegas earlier this season, a female manager got pushed to the ground by rushing fans, and he didn't want anything similar to happen.
"If you watch the tape, Joe Holladay and [director of media relations Steve Kirschner] and I are talking and Coach said, 'We're going to have problems getting off of this court. Because they're already in the aisles, we're going to have problems.' … And I think -- and I say think -- [official] Jamie Luckie was in front of our bench. And I'm whispering and talking into his ear, and saying, 'Jamie, we're going to have problems getting off this court, do you have any suggestions?' He says 'I don't know what to tell you.'
"And then all of a sudden there's a loose ball, and a dead ball timeout, and I start walking and motioning to [FSU coach] Leonard Hamilton, and Leonard comes up there, and I say, 'Leonard, I'm worried about getting our guys off the court; would it offend you we were to leave?' And he said, 'No, I think that's what you should do.' Which I thought was great … he's always sensible on things like that. And I said, 'Leonard, I appreciate it. Please understand this is not intended to be an indictment on your security. … He said, 'No, go ahead.'
"So I turned to Joe Holladay, and I motioned and said, 'Come on'. And I took about three steps -- and you can see it on TV… Leonard says something, he says, 'Roy, your players.' And I turned around and said, 'Come on.' You can see me motion my arm again. And I take off, but I stop and I try to congratulate as many players as I can. … I said to every player, 'Congratulations on the win.' I said to the assistant coaches, 'Please don't be offended by this.' And everybody said, 'Coach, we understand.'"
Assistant coach C.B. McGrath, strength and conditioning coach Jonas Sahratian and two managers stayed on the sideline to help the remaining players get off the court when the game ended. Williams said he waited outside his locker room for all of the players, and when it took a while for Holladay and on walk-on
Patrick Crouch
to arrive, Williams asked Holladay what took Crouch so long. "And he said, 'He got caught up in the crowd,' and I didn't know what the crap he was talking about."
Williams, angry at the game's outcome, said he didn't talk to his team about the game immediately afterwards, or during Sunday's clinic with the Special Olympics. It was only after watching tape of the game, he said, that he realized freshman scholarship players
Stilman White
and
Jackson Simmons
, as well as walk-ons Crouch,
Stewart Cooper
and
David Dupont
played the final 14.2 seconds, with no head coach or teammates on the bench to support them.
"I am watching the tape of the game, and it's the first time the I realized the Blue Steel guys stayed out there on the court,'' Williams said. "Every prospect, every walk-on I have ever had -- if I eat steak, you're going to eat steak; whatever happens to every scholarship player, you have to do. I would never leave five kids out there. If I was going to do that, why wouldn't I stay out there? I saw it happen one time on TV, and I thought, 'Why would they leave those kids out there?'"
Williams, during his show, also expressed his anger towards a local radio talk show that implied Kirschner was spinning the story when he called in to explain the miscommunication that led to the five players remaining on the court.
Later, he reiterated: "There's no way in Hades I would leave five of my guys out there."
Follow Robbi Pickeral on Twitter at @bylinerp.
January, 4, 2012
1/04/12
3:30
PM ET
CHAPEL HILL, N.C. -- What's it like being a member of the Blue Steel, North Carolina's corps of walk-ons?
Sometimes pressure-packed, and often amusing,
judging by an online chat Adam Lucas of TarHeelBlue conducted
with the trio of
Stewart Cooper
,
David Dupont
, and
Patrick Crouch
on Wednesday.
A small sampling of the questions sent in, and answers given:
What's it like having the crowd put pressure [on] you to hit the 100-point mark? I get pretty mad at the crowd for cheering for biscuits rather than cheering on the team, but I always wonder what it's like in your shoes and what you think of the matter.

Cooper: I'm glad someone finally said that.

Dupont: It's the most pressure of the whole game.

Crouch: We've been sitting for two hours.

Dupont: I would compare it to a game-winning shot.

Cooper: I would compare it to defusing a bomb with thousands of people watching.
(The question was referring to a promotion by fast food chain Bojangles. If the Tar Heels score 100 points at the Smith Center, they offer two sausage biscuits for a buck at local locations.)
What do ya'll do for fun out of the Dean Dome? Any fun stories of experiences in Chapel Hill?

Cooper: We had a guy cry when he met us. His name was Jason.

Dupont: He said it was the best day of his life.

Crouch: He was from Kentucky and is a UK grad. He said it was the best day of his life. He was 26 years old.

Cooper: Basically, we just go around inspiring people.

Dupont: When we're not changing local fast food policies.
(I asked Lucas whether the players were kidding about the crying guy. He said no.)
All laughs aside, UNC coach Roy Williams during his Monday radio show addressed the importance of the walk-ons, who serve as the scout team. They are treated like every scholarship member of the squad, he said, be it what they eat during pregame meals or how many sprints they have to run during workouts.
He was also impressed with their calm during Sunday's win over Monmouth, when the crowd began its 100-point chant.
"I've never seen so much pressure, when that crowd is yelling, 'We want biscuits!'" Williams said. "That crowd, and those guys standing out there, and David Dupont having to shoot free throws, and if you make it you get 100 and you get free biscuits or whatever the dickens it is.
"I turned to [assistant coach] Steve Robinson and said, 'That's more pressure than the game-winning shot.' My gosh, 21,000 people wanting biscuits, I don't know if we can handle that much longer."
Follow Robbi Pickeral on Twitter at @bylinerp.
November, 9, 2011
11/09/11
8:00
AM ET
There are a lot of neat things about Friday's North Carolina season opener against Michigan State in the Carrier Classic: playing on an aircraft carrier, competing in front of President Barack Obama (who is scheduled to attend), to name a couple.
But to Tar Heels coach Roy Williams, the importance of the Veteran's Day game comes down to one key thing: "To me, it's a way of honoring our military," Williams said during his Tuesday news conference in Chapel Hill. "That's what it boils down to. It's those people, and not just the wounded warriors -- of course, we want to give them a special place in our heart -- but just the people that serve our country and make the rest of us, everybody in here, able to do what we do. So I'm looking at it from that standpoint more than anything."
Williams has nine uncles -- five on his father's side of the family, and four on his mother's side -- who served in the military, according to
Carolina's game notes.
Two of them spent their careers serving the country.
Point guard
Kendall Marshall
's dad spent three years in the army, and his grandmother, GiGi Spearman, served 26 years in the Army and retired as a lieutenant colonel. So he has this game in perspective, as well.
"I think what they do is so much more important than what we do," Marshall said. "We're out here playing for fun, this is almost like a hobby for us. This is every day they are putting their lives of the line. I definitely have much more respect for what they go out there and do day to day as opposed to us playing basketball for fun. We're representing our university and we want to play well, but at the same time, there's a bigger thing at hand."
Included on the lengthy list of other team members with ties to the military (more specifics can be found in the link above):
Pre-season All-American Harrison Barnes has two uncles, a great uncle, and three cousins who served in various branches. Five additional cousins are currently serving.
Forward John Henson has eight cousins serving.
Reserve guard Leslie McDonald's mom, dad and uncle all served in the Army.
Freshman forward Jackson Simmons' grandfather, Butch, was a World War II Army paratrooper who earned the Purple Heart. Simmons currently has a cousin and uncle serving overseas in the Army.
Assistant coach Jerod Hasse has two brothers in the military: Steven is a lieutenant colonel and F16 pilot with the Arizona National Guard; David is an Air Fore colonel based in Germany. Matthew Holladay, son of director of player operations Joe Holladay, is a former Army Ranger paratrooper who served in Iraq.