North Carolina Tar Heels:

T.J. Warren
December, 5, 2013
12/05/13
1:16
AM ET
The 15th annual Big Ten-ACC Challenge ended with no resolution to conference supremacy. For the second straight season the clash ended in a 6-6 tie, leaving the ACC with a 10-3-2 advantage.
We know which teams really won the night though: North Carolina, for sure, with its upset over No. 1 Michigan State. No. 8 Wisconsin, which like the Tar Heels won on the road, beating Virginia. And No. 5 Ohio State, which is on a steady ascent up the polls.
On the surface the Buckeyes' win doesn't look that big, as they had unranked Maryland at home. But the way they controlled the game from start to finish and gave the Terrapins a harsh introduction to the league they'll join next year.
Defensively, Ohio State dissected everything the Terps wanted to do. Maryland shot just 39 percent from the field and gave up 25 points off 14 turnovers. That included the final sequence of the first half, when
Aaron Craft
dove to the floor for a steal and passed ahead to
Sam Thompson
for a buzzer-beating basket.
[+] Enlarge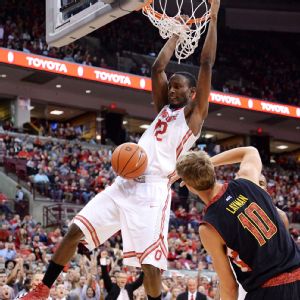 Jamie Sabau/Getty ImagesSam Thompson's highlight-reel dunks capped off a dominating night for No. 5 Ohio State.
The Buckeyes basically beat the Terps like a ranked team should at home. They never let the lead dip below 10 the entire second half and once up 25 turned the game into one long highlight reel for Thompson.
Columbus discovered the alley-oop Wednesday night as Thompson slammed down lobs on four different occasions.
And those shooting woes that threatened to drag down OSU seem to be a thing of the past too. The Buckeyes shot 52 percent from the field, powered by
LaQuinton Ross
' 7-of-13 performance. Ross finished with a game-high 20 points.
Ohio State honored former coach Gary Williams prior to the game. Williams coached the Buckeyes from 1986-89 before leaving Columbus for College Park, where he would win the 2002 national title at Maryland. Williams then had to sit through the Terps being handled by the Buckeyes.
Chris Collins also returned to familiar territory, as the Northwestern coach returned to ACC country for the first time since taking the Wildcats job in the offseason. Collins, who played for Duke and also spent 13 years as an assistant coach under Mike Krzyzewski, knows Northwestern's opponent Wednesday, NC State, well. But his intimate knowledge didn't help the Wildcats muster a win.
Collins' welcome-back package included a technical foul and 22 points from
T.J. Warren
, as the Wolfpack cruised to a 69-48 win.
Purdue matched NC State for the biggest margin of victory in the challenge with its 88-67 victory over Boston College. The Boilermakers, led by a season-high 18 points from
Terone Johnson
, have quietly won five straight in the challenge.
Nebraska salvaged the night for the Big Ten by beating Miami 60-49 in Lincoln. The Cornhuskers held the Canes to a frigid 24 percent shooting performance in the first half en route to a season-low 13 points at the break.
Michigan State didn't hit new lows against the Tar Heels, it simply didn't hit back at all.
Most expected Northwestern, Boston College and Miami to have a hard time winning on the road. No one expected the Spartans to lack the fight generally accepted as the norm from Tom Izzo's team. Even though they bounced back from a 12-point deficit in the first half to tie the game at intermission, they never seemed to bring the fight to the Tar Heels.
MSU's punchless night could be summed up in one second-half exchange.
Branden Dawson
seemingly had a clear path to the rim and was poised to give Sparty its first lead of the game, breaking a 38-38 tie. But
J.P. Tokoto
rotated in time to block the shot and start a fast break that ended with
Marcus Paige
completing a three-point play.
Carolina never trailed afterward and Michigan State literally hobbled through the rest of the game.
Senior forward
Adreian Payne
kept cramping up, at one point during the middle of a play, he literally stood on one leg while grabbing his other foot behind him to stretch.
Gary Harris
, who sat out Michigan State's win over Mount St. Mary's with an ankle injury, seemed to lack some of his explosiveness.
Keith Appling
suffered an apparent hip injury late in the first half and shot 5-of-15 from the field.
Virginia joined Michigan State as a big loser from Wednesday night. The Cavs have made quite the acquaintance with the NCAA bubble and missed possibly their last chance for a statement win before conference play begins.
Both of the Cavaliers' losses have come at home to ranked teams, and the common thread is that they haven't mustered much offense either time.
UVA, which lost to VCU 59-56 on a last-second shot, scored its lowest point total in 20 years against Wisconsin. The Cavs managed only 18 points in the second half, and their total of 38 was the lowest output since losing to UConn 77-36 in 1993.
So while the challenge ended in a tie, the winners and losers Wednesday were clearly defined.
October, 30, 2013
10/30/13
5:00
PM ET
The Tar Heels were picked to finish third in the ACC behind Duke and Syracuse by a media poll. The league's depth this season should make it so that wins and losses will be as hard as ever to predict. With that in mind, here are advantages and disadvantages for the Heels against each of their league opponents:

BOSTON COLLEGE
Advantage:
The Heels should again enjoy a big rebounding edge over the Eagles.
Disadvantage:
Stopping guard
Olivier Hanlan
(the ACC's 2013 Freshman of the Year) will be a challenge.

CLEMSON
Advantage:
Um, history? The only meeting is in Chapel Hill, where it's Heels 56, Tigers 0.
Disadvantage:
Complacency knowing their undefeated record vs. Clemson at home.

DUKE
Advantage:
Frontcourt should dominate Blue Devils' glaring weakness in the paint.
Disadvantage:
Matching up with Duke wings
Rodney Hood
,
Rasheed Sulaimon
and
Jabari Parker
.

FLORIDA STATE
Advantage:
P.J. Hairston
has averaged 18.2 points in four career games vs. the Noles.
Disadvantage:
No. 3 Heels lost by 33 at unranked FSU in 2012 -- anything can happen in Tallahassee.

GEORGIA TECH
Advantage:
James Michael McAdoo
stung the Jackets with an 18-point, 10-rebound average last season.
Disadvantage:
Tennessee transfer
Trae Golden
adds experience to a talented young lineup.

MARYLAND
Advantage:
Avoiding final trip to College Park during the Terps' year-long ACC swan song.
Disadvantage:
Terps will likely be more motivated to win in their final shot at UNC.

MIAMI
Advantage:
The Canes are starting from scratch with a completely overhauled roster.
Disadvantage:
Unknown commodities can be hard to prepare against.

NC STATE
Advantage:
State will have fewer offensive weapons to defend than last season.
Disadvantage:
T.J. Warren
(14.5 points, 6.5 rebounds per game vs. Heels last season) is still one of them.

NOTRE DAME
Advantage:
McAdoo presents matchup problem for the Irish frontcourt.
Disadvantage:
South Bend is poised to become one of the most difficult places to play in the ACC.

PITTSBURGH
Advantage:
UNC can use its fast pace to bury a team not known for running.
Disadvantage:
The Heels typically encounter trouble against teams as physical as Pitt.

SYRACUSE
Advantage:
The starting lineups are about even, so deeper Heels bench could be key to beating Orange.
Disadvantage:
The length of the Cuse zone is hard to play against the first time.

VIRGINIA
Advantage:
Marcus Paige
, who enjoyed a 17-point breakout game vs. Cavs last season, should own the point guard matchup.
Disadvantage:
Joe Harris
is a problem. He shot 70 percent from the field and averaged 23 points in two meetings last season.

VIRGINIA TECH
Advantage:
Young Hokies still don't have an abundance of talent (or the defense) to compete at a high level.
Disadvantage:
Two of Tech's three wins vs. Heels since joining the ACC came in Blacksburg, the site of their only meeting this season.

WAKE FOREST
Advantage:
The Heels have won seven of the last nine meetings with Deacs by an average margin of 20 points.
Disadvantage:
Travis McKie
and
Devin Thomas
are a formidable rebounding duo.
February, 22, 2013
2/22/13
4:37
PM ET
CHAPEL HILL, N.C. -- It's been well documented that North Carolina coach Roy Williams hates to lose to NC State. But it's the way the Tar Heels lost to their just-up-Interstate-40 rival last month that could make Saturday's rematch even more heated.
"There's no question I hate to lose against anybody, but especially somebody that just -- they had us by 28,'' Williams said. "Last game, everybody said 'It was a great comeback. But I don't care about that,
they had us by 28
."
Indeed, the Wolfpack led by as many as the aforementioned 28 points on Jan. 26 before UNC made a late push to close to within five; State's win snapped a 13-game skid against the Tar Heels.
Saturday at the Smith Center, State will by trying for its first regular-season sweep of UNC since the 2002-03 season something Wolfpack coach Mark Gottfried
reminded his team about via dry-erase board earlier this week
.
[+] Enlarge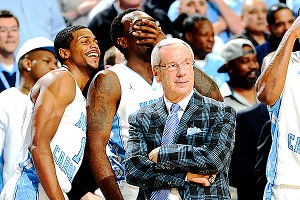 Bob Donnan/USA TODAY SportsCoach Roy Williams is 19-2 in his career against NC State -- including 9-0 at the Smith Center.
"It was a long time ago," State point guard
Lorenzo Brown
told The News & Observer. "Hopefully we can do it again on Saturday."
With roughly two weeks to go in the regular season, there will be plenty on the line in this one, from momentum to seeding ramifications (State, UNC and Virginia are all knotted in third place at 8-5 in the conference standings, and only the top four seeds earn a first-day bye in the ACC tournament).
And, of course, there's pride.
"It's a big-time rivalry within the state of North Carolina,'' said UNC wing
Reggie Bullock
, who grew up in Kinston, N.C. "We lost to them to first time, so we definitely have to get our face back, and get out there and play harder."
A few things to watch during the game, which tips off Saturday at the Smith Center at 4 p.m. ET:
BIGGER VS. SMALLER
NC State has gone bigger with its lineup, inserting 6-foot-8 freshman
T.J. Warren
to play alongside 6-8
Richard Howell
and 6-9
C.J. Leslie
in a move that has improved the Wolfpack's rebounding. Gottfried said Friday he plans to stay with that frontline.
UNC, meanwhile, has gone smaller with its opening five, inserting 6-5
P.J. Hairston
instead of 6-9
Desmond Hubert
; the four-guard lineup has given the Tar Heels more scoring and confidence, and Williams said he'll stay with his newest first five, as well.
"We'll still go with that same lineup tomorrow, but I really foresee the fact that we'll play two big guys together a bit more," Williams said Friday.
"... If they have two big inside players who take the ball to the basket against big guys, they're really going to take the ball to the basket against little guys. So it really is something we're concerned about."
Williams said UNC will start out with Hairston defending Leslie, 6-9
James Michael McAdoo
on Howell and 6-7 Bullock on Warren.
UNC may also have the option of inserting 6-9 wide-body reserve
Joel James
, who missed the last three games because of a concussion. James practiced Thursday and Friday, Williams said, "so we'll just have to see after practice today whether he has his conditioning back enough to play in the game. He was out for 10 days or something like that, so it's going to take him a little while."
LORENZO BROWN
[+] Enlarge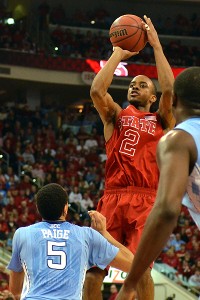 Rob Kinnan/USA TODAY SportsLorenzo Brown had a double-double with 20 points and 11 assists in NC State's first meeting with the Tar Heels this season.
Williams called Brown, NC State's starting point guard, "a load,'' and he certainly was last month, when he ran seemingly unchecked through UNC's defense and finished with 20 points and 11 assists.
Gottfried said earlier this week that Brown is back to about 90 percent after missing two games because of a sprained left ankle; the junior has averaged 13 points and 6.6 points in the three games since he returned.
Williams said he thinks State is a better team because of the adversity it faced, playing without its star ball handler.
"Yeah, they lost a couple or something like that [actually, the two games when Brown was sidelined], but they bounced back, they played better, gave Lorenzo a little break there, and it looks to me like he's back to 100 percent,'' Williams said. "It gave them a little more depth, because they brought [freshman point guard]
Tyler Lewis
in and got more confidence in him, and I think T.J. just gives them another scoring option -- and a scoring option from anywhere on the court."
MCADOO
UNC's sophomore forward ended up with with 13 points and 11 rebounds during the Tar Heels' loss at State, but played only 25 minutes after picking up two quick fouls. He'll have to play both smart and aggressively against Howell, who leads the ACC in rebounding (10.9 per game) and is averaging a double-double (13 points).
In addition, the Tar Heels would like to see McAdoo's offensive numbers look more like the ones he recorded at Georgia Tech on Tuesday (20 points) than his previous three games (an average of 8.0).
February, 22, 2013
2/22/13
7:30
AM ET
With roughly two weeks left in the regular season, the race is on for a top-four seed (and first-day bye) in the ACC tournament. In the meantime, here are this week's rankings based on myriad factors, including how teams have performed lately and the foes they've faced:
1. Miami.
Clemson and Virginia both tested the Canes, but a late 3-pointer from
Kenny Kadji
at the Tigers and
Reggie Johnson
's tiebreaking layup versus the Cavs kept Miami undefeated in league play. The 13-0 record marks the hottest league start since Duke went 16-0 en route to the conference title in 1998-99.
2. Duke.
The Devils bounced back from a close loss at Maryland with a blowout win at Virginia Tech as
Mason Plumlee
followed a four-point, three-rebound performance with a double-double Thursday night. Coach Mike Krzyzewski is now third on the career list for victories at one school (877), behind Dean Smith and Jim Boeheim.
3. NC State.
The Wolfpack got a big boost by inserting 6-foot-8
T.J. Warren
into the starting lineup this week. Not only did he turn in a 31-point, 13-rebound performance against FSU, but the team grabbed a season-best 45 boards. The Pack have won three straight, and it will be interesting to see whether they stay big against the Tar Heels this weekend.
4. North Carolina.
Coach Roy Williams continues to start a smaller lineup with sophomore
P.J. Hairston
at the 4, and the Tar Heels continue to look faster and more aggressive with another scorer on the floor. Forward
James Michael McAdoo
's double-double at Georgia Tech, after he scored in single digits for three straight games, is a good sign, too.
5. Virginia.
The Cavs are in the midst of a tough stretch. They lost at both UNC and No. 2 Miami in the past week, play a Georgia Tech team this weekend that beat them earlier this month, and then face another test in No. 6 Duke coming up next week. Junior
Joe Harris
, though, continues to be on a tear, averaging 22.4 points over his past five games.
6. Maryland.
Another (way) up and (way) down week for the Terps, who upset the then-second-ranked Blue Devils at home, only to lose on the road to a focused Boston College team that had won just three previous ACC games. After posting an impressive 19-point, nine-rebound game against Mason Plumlee, Maryland big man
Alex Len
managed only four points against the Eagles.
7. Florida State.
For all his last-second shots this season, Seminoles point guard
Michael Snaer
hadn't managed 20 points against an ACC foe this year, until this week. He followed a 21-point game in a win against Boston College with 20 during a loss at NC State. Next up: a trip to Virginia Tech.
8. Clemson.
Another week, another home heartbreaker for the Tigers, who lost to Miami on Kadji's 3 after losing to NC State on a
Scott Wood
3 on Feb. 10. At least they won a close one in the middle at Georgia Tech.
Devin Booker
posted his fifth double-double of the season in Clemson's latest loss.
9. Georgia Tech.
Freshman
Robert Carter Jr.
hit two free throws in the final 10 seconds to beat Wake Forest before Georgia Tech lost by double figures to the Tar Heels. The Yellow Jackets were an ouch-worthy 4-for-11 from the free throw line in their latest game and remain the worst foul-shooting team in the league (63.2 percent).
10. Boston College.
And to build on the above note about the importance of free throws: The Eagles hit 16 straight down the stretch to protect the lead in their win over Maryland. Freshman
Olivier Hanlan
scored a career-high 26 points in that game, and BC has won two of its past three.
11. Wake Forest.
A three-point loss at Boston College followed by a one-point loss to Georgia Tech? The bottom tier of the ACC likes to make things interesting, at least. The Deacs are second in the league in steals, sandwiched between UNC and Duke, and
C.J. Harris
continues to lead the team with 14.8 points per game.
12. Virginia Tech.
Erick Green
is still really good, adding a 22-point game against Duke to his nation-leading scoring average. His team still is struggling, though, losing nine in a row -- including two in overtime and Thursday's loss to the Blue Devils.
January, 26, 2013
1/26/13
9:23
PM ET
RALEIGH, N.C. -- Perhaps it was fitting that No. 18 NC State's all-red uniforms Saturday made it difficult to read the names on the back of the jerseys. Because its
91-83 victory
over North Carolina was a team effort.


In building a lead as large as 28 points, the Wolfpack's big(ger) guys pulverized the Tar Heels from the inside, their shooters dominated from the outside -- and perhaps most telling, State outscored UNC 39-19 on transition points, beating the Tar Heels at what is usually their own game.
Of course there was a rally -- what else would you expect from this rivalry? -- as UNC cut it to single digits in the final minute.
But the defeat snapped a 13-game losing streak to UNC and marked only the second time the Tar Heels have lost to the Wolfpack since Roy Williams returned to Chapel Hill as head coach before the 2003-04 season.
Turning point(s):
Trailing 22-10 early, UNC chipped back with an 8-0 run during a stretch in which the Wolfpack inexplicably settled for jump shots rather than feeding their big men (who had big mismatches on the Tar Heels, what with 6-foot-7 reserve
Jackson Simmons
in the game and
James Michael McAdoo
playing with two fouls).
But after a timeout, NC State solved that problem in short order, pushing and pounding to a 20-2 run that began with a wide-open 3-pointer from
Rodney Purvis
and included a monster jam from
C.J. Leslie
over Simmons. The Wolfpack sped so hard that they beat UNC down the court again and again and again, as Purvis threw down a dunk and
T.J. Warren
made two more transition buckets before Williams ended the breakaway -- temporarily -- with a timeout.
State led 45-26 at halftime and by as many as 28 points in the second half.
UNC made a 22-7 run of its own -- cutting it to 70-61 on back-to-back 3-pointers from
P.J. Hairston
and
Reggie Bullock
, and two free throws from
Marcus Paige
.
But a bucket from Leslie inside, followed by a four-point play from
Scott Wood
, pushed NC State's cushion back to 15 with about 4½ minutes left. It was enough to survive the Tar Heels' last-minute push (when a Hairston 3 and McAdoo putback cut the lead to as little as five).
Key player(s):
Choose a member of the Pack: Warren finished with 19 points; Howell had 16 points and 14 rebounds; Leslie recorded 17 points and 10 rebounds;
Lorenzo Brown
had 20 points and 11 assists; and Wood finished with 12 points.
McAdoo posted a double-double for UNC: 13 points, 11 rebounds. Hairston led the Tar Heels with 19.
Noteworthy number:
State had outscored UNC 20-0 on transition buckets by halftime.
What's next:
NC State plays at Virginia on Tuesday, while UNC plays at Boston College the same night.
November, 2, 2011
11/02/11
12:36
PM ET
By
Dave Telep
| ESPN Insider
The North Carolina Tar Heels have an excellent recruiting class on their hands this year. It's going to be a highly-touted group. Let me repeat: highly touted
group.
The current four-man class, ranked in the top five, is the kind of group just about any high-major program would crave to sign. It's also a class whose sum is greater than its individual parts.
[+] Enlarge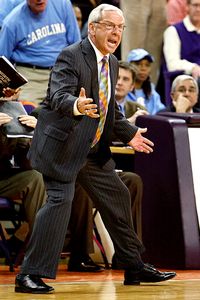 Kevin C. Cox/Getty ImagesRoy Williams never lacks intensity on the sideline.
North Carolina signs elite recruiting classes almost every season. That being said -- no class, no matter the ranking -- is identical. Some classes are rated high because they contain superstars while others attain a high rating because of their collection of players. This current class reminds me a lot of UNC's 2009 class which was highlighted by John Henson and backed up by Leslie McDonald, Dexter Strickland and the now departed David and Travis Wear. Despite the rating of the current group (No. 2 in our rankings), expectations need to be tempered because there isn't a Harrison Barnes or a James Michael McAdoo to carry the superstar load. In 2009, not even Henson was ready to step into this kind of role.
Marcus Paige
(Marion, Iowa/Linn-Marr) is in my opinion, the top senior high school point guard. He's the guy I'd want running my team. He's a better scorer at the same stage when compared to Kendall Marshall, but not as good a passer. He's the Tar Heels best recruit in terms of readiness to play and consistency.
Brice Johnson
(Edisto, S.C./Edisto) is the Henson of the group. He's the top prospect but will need time to develop; his ceiling is highest.
J.P. Tokoto
(Menomonee Falls, Wisc./Menomomee Falls) and
Joel James
(Fort Lauderdale, Fla./Dwyer) are very good supporting recruits; neither has reached their ceiling so there's room to grow.
What's my point? UNC's class is very strong and right now they are among the top classes in the country but don't be surprised if the Tar Heels slip in the rankings. Based on our mathematical formula (not quite as bad as the BCS, but still in depth) and some back-and-forth dialogue between the scouts, we come up with our rankings and adjust accordingly. Right now, coach Roy Williams has a good class with nice players but it's not a game-changing enough group. In my opinion, that ranking doesn't accurately reflect the expectations I'd have for this crop of players.
This collection of players is going to augment UNC's roster and there should be a pro or two out of the group, but they'll need time and the assistance of other players in the program and future classes to create championship expectations.
New July format has me worried
I'm not the type that is opposed to change. In fact, the NCAA had to change up the recruiting calendar and stream line some NCAA rules and regulations. The moves that were made last week -- texting, letting coaches out in April, allowing juniors to take official visits -- appear to be well intentioned and many are excited to take them for a test drive. Personally, the July ruling creating a series of three, four-day open periods, has me nervous.
July is a significant work month for myself and our staff. My goal is to see as many players as I possibly can so I don't get surprised and miss out on seeing guys with my own eyes. There's a measure of pride that accompanies July. I spend a lot of time planning out my days so that I can max out the number of players I can see. Watching Shabazz Muhammad play 25 times is not nearly as important as making sure I see unfamiliar faces like
Grant Verhoeven
(Visalia, Calif./Central Valley Christian),
Connor Lammert
(San Antonio, Tex./Winston Churchill) or
Josh Scott
(Monument, Colo./Lewis Palmer). These guys are often tucked away on AAU teams that aren't as high profile and you might only get one or two looks at them. Still, that quick look is important.
My concern is that there are going to be so many events trying to get packed into the framework of the new July calendar that my number of actual workdays gets trimmed. Frankly speaking, I need as many work days in July as possible to do my job. Reducing the period by eight days is a significant concern as an evaluator. I'm nervous because doing my job might have gotten a lot more difficult. Here's to hoping that there are still some good events floating around outside of the open periods where I can sit down and see a slew of players. The situation of evaluators isn't a concern to the NCAA or college coaches but I'm thinking my job just got a whole lot more difficult by shortening the period and cramming all these events into tighter windows.
Random Thoughts
Should T.J. Warren (Durham, N.C./Brewster Academy) select NC State as expected on Wednesday, it would mean Mark Gottfried landed his third ESPNU 100 player from North Carolina in his first year. During the Sidney Lowe Era, the Pack landed a grand total of two in-state Top 100 players. The first year for Gottfried couldn't have gone better.