North Carolina Tar Heels:

Terrell Stoglin
March, 9, 2012
3/09/12
4:59
PM ET
ATLANTA -- Every time North Carolina assistant strength and conditioning coach Jackie Manuel sees forward
James Michael McAdoo
, he asks the freshman one question: "You hear that clicking noise?"
McAdoo's response: Yes.
Finally.
Perhaps just in time for the Tar Heels.
[+] Enlarge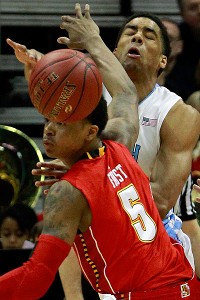 AP Photo/John BazemoreWith star forward John Henson injured, UNC's James Michael McAdoo wasn't afraid to get physical on Friday.
With All-ACC forward
John Henson
icing his sprained left wrist for most of the game, McAdoo tied a career high with 14 points, and added eight rebounds, in top-seeded UNC's
85-69
victory over Maryland on Friday in the ACC tournament quarterfinals. It continued a pattern of aggressive, confident and more controlled play over the last month or so -- and could be key if Henson misses any more time because of his injury.
The junior's status will be a game-time decision for Saturday's semifinal with NC State.
"We'll continue to ice it and see what happens tomorrow,'' said Henson, who sustained the injury early in the first half when he was trying to break a fall after he was fouled.
X-rays taken at halftime were negative.
"… But the team did fine without me, especially with how James played."
It seems like it's been a long time coming for McAdoo, the 2009 USA Male Basketball Player of the Year who was one of the highest-rated forwards in his freshman class.
He showed glimpses of his potential early in the season, when he would sprint in front of the fast break, or battle for a rebound. But all too often, McAdoo struggled to finish around the hoop -- coach Roy Williams even threatened the bench with running on one occasion, if the unknowing freshman didn't finish strong on a particular play with a dunk -- as he struggled to find a place in UNC's system.
Then all of a sudden, right around UNC's late-January win over N.C. State, McAdoo started hearing that clicking noise.
Mostly because he met with a few coaches, and started hearing what they were telling him: that he was needed, that he could contribute more.
"The difference in high school basketball to the ACC is a big difference,'' Williams said. "I can't tell you exactly when it [was], but even when he was struggling I kept putting him in the game, until one day I finally told him, I said, 'Hey. I must think you're pretty good because you're not playing very well, and I keep putting you in. So why don't you just go ahead and play well?"
The turnaround began on the practice court, McAdoo said, and realizing what playing hard there would mean when it mattered.
"I wasn't really very fond of practice; I never have been,'' he said. "But I just really bought into the way you play is how you practice, and that really has helped me."
Teammates noticed the change in workouts -- the way he battled harder for rebounds, worked more on his shot, focused on defense.
And Maryland noticed it Friday, too, as the 6-foot-9 athlete buried jumpers, took at least one charge, hit the boards and frustrated the Terps big men.
"I was disappointed we couldn't score more on McAdoo,'' Maryland coach Mark Turgeon said. "I thought we could score on him. He is not 7-foot."
No, but he was aggressive. And focused. And confident.
Harrison Barnes
and
Reggie Bullock
led the Tar Heels with 15 points apiece, and point guard
Kendall Marshall
(13 points, 12 assists) set the ACC single-season record for assists. Guard
Terrell Stoglin
scored 30 for Maryland.
But McAdoo made 5-of-8 shots in 29 minutes, and made a difference -- especially with Henson out.
"James Michael was big,'' Williams said.
And now, he's determined to stay that way.
Click.
Follow Robbi Pickeral on Twitter at @bylinerp.
March, 8, 2012
3/08/12
9:15
PM ET
ATLANTA – Roughly a week ago, North Carolina beat Maryland to stay in the race for the regular-season ACC title.


Friday at Philips Arena, the top-seeded Tar Heels will face the eighth-seeded Terps in their first step toward winning the ACC tournament title.
On the line this weekend for the Tar Heels: a
possible top seed in the NCAA tournament
, the chance to continue gaining momentum by extending their seven-game winning streak.
For Maryland, it's a chance to get young players more experience – and for ACC leading scorer
Terrell Stoglin
to
continue rounding out his game
.
A few things to watch:
KENDALL MARSHALL'S ASSISTS
Start counting early, because UNC's sophomore point guard needs only five assists to break
former Georgia Tech ballhandler Craig Neal's ACC season record of 303
(set in 1988). Marshall tied a career high with 16 assists in UNC's victory at Maryland on Feb. 4, then recorded eight during the rematch last week.
His season-low for assists is 4 – during his team's 33-point loss at Florida State on Jan. 14 – so the question isn't whether the record will fall; but who will be on the other end of the pass when it does?
REBOUNDING
The Tar Heels have not lost the battle on the boards in 13 consecutive league games, the longest streak against ACC foes since the 2007-08 season (when that team won or tied in rebounds in all 16 regular-season games, plus three conference-tournament games).
UNC out-rebounded Maryland by 7 and 1, respectively, during this season's matchups.
FRESHMAN WATCH
Maryland freshman guard
Nick Faust
has scored in double figures in six of his past seven games (13.0 ppg), since returning to the starting lineup after the season-ending injury to Pe'Shon Howard.
North Carolina freshman forward
James Michael McAdoo
, meanwhile, has come on strong of late. He was aggressive, controlled and confident during his 6-point, 4-rebound game off the bench at Duke – a combination the Tar Heels have been waiting for all season.
Follow Robbi Pickeral on Twitter at @bylinerp.
March, 8, 2012
3/08/12
3:58
PM ET
ATLANTA -- North Carolina has had to prepare for
Terrell Stoglin
the Scorer in the past.
For Friday's ACC quarterfinal game against Maryland, the top-seeded Tar Heels also need to prepare for Stoglin the Rebounder. Stoglin the Assist Man. Stoglin the Teammate.
[+] Enlarge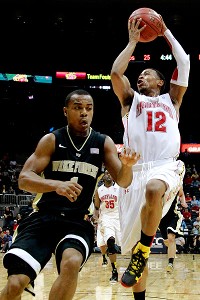 AP Photo/John BazemoreMaryland's Terrell Stoglin scored 25 points and had 7 rebounds and 4 assists against Wake Forest.
The ACC's leading scorer -- playing with a chip on his shoulder after being left off the All-ACC first team -- did a little bit of everything during the eighth-seeded Terps'
82-60 victory
over ninth-seeded Wake Forest on Thursday.
He added seven rebounds and four assists to his team high 25 points -- and he wants that trend to continue, when his team faces the top-seeded Tar Heels at Philips Arena.
"It goes back to an all-around game,'' Stoglin said. "I want to be a complete basketball player, and I'm working on it."
Stoglin admits to being a bit annoyed when he earned second-team All-ACC honors, rather than first (three Tar Heels, by comparison, made the first team). But he said he's used it for motivation. "I've always been overlooked, even when I was in high school,'' he said. "So I'm going to use to make myself better."
A chat with coach Mark Turgeon on the plane ride to Atlanta helped, too. According to Stoglin, Turgeon told him it was time to grow up -- that he was about to be a junior, and he needed to be a better teammate.
"I wasn't a bad teammate, but I can always be better,'' Stoglin said. "And he just wanted me to do the little things to help my teammates out, make sure everybody was on the same page."
Those "little things" included passing more. Plaing better help defense. Hitting the boards harder.
And, of course, continuing to score (he was 8-for-14 against the Demon Deacons).
All will be key against UNC, which already has beaten Maryland twice this season.
"I'll do whatever I can do to help us win,'' Stoglin said. "Whatever it takes."
Follow Robbi Pickeral on Twitter at @bylinerp.
February, 6, 2012
2/06/12
8:00
AM ET
North Carolina rallied, Miami upset and Virginia and Florida State battled. It was quite a weekend for the ACC, and here's an attempt at this week's power rankings:

1. North Carolina:
Harrison Barnes
can star when hurting.
Kendall Marshall
can play an extended stretch with four fouls. And the Tar Heels can still rally, as they showed by coming back from a nine-point deficit at Maryland. But they're going to have to get more production from their bench, as their reserves managed only nine points in two games last week.
2. Florida State:
Michael Snaer
managed only three field goals against Virginia's defense, but they all came at timely points in the second half. The Seminoles have now won seven in a row -- including beating the three other ranked teams in the ACC -- and remain in the driver's seat for the league's regular-season race.
3. Duke:
The Blue Devils' loss to Miami marked their second ACC loss at home. Coach Mike Krzyzewski summed up the problem like this: "A Duke team should play with energy for 40 minutes – or 45," he said, according to The (Raleigh) News & Observer. "Go outside and look at the banners. There are quite a few of them up there. They were not won without energy, without hunger, with ... complacency, with[out] people really wanting it."
4. Virginia:
The Cavs recorded a season-high 20 turnovers in their loss to Florida State, which they blamed more on their execution than the Seminoles' defense. Senior
Mike Scott
continues to impress, as Virginia's four losses this season have come by a combined 10 points.
5. Miami:
It took three overtime periods -- two versus Maryland, one at Duke -- to extend the Hurricanes' winning streak to four, and in so doing, they're pushing their way back into the NCAA conversation. Sunday's win marked Miami's first at Cameron Indoor Stadium, and only its second win over the Blue Devils since joining the ACC.
6. NC State:
Scott Wood
made six 3-pointers in the Pack's victory against Wake Forest. Most notably, he did it in his home arena, the RBC Center -- although he told The News & Observer he prefers playing on the road. "Anytime you have fans talking trash, it raises your game."
7. Maryland:
The Terps gave the Tar Heels all they could handle on Saturday, even leading by as many as nine points in the second half before UNC rallied. Guard
Terrell Stoglin
continues to lead the ACC in scoring, but Maryland has now lost five of its past six games.
8. Clemson:
The Tigers lost both their games last week and also lost forward
Milton Jennings
, who was suspended for the second time this season, this time for academic reasons. He's out indefinitely, meaning the Tigers lose an average of 8.9 points and 5.4 rebounds per game.
9. Virginia Tech:
The Hokies -- who had had six of their previous eight ACC games decided by four or fewer points -- finally won a close one when it beat Clemson 67-65. But they squandered a 17-point and lead and needed the Tigers to miss a shot at the end to survive.
10. Wake Forest:
It was a tough week for the Deacons, who lost to two in-state foes -- UNC and NC State. That extended their losing streak to four.
11. Georgia Tech:
Glen Rice Jr.
scored three points in the final minute to help his team beat Boston College and snap a six-game losing streak. "Everybody in the locker room right now is going crazy," Tech guard
Mfon Udofia
told the Atlanta Journal-Constitution after the game.
12. Boston College
: The Eagles have now lost six in a row -- the last two by a combined nine points -- and things don't get any easier with Florida State coming to town on Wednesday.
Follow Robbi Pickeral on Twitter at @bylinerp.
February, 4, 2012
2/04/12
6:33
PM ET
COLLEGE PARK, Md. -- A quick look at sixth-ranked North Carolina's
83-74
win over Maryland at Comcast Center on Saturday:


What it means
: It marked the Tar Heels' first win at Comcast Center since 2006, and gives them a five-game winning streak entering a pivotal week in which they face two ranked teams, Duke followed by Virginia, at home.
How it happened
: Leading 40-37 at halftime, Maryland opened the second half with an 8-2 run to earn its largest lead of the game, 48-39, on two
Terrell Stoglin
free throws. UNC countered with an 11-2 breakaway to tie it at 50, but it wasn't until several minutes later that the Tar Heels -- with forward
Tyler Zeller
on the bench with four fouls -- took the lead on a
Harrison Barnes
3-pointer. UNC led 59-57, with 8:34 left, when Marshall picked up his fourth foul, but he was on the bench barely a minute before he returned.
Zeller was back in the game, with 3:09 left, when Stoglin's drive cut UNC's lead to 70-69. Freshman
P.J. Hairston
scored the bench's third bucket of the game on a putback, then
John Henson
scored on a putback to give his team a 74-70 cushion. After a Maryland free throw, Barnes buried a jumper with about a minute left that sealed the survival.
Zeller led the Tar Heels with 22 points, while Barnes added 18 and Henson had 17 points and 12 rebounds. Stoglin paced Maryland with 20 points.
Number to know
: UNC's bench scored only six points -- and only nine, combined, over the past two games.
Injury report
: UNC forward Harrison Barnes, who sprained his left ankle Tuesday and was questionable for Saturday's game, started and was pivotal for the Tar Heels. He pulled down eight rebounds to go with his 18 points.
What's next
: The Tar Heels will play Duke at the Smith Center on Wednesday. Maryland will play at Clemson on Tuesday.
Follow Robbi Pickeral on Twitter at @bylinerp.
January, 30, 2012
1/30/12
8:00
AM ET
This week's attempt at ranking the surprisingly tight-at-the-top ACC:

1. North Carolina:
No
Dexter Strickland
? No problem. Not only did the Tar Heels give their best defensive effort of the season in a 74-55 win against NC State on Jan. 26 that wasn't as close as its final 19-point margin, they finally started connecting from 3-point land against Georgia Tech -- something they had struggled with during ACC play -- for a 93-81 victory Saturday. That 33-point loss at Florida State on Jan. 14 still stings, but it's looking more and more like a much-needed slap in the face to a team that is the best in the conference when it competes with focus and passion.
2. Florida State:
The Seminoles remain the hottest team in the conference, beating Wake Forest 75-52 in their only game last week to extend their winning streak to five. FSU has now scored at least 75 points in four straight games -- a good sign for a team that struggled to reach 50 a couple of times earlier in the season.
3. Duke:
When is a win not a win? When coach Mike Krzyzewski says it feels more like a loss. That was his sentiment after the Blue Devils' seven-point victory over St. John's on Saturday, during which Duke allowed a 22-point second half lead to dwindle because of a lackadaisical defensive effort. In a surprisingly-tight ACC race, that's enough to drop Duke from the top of these power rankings this week.
4. Virginia:
The Cavs continue to get it done with defense. After holding Boston College to 49 points (the ninth time this season they've held a foe to fewer than 50),
Jontel Evans
and
Sammy Zeglinski
cut off NC State guard
Lorenzo Brown
's penetration to the basket in the final seconds of that game, forcing a 3-pointer that missed -- and securing a 61-60 victory.
5. NC State:
Although State did a solid job of rallying after its blowout loss at UNC, Brown's potential game-winning 3-pointer fell short against Virginia. The Tar Heels and Cavaliers did a good job of slowing down
Scott Wood
, as State's leading scorer was held to 7-for-23 shooting in the two losses.
6. Maryland:
The Terps broke a three-game losing streak -- including a 74-61 loss to Duke on Jan. 25 -- by beating Virginia Tech 73-69 at home.
Terrell Stoglin
scored 21 of his 28 points in the second half to lead the effort, and he continues to lead the ACC in scoring with 21.3 points per game.
7. Miami:
The Canes followed a 64-49 win at Georgia Tech with a 76-54 victory at Boston College, pulling away from the Eagles with a 27-5 game-ending run. Junior forward
Kenny Kadji
continues to impress, averaging 17.5 points, 7.5 rebounds and 2.5 blocks during those two games.
8. Clemson:
When
Andre Young
shoots 40 percent or better, Clemson is 3-0 in ACC play. When Young shoots below 40 percent, Clemson is 0-3 in ACC play. He did the former against Wake Forest, scoring 19 points on 7-for-12 shooting during his team's win over Wake Forest.
9. Virginia Tech:
The Hokies lost by two points to BYU, before falling by four points in Maryland last week. The only Tech game this month that hasn't been decided by four or fewer points was its double-digit loss to UNC. The Hokies are now 1-6 during that stretch, and it's going to get more difficult to dig out of the ACC basement.
10. Wake Forest:
C.J. Harris
has now scored in double figures for 20 straight games -- the first Deacon to do so since Jeff Teague -- but it wasn't enough to contend with Florida State at home, or Clemson on the road, last week. Wake has now lost five of its last six games.
11. Georgia Tech:
The Jackets managed to score a few more points in the first half against UNC on Sunday (32) than they had in their previous four losses (19.3, on average). But leading scorer
Glen Rice Jr.
's sore big toe, injured in practice last week, isn't helping matters.
12. Boston College:
The young Eagles have now lost four straight since beating Clemson and Virginia Tech earlier this month.
Follow Robbi Pickeral on Twitter at @bylinerp.
January, 16, 2012
1/16/12
8:00
AM ET
What's more surprising so far in this topsy-turvy ACC? That Boston College, the team predicted to finish 12th in the ACC, already has two league wins or that North Carolina, predicted to win the ACC and more, got pummeled at Florida State by 33 points? Here's this week's attempt at ranking the squads in this head-scratching conference:
1 . Duke:
The Devils' defense is still a work in progress, but it showed some much-needed second-half intensity in surviving a close game against Virginia (despite making less than half of its free throw attempts and only a quarter of its 3-point attempts) at home last week. After winning at Clemson on Sunday, Duke is 3-0 in ACC play.
2. Virginia:
The Cavs took Duke down to the wire at Cameron Indoor Stadium last week, but couldn't find enough offense besides senior forward
Mike Scott
to extend their 12-game winning streak. Still, this team's defense (as well as Scott, who has scored 23 points in each of his last two games) is going to continue to give teams fits.
3. North Carolina:
The 33-point loss at FSU on Saturday was the worst in the Roy Williams era -- embarrassing and unacceptable for a team considered a Final Four favorite. The Tar Heels must show more mental toughness on the road. They must get more from their bench. And they need a lot more from ACC Preseason Player of the Year
Harrison Barnes
, who is 7-for-25 his last two games.
4. N.C. State:
After coach Mark Gottfried challenged his team to play better defense than it did during its mid-week loss to Georgia Tech, the Wolfpack responded, holding Wake Forest to 2-for-20 from 3-point range and 40 points, total. All five NCSU starters continue to average double figures in scoring.
5. Florida State:
After winning at Virginia Tech and blowing out UNC by 33 points, it looks like it's finally starting to come together for the Seminoles. Their defense is showing its expected intensity, the team is playing more as a unit.
Deividas Dulkys
isn't going to score 32 points every day, but if FSU can get some consistent offense from
Michael Snaer
and
Ian Miller
, it's going to become harder and harder to beat.
6. Maryland:
The Terps have now won nine of their last 10 games as
Terrell Stoglin
continues to score and freshman
Alex Len
continues to impress. Next up: a test at Florida State, another team that looks on the upswing after an inconsistent start to the season.
7. Miami:
The Hurricanes, on paper, have the pieces to be a factor in the ever-shuffling ACC standings, but they still haven't put it all together. They've had plenty of time to stew after their big loss at UNC last Tuesday, but they can't afford to have guards
Malcolm Grant
and
Durand Scott
both shut down, as they were against the Tar Heels.
8. Clemson:
After losing to Boston College and Duke, coach Brad Brownell is still looking for a go-to scorer to consistently make plays, when needed.
9. Virginia Tech:
After losing to Boston College (a team with nine freshmen) coach Seth Greenberg said it's too early to panic. But at 0-3 in the ACC, with games against UNC and Virginia on the horizon, the Hokies are on the brink of busting their NCAA tournament bubble before it's even inflated.
10. Georgia Tech:
The Jackets snapped their four-game losing streak by winning at N.C. State, only to lose at Maryland. Tech scored only 19 points in the first half of that game, its lowest half of scoring of the season.
11. Boston College:
Who'd have thunk it? The freshman-laden Eagles followed a two-point win over Clemson with a two-point win over Virginia Tech. You've got to respect what Steve Donahue is building in Boston.
12. Wake Forest:
N.C. State tried to keep the Deacons from scoring 40 points in its 36-point romp; it almost succeeded. Although junior
C.J. Harris
remains near the top of the league in scoring, the Deacons have now lost three of their last four games.
Robbi Pickeral can be reached at bylinerp@gmail.com. Twitter: bylinerp.