North Carolina Tar Heels:

Tyler Hansbrough
November, 27, 2013
11/27/13
11:00
AM ET
It seems like just yesterday when North Carolina guard
Marcus Paige
expressed an uneasiness over making the transition to shooting guard. He was so conditioned to creating for others that the mentality to look for his own shots didn't come naturally.
[+] Enlarge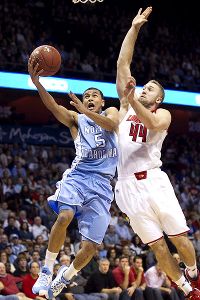 Zumapress/Icon SMIMarcus Paige's transition to shooting guard has been seamless.
Five games later, Paige has thrust himself into a different stratosphere -- both nationally and among Tar Heels historically.
He's currently leading the team with 22.4 ppg. That's comparable to others mentioned as national-player-of-the-year candidates like Oklahoma State's
Marcus Smart
(21.0), Louisville's
Russ Smith
(20.2), Kentucky's
Julius Randle
(19.8), Arizona State's
Jahii Carson
(23.0) and Duke's
Jabari Parker
(23.0).
That also would put Paige on a short list of Tar Heels who have averaged 20 or more points a game since 1970:
Phil Ford (20.8 ppg in 1977-78); Michael Jordan (20.0 ppg in 1982-83); Brad Daugherty (20.2 ppg in 1985-86); Hubert Davis (21.4 ppg in 1991-92); Antawn Jamison (22.2 ppg in 1997-98); Joseph Forte (20.9 ppg in 2000-01), Rashad McCants (20.0 ppg 2003-04) and Tyler Hansbrough (22.6 ppg in 2007-08 and 20.7 in 2008-09).
Paige is shooting 53.1 percent from 3-point range, which ranked him 29th nationally as of Monday's NCAA statistics. The next closest national-player-of-the-year candidate is Creighton's
Doug McDermott
, who is tied for 38th at 50 percent.
If Paige continues at this rate, he would shatter the Carolina single-season record of 49.6 percent set by Dante Calabria in 1994-95. The difference is Calabria was a spot-up shooter who benefited from Jerry Stackhouse and Rasheed Wallace drawing most of the defense's attention.
Paige is shooting 93.1 percent from the free-throw line, which was tied for 40th nationally entering the week. Again, he'd set a new school standard if he keeps it up, besting Shammond Williams' single-season record of 91.1 percent during the 1997-98 season.
Paige is also shooting 53.1 percent from the field, which for a guard is great, but it doesn't compare with post players.
Of course some, if not all, of Paige's current averages will decrease once teams make him the focal point of their game plans.
But the irony here is if Carolina had its full roster, and Paige were strictly playing point guard, he wouldn't be posting anywhere near his scoring average. That's what makes his transformation in such a short amount of time so impressive.
Paige has played at such a high level that it would be hard to argue that he's not the best player on the team even when
P.J. Hairston
came back.
January, 23, 2013
1/23/13
2:06
PM ET
By
Jeremy Lundblad, ESPN Stats & Information
| ESPN.com
On Wednesday at Miami (7 ET on ESPN),
Seth Curry
needs 12 points for the Curry brothers to pass Larry and Eddie Bird for the second-most by a pair of brothers in Division I history.
Barring injury, the Curry brothers should pass the Hansbroughs in February for the most ever.
Below is one man's opinion on the top 10 pairs of brothers to play college basketball. Just missing the list? Tyler and
Cody Zeller
.
10. Dominique and Gerald Wilkins
Both Wilkins brothers were more successful NBA players, but that shouldn't diminish what they accomplished in the college ranks. Dominique is arguably the best player in Georgia history, and its only player to win SEC Player of the Year. Younger brother Gerald helped guide Chattanooga to the NCAA Tournament in his first season, and his 21.0 points per game as a senior is the highest in school history.
9. Tom and Dick Van Arsdale
The most accomplished twins to ever play basketball, it wasn't just looks that made the two difficult to distinguish. Tom averaged 17.4 points and 10.0 rebounds in his three seasons at Indiana, while Dick averaged 17.2 points and 10.0 rebounds.
8. Chuck and Wesley Person
Only three players in Auburn history have scored 2,000 points. Two of them were brothers. Chuck is the school's all-time leader with 2,311 points, while Wesley is third at 2,066. While both were elite at Auburn, it's worth noting that neither won SEC Player of the Year.
7. Mark and Brent Price
At a school famous for producing guards, no one had a better career at Georgia Tech than Mark Price. He was the first freshman to lead the ACC in scoring, and was the Yellow Jackets' leading scorer in all four seasons. Brent Price split his college career between South Carolina and Oklahoma. He was an All-Big Eight selection as senior, once scoring 56 points in a game.
6. George and Ed Mikan
Named of ESPN's 25 greatest college basketball players in 2008, George Mikan helped revolutionize the game with his height. A two-time national player of the year, he led DePaul to the NIT title in 1945, averaging 40.0 PPG in that tournament. A year younger, Ed was also a member of that championship team. He also went on to become a member of DePaul's Hall of Fame and play in the NBA.
5. Ed and Charles O'Bannon
The O'Bannon brothers combined to bring UCLA a national title in 1995. Ed won the Wooden Award that year, as well as the Most Outstanding Player of the tournament. Charles was an All-Pac-10 selection in each of the two years after Ed left, making it five consecutive years than an O'Bannon was so honored.
4. Larry and Eddie Bird
No two brothers have scored more points at the same school. Larry Bird requires no introduction. Over three seasons at Indiana State, he averaged 30.3 PPG and 13.3 RPG. In 2008, ESPN's panel of experts named him the ninth-greatest college player of all-time. But did you know he had a brother? Eddie Bird came to Indiana State a decade later and averaged double figures in all four seasons with the Sycamores. He's still sixth on their all-time scoring list.
3. Stephen and Seth Curry
Barring injury, the Curry brothers will be the highest-scoring duo of brothers in Division I history. Older brother Stephen led Davidson to the Elite Eight as a sophomore and finished as the school's all-time leading scorer despite playing for only three years. In fact, only five players have scored more total points in a three-year college career. Seth's career at Duke isn't nearly as prolific, but the senior captain could help lead the Blue Devils to a national title.
2. Bernard and Albert King
The best player in Tennessee history, Bernard King won SEC Player of the Year in all three seasons in Knoxville. He averaged more than 25 PPG in all three seasons. Overshadowed by his older brother, Albert was certainly no slouch. He averaged in double figures in all four seasons at Maryland and is the fourth-leading scorer in school history. Albert garnered ACC Player of the Year honors as a junior.
1. Tyler and Ben Hansbrough
No pair of brothers has scored more combined points than the 4,485 from the Hansbroughs. Tyler Hansbrough finished his North Carolina career as the ACC's all-time leading scorer (2,872 points) and eighth all-time with 1,219 rebounds. One of only five players with 2,800 points and 1,200 rebounds, it's no stretch to call him one of the greatest college basketball players of all time. But younger brother Ben was no slouch. In 2011, he averaged 18.4 PPG at Notre Dame and was named Big East Player of the Year.
Honorable Mention
George and Derrick Gervin, Horace and Harvey Grant, Blake and Taylor Griffin, Brook and Robin Lopez, Jay and Sam Vincent, Gus and Ray Williams, Cody and Tyler Zeller.
September, 12, 2012
9/12/12
7:25
PM ET
Tami Hansbrough, the mother of former North Carolina basketball All-America
Tyler Hansbrough
, resigned her position as a school fundraiser Wednesday as the school continued to study trips she took with Matt Kupec, UNC's vice chancellor for university advancement.
Kupec, a former Tar Heels quarterback, resigned Sunday night after an internal review showed he had charged personal trips with Hansbrough to the university. Hansbrough had been placed on administrative leave.
Chancellor Holden Thorp told The (Raleigh) News & Observer on Monday that Kupec and Hansbrough appeared to have taken non-university-related trips to destinations where Hansbrough's youngest son,
Ben
, was playing basketball for Notre Dame. Thorp did not say how many trips the couple took.
Click
here for the rest of the story
.
June, 8, 2012
6/08/12
10:00
AM ET
Former UNC assistant Jerod Haase didn't just
take Bobby Frasor with him
when he left Chapel Hill to become head coach at UAB. Some former Tar Heels players have been (and will be) in Birmingham, too, helping Haase out with his youth camps this month.
Steve Irvine of The Birmingham News writes
that Sean May and Marvin Williams -- two of the stars of UNC's 2005 national title team -- were at Bartow Arena on Wednesday to mingle with the kids. And Tyler Hansbrough, who starred on the 2009 NCAA championship team (along with Frasor, Haase's new director of operations), is scheduled to help at camp next week.
It looks like the Carolina "family" has a new branch down south.
"It was one of those no-brainers," Williams said. "Anything that Coach Haase ever needs, he knows to call me. I think he thought I was joking. He called me back about three weeks later and asked if I was serious about coming. I told him just to tell me when and I was there."
Haase told the paper he hopes to develop the same kind of bond with his players at UAB as he has with the Tar Heels.
"That kind of relationship with players at North Carolina, that's something I hope to build here," Haase said. "I hope years from now we're talking about former UAB players who are (NBA players) coming back for camp, as well."
Follow Robbi Pickeral on Twitter at @bylinerp.
May, 30, 2012
5/30/12
10:00
AM ET
Nonconference scheduling is becoming more of a puzzle, what with the
increase in league games
and
some foes pushing for neutral sites
.
But one piece North Carolina coach Roy Williams is determined not to give up: hometown games for the Tar Heel basketball players who want them.
[+] Enlarge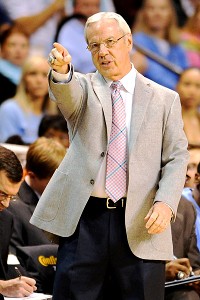 Ethan Miller/Getty ImagesRoy Williams says he still tries to make hometown games a priority when scheduling nonconference matchups.
"It's something we look forward to doing,'' Williams said earlier this week. "Different kids, it means more to. Sean May was really looking forward to going back to Indiana … but he was very disappointed in the reception he got there. And then you've got Tyler Hansbrough, we took him up to St. Louis, and he was really excited about it. And the reception he got was just off the charts.
"... People they grew up with, people in their families, friends, you can't always get tickets for everybody that you want, not even for home games. So I think playing it on the road and taking it into their area, there are people that are close to them from when they were younger that have a much better chance of getting to the game. It's always been important to me."
The UNC tradition of taking players back home began with coach Dean Smith, and Williams, an assistant on Smith's staff, continued it when he became head coach at Kansas.
Another complication in scheduling such games, however, has been the rise in players leaving early for the pros.
"I remember [when I was at Kansas] scheduling and playing in Oakland against Oregon," Williams said. "Looking around, that game was for Drew Gooden to take him back home, and all of a sudden, you couldn't find Gooden, because he was already in the NBA. So that's a little bit of the problem, too."
To try to get around that, Williams and UNC senior associate athletic director Larry Gallo have tried to schedule more "go home" games earlier in Tar Heels' careers. (The St. Louis trip took place during Hansbrough's sophomore season in 2006-07, for example; and the Tar Heels played at Evansville when Tyler Zeller was a junior in 2010-11.)
Players who grew up near ACC schools don't have special games scheduled because they're competing near home during conference play anyway. (Forward John Henson fit into this category, Williams said, since he moved to Tampa in high school, and the Tar Heels played at two Florida schools, Miami and Florida State, in league competition.)
And for some players, like Iowa native Harrison Barnes, a road trip back home isn't a priority. So hometown games aren't scheduled.
"There was no one that Harrison -- because we talked about it a few times -- there was no one that jumped out at him that he wanted to play,'' Williams said of Barnes, who left after his sophomore season and is expected to be one of four UNC first-round draft picks in June.
Added Gallo: "Coach Williams always talks to the individual player, asks what he wants, because he doesn't want to put undue pressure on him. He makes sure it's something the player wants to do."
Currently, there are no hometown games
scheduled for next season
. Williams said he has talked to redshirt junior Leslie McDonald about taking him back home to Memphis, and Williams has had some discussions with the Tigers, "but nothing is set in concrete."
Other possible future destinations, judging by the incoming freshman class, include Iowa (Marcus Paige) and Wisconsin (J.P. Tokoto). But keep in mind:
balancing the difficulty of the schedule
also factors into which teams UNC might try to play in those areas, and when.
"It is harder with more conference games and more national rivalries,'' Williams said. "... So you have less freedom than you've ever had on your schedule, and less flexibility than you've ever had. So it is getting harder, but I still do want to do it, there's no question.
"During the course of the recruiting process, we talk to our youngsters and see if that's something they would be interested in. ... And we will continue to do that. It's something I like to do."
Follow Robbi Pickeral on Twitter at @bylinerp.
January, 5, 2012
1/05/12
5:00
PM ET
Each week, I'll try to answer your queries, comments, raves and rants about North Carolina hoops. Send your interrogatives by visiting this page. You can also email me at bylinerp@gmail.com or contact me via Twitter at @bylinerp.
As usual, I'll answer the first question via video. Read below for more. And if I didn't get to your question today, there's always next Thursday. Or the Thursday after that. Keep them coming ...
@ran_d_zim via Twitter:
My ? Is... will
Leslie McDonald
play this year, and if so, when? And how would it affect the rotation?
Pickeral:
You've probably seen this by now, but UNC coach Roy Williams said Tuesday that McDonald, who underwent reconstructive surgery on his right knee in August,
was released last week to do more in practice
. He still wasn't full-go, but Williams hopes the school can make an announcement in the next couple of weeks about the junior's status.
Judging by similar past injury situations, Williams will eventually meet with McDonald and his family about whether to return or redshirt this season. If he is healthy enough to contribute, it will be the family's decision.
In 2009, forward
Tyler Zeller
(then a freshman) ultimately decided to return from a broken wrist and played in the final 13 games en route to UNC's national title. He has said he made the decision to return because he knew he could contribute. The same season, then-senior Marcus Ginyard opted to redshirt rather than play on a foot injury; the next season, he returned to a team that lost 17 games.
If McDonald, who averaged 7.0 points off the bench last season, does opt to return, he would add another perimeter threat to a team that has legitimate title hopes. And it might be difficult to turn down such an opportunity; after all, you never know when you'll get a chance to possibly play for an NCAA championship again. (See the Ginyard example in the previous paragraph.)
At the same time, it's unclear how many minutes McDonald would play in a rotation that also features reserve sharpshooters
Reggie Bullock
(9.3 ppg, 18.1 mpg) and
P.J. Hairston
(8.3 ppg, 12.9 mpg).
---
Ron from Wilmington, N.C.:
If you had to pick one, do you go with Ed Cota,
Raymond Felton
,
Ty Lawson
or
Kendall Marshall
as your PG?????
Pickeral:
Aaargh. This one's a toughie. But ...
If I'm starting a team from scratch, and get to pick my point guard first, I'd go with Felton. Not only can he push the pace, assist and score -- he's got that cut-throat, win-or-hurt-you-trying competitive personality that feeds a team as much as buckets and assists. That's not knocking the others; I'd like to take all four of them, throw in a big guy or two, and see what would happen.
Who would you take?
---
Rosemary from Raleigh, N.C.:
I am really worried about my Heels. They don't appear to have a real leader -- someone who can fire them up or calm them down. Usually it is the point guard but I'm not seeing that from Marshall. If not Marshall, is there another player on the team who can become the leader?
Pickeral:
Rosemary, I think you've got to give Kendall Marshall a bit more credit. He may not be a screamer on the court, but he's a guy his teammates tend to look to when times get tough. Remember last season, when
Larry Drew II
transferred? Marshall was only a freshman, but the Tar Heels rallied around him.
Other players provide leadership in other ways: Seniors
Justin Watts
and Tyler Zeller are vocal leaders in the locker room; sophomore
Harrison Barnes
sets an example with his work ethic, and is a go-to guy when the game is on the line.
Is there an obvious, outwardly vocal, leader on this team, like a Ginyard or a
David Noel
? No. Would I like to see one? Yes. But also remember: the leadership question came up a lot, too, during the 2009 championship season, when Ginyard -- the acknowledged vocal leader of that team -- got hurt and ended up redshirting the season. Forward
Tyler Hansbrough
and Lawson took over the role in deed more than in word, and that team ended up doing more than OK.
December, 8, 2011
12/08/11
2:30
PM ET
Each week, I'll try to answer your queries, comments, raves and rants about North Carolina hoops. Send your interrogatives by visiting this page. You can also email me at bylinerp@gmail.com or contact me via Twitter at @bylinerp.
This week, I'll answer the first question via video. Read below for more. And if I didn't get to your question today, there's always next Thursday. Or the Thursday after that. Keep them coming ...
David from Houston:
It seems to me that every single time
Tyler Zeller
is getting the ball in the paint his very first move is to put the ball on the floor. If I notice this from my couch in Houston, I'm guessing the scouting reports pick up on it too which seems to be leading to more immediate double teams which leads to a turnover, a pass back out or an out of position shot. Has Roy or the other coaches talked with him about this tendency? I don't remember him doing this nearly as much [if at all] the last couple of seasons.
Jeff from Central Point, Ore.
: Is anyone else noticing how weak Tyler Zeller's post game has been this season? It seems to me that either he has regressed from last year, or he has been exposed. Kentucky CONTINUALLY doubled down on Zeller in the post and time after time after time swatted the ball right out of the 7-footer's hands. This seems to be a common problem in Zeller's game right now. Is this new? Has this gotten worse since last season? Is the coaching staff working with Zeller to do anything about it?
Pickeral:
David and Jeff, the coaching staff is addressing the problem with Zeller, who remains particularly disappointed with his play at Kentucky. As coach Roy Williams explained during his Monday night radio show, the senior can't lollygag with the ball, especially because he's being double-teamed so aggressively. But his teammates have got to give him some help, as well.
"Z has got to catch the ball cleanly and make a quicker decision,'' Williams said. "If you feel one guy is on you, I want to see him turn around and try to score. Tyler Hansbrough was a different animal, he was so strong and wanted the contact that he would turn those shoulders high, elbows high, and some of those double-teams would back off a little bit. And Z feels like he's being attacked in there a little more, so it's different people, and you've got to coach different ways.
"With Z, we want him to make a quick move or get the ball out. And at the same time, the perimeter people have to help him. If I'm on the right wing and throw it in, I should either screen away for another perimeter player to go over there, or foul-line extended, or see that I've got no one coming and I've got the space – so that Z has someone to throw the ball to. … Z's being attacked, he can't find you. It's not like hide-and-seek; you've got to be able to be seen. And if he can't see your hands, you're in a bad position. So he's got to make a quicker move, and the perimeter has got to give him some better help to give him to throw it to."
Oh, and David: Williams said he allows his big guys one power dribble in the lane — as long as it's not in traffic.
---
VerifiedMark on Twitter:
If you err on the side of what a team has done are you not in favor of preseason polls?
Pickeral:
Mark is referring to earlier this week when I wrote that
I err on the side of how teams have played
, rather than what they have the potential to do, when it comes to rankings and polls.
I don't have a problem with preseason polls, Mark, as long as the voters are willing to make leaps or drops after a couple weeks, if necessary. Polls and rankings are great talking and debating points for everyone; but one of the basic problems (which leads to the talking points and debates) is that voters base their choices on different sets of criteria. Some use RPI more than others; some weight potential; some factor in who would do what if they played head-to-head.
As I write this, for instance, I'm wrestling with the ACC power rankings, and who deserves to be on top. I think UNC would beat Duke if they played right now. But even though the Devils lost badly to Ohio State, they have the better strength of schedule – and the Heels not only have that loss to Kentucky, but the 10-point defeat to UNLV. So which criteria would you use? I know what I'm leaning toward. Stay tuned.
---
Wb22 on Twitter:
PJ has now changed his twitter account name AND locked his account. So, if he has another bad post, only his friends will see it :)
Pickeral:
Wb is referring to reserve guard
P.J. Hairston
's tweet last week about the status of his sprained wrist – an update that ultimately was wrong, and irritated Williams because the coach thought that info should stay within the team until the team was ready to announce it.
Hairston has since changed his Twitter address to @P_makeitrain_J – but just because it's locked doesn't mean it's not being monitored. As part of a set of new rules adopted by UNC amid the NCAA football investigation, every team has a staff member assigned to monitor players' social media accounts. So if the basketball Tar Heels tweet something Williams wouldn't like, he'll still find out.
---
Steve from Honolulu:
Roy Williams failure to use timeouts in the 2nd half [at Kentucky] especially in the last possession of the game shows his inept game management. UNLV exposed it this year, KU confirmed it. How do you not give
Harrison Barnes
the last shot down by one against KU's defense against a set play out of a timeout?
Pickeral:
Hey, Steve. In case you missed it, Williams addressed this
on his radio show earlier this week
. Basically, he has a long-standing rule in that situation that if less than seven seconds remain, he will call time; if more than seven seconds remain, he won't. Why? Because, he said, his team knows what it is supposed to run (a shot from Barnes was one of the options), and by keeping the clock moving, the other team doesn't get a chance to set its defense.