North Carolina Tar Heels:

UNC-position-series-2013
October, 23, 2013
10/23/13
5:30
PM ET
This is the third installment of a position-by-position look at the Tar Heels.
It's funny to think that Reggie Bullock's decision to turn pro turned the Heels into a team that is thin at wing. But it did just that. However, the Heels can be thankful for one of the carry-over benefits from their use of a four-guard lineup last season. P.J. Hairston and Leslie McDonald are now both used to having to defend small forwards. Both are versatile enough to spend time at small forward, depending on the personnel coach Roy Williams uses at any given time.
[+] Enlarge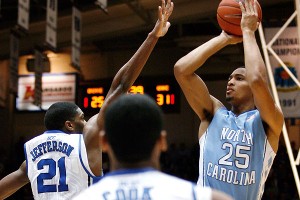 Mark Dolejs-USA TODAY SportsJ.P. Tokoto could see a much bigger role for the Tar Heels this season.
The strength of the position will probably hinge on how well sophomore
J.P. Tokoto
is prepared to play it. Tokoto is a natural small forward. He's arguably the team's best on-ball defender with more steals per minute played than anybody on the roster.
"His defensive presence and the pressure on the ball, attacking the rim and jumping over people to get rebounds is incredible," McDonald said. "He's that guy that you want on your team. He's going to give it all he has."
After averaging just 8.6 minutes per game last season, Tokoto could see the biggest increase in minutes played on the team. That is, as long as can produce in his expanded role.
"I don't think it's an audition, I think it's an opportunity that coach has presented to me," Tokoto said. "... it's not just given to us, we have to go take it. I'm excited to get out there and show people what I can do."
Oddly enough
James Michael McAdoo
will also get a chance to showcase his skills, or lack thereof, at small forward. When Williams decides to use a bigger lineup McAdoo will move to the 3-spot with Tokoto, McDonald or Hairston, when he returns from suspension, playing shooting guard.
McAdoo faces two major challenges in playing small forward: He'll have to prove he can defend in some cases smaller and quicker opponents. He'll have to take better care of the basketball after leading the team with 96 turnovers last season. Williams seemed confident he could handle the transition.
"He can't do that (play small forward) if he turns the ball over, so the ball-handling part of it has to get better," Williams said. "I have seen a more focused player than I've ever seen and a guy that's having a very, very good preseason. I really hope that James Michael is my biggest worry -- that means I'll be in good shape."
Small forwards
Tokoto: 6-5, 200, So., 2.6 ppg, 1.2 rpg, 48.8 FG%
McDonald: 6-5, 215, Sr., 7.2 ppg, 2.1 rpg, 35.7 FG%
Hairston: 6-6, 220, Jr., 14.6 ppg, 4.3 rpg, 43.1 FG%
McAdoo: 6-9, 230, Jr., 14.4 ppg, 7.3 rpg, 44.5 FG%
October, 22, 2013
10/22/13
5:00
PM ET
This is the second installment of a position-by-position look at the Tar Heels.
With the length of
P.J. Hairston
's pending suspension still up in the air, the shooting guard position is a bit of an unknown . Hairston, the Heels' leading scorer last season, is clearly the best suited to start. He led the team in made 3-pointers (89) and shot the highest percentage (39.6 percent) from behind the arc of any returning player.
Once he returns to the lineup, Hairston will likely reclaim the status as the team's most gifted scorer. In the meantime,
Leslie McDonald
and
J.P. Tokoto
will be among those who will be relied upon the most to fill the void.
[+] Enlarge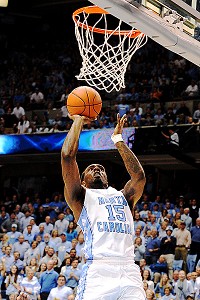 Cal Sport Media via AP ImagesP.J. Hairston's suspension opens up opportunities at shooting guard at North Carolina.
McDonald, the lone scholarship senior on the roster, has played in 100 games during his career – the most of any player on the roster. But he's just started once during that span. Last season against UAB he responded with a career-high 24 points in his lone start.
While coach Roy Williams doesn't expect McDonald to produce career-highs every time he starts, he believes McDonald is poised for a career season.
"I expect him to play his best basketball," Williams said. "He's a shooter, but yet he's been a streak shooter. I need him to be a consistent shooter. I need him to make it in multiple games. He understands that. I think this will be his biggest year."
Tokoto provided most of his value as a tough defender last season. He'll look to score more this year, especially with a renewed confidence in his mid-range jumper. Tokoto made 1 of 11 attempts from 3-point range as a freshman. He made most observers cringe when he stepped to the free-throw line as well, shooting a horrid 10-for-26 (38.5 percent).
Assistant coach Hubert Davis spent the offseason working with Tokoto on his shot and he'll likely be much more of an offensive threat now.
"J.P. is more confident, and he should be because he's shooting it better," Williams said. "But I also want him to understand great players understand their strengths and their weaknesses. I don't want him going out thinking that he's going to shoot five or six 3s every game and never go to the offensive rebounds, 'cause that's not very intelligent and I think he'll understand that, too."
Tokoto could be used at shooting guard if Williams decides to go with a bigger lineup that wold use
James Michael McAdoo
at small forward and
Brice Johnson
or
Isaiah Hicks
at power forward.
It's all experimental right now, but Williams indicated he'll show that look in the season opener as well as a lineup that moves
Marcus Paige
to shooting guard with freshman
Nate Britt
running point guard.
"I would say that I'm convinced that the first game when we play Oakland that you'll see two little point guards out there together," Williams said. "I'm convinced in the first game against Oakland you'll see James Michael as a small forward. It is something that will be a continual process throughout the season."
Paige playing off the ball would force him to become a little more selfish and look to score more. It's something he was reluctant to do last season while running the point, but Williams believes he could be effective at shooting guard.
"Last year you heard me say 50 times Marcus is really a big-time shooter and the numbers didn't show that," Williams said. "I think Marcus' numbers will show this year."
Shooting guards
P.J. Hairston: 6-6, 220, Jr., 14.6 ppg, 4.3 rpg, 39.6 percent 3-pt FG
Leslie McDonald: 6-5, 215, Sr., 7.2 ppg, 2.1 rpg, 35.9 percent 3-pt FG
J.P. Tokoto: 6-5, 200, So., 2.6 ppg, 1.2 rpg, 9.1 percent 3-pt FG
Marcus Paige: 6-1, 175, So., 8.2 ppg, 2.7 rpg, 34.4 percent 3-pt FG
October, 21, 2013
10/21/13
7:30
PM ET
This is the first in a position-by-position look at the Tar Heels.
Point guard is arguably the toughest position to play in coach Roy Williams' system. It's also generally the barometer to indicate what kind of team resides in Chapel Hill. When point guard has been a strength (
Raymond Felton
,
Ty Lawson
,
Kendall Marshall
), the Heels have competed at the highest levels. When it has been a bad fit (Larry Drew), the Heels ended up in the NIT.
[+] Enlarge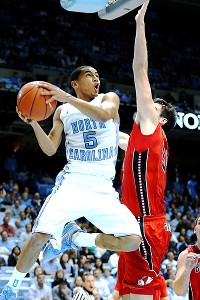 Andy Mead/YCJ/Icon SMINorth Carolina point guard Marcus Paige improved greatly throughout the 2012-13 season.
And when it's been inexperienced, as
Marcus Paige
was last season, they haven't progressed past a second game in the NCAA Tournament. (That includes Williams' first year back in Chapel Hill when Felton got acclimated to the system and Bobby Frasor's season as the starting point guard in 2005-06.)
Paige, who was just the eighth point guard in school history to start his first game as a freshman, came on strong at the end of the season. Over the first 24 games last season, he shot 32.1 percent from the floor, 30.8 percent from the free throw line and averaged 3.4 assists. During the final 11 games including the postseason, Paige improved his shooting from the floor to 42.5 percent -- including 44.5 from behind the arc – and also averaged 3.5 assists.
Williams expects to see the version of Paige that closed out last season when this season begins.
"The initial stages -- particularly if you put a freshman at point guard and say, 'Here's the ball' -- you're thinking so much more than you're doing something instinctively," Williams said. "Hopefully after a year, he'll do those things instinctively, bypass that thinking part and that'll make the decision smoother and quicker, more successful and all those kind of things. Nate's going through the same thing right now."
Nate Britt
will at least give the Heels a true point guard as a second option, unlike the past few seasons when Dexter Strickland was a functioning backup point guard. Williams has said he plans on playing Paige and Britt in the same lineup, which will encourage a faster tempo as either guard can push the pace.
"(Britt's) a distributor, a guy that tries to get everybody else involved and a guy who tries to do exactly what I'm asking him to do," Williams said. "I mean he's really forcing the pace of the game. Now he's just got to be able to make the successful play at the end. He's a guy who is really going to help us."
With plans to use both Paige and Britt, expect
Luke Davis
to continue to log minutes in reserve. The junior appeared in 20 games last season and had a 3 to 1 assist to turnover ratio.
UNC point guards:
Paige: 6-1, 175, So., 8.2 ppg, 4.6 apg
Britt: 5-11, 165, Fr.
Davis: 6-0, 175, Jr., 0.4 ppg, 1.2 apg