North Carolina Tar Heels:

Wes Miller
February, 28, 2013
2/28/13
2:10
PM ET
Former North Carolina guard Wes Miller will be returning to the Smith Center next season -- as an opposing coach.

The Tar Heels will play UNC Greensboro -- which is coached by Miller, a member of the 2005 NCAA championship team -- for the next three seasons, the Spartans
announced on their web site
.
UNCG will play at UNC next season; the teams will face off at Greensboro Coliseum in 2014-15; then the Spartans will return to Chapel Hill in 2015-16.
"I am excited about the opportunity to compete against North Carolina over the next few years," Miller said in a prepared statement. "I know that our players and the entire UNCG community will be looking forward to the games. Having North Carolina return to play us at home in 2014-15 will be a tremendous moment for everyone at UNCG and the city of Greensboro. I am grateful that Coach [Roy] Williams has agreed to play."
Williams, in a prepared statement, said that if UNC can help one of its former players who is coaching at another school, then it's good for the Tar Heels' program, too: "Wes is a great young coach who did a fabulous job as a player at North Carolina and is an important part of our UNC family. We look forward to competing against his teams."
August, 31, 2012
8/31/12
10:50
AM ET
GREENSBORO, N.C. --
Trevis Simpson
admits he had his doubts.
Huddled in front of the visiting bench with his UNC Greensboro teammates last January -- trailing The Citadel by a point with less than a second left on the clock -- the Spartans' leading scorer raised his eyebrows when he saw what 28-year-old interim head coach Wes Miller had scribbled on his clipboard.

"He draws up this play that none of us had ever seen before," Simpson said, shaking his head as he remembered. "And we're kind of like, 'Ahhhhhhh … they're going to be all over that.'"
Instead, with 0.5 seconds left on the clock, guard
Drew Parker
inbounded a perfect alley-oop pass to Simpson, who jammed home the Spartans' second straight victory. It jump-started what would become a seven-game winning streak, an 11-5 late-season surge, a Southern Conference North division title, and the removal of 'interim' from Miller's title.
This coming from a team that started the season 2-14, with wins against a Division II team and hapless Towson.
"I don't know that that's what got me the job," Miller said recently, sitting in his still-half-decorated office in the HHP Building on UNCG's campus. "But looking back, it was huge. We had lost six in a row since I took over as interim head coach -- and we had lost our last 11, total, looking further back -- and when we finally won at Charleston to break that streak, it felt as good to me as winning the national championship in 2005.
"But the win at The Citadel, winning that way, I think that was the moment when everyone jumped in with both feet, completely. When everyone started to believe in each other."
It has only been the last four weeks or so that Miller -- who signed a five-year contract in March and has been focused on hiring staff and recruiting ever since -- has had time to contemplate, and (try to) put into perspective, the importance of that play. Not to mention his roller-coaster rise over the past nine months.
Last December, the former North Carolina guard was in his second year as an assistant coach for UNCG when athletic director Kim Record called him into her office and asked if he would take over for fired head coach Mike Dement for the rest of the season. The school would conduct a national search for a full-time replacement, and Miller would be a candidate, "but we needed someone who could hold the team together," Record said.
Since he was knee-high, Miller dreamed of being a Division I head basketball coach.
Just not quite like that. And not quite that fast.
Click here for the rest of the story
....
June, 8, 2012
6/08/12
2:30
PM ET
Who will succeed Roy Williams?
Granted, it's a little early for that question, considering the two-time NCAA title-winning coach, who will begin his 10th season as North Carolina's head coach this fall, said recently he plans to remain on the sideline for another six to 10 years.
But after reading Friday's story by ESPN.com's Jason King about
how difficult it is to replace a coaching legend
, it's an interesting question to ponder.
[+] Enlarge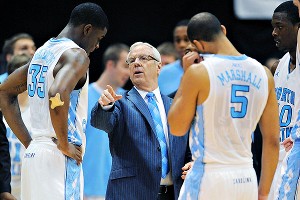 Bob Donnan/US PresswireThe Tar Heels do not have an obvious in-house candidate ready to replace Roy Williams when he decides to retire.
UNC's last three head coaches -- Bill Guthridge, Matt Doherty and Williams -- all had connections to Dean Smith, one of the winningest coaches in NCAA history. And it's likely that when Williams eventually steps down, the school will look first to Carolina's coaching tree, including those branches stemming from Williams. (Although it will no doubt go outside the "family" if it has to.)
After all, at the moment, there are no slam dunk choices with UNC and/or Williams ties (unlike Williams, the former Tar Heels assistant who had already taken Kansas to four Final Fours by the time he was lured back to Chapel Hill in 2003). So it will be interesting to watch who, if anyone, develops into a realistic candidate in the coming seasons.
In the spirit of King's story, here are some coaches with "family" ties worth watching (in no particular order) when debating who might eventually try to fill Williams' shoes:
Steve Robinson, North Carolina assistant coach:
A former head coach at Florida State, Robinson knows the rigors of the ACC. And he's been at UNC since Williams returned. But he turns 55 this year, meaning he might be in his mid-60s by the time Williams steps down. Does he want to wait that long to be a head coach again, and will he even still want to be coaching by then?
Jeff Lebo, East Carolina head coach:
Lebo played point guard under Smith in the late 1980s, and was head coach at Tennessee Tech, Chattanooga and Auburn before landing at ECU in 2010. But he's still looking for that elusive NCAA tournament berth as a coach.
Hubert Davis, North Carolina assistant coach:
When he was hired last month, the former UNC/NBA player said
he wasn't looking ahead to head-coaching possibilities
; after all, the former ESPN analyst has never coached before. But as ESPN.com's Andy Katz pointed out, with no obvious successor,
it's not unreasonable to think that Davis has a shot
if he wants to continue on the coaching career path.
Wes Miller, UNC Greensboro head coach:
Miller, a UNC guard and fan favorite from 2004-07, was named the 2012 Southern Conference Coach of the Year after being named interim head coach after the season began. He earned a five-year contract, and was the youngest coach in NCAA Division I when he was hired.
Kevin Stallings, Vanderbilt head coach:
His two closest ties to UNC are his son (Jacob, who played baseball there), and Williams (who he worked for as an assistant coach at Kansas). He's led teams to the NCAA tournament on multiple occasions, including to the Sweet 16.
Brad Frederick, Vanderbilt assistant coach:
He played for Smith and Guthridge at UNC, is the son of Williams' former athletic director at Kansas, and currently works for Stallings (a former Williams assistant). It's hard to imagine the Tar Heels hiring an assistant coach from another program, though, so he would likely need to pick up some head-coaching experience to have a shot.
Buzz Peterson, UNC Wilmington head coach:
Michael Jordan's former roommate has also been head coach at Appalachian State (where he led the team to the NCAA tournament in 1999-2000), Tulsa (where he won an NIT title), Tennessee and Coastal Carolina.
Mark Turgeon, Maryland head coach:
Another of Williams' former assistants at Kansas, Turgeon took Wichita State to the Sweet 16 and boasted four NCAA tournament berths at Texas A&M before taking over the Terps last season. Now, he gets to take on his former boss at least once a year.
Jerod Haase, UAB head coach:
A Williams assistant through the end of last season, the former player at Kansas was recently hired for his first head-coaching job, at UAB. He said it was difficult leaving Chapel Hill, so it's not a stretch to imagine he wouldn't mind coming back one day.
There are others with North Carolina connections that also come to mind, including Monmouth head coach King Rice, Milwaukee Bucks assistant coach Joe Wolf, current UNC assistant C.B. McGrath and Appalachian State head coach Jason Capel.
Who will you be keeping an eye on?
Follow Robbi Pickeral on Twitter at @bylinerp.
April, 18, 2012
4/18/12
1:00
PM ET
CHAPEL HILL, N.C. -- I caught up with North Carolina coach Roy Williams for a few minutes before he addressed fans at the Rams Club's Triangle Tour stop on Tuesday night. A few notes:
COACHING TREE GROWS:
Williams said he plans to
hire a person with UNC ties
to replace assistant coach Jerod Haase, who left earlier this month to become head coach at UAB. But it won't be last season's assistant strength and conditioning coach Jackie Manuel, who is now an assistant coach at UNC Greensboro under former Tar Heels guard Wes Miller. And it won't be assistant video coordinator Bobby Frasor,
Haase's new director of basketball operations
.
Williams thought it would be good for the former Tar Heels guards to gain more coaching experience outside of Chapel Hill.
"I asked Wes to take Jackie, and it was an easy sell. I asked Jerod to take Bobby, and that was an easy sell. Because I thought those were great spots for them to start their coaching career,'' Williams said. "They were wonderful kids, but I wanted them to understand that not every place is like North Carolina.
"I think it was great for me that I was a high school coach for five years; I was an assistant coach for 10 and I had two practices for eight. I realize that somebody's got to flip a switch to turn the lights on, somebody's got to mop the floor; it doesn't just happen magically. And when you coach at North Carolina, you think that all those things happen magically, and they don't. Somebody has to do that."
TEAM LIKELY SET:
With three underclassmen leaving early for the NBA draft and ACC Player of the Year
Tyler Zeller
graduating, the Tar Heels lose four-fifths of the starting line-up that led UNC to the NCAA regional finals. A four-man freshmen class arrives in June, but it sounds like Williams doesn't expect any late additions to next year's team.
"We always keep our eyes and ears open; I'm never going to say that we wouldn't be interested," he said. "But there's nobody out there. There was all this stuff in the paper about one player, that we were doing all this stuff. I talked to the kid one time, period.
But, he added, "we'll always keep our options open."
Although he didn't give that player's name, Williams was referring to his call to Connecticut forward
Alex Oriakhi
, who chose instead to transfer to Missouri. Oriakhi won't have to sit out a season because the Huskies are barred from playing in next year's NCAA tournament, and he would have added an experienced big body to a Tar Heels team that loses both starting forwards (Zeller and
John Henson
).
Williams told fans Tuesday night that sophomore forward
James Michael McAdoo
(who will slide into one of those starting positions) "has a chance to be a big-time, big-time player; he's got to step his game up."
Wing
Reggie Bullock
, he added, "will have to take his game to another level."
Meanwhile, "Dexter [Strickland] and Leslie [McDonald] have to come back in and be healthy, and then the freshman group we have coming in, they've got to show us that they're strong players, as well."
With so many veteran players on the perimeter and so many younger ones in the post, it will be key to see whether Williams opts to go with a smaller, guard-heavy line-up compared years past. Even he doesn't know -- yet.
"It will be interesting to see how my thought process goes over the summer,'' he said.
MIGHT-HAVE-BEENS:
Not surprisingly, it's been a difficult few weeks for Williams, after his team -- which began the season ranked No. 1 and had national title goals -- lost to Kansas in the NCAA tournament in the Midwest Region final.
"It's been really hard, because it was a great, great year with a sad, sad ending. … Our last regular-season game, when we played at Duke, I thought we were pretty doggone good. And I said on the bus, just to our coaching staff, that for me, if we played like that, then we have a chance to win the whole thing.
"Then the very next game, John gets hurt [sprained wrist] -- and John was never the same. And then the second game in the NCAA, Kendall [Marshall] gets hurt, and that's about as unlucky as I've ever been, I guess, too."
Follow Robbi Pickeral on Twitter at @bylinerp.
April, 16, 2012
4/16/12
9:00
AM ET
Some Tar Heels hoops-related notes, quotes and stories that you might have missed from the weekend:
ORIAKHI CHOOSES MISSOU:
Connecticut transfer
Alex Oriakhi
, the 6-foot-9, 245-pound rising senior who will be eligible to play next season because the Huskies are banned from the 2013 NCAA tournament,
chose Missouri on Friday instead of Kentucky, Xavier or North Carolina
.
Oriakhi, who averaged 7.2 points and 6.8 rebounds in three seasons at UConn, seemed likely to slide into a starting slot had he chosen UNC, what with 7-foot ACC Player of the Year Tyler Zeller's graduation and ACC Defensive Player of the Year John Henson's decision to leave early for the NBA.
His decision leaves rising sophomore
Desmond Hubert
, as well as incoming freshmen Brice Johnson and Joel James, competing for a starting position in the post alongside rising sophomore
James Michael McAdoo
.
JOHNSON, TOKOTO IN JORDAN BRAND CLASSIC
: Speaking of Johnson, he finished with four rebounds and a steal, while fellow incoming UNC freshman J.P. Tokoto had eight points, four rebounds and three steals during the
East team's loss in the Jordan Brand
Classic on Saturday.
Tokoto told the Durham Herald-Sun
it was a fun experience
.
"Me and Rodney [Purvis, who will be a freshman at N.C. State] shared a room this week," Tokoto told the newspaper. "We developed a friendship and it was pretty cool hanging out with him. Me and Sheed [incoming Duke freshman Rasheed Sulaimon] have always joked around with UNC-Duke kind of stuff.

"It was an all-around fun weekend. We don't take it too seriously — yet. But when we play, it will be a different story."
MILLER, MANUEL REUNITE AT UNCG:
Jackie Manuel, who spent last season as UNC's assistant strength and conditioning coach, is a new assistant coach at UNC Greensboro. He was hired by head coach Wes Miller, a former teammate on the Tar Heels' 2005 national title team.
"It's a great honor, and I'm very thankful for Wes to think of me that highly," Manuel said in a
prepared statement released by UNCG
. "I'm very appreciative and just blessed. It brings back old memories. It doesn't happen often, whether it's playing, coaching, whatever it is, that you get to be with a teammate again. It's going to be good. We know each other very well, so the transition should be real easy."
Follow Robbi Pickeral on Twitter at @bylinerp.
December, 14, 2011
12/14/11
3:30
PM ET
At around midnight Tuesday, Appalachian State coach Jason Capel texted new interim UNC Greensboro coach Wes Miller. The former North Carolina forward welcomed the former Tar Heels guard to the head coaching ranks, and told Miller that his heart would never stop beating fast, as long as he was a head coach.
"It's actually the same thing Coach [Roy] Williams shared with me, the day he found out I was head coach at App State,'' Capel said. "So I kind of passed that on to Wes.
"To me, that's a testament to the program, having another head coach [come out of UNC]."
Indeed, Miller, who replaces Mike Dement for at least the rest of the season, adds another branch to the Tar Heels' ever-growing coaching tree. Out of the 18 Division I basketball programs in the state of North Carolina alone, there are now six head coaches who previously played for the Tar Heels.
The list:
Williams, in his ninth season at UNC after playing on the Tar Heels' junior varsity team and serving as an assistant coach in Chapel Hill, N.C., for 10 seasons.
Capel, in his second season as head coach of the Mountaineers after playing for UNC from 1998-2002 (and going to the Final Four in 2000).
UNC Wilmington's Buzz Peterson, who played for UNC from 1981-85 (including on the 1982 national title team) and roomed with Michael Jordan.
East Carolina's Jeff Lebo, who played for the Tar Heels from 1986-89 (advancing to the NCAA Sweet 16 each season) and is in his second year coaching the Pirates.
High Point's Scott Cherry, a member of UNC's 1993 national title team as a senior.
Miller, who played for the Tar Heels from 2004-07 and was a member of the 2005 NCAA title team. He is now the youngest head coach in Division I, at age 28.
Before the season, Williams said there is a good reason why so many UNC players get coaching jobs: "It's an attractive thing to people, the North Carolina success,'' he said. "And those people who were involved in it, if you're looking for someone to help your program, you'd like someone who's been more involved in it already."
Capel added that playing for UNC prepares you for the sidelines, because you're learning from the best.
"The biggest thing is, when you're at Carolina, you're taught how to play the right way,'' he said. "… I think what people see is you're going to get guys that are pretty sharp, guys who know how to handle themselves, how to conduct themselves, guys that know the game pretty sell, and can teach it pretty well.
"It's truly a testament to Coach [Dean] Smith: what he's done, what he's taught, because we all just try to copy him and the things he's done. We all hope we can be successful, and pay tribute to him by doing that."
Robbi Pickeral can be reached at bylinerp@gmail.com. Twitter: @bylinerp.
December, 13, 2011
12/13/11
4:27
PM ET
Doesn't it seem like just yesterday that North Carolina guard Wes Miller was draining 3s for the Tar Heels at Florida State?
Now, he's coaching his own players to drain 3s -- and everything else. Miller, 28 and a Charlotte, N.C. native, was named interim head coach at UNC Greensboro today after head coach Mike Dement stepped down,
according to this release on the school's website.
Miller was in his second season as an assistant coach with the Spartans; he previously coached at Elon and High Point after graduating from UNC in 2007.
Miller will finish the season in the interim role, and a national search will be conducted for a new head coach. In the meantime, Miller's first tests will be playing East Carolina at Greensboro Coliseum on Friday -- then Duke on Monday, at Cameron Indoor Stadium. The Spartans are 2-8.
Correction: UNCG's former coach is Mike Dement, not Scott. The name has been changed in this text.
Follow Robbi Pickeral on Twitter at @bylinerp.
.