North Carolina Tar Heels:

Will Sheehey
March, 2, 2014
Mar 2
9:25
AM ET
By
ESPN.com staff
| ESPN.com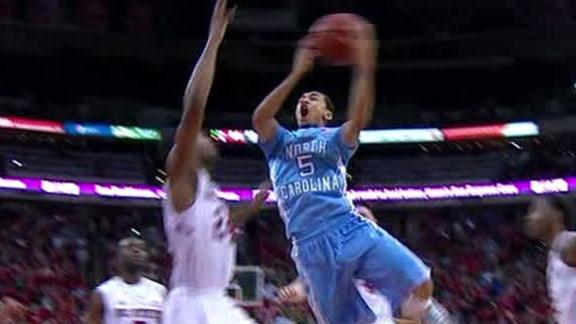 The nominees for the Capital One Cup Impact Performance of the Week include North Carolina's Marcus Paige, Tennessee's Jordan McRae, Michigan's Glenn Robinson III and Indiana's Will Sheehey.
November, 28, 2012
11/28/12
1:54
AM ET
BLOOMINGTON, Ind. -- North Carolina coach Roy Williams said earlier Tuesday that he had to stop himself from being too critical during his team's loss to Butler last week in Maui because of the freshmen on the court.
He knew he had to be patient. But that patience might be wearing thin.
The Tar Heels could use an excuse that
P.J. Hairston
was back in Chapel Hill with a sprained left knee, that the freshmen had never been in such a hostile environment as Assembly Hall or that the veterans like
Dexter Strickland
,
Leslie McDonald
and
James Michael McAdoo
were either injured or hardly significant players last season.
But Williams isn't using any of those as a crutch, and neither were his players after a humbling
83-59 defeat
to the top-ranked Hoosiers.
[+] Enlarge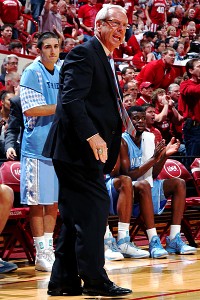 Brian Spurlock/US PresswireRoy Williams admitted he was frustrated in Tuesday's loss, but remains high on UNC's potential.
"There's a point and we're at that point," said Williams. "The best thing is that they have the day off [Wednesday]. Basketball is a simple game. You just need to do the crap that I tell you to do."
Williams said that the young players weren't all at fault. He cited Strickland's inability to get back and the times when everyone failed to compete.
Carolina came out with a sense of urgency, unlike in its loss to Butler in the Maui Invitational semifinals Nov. 20. But the last four minutes of Tuesday's first half and the beginning of the second were as lopsided as Williams has seen in his tenure, or at least as much as that humbling 33-point loss to Florida State in January.
North Carolina was beaten consistently as
Cody Zeller
outran the Tar Heels. Indiana's
Yogi Ferrell
and
Jordan Hulls
passed over the Tar Heels or IU's
Will Sheehey
or
Victor Oladipo
got ahead for a flush or an otherwise-demoralizing finish.
"We were where we wanted to be, but then after the last media timeout [the four-minute mark of the first half] we were lackadaisical and they pushed it to 10 points," said McAdoo. "They kept it going and we never hit them back. We've got to learn from our mistakes. We have so many young guys, we're learning new roles."
North Carolina came into the game ranked No. 14. The Tar Heels won't likely be in the poll next week and will have plenty of work to do to regain their national credibility.
"We don't look at the rankings, we stay in our own camp," said McAdoo. "Right now we have to figure out who we are as a team. We've got a lot of work to do. We're playing for March."
That was sort of Williams' point earlier Tuesday. He said to check back with him in 30 days, 60 days and at the end of the season. This team still can be very good, but he noted that the ACC schedule lies ahead, to say nothing of a visit to Texas (still a road game, regardless of the Longhorns' struggles) and one from UNLV.
"We felt like we could win this game," said Strickland. "We just had a lot of mental mistakes on defense. We left Cody wide open. We have to do a better job of hustling and showing a better sense of urgency and more aggressive play."
Strickland said the Tar Heels lost their poise offensively after the quick strikes by the Hoosiers. That was evident in nearly every fast-break IU basket.
"They just killed us in transition," said freshman
Marcus Paige
. "We didn't get easy baskets. We struggled from the floor."
The Tar Heels shot 1-of-8 on 3s. Hairston would have helped, but the problems are much larger than his health. UNC received good news when an X-ray on
Reggie Bullock
's finger was negative, although Williams said late Tuesday that the staff might take another one back in Chapel Hill.
The Tar Heels need a vocal leader, someone to take charge or calm this team down when things go awry. McAdoo tried to get the squad going in the hallway prior to the second half, imploring his teammates to grab every rebound and get after the Hoosiers.
Indiana then ripped off 13 consecutive points and was ahead 22. Game over.
Duke is clearly the ACC's best team right now. NC State is struggling but hasn't looked as vulnerable as Carolina so far. Florida State lost at home while Maryland won on the road Tuesday. The league is wide open -- after Duke -- so all is not lost for the Tar Heels. But they had better find that intensity, urgency and, for Williams at least, get back on defense -- and fast.
"I don't worry about the expectations," said Paige. "We can be a really good team."
That's still to be determined.
"It's a good group, a really good group of kids," Williams said. "Right now is a tough time and we'll find out how mentally strong we are in practice."
November, 27, 2012
11/27/12
11:44
PM ET
BLOOMINGTON, Ind. -- Quick thoughts from top-ranked Indiana's
83-59 victory
over No. 14 North Carolina on Tuesday in the ACC/Big Ten Challenge:


Overview
: Until the beatdown began in the second half, Indiana and North Carolina had mainly played a tight game Tuesday. The Hoosiers (7-0) couldn't pull away.
James Michael McAdoo
& Co. attacked the rim, keeping the Tar Heels alive in a hostile environment during the first half.
But once Indiana turned up the pressure after halftime, the Tar Heels (5-2) didn't have any answers. A 46-37 advantage became a 70-43 edge midway through the second half. It quickly became an embarrassing event for a North Carolina team that lost to another Indiana-based squad, Butler, in last week's Maui Invitational.
With 3 minutes, 46 seconds to play in the game, Indiana had three players who had scored 19 points or more (
Cody Zeller
,
Victor Oladipo
and
Will Sheehey
) and another,
Jordan Hulls
, who had registered 13.
Indiana was on a different level, a stark contrast from the disparities between the two programs in recent years. But this lopsided win was another piece of evidence that justified Indiana's status as the No. 1 team in the country.
Turning point
: With 3:45 to play in the first half, Oladipo drew a flagrant foul; Indiana led 33-31 at the time. By the end of the half, however, the score was 46-37 in favor of the Hoosiers. It was a burst that secured the momentum for Indiana entering the second half. The Tar Heels had climbed back into the game, but Indiana's surge late in the first half turned the matchup for good.
Key player
: You could pick a few, but Zeller was stellar. His size and tenacity were problems for the Tar Heels. They couldn't match up with him in the half court. They couldn't run with him. They couldn't alter his shots at the rim. Zeller was a polished player his freshman season. But he's clearly a more complete player as a sophomore.
Key stat
: Indiana was 8-for-20 from the 3-point line against the Tar Heels.
Miscellaneous
: McAdoo started strong, but give the Hoosiers credit for slowing him down in the second half. ... You could see the competitive fire between
Marcus Paige
and
Yogi Ferrell
, the top two point guards in the 2012 recruiting class. Ferrell's crisp passing helped Indiana's offense flow throughout the game. Paige played hard throughout, too. Bright future for both players. ... I don't think having
P.J. Hairston
available would have changed the outcome. But the Tar Heels certainly missed his 3-point shooting (they were 1-for-8 from beyond the arc).
Next game
: North Carolina will face Alabama-Birmingham at home Saturday. Indiana will attempt to preserve its perfect record when it plays Coppin State on Saturday in Bloomington.