October, 2, 2014
Oct 2
9:51
AM ET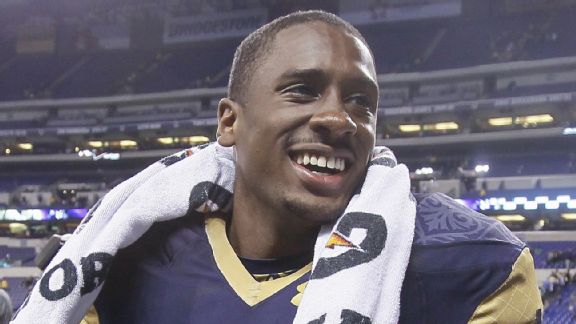 Michael Hickey/Getty ImagesEverett Golson, who completed 25 straight passes against Syracuse, tops this season's comeback kids.
This story appears in ESPN The Magazine's October 13 Cleveland Issue. Subscribe today!
YOU REMEMBER Everett Golson 1.0: the good, but not great, quarterback who took Notre Dame to the BCS title game two years ago. Golson 2.0? During his season-long suspension for "academic impropriety," he worked with guru George Whitfield and has since emerged as a Heisman dark horse for the Irish. What's the secret to his upgrade -- and can it hold up under the pressure of Stanford on Oct. 4?
Pocket Changes

Golson's nine in-the-pocket pass TDs through Week 5 were three more than his entire 2012 total. Part of that is physical -- he's 15 pounds heavier, now playing at 200 pounds -- but the real difference is mechanical. "His arm is so strong that he became too reliant on it," says Whitfield. "Now he knows to establish a base with his feet, step through it and throw with his body."


Seeing Cardinal red: Golson has put up solid numbers against the blitz this year (35-of-51 with four pass TDs through Week 5) and could rack up more come Week 6. Despite leading the nation in sacks last year (44), Stanford has managed a more pedestrian 11 in its 3-1 start.
October, 1, 2014
Oct 1
10:38
PM ET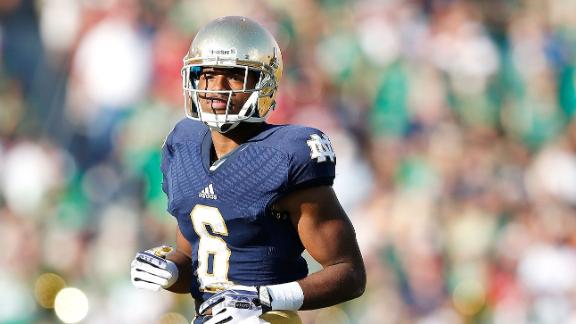 Notre Dame cornerback KeiVarae Russell has voiced heightened frustration with the school in a since-deleted Instagram post, saying it was "becoming ridiculous" after it held a disciplinary hearing over his suspension but wouldn't make a quick decision on his fate.
Russell was one of five suspended Fighting Irish players awaiting hearings before the school's honesty committee.
"I killed my meeting; I was so prepared and ready and was able to refute damn near every suspicion they had," said the Tuesday Instagram post, copies of which were widely circulated Wednesday on social media.
"Described details of assignments thoroughly so they couldn't say I didn't do it," the post said. "AND THEY STILL SAID MY DECISION WONT COME UNTIL ALL 5 OF US (and some other minor hearings) ARE DONE. Decision MIGHT come next week, not even 100% it's tough to understand these people."
Russell posted a photo of himself from an August preseason practice Wednesday night with another message, saying, "Just think about how mad these people are going to be when they realize they couldn't hold me down. When all my dreams still become fulfilled. When I use them for a degree. When I come back and dominate the NCAA. Just think..."
Notre Dame would not confirm Russell had his hearing, with a spokesperson citing the school's confidential honor-code process.
October, 1, 2014
Oct 1
10:34
AM ET
By
Brian Fremeau
| ESPN Insider
There are six games on the college football schedule this weekend between ranked opponents, three of which are battles among contenders in the SEC West. All six games may have an impact on the College Football Playoff picture, but the non-SEC matchups this weekend may prove to be the most important.
It is too early to definitively eliminate any one-loss teams from playoff contention, and depending on how upsets shake out over the course of the season, several two-loss teams may have strong arguments for consideration as well at the end of the year. That said, several games this weekend feel like must-win matchups in the sense that the loser might have too high a mountain to climb if they fall. Notre Dame, Nebraska, Oklahoma and TCU each have fewer ranked future opponents than the SEC West contenders; Michigan State and Stanford are already saddled with a loss apiece and probably can't afford another one.
Based on our opponent-adjusted drive efficiency ratings, we compared each of these matchups with every FBS-vs.-FBS game played from 2004 to 2013 to identify team similarities and the likelihood of victory. Not surprisingly, these games project to be closely contended, and the outcome of each may come down to a few key efficiency measures.
---
Overall FEI win likelihood: Stanford (58.3 percent)
October, 1, 2014
Oct 1
9:00
AM ET
SOUTH BEND, Ind. —
Joe Schmidt
's right-hand-man says the defense wouldn't be the same without him. His father says he wouldn't put a price on his son's dream. His coach invoked the name of the NFL's top defensive player when discussing him -- at least in each's recruitment.
"There's a handful of those guys every year: When I recruited
J.J. Watt
at Central Michigan, why didn't he have more offers?" Notre Dame coach Brian Kelly said. "So everywhere that I've been, I've recruited somebody along the way that has turned out to be a great player and he didn't have a lot of offers."
Hyperbole aside, Schmidt's path from preferred walk-on to starting middle linebacker has been one of the more remarkable stories this season for No. 9 Notre Dame, which puts its 4-0 mark to the test Saturday against No. 14 Stanford. The California kid is one off the team lead in tackles (30) and has been instrumental in the development of the nation's No. 4 scoring defense, a unit that replaced seven starters from 2013 while adjusting to new coordinator Brian VanGorder and his aggressive attack.
[+] Enlarge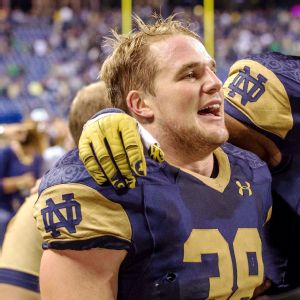 Matt Cashore/USA TODAY SportsFormer walk-on Joe Schmidt is among Notre Dame's leaders in tackles.
VanGorder deemed the redshirt junior before the season as "unusual" in his ability to communicate as the quarterback of a new defense. So far that has bared true, with Schmidt tracing the knowledge-base back to an adolescent career that saw him play everywhere from the trenches to under center to the secondary.
Schmidt's father, also Joe, saw those instincts take over when his son was called up to the varsity as a sophomore at powerhouse Mater Dei in Santa Ana, which at the time featured future pros
Matt Barkley
and Khaled Holmes.
The insecurity of being the new guy begat extended time in the film room, the elder Schmidt said, the same way the insecurity of entering Notre Dame as a walk-on begat over-preparation. Mater Dei coaches at times had to re-enforce to Schmidt that his talent belonged among the big boys he was playing with, for fear of him becoming too cerebral and not trusting his instincts.
When Schmidt's parents take him to dinner after games now, they hardly recognize the disciplined eater, who had regularly downed burgers, fries and soda as a teenager. When in the stands, Schmidt's father at times cannot help but grow uneasy watching his son running around barking orders like a drill sergeant before each play.
" 'Joe, worry about what you're going to be doing. Make sure you're ready when the ball's snapped,' " the elder Schmidt joked. "But he seems to figure out a way to read the defense, make the calls and be ready."
Despite a 98-tackle senior year that ended in the state semifinals, the now-235-pound Schmidt failed to draw heavy interest from college suitors. The Schmidts takes some responsibility for that, given Joe's narrow-minded approach to his recruitment. The oldest of his three sisters, 31-year-old Catherine, had run track at Notre Dame, and the family would visit during football weekends. Schmidt, roughly 10 at the time, immediately fell in love with the place and never wavered. Backyard football consisted of him pretending he was playing for Notre Dame, often scoring game-winning touchdowns against home-state rival USC.
Under-sized and without much pro-activeness toward the small pool of interested recruiters, Schmidt found his offers limited to Ivy League schools, Cincinnati, Air Force and few others. There remained Notre Dame -- which offered him a preferred walk-on spot -- and its roughly $50,000-a-year pricetag, making for lengthy conversations between son and parents.
[+] Enlarge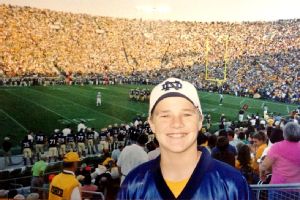 Courtesy of the Schmidt familyJoe Schmidt fell in love with Notre Dame as a kid while visiting his sister, who ran track for the Irish.
"We had a wall covered in posterboard weighing them all," Schmidt said of the options.
The Ivy alternatives didn't look so bad to his parents. (Joe is an investor at a private-equity firm. His wife, Debra, is a pro soccer coach.) Schmidt made it clear that he would accommodate their needs, but he also laid out the dream in front of him.
" 'My dream is to play at Notre Dame,' " the elder Schmidt recalled his son saying. " 'Even if I have success at another school, I don't want to think, 'Could I have done it at Notre Dame?' If I go there and it doesn't work out, at least I gave it my all.'
"My wife and I were in tears. How do you say no to that? You both want what your kids really aspire to achieve, and we knew if he was that hungry he was going to work his tail off."
Special teams contributions gave way to a scholarship in June 2013. Schmidt informed his parents of the news with a 5:30 a.m. PT wake-up call telling them they had just saved $100,000. A midseason injury to
Jarrett Grace
last year paved the way for more defensive snaps, with Schmidt living out his dream in his first extended action by making a game-saving hit on USC's final drive to help clinch the win.
His father joked that he might have needed to give his son eternal psychological counseling had that game ended differently, but Schmidt's been the one leaving his mark on others. He helped establish Notre Dame's chapter of Uplifting Athletes, a non-profit that aligns college football teams with rare diseases. When his uncle, Gary, died from lung cancer two years ago at the age of 61, he and his family launched the Schmidt Legacy Foundation, which raises money for medical research, specifically lung cancer and dementia. Schmidt was Notre Dame's nominee for the AFCA Good Works Team, as its most charitable player.
Schmidt's unusual skills have carried him through an unusual route, accelerating the growth of a defense down four contributors amid the school's internal academic probe. He's been indispensable through the first-third of the season, an unlikely cog behind an Irish team whose playoff résumé will swell if it beats the Cardinal on Saturday.
"That's my brother, I love him," said linebacker
Jaylon Smith
, the Irish's leading tackler (31). "Both of us in the middle, it's just all about family and making sure we're on the same page. ... The communication level, the focal point, it wouldn't be there without him."
September, 30, 2014
Sep 30
2:13
PM ET
Justin Yoon
admits he's usually a really confident guy, but Monday afternoon at his Under Armour All-America Game jersey presentation he was the exact opposite.
When he had to give a short speech in front of family, friends and classmates during the presentation, Yoon said the emotion of being selected as one of the top high school football players in America caught up with him and suddenly he was speechless.
"I honestly couldn't even speak, I had so many emotions flowing through me," Yoon, who is a Notre Dame commitment and the No. 2 ranked kicker in the country, said.
Justin Yoon receives his #UAALLAMERICA jersey. https://t.co/ejy7LqFvFP

— RecruitingNation (@ESPNRNFball) September 30, 2014
"It kind of scared me at the first few moments. But I was finally able to handle the pressure. It was awesome that all of my friends came. Every one that has supported me and who I respect came by, so I'm very grateful to them. I appreciate everything they've done for me. I never ever thought I would be in this type of situation."
That's true, especially when you consider Yoon is still relatively new to the game of football.
The 5-foot-11, 183-pound Yoon said he always envisioned himself on the soccer pitch, instead of the gridiron. In fact, he didn't even start playing football until the eighth grade and once he did things just clicked.
"I didn't even know what football was," Yoon said. "I was kicking goal kicks, corner kicks and free kicks in soccer. That has really helped with my distance. After that the football coach saw me and told me to try it out. That's where it started.
"It's is a different ball and not just anyone can kick a football like they do a soccer ball, but for some reason it hit well with me. The football just really fit me. I'm not exactly sure how or why, but it just clicked right away. The transition from soccer to football was actually really smooth."
It was so smooth that Yoon quickly became one of the most heavily recruited kicking prospects in the country.
As a junior, he was nine of 11 in field goals with a long of 48 yards, and he also connected on 38 of 39 extra points. He was also impressive on his kickoffs, recording 38 touchbacks. Those numbers allowed him to pick up offers from Notre Dame, Boston College, Northwestern, Stanford and Texas A&M. He picked the Irish in June and hasn't looked back.
"Honestly, I never knew football could be that much of a big deal," Yoon said. "I was new to it. After all the offers and everything, I learned how big it was. It was immense. It's a huge deal. Since my freshman year, I thought I was doing all of this for fun. I just love kicking. I never knew it would help me have a better future. I'm grateful for it."
Yoon has big expectations for his time at Notre Dame.
"They asked me if I could start as a freshman, and I told them 'Yes.'" Yoon said. "So I'm looking forward to starting the season and seeing if I can make a contribution. But I have to compete. They're going to have other kickers there that are willing to fight for that spot, but I'll be fighting, too. I also want to be one of the better kickers in the country, and I want to win the Lou Groza Award."
But before he arrives in South Bend, he's looking forward to his time at the Under Armour Game. After injuring his back in the first game of his senior season, the week of practices and the game itself will be an opportunity to test himself under pressure.
"It'll be the first time I'll be kicking on national television," he said. "So there will be a lot of pressure with that, but I'll be ready for it. I promise I'll do better than when I had to give my speech at the ceremony."
September, 30, 2014
Sep 30
9:30
AM ET
Claim your spot on the couch now. Reserve your table at your favorite sports bar. Buy another TV. Do whatever you gotta do to make sure you don't miss a snap Saturday because this is going to be a good one.
College football has been a well-kept secret so far, as it has been hiding the true identities of teams. Not this week. It's time to play or go home. There are six games between ranked teams. Of the 17 undefeated teams remaining, eight play against each other this week. It's the most relevant weekend the sport has had in regard to the new College Football Playoff.
Here are the games you can't miss, ranked from
least
to most likely to affect the playoff:
No. 14 Stanford at No. 9 Notre Dame
-- Stanford already has one loss, and this is the second straight road trip for the Cardinal. If Stanford loses again, its playoff hopes will be in serious jeopardy but not over, given that it could still win the conference. This game should reveal more about Notre Dame's place in the playoff, as it will be the first ranked opponent for the Irish.
No. 4 Oklahoma at No. 25 TCU
-- ESPN's Football Power Index gives Oklahoma a 64 percent chance to win and predicts this to be Oklahoma's hardest remaining game -- slightly more difficult than Nov. 8 against Baylor. If the Sooners can't handle TCU, they'll be on the outside looking in.
No. 15 LSU at No. 5 Auburn
-- LSU gave Auburn its only regular-season loss the past year, but LSU has already lost to Mississippi State, which put the Tigers behind in the SEC West race. Considering the rest of LSU's schedule -- and the hole it's already in -- this is a must-win. For Auburn, this is a chance to erase some doubts and make a push from the bubble into the top four.
No. 6 Texas A&M at No. 12 Mississippi State
-- Two terrific quarterbacks will be on display in the Aggies'
Kenny Hill
and the Bulldogs'
Dak Prescott
, who both rank in the top 10 in total QBR. A&M's stock dropped a bit this past week after it needed overtime to beat Arkansas, but it could be a top-four team if it can survive the state of Mississippi the next two weeks.
No. 3 Alabama at No. 11 Ole Miss
-- This is the most interesting matchup of the day. Alabama ranks third in offensive efficiency, and Ole Miss ranks second in defensive efficiency. Neither team has played a ranked opponent, so there is still some margin for error, but the Tide have a chance to separate from the crowded West.
No. 19 Nebraska at No. 10 Michigan State
-- Surprise. The game with the biggest playoff implications is not in the SEC West. This Big Ten matchup could knock Sparty out of the playoff entirely. It's one thing to lose to Oregon; it's another to try to make the four-team playoff with two losses and your best win coming over Nebraska in the Big Ten title game. Conversely, a win in East Lansing could vault the Huskers into the playoff conversation. They're the only undefeated team left in the Big Ten, and the toughest game left on their schedule is against No. 17 Wisconsin. If Nebraska pulls off the upset, it's time to take it seriously as a playoff team.
September, 29, 2014
Sep 29
11:00
PM ET
Auburn hasn't been given too much of a chance to land coveted receiver
Christian Kirk
, but the Tigers' chances are better than most think. Plus, Michigan lost a key defensive recruit, and don't be surprised if more are to follow.
To continue reading this article you must be an Insider
September, 29, 2014
Sep 29
9:00
AM ET
Brian Kelly was greeted in the locker room after Saturday's game by the surest sign his voice was getting through.
Notre Dame turned the ball over five times in a sloppy performance against Syracuse. The Irish's decorated quarterback,
Everett Golson
, was responsible for four of those giveaways. They still won anyway, 31-15, to improve to 4-0.
So when Kelly met his players afterward, the environment was considerably toned down, for his players knew that their performance was not up to par.
[+] Enlarge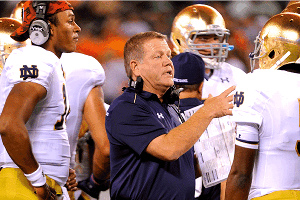 Rich Barnes/USA TODAY SportsBrian Kelly and Notre Dame will have to overcome Stanford's stellar defense on Saturday in order to remain unbeaten.
"Well, it's what you build your program on is a level of expectation that you know that you don't have to go in and deliver the message that's already pretty clear," the fifth-year Irish coach said Sunday. "If they were in there giddy and happy, I'd be a little bit concerned. I want them to enjoy the win, but I also want them to know that there's better football that needs to be played, and they knew that."
Especially this Saturday, when they get their first true measuring stick of the season. No. 14 Stanford is coming to town, a program that has served as somewhat of a measuring stick for No. 9 Notre Dame in the Kelly era. The Irish know that they cannot perform anywhere near the way they did against the Orange and expect to beat the Cardinal, who have one loss to their name.
Football teams play bad games, even the best ones. Especially at the college level. That Notre Dame got its stinker out of the way against a Syracuse team seemingly with zero interest in taking advantage of Irish miscues is a tremendous burden off the program's shoulders, and one it can waste little time thinking about this week.
"They're a very tunedin group to my message," Kelly said. "I always start with, 'You need to be excited about winning.' It's hard to win in college football, especially when you're playing Power 5 teams. Winning is difficult. Just look across the landscape of college football. We start always with that premise because if you can't enjoy winning, it doesn't mean as much.
"Then we get to the heart of it, is that you can't win consistently by turning the football over. You can't win consistently if you don't compete for the ball in the air. And we know that. That was a given. That conversation took place, but I know that when I walked in that locker room, those kids had already had that passing through their mind."
So they move on to Stanford, which enters Notre Dame Stadium with the nation's No. 1 overall defense, No. 1 scoring defense and No. 1 passing defense. Two years ago, in a somewhat similar scenario, an undefeated Irish team stopped a one-loss Cardinal team in an overtime goal-line stand very much symbolic of how far the program had come in three short years under this regime.
This year's team took four games to figure out its offensive line situation, another area Notre Dame can be glad it sorted out against Syracuse, before Stanford. It would help if the fate of the Irish's five suspended players — and whatever other micro and macro fallouts come from that — is decided as well.
MetLife Stadium marked the finale of an early-season slate that Kelly had deemed before the season as "manageable." When it was all said and done in New Jersey, getting out of this stretch alive was, in some ways, as relieving as it was exhilarating.
"You know, five years into your program, I think you walk in the locker room and you expect the kind of locker room that I got," Kelly said. "In the first year you don't know what to expect, and so you have to make sure that that message is heard loud and clear. I was not shocked about the way our kids handled themselves after the game."
The players received Kelly's message without him having to deliver it. All that awaits now is the season's biggest test.
KeiVarae Russell Upset With ND's Discipline Process
FBS INDEP. SCOREBOARD
Friday, 10/3
Saturday, 10/4