August, 30, 2014
Aug 30
9:00
PM ET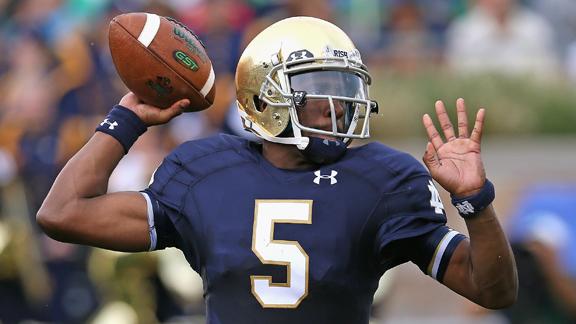 SOUTH BEND, Ind. --
Everett Golson
looked much better than the last time he took the field for Notre Dame, tallying five total touchdowns and protecting the football as he led the No. 17 Fighting Irish to a 48-17 season-opening win over Rice.
Here are our three biggest takeaways from this game, starting, of course, with the man under center:
[+] Enlarge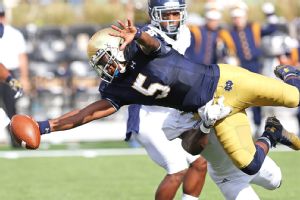 Jonathan Daniel/Getty ImagesEverett Golson was a one-man wrecking crew for Notre Dame in its 48-17 rout of Rice on Saturday.
1) Golson is back and he's better than ever.
Brian Kelly finally has an elite quarterback running his offense, and that is not a Week 1 exaggeration. Save for one errant throw he was able to survive -- a mistimed third-down toss intended for
Ben Koyack
, which could have been six the other way had Rice's Gabe Kaper reacted quicker -- Golson was on-point all day. He completed 14 of 22 passes for 295 yards with two touchdowns -- a 75-yarder and a 53-yarder. He ran for three touchdowns himself, part of his 12 carries for 41 yards. Two of those touchdown runs came on third down, as Golson proved to be the red-zone threat the Irish have sorely lacked in recent years. They went 6-for-6 in the red zone Saturday. And let's not forget
C.J. Prosise
's 55-yard touchdown drop, a marvelous throw Golson made under pressure that would've given him six total touchdowns and a career high in passing yards.
"Obviously the story of Golson was electric," Kelly said. "He kept his eyes downfield. Knew when to run, knew when to throw it, and those are things we really talked about. We didn't want to overcoach him in that we were going to allow him today to get outside the pocket and be a football player, and just naturally go play the game. And I thought he did that today extraordinarily well. He came back today and I think really showed the kind of player that he can be."
2) Golson's weapons aren't too bad either.
Will Fuller was the receiver of a choice Saturday. And while his line (four catches, 85 yards, TD) is hardly eye-opening, it's worth noting that three other players eclipsed the 50-yard receiving plateau. Golson hit seven different targets against the Owls, and with the signal caller being one of five Irish players to rush for 40 or more yards, he showed just how explosive this offense can potentially be later on this season. The Irish showed great balance, tallying 295 passing yards and 281 rushing yards.
"I think I needed to polish a lot of things," Golson said. "There was a couple throws where I stayed in there and made a throw. That's what is in my mind now, but I think just being more on timing I think a lot of stuff today, I was kind of getting out of the pocket and making plays and having the guy scramble and things like that. Definitely going to get the timing down and be more precise."
3) Special teams might finally be a threat.
Florida cornerback transfer
Cody Riggs
' biggest attribute Saturday was as a punt returner, as he brought back the first two punts for 24 and 25 yards, respectively.
Greg Bryant
added three returns for 31 yards (including a 10-yard return that he probably should not have picked up at the 1.) Notre Dame's average starting field position was at its own 36-yard line. They punted it just three times. Add that with an offense capable of spreading the field and the strain on a young defense is lessened considerably.
"It was driven by personnel and it was driven by wanting to improve in that area," Kelly said. "We had (80) yards in punt returns, and we only had (106) the entire year last year. I think we've improved there. We need to do it consistently.
"Cody Riggs was gassed and we had to take him out. He had not played that much football at Florida I think in a couple years. But Greg Bryant is fearless and does not know what a fair catch is. So all those people wondering why he was catching the ball, he came up with the, 'I can't hear you, my earplug is in.'
"So we have got guys back there that are fearless, that will catch the football and stick their foot in the ground and get north and south, and that is absolutely crucial. And we have guys that are committed to covering people up. So we have got the want to and the resolve to do and we have to continue to do it."
August, 30, 2014
Aug 30
7:45
PM ET
By
ESPN.com staff
| ESPN.com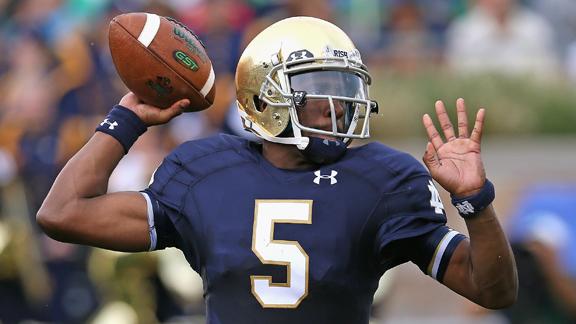 Everett Golson accounted for five touchdowns in his return with Notre Dame, leading the Irish to a
48-17 win over Rice
.
August, 30, 2014
Aug 30
6:59
PM ET
Associated Press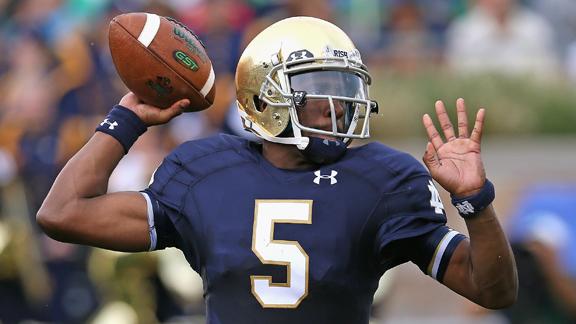 SOUTH BEND, Ind. -- Everett Golson threw touchdown passes of 75 and 53 yards and ran for three more scores in his return after missing the 2013 season for academic impropriety, leading No. 17 Notre Dame to a 48-17 victory over Rice on Saturday.
Golson was 14-of-22 passing for 295 yards and ran for 41 yards on 12 carries. He also had two near-misses on long pass attempts. He scored on an 11-yard run on a planned keeper, a 14-yard scramble and a 4-yard run on a blown handoff.
The Irish (1-0) were without five players who are scheduled to appear before the school's honor code committee after being investigated for possible cheating. It was the sixth straight season-opening loss for the Owls (0-1).
August, 30, 2014
Aug 30
2:26
PM ET
[+] Enlarge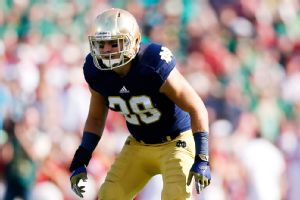 Joe Robbins/Getty ImagesNotre Dame safety Austin Collinsworth, who has 68 career tackles, will miss at least Saturday's opener because of a knee injury.
SOUTH BEND, Ind. -- Notre Dame starting safety Austin Collinsworth missed the No. 17 Fighting Irish's season-opening 48-17 win against Rice because of a knee injury.
Coach Brian Kelly said after the game that Collinsworth has a Grade 2 MCL sprain and is expected to miss two to four weeks. He was hurt while in the two-minute drill Thursday when he came down awkwardly. His MCL tightened on the next play.
Collinsworth, a fifth-year senior who was named one of the four team captains earlier this week, arrived at the stadium Saturday in a golf cart and was holding crutches.
He is the son of NFL broadcaster Cris Collinsworth. He has 68 career tackles, three passes defended and one forced fumble.
Junior Elijah Shumate started in Collinsworth's place. Shumate had 23 tackles last season, including a career-high seven against Oklahoma.
August, 30, 2014
Aug 30
3:00
AM ET
ATHENS, Georgia -- For the first 30 minutes of Saturday's opener against No. 16 Clemson at Sanford Stadium, No. 12 Georgia looked like a lot of other teams on the opening weekend of the college football season.
Pretty average.
Georgia's much-maligned defense couldn't keep the Tigers off the field, and its offense couldn't seem to stay on on it.
At least the Bulldogs had junior tailback Todd Gurley.
Gurley, who was plagued by ankle injuries the past season, carried the ball only four times in the first half, but his 100-yard kickoff return for a touchdown helped the Bulldogs tie the score at 21 before the half.
In the second half, Gurley showed why he's among the frontrunners for the Heisman Trophy, as he ran wild to finish with a career-high 198 rushing yards on 15 carries with four total touchdowns.
"He had four [carries], huh?" Bulldogs coach Mark Richt said, when asked about Gurley's first-half workload.
With Gurley finally healthy, Georgia might be the team to beat in the SEC East and a contender for one of the four spots in the first College Football Playoff. Gurley gives the Bulldogs a commodity that a lot of other teams don't have -- a player who can change a game in an instant and do it time and time again.
"I think he's the best player in America, or at least one of them," Richt said.
August, 29, 2014
Aug 29
11:00
AM ET
No. 17 Notre Dame hosts Rice on Saturday. How will things play out?
How Rice can win:
South Bend forecasts call for an 82-degree day with an 80 percent chance of rain. We all remember
the last time it rained heavily during a Notre Dame opener
, right? A slick track wouldn't hurt the Owls' chances to slow down what should be a more up-tempo Irish attack, especially on the stadium's new FieldTurf. Nor would a complete Irish implosion, a la 2011. New quarterback
Driphus Jackson
will have to be sharp, and it will help a lot if top target
Jordan Taylor
(foot) is at full strength.
How Notre Dame can win:
Rice won 10 games last season so the Irish need to do more than just show up. This may be the easiest game on their schedule, but it will be encouraging if
Everett Golson
can keep the tempo at a fast pace, run some zone-read effectively and distribute the ball to his plethora of young, talented receivers. It will be interesting to see what kind of pressure the defense can get up front, given the talent it said goodbye to in
Louis Nix
and
Stephon Tuitt
.
Breakout player:
It has to be Golson, right?
The key to the Brian Kelly offense is finally back
-- bigger, stronger and smarter than ever. With a young defense working under a new coordinator, the onus will be on the offense to produce in ways it hasn't in the past four years. All of that starts with Golson.
Prediction:
Notre Dame 38, Rice 14
August, 29, 2014
Aug 29
9:00
AM ET
SOUTH BEND, Ind. — The most
Cam McDaniel
story ever involves Little League baseball, because of course it does.
The way the ever-competitive McDaniel tells it, he was playing second base as a youngster when a grounder came his way. He fielded it, only to look up and see that the first baseman was one of those kids playing just because his parents had made him.
"I had no faith in this individual whatsoever," McDaniel said, smiling at the memory.
So McDaniel held the ball, allowing the runner to reach base. One batter later, he scooped up a grounder and ran to tag the runner out instead of throwing to first.
"My Little League coach was really upset with me that I wasn't throwing it to this kid, but that's kind of the personality I've always had," McDaniel said. "Obviously I had to hone that in when I was a youngster and learn how to develop myself as a young man."
One of Notre Dame's four newly-anointed captains, McDaniel has grown up quite a bit recently. He married his girlfriend, Stephani, in May. The couple announced last week that they are expecting their first child this April. But that fire within McDaniel has hardly subsided, not with his senior season on deck, not with plenty of goals unmet.
"You know how sometimes you look at a kid in Little League and you say, 'Man, I bet his dad is just horrible. I bet his dad just treats him like [garbage],' " Cam's father, Danny, said with a laugh. "Cam looked like one of those kids, from a standpoint of how competitive he was."
[+] Enlarge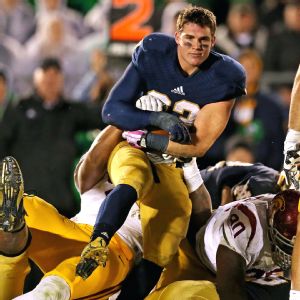 Jonathan Daniel/Getty ImagesThere's a lot more to Notre Dame senior Cam McDaniel than just being "ridiculously photogenic."
You see, it is easy to view McDaniel as a nice little story — the undersized, under-recruited, Texas-tough kid making do with what he has to lead the Irish in rushing in 2013. He once
ran into the wrong end of a practice gauntlet
upon his coach's orders. He was even
on the "Today" show
, thanks to a one-in-a-million shot of him carrying the ball against USC after his helmet had fallen off.
But McDaniel has not won a championship, and further fueling matters is just how close he came to the top prize, not only two years ago but in high school. He says that remains the goal this year's Fighting Irish, and his father says he tells him the same privately.
His dad is quick to note that his son has lost just three career games as a starter, from fifth grade through high school. Ask him how many wins came during that time, and he tries to do the math aloud before determining the victory total to be somewhere around 92.
As for those losses? His dad can tell you all about McDaniel's seventh-grade defeat. Or the regional round loss in the Texas 5A Division I playoffs his junior year, a two-point loss. Or the loss one round later his senior year, a one-point defeat.
"It still haunts him today," Danny said. "He can't even talk about that game or think about it."
That old axiom about the wins never feeling as good as the losses do bad is particularly true with the McDaniels.
"That sounds pretty arrogant, but he's only lost three games his entire life he's been the starter, and two of those they lost on the last play of the game," Danny said, adding, "Losing just deteriorates him. He's just not used to it. It just hasn't happened."
McDaniel credits his father, "a phenomenal man of God," for helping him to harness that verve, and he knows he has to be a role model for his two younger brothers: Washington freshman
Gavin McDaniel
, who is redshirting as a running back, and eighth-grader TJ McDaniel, an aspiring quarterback.
These are the latest in a long-line of fieldhouse-tending, water-jug-toting McDaniels, the sons of a third-generation Texas high school football coach. Danny and his wife, Diane, are now distributors for AdvoCare, a marketing company that sells nutrition products. Cam himself has been an independent distributor for two years, with Danny estimating his son spends 5-10 hours per week on the job in the offseason, and two per week in-season. (McDaniel is NCAA-compliant, so long as he does not use his name, image or likeness to promote the business or business engagement.)
All of this helps with the burden that comes with being a married, 22-year-old expectant father. When asked for his reaction to the news that he would become a dad, McDaniel paused and stuttered for nearly 10 seconds before saying that he was stumped.
The season has yet to arrive, and already McDaniel says he has grown up more in the past eight months than the rest of his life combined.
"I think it sinks in little by little, each and every day, and it's just going to continue to do that until the day's here to where my child is actually on this earth, and I know it's something that I can't completely prepare for, but I'm going to do my best," McDaniel said. "I'm just extremely excited, me and my wife both. Man, that's an opportunity above opportunities."
August, 29, 2014
Aug 29
9:00
AM ET
Here are five things I learned in college football this week:
1. We're often guilty of putting too much stock in a team's opening performance, but it was clear Thursday night that South Carolina is going to miss star defensive end Jadeveon Clowney a lot more than Texas A&M is going to miss Heisman Trophy-winning quarterback Johnny Manziel.
South Carolina's defense had no answer for A&M coach Kevin Sumlin's high-flying offense, as sophomore
Kenny Hill
threw for 511 yards and three touchdowns on 44-for-60 passing in the Aggies'
52-28
rout at South Carolina. Hill broke Manziel's single-game record for passing yards in his first career start and never seemed nervous on the road.
[+] Enlarge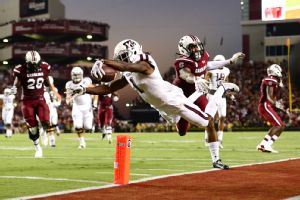 Phil Ellsworth/ESPN ImagesSouth Carolina's new 3-4 defense had a rough debut against Texas A&M as the Aggies racked up 680 total yards.
Afterward, South Carolina coach Steve Spurrier even seemed to criticize defensive coordinator Lorenzo Ward, who installed a 3-4 defense during the offseason.
"I thought we would play a lot better," Spurrier said. "I have been reading like you guys have about our new 3-4 defense. Did anybody like that 3-4 defense? But I don't know if it would have mattered if we'd have played a 6-6 defense. I don't know if 12 out there would have helped that much."
During the offseason, I said several times that I thought South Carolina might be one of the most overrated teams in the country, given its personnel losses on defense. I also believed the Gamecocks would miss departed quarterback
Connor Shaw
much more than some people believed. I might have been right on both accounts.
2. Ole Miss had its struggles against Boise State in Thursday night's opener at the Georgia Dome in Atlanta. Quarterback
Bo Wallace
threw three interceptions in the first half, and the Rebels couldn't pull away from the Broncos until early in the fourth quarter of a
35-13 victory
.
Still, Ole Miss coach Hugh Freeze has plenty of reasons to be excited, mainly that his vaunted freshman class of 2013 is a year older and wiser. Sophomore defensive tackle
Robert Nkemdiche
is becoming one of the toughest blocking assignments in the country and safety
Tony Conner
is a future NFL first-round draft choice. Receiver
Laquon Treadwell
is also fantastic.
Are the Rebels deep enough and experienced enough to challenge Auburn, Alabama and Texas A&M in the SEC West? Probably not. But the Rebels might be good enough to knock off any of those teams in one game and have a say in which team wins the division.
3. The season can't get here soon enough for new USC coach Steve Sarkisian. One day after Sarkisian had to indefinitely suspend team captain
Josh Shaw
for lying about how he suffered two high ankle sprains over the weekend, he was accused of being a racist by running back
Anthony Brown
, who quit the team.
Brown made his accusations on Instagram and other social media, claiming, "Sark treated me like a Slave in his office." Sarkisian said the accusations were "shocking," and anyone who has met the former Washington coach would have a very difficult time believing they're true.
4. So-called football factories such as Georgia, Oklahoma and Texas were in the news for all the wrong reasons during the offseason, as coaches at those schools had to dismiss several players for off-field problems.
But the recent troubles at high-academic institutions like North Carolina and Notre Dame prove it can happen anywhere. UNC coach Larry Fedora suspended four players from the Tar Heels' opener against FCS foe Liberty on Saturday, a couple of days after Yahoo! Sports reported that a walk-on receiver suffered a concussion during an alleged hazing incident.
The Fighting Irish announced Thursday that a fifth player, safety
Eilar Hardy
, is being held out of practice and games while the school investigates an allegation of academic misconduct. The Irish have already suspended receiver
DaVaris Daniels
, cornerback
KeiVarae Russell
, defensive end
Ishaq Williams
and linebacker
Kendall Moore
.
5. Kudos to Virginia Tech for giving coach Frank Beamer a new two-year contract extension, which might keep him with the Hokies through the 2018 season. Sure, the Hokies have uncharacteristically struggled the past couple of seasons, but we too easily forget that Beamer built his alma mater into a national powerhouse when most people believed it could never be done.
It's also significant that new Virginia Tech athletics director Whit Babcock gave him the deal instead of Jim Weaver, the retired AD who was one of Beamer's biggest supporters. The Hokies have won 15 games the past two seasons, after winning 10 games or more in each of the previous eight. Beamer built the program, and he should be given an opportunity to get it back to the top of the ACC.
August, 29, 2014
Aug 29
8:00
AM ET
Well that was fun last night ...
August, 28, 2014
Aug 28
11:00
PM ET
The Early Offer is RecruitingNation's regular feature, giving you a daily dose of recruiting news across the country. Today's offerings: ESPN 300 defensive lineman
Darian Roseboro
will announce his decision live on ESPN.com Friday, and if things go as expected, it will be a banner day for NC State. Plus, Virginia Tech hosts a cupcake this week, but more importantly it also hosts several elite prospects. And we continue our tour of the top recruiting happenings on social media.
August, 28, 2014
Aug 28
6:04
PM ET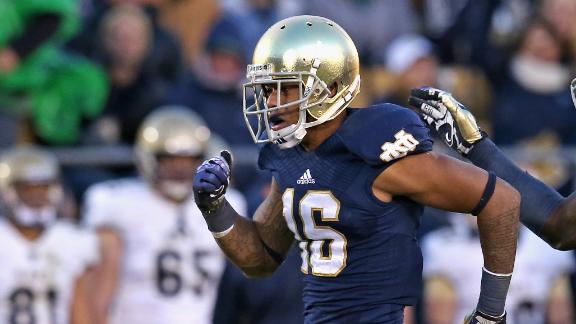 A fifth Notre Dame football player will be held out of practice and games as the school's internal investigation into academic misconduct wraps up.
According to a university official, the fifth player is safety Eilar Hardy, a senior from Reynoldsburg, Ohio.
"As Notre Dame's internal investigation relating to potential NCAA violations reaches its conclusion, a decision has been made to hold a fifth football player out from practice and competition," associate athletic director John Heisler said in a statement. "As with all cases of suspected academic dishonesty, the matter will now be subject to the University's honor code process."
Coach Brian Kelly said that he's been informed that the investigation has concluded and he expects hearings and verdicts on the five players to come quickly.
Notre Dame had announced the investigation Aug. 15, suspending receiver DaVaris Daniels, cornerback KeiVarae Russell, defensive end Ishaq Williams and linebacker Kendall Moore. Kelly had said none of those four will play during the No. 17 Fighting Irish's season opener Saturday against Rice.
August, 28, 2014
Aug 28
5:00
PM ET
If predicting the order of finish in each division is tough duty this time of year, figuring out the bowl scenarios is an even crazier endeavor. Still, we'll take a crack at it each week of the season, beginning with our preseason projections.

A few quick caveats:
If the Orange Bowl selects a Big Ten team this year, a spot would open up in the Capital One Bowl for the ACC. We're not banking on that just yet.
Either the TaxSlayer Bowl or Franklin American Mortgage Music City Bowl gets an ACC team, but not both. For the purposes of our preseason projections, we're slotting a team into the TaxSlayer Bowl, but that could change down the road.
For bowl selection purposes, Notre Dame is treated as an ACC team, meaning the Fighting Irish will grab one of the conference's tie-ins unless it is invited to the College Football Playoff.
The Birmingham Bowl serves as a backup for the ACC should enough teams become eligible. We're not projecting that yet either.
After the playoff committee makes its selections and the Orange Bowl makes its pick, the Russell Athletic gets the next choice of teams. After that, the next group of four work together to decide on selections with geography and a fan base's likelihood to travel to the game playing a role. We attempted to account for that below.
With all that said, here's our best guess at what awaits the ACC in December and January.
College Football Playoff
: Florida State Seminoles
Orange Bowl
(Miami): Clemson Tigers
Russell Athletic Bowl
(Orlando, Florida): Virginia Tech
TaxSlayer Bowl
(Jacksonville, Florida): Miami
Belk Bowl
(Charlotte, North Carolina): North Carolina
Hyundai Sun Bowl
(El Paso, Texas): Louisville
New Era Pinstripe Bowl
(Bronx, New York): Notre Dame
Military Bowl presented By Northrop Grumman
(Annapolis, Maryland): Pitt
Duck Commander Independence Bowl
(Shreveport, Louisiana): Duke
Quick Lane Bowl
(Detroit): Syracuse
BITCOIN St. Petersburg Bowl
: Georgia Tech
August, 28, 2014
Aug 28
8:00
AM ET
Golson Shines In Notre Dame Return
FBS INDEP. SCOREBOARD
Saturday, 8/30
Friday, 8/29