April, 22, 2014
Apr 22
9:00
AM ET
SOUTH BEND, Ind. -- Notre Dame wants to keep offenses guessing where
Jaylon Smith
will be. Opponents can rest assured, however, that he will be on the field for darn near every snap this fall.
Smith, the dog-turned-will linebacker, found himself playing inside more toward the latter half of the Irish's spring season, part of an effort to broaden his presence and account for a lack of depth among the interior linebackers. So the former five-star prospect spent much of March and April getting acclimated with seeing the game from a different view.
Whereas Smith spent his freshman campaign outside at dog linebacker in what was a 3-4 base, he now heads into his sophomore season with more inside responsibilities at will linebacker, looking to hone his skill set and develop the kind of confidence that comes with having a QB-like role on the defense.
"Watching guys like the great
Manti Te'o
controlling things and regulating things from inside, and that's something I'm looking forward to doing," Smith said. "You really just have to take it in stride and just keep getting better. We'll go back, watch film, make corrections and apply it to our football IQ."
The Fort Wayne, Ind. native is the Irish's leading returning tackler from last season, with 67 stops in 13 starts during his rookie campaign last season. He had described his role earlier in the spring in new coordinator Brian VanGorder's scheme as a Sam/Mike hybrid, before making the switch roughly five practices in.
With former starting safety-turned-cornerback
Matthias Farley
entering the picture for nickel packages, the Irish simply did not -- and could not -- take the precocious Smith off the field. The early returns were promising.
"He has to find a comfort level in there, he has some work to do, but he shows signs of being an outstanding player there," outside linebackers coach Bob Elliott said. "Jaylon Smith has great instincts and he has a super attitude. He came here as a five-star recruit, the best in the country, and you'd never really know it. He was like a sponge. Here to learn. He was a quick study. Now he's doing the same thing here. He's not any different than he was before he had that year. He's still humble and works it, doesn't have all the answers, smart and quick study and still has those wonderful instincts."
Fine-tuning said instincts will be the next step come fall camp. For now, Notre Dame sees plenty of possibilities for its prized prodigy, and he has been more than happy to take the next step for a remodeled defense.
"Every play starts with sight," Smith said. "Beginning of my career, all my life, I've seen the game from an outside perspective. It's really getting used to reading offensive linemen from inside-out. Just little things like that. I've had 14 practices and the spring game to actually get the hang of it. It's going good."
April, 21, 2014
Apr 21
9:00
AM ET
SOUTH BEND, Ind. -- It was hard for Notre Dame to differentiate among its wide receivers throughout the spring. Just ask Mike Denbrock about any one of them -- in this case,
Torii Hunter Jr
.
"He is absolutely physically very gifted, and right in the mix with all those young guys as far as what we feel like he can do potentially down the road," the Irish offensive coordinator said. "Like a lot of young guys, the more he sees things, the more he does things, the better he's going to be. He's not where we need him to be yet but you can see so many positive things that are going to happen there moving forward. We're just trying to speed up the process as fast as we can."
Hunter saw action mostly on the outside this spring. Like most of his peers, however, the redshirt freshman also played in the slot. He had once expressed hopes of following in the footsteps of
TJ Jones
, last year's team MVP, by playing all over the field. But he was less direct when asked on the eve of the spring game.
"It just depends," Hunter said. "I just want to play wherever the coaches need me. I just want to see the field. If it does end up being the way TJ was used then definitely that's the way I'll be."
This isn't all necessarily a bad thing for Notre Dame; it's just the way things are until
DaVaris Daniels
' presumed summer return. From the towering
Corey Robinson
to the early enrollee
Justin Brent
, it was an all-hands-on-deck operation for Irish wideouts this spring.
There are no fewer than seven scholarship players fighting for meaningful roles this fall. But the pecking order -- let alone knowing who will line up where to begin with -- is really anyone's guess.
"I don't think that that's going to happen in June, per se," head coach Brian Kelly said. "These guys need so much development work,
Amir Carlisle
needs to continue to develop.
Chris Brown
has got to continue to work on a number of things.
Will Fuller.
A lot of that is development work that in June will continue to take place. Then we're very hopeful that if things go the right way, Daniels comes back to us.
"We got a very competitive situation with Robinson, Daniels, Fuller, Brown, Carlisle. We've got a nice situation there. I think it's a just competitive situation. We've got to get the best players on the field, because the tight end is going to be on the field as well. I like to keep a tight end on the field.
"So we're talking about three positions and arguably you've got, half a dozen guys there that can compete. So what's going to be the deciding factor for me is, I'm not settled on any one of those guys right now. I think it will be a very competitive situation. I think they are going to push each other and we're going to be the beneficiary. Notre Dame's offense is beginning to be the beneficiary."
April, 18, 2014
Apr 18
10:00
AM ET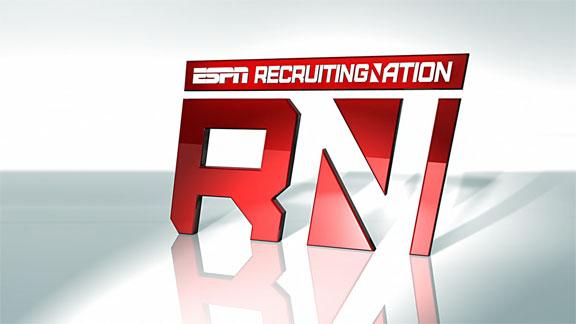 Throughout this recruiting cycle, RecruitingNation will profile a number of ESPN 300 prospects in the 2015 class, including an inside look at the prospect, his recruitment, a scouting report and what college program could benefit when he ultimately makes his decision.
When you attend a school as prestigious as Cretin-Derham Hall, as No. 16-ranked recruit
Jashon Cornell
does, you are bound to have connections. The Minnesota school has produced its share of college and NFL players over the years, including associate dean of students Marcus Freeman, who played for Notre Dame.
To continue reading this article you must be an Insider
April, 18, 2014
Apr 18
9:00
AM ET
SOUTH BEND, Ind. — This week marked the first unofficial "off" week for
John Turner
. The redshirt sophomore's workload essentially doubled this spring, with the former safety learning a new position as a linebacker, a chore that would have been complicated enough had Notre Dame's defense not been undergoing a massive face-lift under new coordinator Brian VanGorder.
"After practice I usually go watch film with [outside linebackers] coach [Bob] Elliott, so I really haven't had any time off this spring," Turner said. "Just been putting in work, trying to get better."
Turner is hardly alone, as he is one of three notable players switching positions on the defensive side of the ball, an area that has become somewhat of a haven for fresh starts and surprises for the Irish during Brian Kelly's tenure as head coach.
James Onwualu
went from safety to linebacker this spring after playing wide receiver as a freshman last season. And
Matthias Farley
moved from safety to cornerback; he arrived at Notre Dame three years ago as a receiver.
Turner, who played cornerback while at Indianapolis Cathedral High, said the move from the secondary to linebacker this time around has been a far more difficult one, though the spring served as a nice transition period.
[+] Enlarge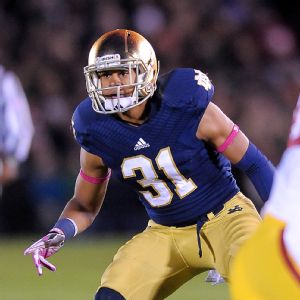 Cal Sport Media/AP ImagesJohn Turner is one of several underclassmen making a position switch for the Notre Dame defense.
"It was like a learning process the first, I'd say, eight, nine practices. Just getting used to like just being at the line of scrimmage, just being asked to do all the different jobs that they asked me to do," Turner said, adding that, toward the end of spring, "it's been starting to click a lot. Just knowing the defense and just being able to pretty much line up and do everything I need to for the most part."
Turner, who mostly played on special teams, is one of several underclassmen competing for potential starting roles on a retooled unit. Turner is getting practice time mostly in the Sam linebacker role in VanGorder's base defense. The circumstances are a bit different for Onwualu, if only because he earned meaningful action as a rookie last year, catching two passes for 34 yards.
Still, the 215-pound Onwualu's blend of size and athleticism made him an enticing prospect on the other side of the ball, with the sophomore starting this spring listed as a safety before being brought down into the box. He's mostly playing at the Sam position as well.
"Obviously the linemen are a little bit bigger, so you've got to learn how to beat them in different ways, and I'm trying to learn that every day with my technique and everything," said Onwualu, who played corner and safety at Cretin-Derham Hall (Minn.) High. "But I think that's really the only thing. My strength is up there with a lot of people, so I believe I can play in the box."
The moves are hardly unique to the Irish, as the position switches have become as much of a staple under Kelly as anything else. Four players who started in the secondary last year, for instance, had arrived to Notre Dame as receivers: Farley,
Austin Collinsworth
,
Bennett Jackson
and
KeiVarae Russell
.
VanGorder initiated this spring's moves shortly after his arrival, with the former New York Jets linebackers coach evaluating film and engaging in a series of conversations with both Kelly and the players.
"That evaluation started with film first, and then some training with them, watching them move around and all," VanGorder said. "But until you put the football down and put your cleats in the grass, there's a lot of ways to complete the evaluation. Now we're seeing them play the game of football, so there's some things we didn't have now that we've got to continue to evaluate. And then, in the end of this picture and the spring, we pretty much can define and profile a player in terms of who he is."
The returns from spring have been positive as the Irish search for unconventional ways to find playmakers among a relatively green group.
"I love him, I really do. I think he's a great guy. I think he's very honest and upfront about everything," Farley said of VanGorder. "You can talk to him about anything. He's personable, and that clicked from the start and I think everyone really feels that, and it's going to be really good for everyone moving forward."
April, 17, 2014
Apr 17
9:58
AM ET
[+] Enlarge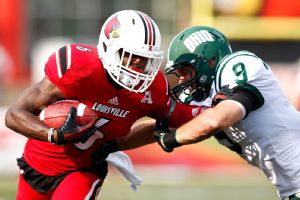 Joe Robbins/Getty ImagesLouisville, which has been with adidas for 16 years, has signed a new five-year deal worth $40 million with the shoe and apparel company.
Louisville has signed a five-year, $40 million shoe and apparel deal to remain with adidas, sources told ESPN.com on Thursday.
The deal, through the 2018-19 school year, ranks among the nation's top five shoe and apparel deals for all college programs. Louisville has been affiliated with adidas for the past 16 years.
In January, Notre Dame and Under Armour announced a 10-year deal worth $90 million, the nation's most valuable, sources told ESPN.com.
Louisville's $8 million per year deal is slightly below Notre Dame's but similar to that which adidas signed with Michigan (10 years, $82 million).
Louisville's brand has increased dramatically with the Cardinals' recent on-field success. In the 2012-13 school year, Louisville became the first school to win a BCS bowl game (Sugar), have both its men's and women's basketball teams in the Final Four (the men were NCAA champions) and have its baseball team reach the College World Series in the same season.
On July 1, Louisville will move to the Atlantic Coast Conference.
Other power conference schools with adidas deals include Texas A&M, Nebraska, Wisconsin, Indiana, UCLA and Kansas. In recent months, adidas has lost former clients Notre Dame to Under Armour and Tennessee to Nike.
A formal announcement of the Louisville's new deal will be Thursday afternoon.
April, 17, 2014
Apr 17
9:00
AM ET
SOUTH BEND, Ind. -- Few would blame
Matt Hegarty
had he hung his head entering this spring. The redshirt junior has had a roller-coaster ride at Notre Dame, from seeing the perfect regular season of 2012 cut short due to a series of mini-strokes to being thrust into role of starting center for the Fighting Irish's final two games last season.
That the former guard was a more than capable fill-in in the middle is a testament to his versatility. That he stayed there with the first team for most of this spring is a testament to his attitude.
Nick Martin
started at center in 2013 and will again in 2014 despite spending this spring recovering from an MCL tear suffered in his left knee during a Nov. 23 win over BYU. This might have indirectly hampered Hegarty, seasoned and talented enough to possibly start elsewhere on the line but relegated to mostly snapping duties.
Still, his performance in March and April are enough to warrant a chance to compete in fall camp for the top left guard spot, which was a revolving door of sorts among
Steve Elmer
,
Conor Hanratty
and, when necessary, Hegarty.
"It was good being able to have a little bit of momentum kind of coming in playing there a little bit at the end of the year," Hegarty said of starting last season, "and then it's always great to get a lot of reps in the spring like this. I couldn't ask for anything more there, but it's been great as far as trying to develop my blocking."
Redshirt freshman
Mike McGlinchey
saw plenty of time with the first team at right tackle this spring, and Hanratty -- owner of three career starts -- filled in at right guard after
Christian Lombard
went down in March with a dislocated right wrist that kept him out of the rest of spring drills. Elmer, who started four games last season as a freshman, saw plenty of time at left guard, though he might project better as a tackle.
It may essentially come down to whether coach Brian Kelly thinks both his offensive line and the precocious McGlinchey could benefit more with the 6-foot-7.5 behemoth as an immediate starter, as it seems Elmer is flexible enough to be a player where needed, having seen action in 2013 at every spot but left tackle and center.
"(Hegarty's) had a really good spring. We want to give him a chance to compete at left guard," Kelly said. "So if that's the case, are we better with him at left guard and Elmer at right tackle, or better with McGlinchey at right tackle and Elmer at guard? So if you want to boil it down, it's who's the left guard with Elmer at right tackle, or Elmer at left guard and McGlinchey at right tackle? So that's going to kind of sort itself out in preseason camp."
April, 16, 2014
Apr 16
9:00
AM ET
SOUTH BEND, Ind. -- The news of Notre Dame Stadium replacing its playing surface was met in the locker room with nearly unanimous approval. The players, of course, are the ones who are affected most by such a decision. Take
KeiVarae Russell
, a cornerback who must rely on the ground beneath him as much as anyone else on the field.
"We played USC last year -- that field was
terrible
. Oh-my-God," the outspoken junior cracked. "I'm excited."
Added quarterback
Everett Golson
, who was sacked at least once in Saturday's spring game because he lost his footing: "It's nice. It's nice. Because I came from FieldTurf, even in high school. So it's going to be a joy, man."
But the decision was hardly that simple, given the history and tradition that follows the Irish football program at nearly every turn. Athletic director Jack Swarbrick, a 1976 graduate of the school, knew this better than most, which is why he spent much of the last two months explaining to others in leadership positions at the school why he decided that the move from natural grass to FieldTurf was the best way to go for the future.
Swarbrick arrived at the decision in late February. He said that the underwhelming surface that the Blue-Gold game was played on reflected the best condition maintenance could possibly get the field in for game time. Notre Dame replaced its surface four times last year, he said -- after commencement, in July and twice in the season.
"It's probably more a personal preference than sort of an athletic department preference," Swarbrick said of natural grass. "I like it. I'm an alum here. It's part of the dynamic of the place, and so I was inclined to say, Can we do it? And some of the other iconic stadiums have held onto it: Green Bay, the Rose Bowl. And so both of those things played a role. But we just couldn't get ourselves there."
Swarbrick said there have yet to be discussions about any possible logos or marks on the field, but that he would not anticipate any major changes. The FieldTurf's color, for the curious eccentrics out there, will be green.
The news, along with the winter announcement of the Campus Crossroads Project to expand the stadium's use, could result in more non-football events, with Swarbrick specifically mentioning a hockey game.
"Everybody is in agreement; if we can get the best surface there and grass, we'd love to have that," coach Brian Kelly said after the spring game. "We just haven't been able to get to that. This is my fifth year here at Notre Dame and we haven't been able to get to that. This is the best option available to us, and I'm happy that Jack Swarbrick, our athletic director, our administration, has acted and we are going to have that playing field in place for the fall so we don't have to have those concerns going into 2014."
April, 15, 2014
Apr 15
5:00
AM ET
1. Texas Tech sophomore
Davis Webb
is a reason to look forward to next season. Webb threw for 403 yards and four scores in the
upset of Arizona State
in the National University Holiday Bowl. He went 25-for-37 for 354 yards and four touchdowns in the Red Raiders' spring game on Saturday. Afterward, he said that Tech fans should expect this team to be one of the best in school history. Can't wait to find out how that turns out.
2. Junior
Maximo Espitia
came to Cal after playing fullback at an Oregon high school. He got issued a running back's number (No. 19), and then former Bears coach Jeff Tedford moved him to tight end. Tedford got fired, and his replacement, Sonny Dykes, shifted Espitia to inside receiver. Late in the nightmare of last season, when Cal went winless against FBS opponents, Espitia moved to safety to plug a hole in the depth chart. This spring, he is playing linebacker. At least he knows everyone on the team now.
3. I understand why Notre Dame
is installing FieldTurf
at Notre Dame Stadium. After resodding the field three times last year, the athletic department might be sick of fertilizer. But what I love about Notre Dame is the lengths the university has gone to maintain the stadium's look and feel as it did when Frank Leahy and Ara Parseghian and Lou Holtz coached there. Virtually no signage, no field paint, and, yes, a grass field. Oh well.
April, 12, 2014
Apr 12
10:02
PM ET
SOUTH BEND, Ind. -- Brian Kelly moved swiftly up to the post-game podium, joking with the assembled media members that everyone better hurry up so they could get back to watching the Masters. Kelly played the famed course at Augusta National last month as part of a foursome with Tom Brady, Josh McDaniels and Notre Dame alumnus Jimmy Dunne, who put the group together.
Saturday's Blue-Gold spring game -- otherwise known as "Natural Grass: The Finale" -- could not have been farther away from the Peach State. But it probably served a somewhat therapeutic purpose for the Fighting Irish head coach for the first time since he arrived here in 2010.
[+] Enlarge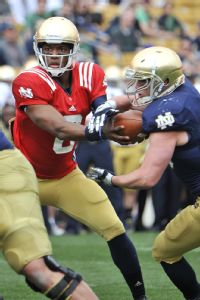 AP Photo/Joe RaymondMalik Zaire showed poise and big-play ability in Saturday's spring game, showing that there's more than one capable Notre Dame quarterback.
Yes, there were questions about the quarterback play, because there always are at Notre Dame. No, Kelly said he has no plans on naming a starter sometime before camp. And while anyone but
Everett Golson
being named the main man would qualify among the biggest shocks of Kelly's tenure, Kelly can rest easy knowing that he likely has a capable and confident second arm to turn to in the event he needs one. And, let's face it, he has almost always needed one.
Golson looked uneven at times but is slowly easing his way back into the offense.
Malik Zaire
, meanwhile, backed up all of his bold spring talk and made all of the big plays in the "Blue" team's (offense) 63-58 win over the "Gold" team (defense).
The redshirt freshman completed 18 of 27 passes for 292 yards and two scores. Golson completed 13 of 23 passes for 160 yards. Both players seem more than capable of running the offense Kelly would like, which explains why he made it clear afterward that he prefers just one man atop the depth chart.
"We should be as coaches and myself, personally, I should be able to figure this thing out, and we should be able to get our players in a position where we can have a starting quarterback," Kelly said.
"So I've been doing it long enough that I would hope that I can figure it out come time to play Rice."
Kelly had said earlier in the week that he threw everything at the quarterbacks this spring -- in part to see what they could handle, in part to accelerate the growth of a young defense under a new coordinator.
The learning curve, though, will be quicker for the offense this season, with the low-scoring games of recent years likely becoming as ancient as the natural grass his stadium is leaving behind. And that's a byproduct of more dynamic play under center.
"We have to be more proficient offensively," Kelly said. "We have to put points on the board that we have not been able to consistently do against the best teams in the country. So that's certainly been the focus, and it will have to be this fall again playing the kind of schedule we do. We can't go down to Florida State and hope to win 10 to 7. We're going to have to put some points on board."
Much of that will depend on Golson's acclimation with a new supporting cast. He is 15 pounds heavier, more mature after returning from suspension and, presumably, a smarter signal caller after spending the fall with George Whitfield Jr.
Having someone with the talent and attitude of Zaire behind him should only make him better -- which, indirectly, is exactly what the lefty wants to hear.
"My mindset doesn't change at all: Whether I'm declared the starter or whether I'm the backup or whatever the situation is," Zaire said. "Because in my mind, I'm always looking just to get better every day and whatever it takes for this team to win a lot of games, I'm willing to do that. So I'm always working as if nobody's giving me a chance. I think that's what's really my backing in it.
"I feel like not enough people are giving me that chance and that opportunity, that's my personal belief. So as long as I keep believing that and working my butt off and try to be the best I can be for this team, then that's all I can ask for."
That might be all the Irish can ask for after 15 spring practices, as they are better off at the game's most important position moving forward.
"It's competition," Golson said. "There's no animosity toward him, but there's definitely competition, and I'm open to it and ready for it."
April, 12, 2014
Apr 12
5:25
PM ET
By
ESPN.com staff
| ESPN.com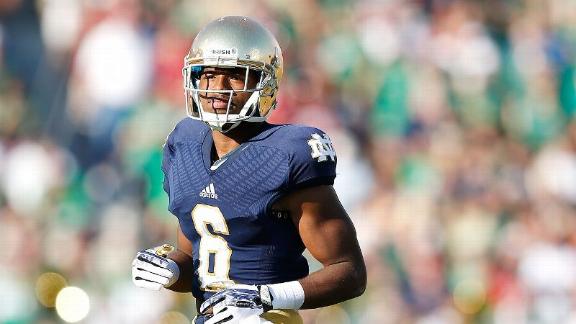 Fighting Irish cornerback
KeiVarae Russell
talks to Matt Fortuna about the new defense under Brian VanGorder and expectations going into the fall.
St. Brown talks USC, Stanford and more
FBS INDEP. SCOREBOARD
Thursday, 8/28
Friday, 8/29
Saturday, 8/30