October, 23, 2014
Oct 23
6:26
PM ET
October, 23, 2014
Oct 23
10:30
AM ET
For all of the debate about who should be ranked No. 1 among the three undefeated, power-conference teams, the far greater challenge right now when filling out a ballot is ranking the teams with one loss.
There are 15 once-beaten teams in this week's AP Top 25, and eight or nine of them could probably make a legitimate claim to being No. 4. That number of one-loss teams is sure to dwindle in the next few weeks, but there's still a good chance that the selection committee will face the difficult decision of which two or three of those teams to put into the playoff.
Obviously, there's much more to any team's résumé than a single loss, but if the BCS era is an indicator, the nature of that loss could become a major topic of discussion when distinguishing among the once-beaten teams. Perhaps that's because in a sport where there is so little common ground on which to compare top teams, having exactly one loss is the trait they all share.
So, recognizing that this could be a factor in determining which teams get into the playoff, here are the best and worst losses by current Top 25 teams that have only one defeat. The losses are ranked by Game Score, which is a metric developed by ESPN Stats & Information that takes into account quality of the opponent, location of the game, flow of the game and final score. It's important to note that opponent quality adjusts as more games are played, so these Game Scores will also change from week-to-week. (All Game Scores can be seen by clicking team links on the
FPI page
.)
October, 22, 2014
Oct 22
6:00
PM ET
By
ESPN.com staff
| ESPN.com
Four-star linebacker
Tevon Coney
picked Notre Dame over Florida and Miami on Thursday.
October, 21, 2014
Oct 21
5:29
PM ET
Notre Dame and the ACC announced their playing dates Tuesday through 2025, which rounds out the average of five league opponents a year for the Irish for 12 years.
"The football partnership between the ACC and Notre Dame is a terrific enhancement for all parties," ACC commissioner John Swofford said in a release. "Notre Dame not only adds to our league's already highly ambitious schedules, it also provides the opportunity for almost all of our student-athletes to play against Notre Dame during their careers. When you add in the excitement that it brings to our fans, there's no question that this partnership is significant."
Dates were finalized through 2019, with opponents and sites set up for the six years after that. The full 2015 and 2016 schedules had already been announced last December, when this season's schedule -- the first of the ACC football agreement for Notre Dame -- was released.
"Nine additional seasons of games against Atlantic Coast Conference opponents again adds both variety and quality to future University of Notre Dame football schedules," Notre Dame athletic director Jack Swarbrick said in a release. "Over those nine years, four ACC programs that have never played in Notre Dame Stadium (Louisville, NC State, Virginia and Virginia Tech) will come to South Bend, and two others that have only played at Notre Dame one time (Wake Forest and Clemson) also will travel to our campus.
"On the other side of the coin, during that period we will take our team to four ACC campuses at which Notre Dame never has played football (Louisville, NC State, Virginia and Virginia Tech), plus three others (Clemson, Duke and Wake Forest) where our team has played only once."
Some notes on the Irish's future schedules:
Notre Dame will get its shot at redemption against Florida State in four years, when the Seminoles visit South Bend on Nov. 10, 2018 -- three days shy of the 25th anniversary of the 1993 "Game of the Century" between these two. The Irish will return to Tallahassee on Sept. 6, 2021, Labor Day, before the Noles go back to Notre Dame Stadium sometime in 2024.
That holiday date at FSU is actually the second of two Labor Day road games for the Irish, who travel to Louisville on Sept. 2 (Labor Day) in 2019. As of now, it does not look like Notre Dame will play any Thursday night games.
That 2019 opener at Louisville is the first of a strenuous slate of road games for the Irish in 2019: They also go to Georgia (Sept. 21), Georgia Tech (Oct. 19) and Duke (Nov. 9). They are also expected to travel to Stanford that year, since it is an odd-number year, though no official date has been set. You can bet the Irish staff will point out this year to Peach State recruits, who will get a pair of trips back to their home state in a span of a month.
Notre Dame gets six ACC games in 2019 and 2023, while playing just four in 2022 and 2024. The Irish, of course, have just four ACC games this year, but will play six next season.
Notre Dame will play seven of the ACC's 14 teams in consecutive years: Miami in 2016 and 2017 and 2024 and 2025; NC State in 2016 and 2017; Wake Forest in 2017 and 2018; Virginia Tech in 2018 and 2019; Duke in 2019 and 2020; UNC in 2021 and 2022; Clemson in 2022 and 2023.
There remains no clarity on Notre Dame's Shamrock Series game -- in which it moves a home game off-site to a metropolitan area -- beyond 2016, when it faces Army in San Antonio. Next year's game against BC is at Fenway Park.
Not pictured in the graphic (and not-ACC related): As of this past summer, Notre Dame and Michigan State had a verbal agreement for two games in the 2020s, though they have said they may look at a single neutral-site contest.
October, 21, 2014
Oct 21
10:00
AM ET
As we get further into the season, more programs are starting to look at filling up their 2015 classes and looking ahead to offering 2016 prospects.
The Big Ten had plenty happen over the weekend, so here is the recap within the conference.
To continue reading this article you must be an Insider
October, 20, 2014
Oct 20
8:07
PM ET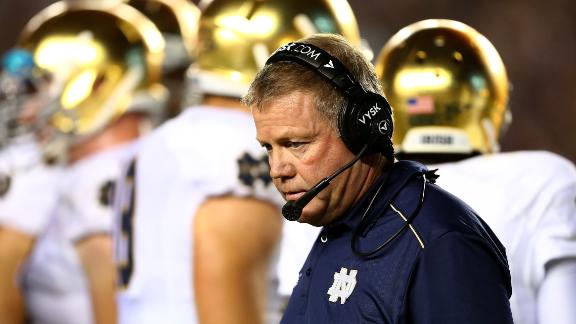 The glare of the Golden Dome can be blinding, even from SEC locales.
So we'll get this out there from the top: I'm not blinded, just realistic.
Notre Dame has the most compelling case to bump a one-loss SEC team that doesn't win the league title when the College Football Playoff selection committee unveils its final picks on Dec. 7.
And the way the Irish played Saturday night in a down-to-the-wire (err, down-to-the-official's-call) 31-27 loss on the road to Florida State, they should be a serious threat.
Notre Dame still has some work to do to make this more than just lively conversation, but it's clear that Brian Kelly's club is for real.
I know what's coming next from SEC junkies: The last time Notre Dame tangled with an SEC foe, it had all the drama of Mariano Rivera coming in to pitch the final inning of the Little League World Series.
Alabama obliterated Notre Dame 42-14 two years ago in the BCS National Championship. That Notre Dame team, too, had navigated its way unscathed through a schedule full of big names before stepping in over its head against the Crimson Tide.
That was then, though, and this is now. All that's supposed to matter is a team's body of work this season.
But we're entering a brand-new world with a selection committee, and that element could be a game-changer. Computers aren't making these decisions. Humans are.
October, 20, 2014
Oct 20
9:00
AM ET
Election Day is coming, in case you have not heard. One week before the Nov. 4 midterms, too.
Brian Kelly is no stranger to all of this. The
Notre Dame
coach is the son of an alderman. He once worked for Massachusetts state senator Gerry D'Amico. He was a driver for eventual presidential candidate Gary Hart.
A day after his Fighting Irish lost a 31-27 heartbreaker at Florida State, a defeat that kept the Seminoles' win streak alive at 23 and sent the 6-1 Irish down to No. 7 in the AP poll, Kelly took the initiative to play to his audience.
[+] Enlarge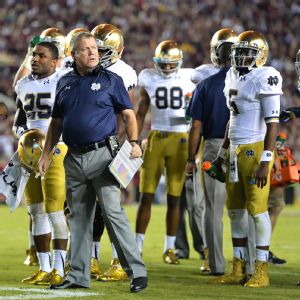 Scott Clarke/ESPN ImagesNotre Dame coach Brian Kelly was quick to hit the College Football Playoff campaign trail following his loss to Florida State.
Not necessarily to his Notre Dame constituency -- unanimous in its frustration over an offensive pass interference call that wiped away a potential game-winning touchdown Saturday -- but to the College Football Playoff selection committee.
The 13-person committee will unveil its first top 25 rankings Oct. 28. Notre Dame has a bye this week, so its loss at FSU in what was arguably the best game of the year was, in effect, its last rehearsal for the committee before the group's initial rankings.
Kelly, ever the politician, made sure all noticed.
"Florida State blew the coverage and they got rewarded for it," is the line he trotted out Sunday that will draw the most attention, an assertion that has been (and will continue to be) picked apart endlessly.
"There's great disappointment," Kelly later added. "You never want to let the game be decided by a referee. You want to control the game yourself.
"What happened at the end was out of our control. We feel like we did the things necessary. We've got to be able to control finishes. That means make a couple more plays. If you've got the champ, you can't win by split decision, you've got to knock him out. I think that's what we want to take away from this."
The written records show that C.J. Prosise received blame for the costly penalty, but Kelly (and others) learned afterward that the flag was actually thrown on Will Fuller. That only further muddled the situation for Kelly, who said that there was nothing that Fuller could have done differently on the play.
Never mind that ACC supervisor of officials Doug Rhoads agreed with the call, or that seemingly every other analyst concurred as well. Never mind that, according to Kelly, officials confessed to him that they missed FSU corner P.J. Williams taking his helmet off on the field after
Corey Robinson
's nullified go-ahead grab, a no-call that added insult to injury. The only real point of contention, it seemed, was that the spirit of the pass interference rule was violated, a view steeped in the old-school belief across all sports that officials should swallow their whistles in a game's final minutes, especially in an instant classic between two unbeatens.
What matters among all of this are the thoughts of that 13-person committee, and if the rankings that they trot out from next week until the postseason will reflect what Kelly and Notre Dame feel was the truth of the matter Saturday night: That they were better than the defending national champions at Doak Campbell Stadium, and that they should not suffer because of the way things ended.
"I just loved our guys, their mentality going on the road in a hostile environment," Kelly said. "It really did not affect them. They played physical, controlled the line of scrimmage. We made plays against a team that had won 22 in a row. You love that about your team, its psyche, the way they went into the game. So all those are huge things."
This is college football in 2014, where every game still counts, but each game is not exactly an elimination game, not with four teams competing for the top prize at the end instead of two, not just with three Power 5 teams standing unbeaten here eights weeks through the season, with two of those (Ole Miss and Mississippi State) facing each other at season's end.
This is what Kelly -- no stranger to postseason play, having guided Grand Valley State to back-to-back Division II titles in 2002 and 2003 -- guarded against last week, saying that the trip to Tallahassee would not be a make-or-break deal for the Irish.
"It's a journey," Kelly said six days before the FSU game. "You know, this one is such that you have to persevere, and it's a long, long schedule to get there. For us, Florida State is an important game, but we've got to get the rest of the games that are equally as important. I think just pacing our football team through a long season when I was in Division II, you're playing 15 games, and here it's a long season. You just have to make sure that your calendar is stretched out so you're pacing your football team through the season."
It is foolish to assume anything in college football, least of all that Notre Dame will respond to Saturday's loss by winning its five remaining scheduled games. The Irish certainly could, though, and -- with apologies to unbeaten Marshall -- the four-team playoff is already virtually assured of featuring at least two one-loss teams. Notre Dame feels it belongs in that conversation, even without the 13th game that four conferences will offer their finalists.
So Kelly doubled-down on his stance Sunday in a defense of his players and of his fan base but, most importantly, in an attempt to convince the voices who matter that the Irish are better than the FSU team that has not lost in 23 months, and that questionable officiating was the only thing standing in their way.
He may be three decades and several gray hairs away from his previous life, but Kelly can still politic with the best of them.
Official Visit: Capitalizing On Momentum
FBS INDEP. SCOREBOARD
Friday, 10/24
Saturday, 10/25