Notre Dame Football:

Connecticut Huskies
August, 20, 2014
Aug 20
8:00
AM ET
What will I do on Wednesdays after tonight without "Suits"?
February, 21, 2014
Feb 21
12:00
PM ET
OK, so I might have to hop on the "True Detective" bandwagon this weekend.
January, 17, 2014
Jan 17
12:00
PM ET
January, 10, 2014
Jan 10
2:00
PM ET
Notre Dame lost its two coordinators when Bob Diaco and Chuck Martin took head-coaching jobs. The Irish lost a handful of support staff members as well.
Both the UConn and Miami (Ohio) head coaches announced their staffs this week, with each featuring a number of Notre Dame ties.
Diaco
brings along Ernest Jones and Josh Reardon
, who will serve as the Huskies' running backs/player engagement coach and co-special teams coordinator/cornerbacks coach, respectively.
Jones was the director of player development and engagement with the Irish the past two seasons. Reardon was a Notre Dame graduate assistant the past two seasons.
Martin, meanwhile,
brings along Corey Brown as his defensive line coach after Brown spent the past two seasons as a graduate assistant with the Irish defense
. Bill Brechin also joins the RedHawks in a to-be-determined title after serving one year as Grand Valley State's receivers coach, which was preceded by three years on Notre Dame's offensive staff.
Notre Dame's all-time leading rusher, Autry Denson, joins Martin at Miami as well to coach the running backs.
Martin
had earlier announced that Irish graduate assistant Pat Welsh would join his staff as tight ends coach
.
UConn
has videos and quotes from Diaco and his new staff members on its athletic website
.
"We've worked together at multiple universities for the better part of 10 years now," Diaco said of Jones. "He's been a great asset to me, he's helped me grow as a person in a lot of different areas. Coach Jones will be the Director of Player Engagement, which is going to work on a few of our pillars of development. He's a person that's passionate about taking the baton from someone's parents, and taking that baton that person and passing it on to the next phase of his life better than he found it. He's got a great passion and energy for that and he's fantastic in that role."

"Coach Josh Reardon is here, he's been impressive for me as a player, he then became a student assistant, then a graduate assistant," Diaco said. "He furthered his career and has a great expertise in this area, this greater New England and northern footprint as he recruited and coached positions in this area. He intimately helped me as a coordinator to build the defenses we had [at Notre Dame]. He's going to be an incredible asset and resource in not only helping Anthony and Vincent create the very best defense that limits points and big plays, but also special teams."
December, 23, 2013
12/23/13
12:00
PM ET
Bears-Packers for the division? That's not exciting or anything.
December, 19, 2013
12/19/13
12:00
PM ET
December, 19, 2013
12/19/13
9:00
AM ET
Bob Diaco officially started work on Monday as UConn's new head coach. The former Notre Dame defensive coordinator takes over the Huskies after four years as the Irish's DC.
ESPN.com chatted with Diaco on Wednesday to see how he plans to attack his new gig, along with what he will take from his time in South Bend, Ind.
[+] Enlarge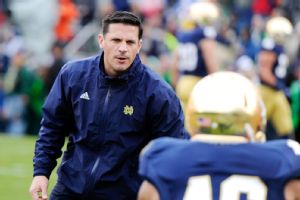 AP Photo/Joe RaymondNew UConn coach Bob Diaco is excited about his opportunity in Storrs.
UConn head coach Bob Diaco. How does that sound?
Bob Diaco:
It sounds great. It's an absolute honor, and I'm so excited. The distinctions of the university, and the DNA of the university. And the distinctions of the Northeast corridor, and the DNA of the Northeast corridor are in lockstep with my own DNA and what I believe the program needs to do to win. So it resonates awesome. It feels great wearing it. Absolutely.
What was your first order of business when you got started on Monday?
BD:
Priority 1 was to meet with the staff that was already here -- logistically, as it relates to the state of Connecticut and the University of Connecticut, UConn, and the logistics of a portion of the business that I wasn't even here for. I wanted to meet with those guys to see, moving forward, if we were going to add them to our new plans. I'm not someone who just changes to change. I have a massive amount of respect for the coaching staff that preceded me. I know those guys. I know a little bit of their football IQ, and they are awesome coaches. So there's probably a lot of things that if I just came in to dismiss, I'd be probably missing the boat on all the great things that could be done around here. So I'm just trying to analyze all the systems and meet with staffers.
I was going to follow-up on that a little bit. How do you begin to fill out your staff? What's the process with that?
BD:
I think that the barometer is to add people to the organization that fit with my ideologies. I'm going to drive this bus the way that I see it should be driven, and I anticipate and have an expectations for success. And if that happens, great. If it doesn't, I'm going to do it the way that I see that it [needs] to be done. So knowing that already, I need to add people that that fits with. And the people need to be, in their DNA and what they want, they need to have the players first, be great teachers and communicators, good people and loyal and trustworthy people. So that's what we're looking for. Those are the qualities we're looking for.
This is a program that has had no shortage of defensive success in recent years, but offensively it's had some real struggles. Especially you as a defensive coordinator, what's your approach to fixing that?
BD:
I believe that we need to put the players in the best positions for success. We need to have a real plan in the acquisition of talent that suit our systems. Not just try to collect players, but collect and acquire players [who] represent our ideologies, and then also the jobs that we're going to ask them to do. And there's a lot of work to do in those areas. A lot of work to do.
Your introductory press conference got great reviews. From your standpoint, you probably weren't working on much sleep, but how did you feel going into it, and what kind of reception did you receive personally after?
BD:
Going in, whether it be myself, or my wife Julia, or my brother Frankie, just talking to me and just reminding me, and me reminding myself, to just speak from the heart as it relates to what I believe. And that's it. If it plays, it plays. If it doesn't, it doesn't. It played, and that is an indication of this incredible fit. I didn't prepare anything that I thought that UConn Husky Nation would want to hear. I just prepared the things that I thought. I just said the things that I thought. I answered the questions based on what I thought should be the case. So it just speaks to me, this is absolutely the right place for me and my family. The reception has been wonderful. The reception's been fantastic. I feel so welcomed and warm, and the people have just been incredible, not only on campus but off campus.
Notre Dame players spoke fondly of you meeting with them on Thursday after you had taken the UConn job. How important was it for you to address those guys one final time?
BD:
It was incredibly important for me. What happens is -- and I'm trying to do same thing here with these guys -- when you've sat in all the chairs and you get to sit in a different chair, I sat in the chair as a player, I sat in the chair as an assistant coach, I sat in the chair as a unit leader, and now I'm sitting in the chair of the head coach. And for me to not address the ways that I felt through all those different phases of my life when something like this happens, is just foolish. I don't want to become something else now that I'm in a different chair. So I wanted to be gracious and communicate and do things. Begin with class and character and integrity, and end with class and character and integrity. I don't want to slip way in the darkness of the night. I box my office up in the middle of the day. I was sure to see everyone I possibly could and thank them for the opportunity to serve. And then I wanted to tell those players how much I loved them and what I had hoped for them in the future.
You had the title of assistant head coach these last two seasons at Notre Dame. What did you learn during that time about running a program?
BD:
A good amount, and that's all because of Coach [Brian] Kelly. He was just fantastic. Communicating with me about the intricacies of the program -- from the recruiting piece, to dining, to academics, to admissions and then services and discipline, and just practice structure, practice phase times of the year, discretionary periods. We would have a lot of conversations about all that stuff. I'm not sitting here and everything's coming at me in Japanese. I don't have all the answers, and I'm getting hit with stuff each day, questions that I haven't had to answer. But I've heard the vernacular before, and I'm just working off what I think should be done, and what I've observed. I've had a chance to observe at Notre Dame in great detail, because of the access Coach Kelly gave me.
You're a Jersey guy. How important is it to make a dent in that state's recruiting.
BD:
I would say just the whole Northeast. There's not any particular state. I think there's a lot of players in New York, I think there's a lot of players in Jersey. Massachusetts and Connecticut are great areas that have great players that are a fit for UConn. Eastern PA, you can dip down and definitely spot Delaware, check out Baltimore, into DC and Northern Virginia. And by the time you get done with all that, you should be able to have a nice full board of players [who] are interested in Husky football and UConn.
Why UConn?
BD:
I think it's a spectacular place, as it relates to one of the top-20 public universities in the country. It's got a large student body that is kind of in this really cool little community here in the valleys of Connecticut — 75 percent of the students live on campus so you've got this great school spirit. It's an intense science, technology, engineering and mathematics university, where you can really make an impact with young people in the country [who] are interested in those areas and playing great football. I'm excited about the league. I'm excited about the American [Athletic] Conference and where it's going. And I'm excited about the teams in the American Conference and how competitive they are. So those are all areas that I'm very excited about.
December, 13, 2013
12/13/13
11:31
PM ET
SOUTH BEND, Ind. --
Stephon Tuitt
remains "50-50" on his future, and a decision on the NFL won't come until after Notre Dame's season is over, the junior defensive end said Friday night.
"I'm not showing anything," Tuitt said, laughing, on possibly revealing his hand. "I know y'all want it."
[+] Enlarge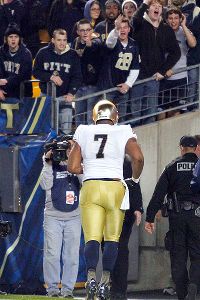 Justin K. Aller/Getty ImagesStephon Tuitt won't decide whether to enter the NFL until after Notre Dame's bowl game.
Tuitt, who took home top defensive lineman honors at the Irish's awards banquet for the second straight year, said his family will play the biggest role in his decision, and he also will speak with head coach Brian Kelly and some of his high school coaches.
Mel Kiper Jr. currently rates the 6-foot-6, 312-pound Tuitt as the No. 9 overall eligible prospect for next spring's NFL Draft, while Scouts Inc. has Tuitt at No. 12.
The Monroe, Ga., native said it has not been difficult to compartmentalize thoughts of his decision while preparing for the Dec. 28 New Era Pinstripe Bowl against Rutgers.
"It's easy for me. I could put a lot of stuff back," Tuitt said. "But I will say it has creeped from time to time to go in my mind, but I try to erase it and eradicate it. You can't do anything unless you finish off strong."
Tuitt said he is about a year away from receiving his degree in psychology, and graduating is a point his mother has drilled home with him often in the past year.
He also said defensive coordinator Bob Diaco leaving to become UConn's head coach will not affect his decision, adding that he is happy for Diaco and his move.
Diaco met with Notre Dame players Thursday to explain his decision, leaving a strong impression before he moved on to Storrs, Conn.
"We had some closure," linebacker
Jarrett Grace
said. "I think that showed the kind of guy he is, how he's upstanding and has really high character, and we appreciated him doing that."
September, 19, 2012
9/19/12
12:00
PM ET
September, 18, 2012
9/18/12
12:51
PM ET
SOUTH BEND, Ind. -- Notre Dame athletic director Jack Swarbrick shot down
reports
Tuesday afternoon of a possible 2014 game against Connecticut in Fenway Park.
"We have work to do on our future football schedules, given the announcement last week relative to our upcoming Atlantic Coast Conference relationship," Swarbrick said in a statement. "However, media reports today that we will play Connecticut in Fenway Park in 2014 are inaccurate."
Hours earlier, coach Brian Kelly acknowledged the reports and liked the idea of playing in his hometown, provided that the 100-year-old ballpark could accommodate a college football game, which it hasn't hosted since 1968. Notre Dame hasn't played a game at Fenway Park since 1944.
"I just saw that," Kelly, an Everett, Mass., native said at his weekly news conference. "You know me, I love Fenway Park. I just don't know if it's big enough. We don't wanna get into that Northwestern-Illinois game where the [Wrigley Field] end zone's not big enough. So as long as they do the due diligence, and I know Jack [Swarbrick] is looking for great venues, and I don't think they've played a game there in a long time. If it's on the schedule we're gonna play it.
"Being a Boston guy, baseball hasn't been very good there, so maybe we'll bring some football."
When Northwestern and Illinois played a 2010 game in Wrigley Field, the nation's second-oldest baseball venue, a decision was made one day before the contest that the teams would be playing offense in one direction because there was not enough room between the back of one end zone and the ivy-covered outfield wall.
"I think it would be cool, yeah," Kelly said of a Fenway game. "I'd like to do it, but I think more than anything else, I don't know the ramifications of the 2014 schedule as it relates to ACC scheduling and all those things. I've been so focused on getting to the office today."
Kelly has never hid his affection for the Boston Red Sox. The Notre Dame coach was even spotted in the Green Monster seats during a game this July after a home run ball landed in his section.
Notre Dame's future scheduling agreement with the ACC, announced last Wednesday, will give the Irish five games against ACC schools each year. Swarbrick said last week that he planned on implementing that schedule in the 2014 football season. The Irish are scheduled to begin ACC play in all other sports in the 2014-15 season, though it remains to be seen if that switch can be implemented earlier.
October, 21, 2011
10/21/11
8:27
AM ET
A lot of people have wondered why the Big East allows Notre Dame to remain in the league without its most important team playing in the conference.
UConn women's basketball coach Geno Auriemma wondered the same Thursday when he
blamed Notre Dame
for the woes of the conference. Auriemma was candid in his comments, essentially saying if the Irish had joined in football, the league would not be teetering on the brink of collapse.
Here are a few of his comments:
"They've been in our league 17 years, so how long are we going to date before we just decide this ain't working. And I'm not happy about it," Auriemma said at the conference's annual women's basketball media day Thursday. "That's not the opinion of the University of Connecticut, the Big East Conference. ... That's just Geno Auriemma's opinion."
"We've got one school that holds the future of our league in the palm of their hand and they're not really that concerned about it. They're looking out for their best interest and I don't blame them. But join us in football and then look out for your best interest. I applaud that. Every school has a right to do that. I just don't like the way we've gone about it."
The Big East is trying to survive after the departures of Pitt and Syracuse. In 2003, the Big East lost Miami, Boston College and Virginia Tech and has been the hardest hit of all the conferences when it comes to losing members. Commissioner John Marinatto wants to get to 12 football-playing teams, but there could be more defections depending on what happens with Missouri, the Big 12 and SEC.
"If Notre Dame had come in as a football and basketball school when they came in, we wouldn't have a problem. Miami wouldn't have left. Virginia Tech wouldn't have left. Boston College wouldn't have left. We probably wouldn't have any of these issues, would we?" Auriemma said.
'College Football Live' Extra: Biggest Plays
FBS INDEP. SCOREBOARD
Saturday, 12/20
Monday, 12/22
Tuesday, 12/23
Wednesday, 12/24
Friday, 12/26
Saturday, 12/27
Monday, 12/29
Tuesday, 12/30
Wednesday, 12/31
Thursday, 1/1
Friday, 1/2
Saturday, 1/3
Sunday, 1/4
Monday, 1/12