Notre Dame Football:

Florida State
May, 21, 2014
5/21/14
9:00
AM ET
Scheduling talk has consumed all of college football over the last month. But for all the chatter, there are no answers when it comes to getting scheduling right.
[+] Enlarge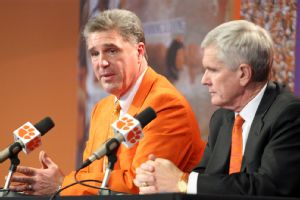 AP Photo/Anderson Independent-Mail, Mark CrammerAs Clemson's AD and a member of the playoff committee, Dan Radakovich (left) will get a first-hand look at how important scheduling becomes.
Eight conference games vs. nine conference games. One power-five opponent or more? Everything remains a guessing game until the College Football Playoff era begins because
nobody truly knows
how the playoff committee will evaluate strength of schedule.
Clemson athletic director Dan Radakovich, one of 13 members on the committee, said plainly, "It's going to be the totality of the schedule. Being a conference champ is one of the top priorities as is winning the games, so there's really not just one factor that is overwhelming the others. It's the body of work associated with the program."
In the
selection committee procedures
, released earlier this month, there is a brief mention about how strength of schedule will be evaluated. The committee will be given data from SportSource Analytics, which will provide stats on every FBS team, along with opponent records and opponents' opponents' records. Unlike the basketball model, which relies heavily on RPI, the committee will not use just one data point.
That means much of this is left up to interpretation. The Pac-12, for example, finished second in the ESPN Stats & Information
Conference Power rankings
to end the 2014 season. The Pac-12 plays nine conference games. The ACC, on the other hand, finished fifth in the same set of power rankings. The league decided to stick
with eight conference games
. Does this automatically mean the Pac-12 gets a built-in advantage based on playing a conference schedule that is perceived to be more difficult?
Nobody really knows until we see the committee pick four teams based on on-field results.
What we do know is three conferences have opted for nine league games. That is a big reason why the ACC will require teams to play at least one power-five opponent in nonconference per year, beginning in 2017. Notre Dame is included in that group; BYU is not.
Will that be enough?
The Pac-12 already plays a tougher conference schedule, plus most of its teams play power-five opponents. Last season, only four teams did not have at least one power-five nonconference game. Four -- including Oregon and USC -- had two.
"It's a wait and see," Miami athletic director Blake James said. "It will take some programs not making it to the final four and having the committee or someone come out and address that it was a scheduling issue that prevented them from being there. With that said, we all have to be cognizant of the fact that our schedules are going to be evaluated and you want to be one of the four teams. The challenge there is no one knows who is going to be the dominant program three, five, 10 years out, which is how we're doing our schedules. You can schedule an elite program right now and by the time you play them, they might not be an elite program and vice versa. It's a real challenge and it will be interesting to see how it plays out."
You saw examples of that throughout college football last year. Oregon had Virginia and Tennessee, power-five opponents, yes, but both teams finished with losing records. Ohio State scheduled Cal when the Bears were good, not knowing they would have a 1-11 season when the teams ended up playing. Perhaps more scheduling contracts will be broken in the playoff era, as teams jockey to get current elite teams on the slate.
[+] Enlarge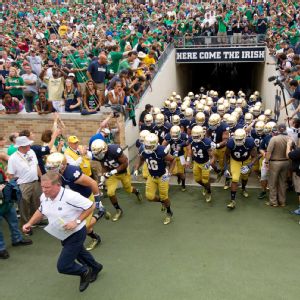 Matt Cashore/USA TODAY SportsACC teams get the opportunity to boost their schedules with Notre Dame.
ACC athletic directors also have the challenge of having Notre Dame on the schedule once every three years. League ADs already know when they will play Notre Dame several years down the road. So in years they play the Irish, do they add a second power-five team or take the brakes off so the schedule does not become too challenging?
"In Blacksburg, if we have Michigan and Notre Dame on the schedule, I think our fans would be fine with that," Virginia Tech athletic director Whit Babcock said.
Elite games like that are hard to find, because both parties have to be willing to play one another. That could make more scheduling challenges for everyone, especially since the Pac-12, Big 12 and Big Ten will have fewer nonconference spots open because they play more league games.
"The cost of guarantees continues to rise, too," James said. "You have three of the five conferences that are playing nine games so right away there are fewer games needed and geographically you want to try to stay within your area and schedule games that make sense for your fan base and alumni base. When you put all those things together it makes scheduling already challenging and I do think it will be more challenging in the future."
Given all the challenges and the uncertainty about strength of schedule during playoff evaluation time, ACC athletic directors left open the possibility that they could change their minds on scheduling. Like James said, it's wait-and-see.
"As we get through the first cycle of this new football playoff, I think it will be telling for us as to whether or not this decision is the right decision or whether we need to do something else," Florida State athletic director Stan Wilcox said. "I think we felt comfortable knowing we're not the lone conference out there, that we're comfortable being at eight."
December, 20, 2013
12/20/13
11:30
AM ET
The ACC and Notre Dame
announced future dates
for the 2014, 2015 and 2016 seasons, highlighted by an Irish-Boston College matchup in 2015 at Fenway Park as part of the Shamrock Series.


The joint announcement, made Friday, is part of the scheduling agreement Notre Dame made with the ACC when it decided to join the league in all sports but football. Because of previous schedule commitments, Notre Dame will face four ACC teams in 2014. Wake Forest, initially scheduled to play Notre Dame in 2014, will now face the Irish in 2015 -- giving Notre Dame six ACC games.
Beginning in 2016, Notre Dame will play five ACC teams each year and alternate between playing three home and two away games one year, with two home and three away games the next. BC announced separately it will host Notre Dame at Alumni Stadium in 2017. Below is a look at the Irish's future ACC opponents over the next three years, with Notre Dame as the home team.
2014
Sept. 27 at Syracuse (MetLife Stadium, East Rutherford, N.J.)
Oct. 11 North Carolina
Oct. 18 at Florida State
Nov. 22 Louisville
2015
Sept. 12 at Virginia
Sept. 19 Georgia Tech
Oct. 3 at Clemson
Nov. 7 at Pitt
Nov. 14 Wake Forest
Nov. 21 Boston College (Fenway Park, Boston)
2016
Sept. 24 Duke
Oct. 1 at Syracuse (MetLife Stadium, E. Rutherford, N.J.)
Oct. 8 at NC State
Oct. 29 Miami
Nov. 19 Virginia Tech
April, 19, 2013
4/19/13
5:00
PM ET
How many times have you heard fans and coaches shaking their fists at the scheduling gods whenever a new conference slate is announced?
Well, my friends, Friday's
Notre Dame-ACC scheduling announcement
should
not
be one of those times. Both the Irish and the league should be applauded for the way they handled an often maddening process to provide a win for all parties involved.


The schedules for 2014, 2015 and 2016 are perfectly balanced. Each season features one major high-profile game with national implications. Simply put, it was a wise move to have the Irish play
Florida State
in 2014,
Clemson
in 2015 and
Miami Hurricanes
in 2016.
Both the Seminoles and Tigers have elevated themselves back into the national spotlight and appear to be annual Top 25 programs again. Both the Irish-Noles and Irish-Canes rivalries are classics with huge national interest (even if the Miami game last season was decidedly one-sided).
In addition to those games,
Louisville
snagged a huge spot in Year One of the three-year rotation -- potentially adding two more Top 25 teams onto the Irish schedule from the ACC. Not a bad way for the Cardinals to start off their first year in a new league, especially with the subpar nonconference slate they have for 2013.
As for some of the games that had already been on the Irish schedule, Notre Dame was able to keep its two-game series with
Syracuse
intact. The Orange are actually the only one of the 14 ACC teams that will play Notre Dame twice in this three-year cycle. But, as expected,
Pitt
and
BC
will lose games previously set.
Pitt -- the ACC team that has played the Irish the most with 68 previous appearances -- remains on the schedule for 2015. That means its games against Notre Dame for 2014 and 2016 are off. Pitt will play
Delaware
,
FIU
,
Akron
and
Iowa
in nonconference in 2014.
Boston College remains on the schedule for 2015 as well. That means its game against Notre Dame scheduled for 2016 is off as well.
Folks in Pittsburgh and Boston have had time to come to terms with these expected changes as part of the ACC-Notre Dame partnership. Looking at the bigger picture, the ACC stands to benefit from what should be an overall stronger nonconference schedule -- especially since that is going to play such a large factor in the future playoff. Should Notre Dame continue what it started last season, the ACC benefits even more.
As for the Irish, their future ACC schedules are not totally daunting. On paper, 2014 looks to be the most difficult with Florida State, Louisville and
North Carolina
all on the slate. But the Louisville and UNC games are in South Bend. Even in 2016, both Miami and
Virginia Tech
play at Notre Dame.
Of course, predicting the ease or difficulty of future schedules is an exercise in the unknown, since teams change so much year-to-year. But at least today, the schedule split looks exactly right.
September, 13, 2012
9/13/12
4:00
PM ET
Now that we know Notre Dame will play five ACC teams every year beginning in 2014, here is a look at how the Irish have fared against ACC competition.
Thanks to ESPN Stats & Information for compiling all these stats.
First point: Does the scheduling change that much for Notre Dame?
In three of the past five seasons, the Fighting Irish have played or will play against four current/future ACC schools.
2012: Miami, Pittsburgh, Boston College, Wake Forest
2011: Pittsburgh, Wake Forest, Maryland, Boston College, Florida State (bowl game)
2010: Boston College, Pittsburgh
2009: Boston College, Pittsburgh
2008: North Carolina, Pittsburgh, Boston College, Syracuse
Notre Dame has games against Pitt, Miami, Wake Forest, Syracuse and Boston College also scheduled into the future as well.
Second point: So how have the Irish fared against ACC competition?
Notre Dame has won six of its past seven against ACC teams (including 1-1 in bowl games over that stretch).
Since the ACC began in 1953, Notre Dame is 28-13 against ACC opponents (conference membership at the time of game).
Notre Dame has an all-time losing record against just two current ACC members (Florida State and NC State).
There is only one ACC team Notre Dame has never played: Virginia Tech.
Top Position Battles Heading In To Spring