Notre Dame Football:

Louisville Cardinals
June, 5, 2014
Jun 5
10:30
AM ET
Another double dip
? Why not ...
Week 13 schedule
Thursday, Nov. 20
North Carolina at Duke, ESPN, 7:30 p.m.
Saturday, Nov. 22
Boston College at Florida State
Virginia Tech at Wake Forest
Syracuse at Pitt
Georgia State at Clemson
Miami at Virginia
Louisville at Notre Dame
Our pick: North Carolina at Duke AND Louisville at Notre Dame


Why you should come along:
Another Thursday night game presents another opportunity for us to take in multiple games in a weekend ... and this one should be particularly good. Two of the Coastal Division's expected title contenders square off, and plenty will be on the line. Duke has won the last two matchups against its rival down Tobacco Road, the first time the Blue Devils have posted a winning streak against North Carolina since 1987-89. Both of Duke's wins the previous two years were absolute thrillers, as it clinched bowl-eligibility with the win in 2012 and picked off the Tar Heels late on the road in last season's regular-season finale, clinching win No. 10, the division crown and stopping the Tar Heels' five-game winning streak in the process.


On Saturday, we'll visit Touchdown Jesus in South Bend, Ind., to check out Notre Dame Stadium's new FieldTurf and watch Louisville and the Irish run all over it on Senior Day. This is the ACC's fourth and final game of the season against Notre Dame, and it might be our best chance to check out the Golden Dome in the first year of this scheduling agreement, which I highly recommend you do if the chance presents itself. The Irish enter 2014 with plenty of questions on defense after suffering major personnel losses, but they welcome back quarterback
Everett Golson
, who went undefeated during his only regular season under center, in 2012. Golson, fresh off a suspension and an autumn spent working out with George Whitfield Jr., should have the Irish offense looking more like the one his coach, Brian Kelly, had at Cincinnati. And we all know the fireworks that a Bobby Petrino offense is capable of putting on display. These coaches missed each other by a year in the Keg of Nails rivalry in the old Big East. The late-fall weather elements could try to slow these two teams down, but I'll take my chances. (Especially if it means one last postgame meal at Parisi's, just off the south end of campus.)
May, 18, 2014
May 18
11:10
AM ET
The state of Georgia is loaded in both the 2015 and 2016 classes.
In the 2015 class, the linebacker position is one of strength, as a number of rangy, athletic prospects -- highlighted by
ESPN 300
prospects
Adonis Thomas
and
Roquan Smith
-- are available.
Five schools made the final cut on Thursday night for Thomas, one of the nation's top prospects.
January, 23, 2014
Jan 23
5:30
AM ET
1. In four consecutive seasons, from 1992-95, the Super Bowl featured a coach who had won a college football national championship. Jimmy Johnson won Super Bowls XXVII and XXVIII (1992-93) with Dallas. Barry Switzer won Super Bowl XXX with the Cowboys, too. Between Jimmy and Barry, Bobby Ross lost SB XXIX with San Diego. No national championship winners before Johnson, and none after Ross -- until this season. Pete Carroll gets his shot with Seattle next week.
2. Florida State head coach Jimbo Fisher almost sounded frustrated over the course of last season as he would tell reporters that
Jacob Coker
almost beat out
Jameis Winston
to be the Seminoles' starting quarterback. Yeah, right. But Fisher continued to say it all the way through the BCS Championship Game. Now it seems Coker, who followed
AJ McCarron
at St. Paul's in Mobile, now will follow him at Alabama, once he graduates from FSU this spring. He will be a godsend for the Crimson Tide.
3. The ACC released its 2014 schedule Wednesday, and Florida State got the NFL treatment. The defending national champion's schedule is harder. Pittsburgh and Maryland are gone. In come new members Louisville and Notre Dame, which begins its ACC semi-schedule. The Cardinals have quite the league initiation. They are the only ACC team to play four road games in five weeks. That doesn't include playing in the two northernmost ACC outdoor stadiums, Boston College and Notre Dame, in November.
January, 22, 2014
Jan 22
3:04
PM ET
The 2014
ACC schedule was released
Wednesday, featuring Louisville's inaugural season in the conference, the first year of the ACC's partnership with Notre Dame, one of the nation's toughest nonconference schedules and a weekend of rivalry games to end the regular season.

Defending national champion Florida State will start the first season of the College Football Playoff on Aug. 30 at Cowboys Stadium, where the Seminoles will face Oklahoma State in the sixth annual Cowboys Classic. It also happens to be the site of the final game of the season, as Arlington, Texas, is where the new College Football Playoff will crown its first champion on Jan. 12, 2015.
Some of the
ACC schedule's highlights
include:
Miami will travel to Louisville on Labor Day night.
Notre Dame will play North Carolina, Syracuse, Louisville and Florida State.
Week 1 also includes Clemson at Georgia and UCLA at Virginia.
Five nationally televised Thursday night games, including Virginia Tech at Pitt (Oct. 16); Miami at Virginia Tech (Oct. 23); Florida State at Louisville (Oct. 30); and Clemson at Wake Forest (Nov. 6). The final 2014 ACC Thursday night contest on ESPN will have North Carolina traveling to Duke on Nov. 20.
Three nationally televised Friday night games, including Virginia Tech hosting Virginia (ABC, ESPN or ESPN2) on the Friday after Thanksgiving, Nov. 28. The Hokies and Cavaliers previously played on Thanksgiving Friday in 1996. Boston College will also host Pitt (ESPN or ESPN2) on Sept. 5 and Louisville will play at Syracuse (ESPN or ESPN2) on Oct. 3.
ACC teams will play nine games against teams from the final 2014 Associated Press poll (No. 4 South Carolina, No. 12 Ohio State, No. 16 UCLA, No. 17 Oklahoma State, No. 19 USC and No. 20 Notre Dame).
Here's what we like about this schedule, aside from the fact it came out unusually early this year: great rivalries to end the season (including Louisville-Kentucky), another Labor Day matchup and a strong nonconference lineup that includes the likes of Ohio State, South Carolina and UCLA. We're going to break it all down -- lots -- between now and Aug. 30, so stay tuned.
January, 10, 2014
Jan 10
1:32
PM ET
Hours after top commit
Poona Ford
decommitted from Louisville, the Cardinals lost another 2014 pledge along the defensive line.
Three-star defensive tackle
Chris Nelson
(Lakeland, Fla./Victory Christian) is reopening his recruitment, he told ESPN.com in a text message Friday.
To continue reading this article you must be an Insider
December, 20, 2013
12/20/13
11:30
AM ET
The ACC and Notre Dame
announced future dates
for the 2014, 2015 and 2016 seasons, highlighted by an Irish-Boston College matchup in 2015 at Fenway Park as part of the Shamrock Series.


The joint announcement, made Friday, is part of the scheduling agreement Notre Dame made with the ACC when it decided to join the league in all sports but football. Because of previous schedule commitments, Notre Dame will face four ACC teams in 2014. Wake Forest, initially scheduled to play Notre Dame in 2014, will now face the Irish in 2015 -- giving Notre Dame six ACC games.
Beginning in 2016, Notre Dame will play five ACC teams each year and alternate between playing three home and two away games one year, with two home and three away games the next. BC announced separately it will host Notre Dame at Alumni Stadium in 2017. Below is a look at the Irish's future ACC opponents over the next three years, with Notre Dame as the home team.
2014
Sept. 27 at Syracuse (MetLife Stadium, East Rutherford, N.J.)
Oct. 11 North Carolina
Oct. 18 at Florida State
Nov. 22 Louisville
2015
Sept. 12 at Virginia
Sept. 19 Georgia Tech
Oct. 3 at Clemson
Nov. 7 at Pitt
Nov. 14 Wake Forest
Nov. 21 Boston College (Fenway Park, Boston)
2016
Sept. 24 Duke
Oct. 1 at Syracuse (MetLife Stadium, E. Rutherford, N.J.)
Oct. 8 at NC State
Oct. 29 Miami
Nov. 19 Virginia Tech
August, 9, 2013
8/09/13
12:05
PM ET
By
ESPN.com staff
| ESPN.com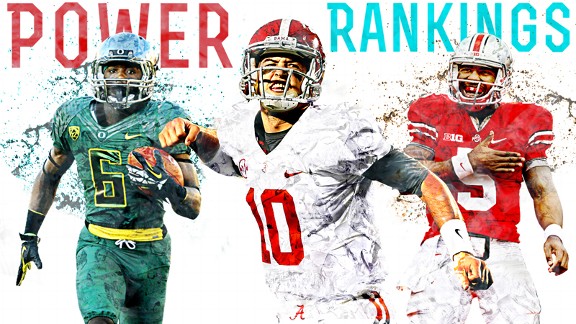 ESPN IllustrationTBD BY EDITORIAL
Not surprisingly, the back-to-back BCS champions are again preseason favorites and top
ESPN's power rankings
. But a number of elite programs are ready for their chance to dethrone the king.
Top 15 breakdown
No. 1 Alabama
No. 2 Ohio State
No. 3 Oregon
No. 4 Stanford
No. 5 Texas A&M
No. 6 (tie) Georgia
No. (tie) South Carolina
No. 8 Louisville
No. 9 Clemson
No. 10 Florida
No. 11 Florida State
No. 12 LSU
No. 13 Notre Dame
No. 14 (tie) Michigan
No. 14 (tie) Texas
May, 10, 2013
5/10/13
5:00
PM ET
What's happening?
Brad from Benton, Ky., writes
: Matt- Any word on Tuitt's weight gain? During the Spring Game his physical appearance as opposed to last season was very bad. I'm just hoping it doesn't slow him down and make him less of the great end that he is. Thanks!
Matt Fortuna
: Brad, in short, I wouldn't worry about it.
Stephon Tuitt
missed the first half of spring ball recovering from an offseason operation to repair a sports hernia that bothered him late last season, which, from personal experience as a child, I can confirm severely restricts your movements. (Even if you don't have a whole lot of athletic tools in the arsenal, like yours truly.)
---
Tyler Kelly from Jacksonville, N.C., writes
: Where do you think Notre Dame will rank in the pre-season polls and how do you think they will finish?
Matt Fortuna
: Tyler, it's never too early, is it? Based on some of the early post-spring indications (
our Mark Schlabach has the Irish 10th
,
SI.com's Andy Staples has them fifth
,
CBSSports.com's Jerry Palm has them slotted for the Orange Bowl
), I'd expect this to definitely be a preseason top-10 team, maybe even a top-five. I'm not about to make a record prediction more than three months before the first ball of the season is kicked off, but I do think this team has the potential to be better than the 2012 team, even if the record at season's end may not indicate it.
---
Sam from Dallas writes
: How will joining the ACC in 2014 affect the scheduling for the four open dates on their schedule going forward? I am taking into consideration the five ACC games and the three games with USC, Stanford and Navy to fill eight of the twelve slots. Would you expect ND to play at least three if not all four of those other games at home each year or possibly a neutral site game? Looking ahead do you see them scheduling home & home with teams like Texas in the future? It may be difficult to guarantee some teams home and home arrangements. Thnx.
Matt Fortuna
: Sam, there are plenty of logistical issues with scheduling moving forward, some of which
we covered this morning in conjunction with Big Ten bloggers Adam Rittenberg and Brian Bennett
. The Shamrock Series will continue, but does that become a ninth game or, in some cases, will an ACC game get to be used for that? I think the home/road configuration will depend on the year, as the Irish get three ACC home games one year and two the next. Look at 2014, for example: Notre Dame
gets Louisville, North Carolina, Wake Forest
and Stanford at home; it faces Florida State, Syracuse (in East Rutherford, N.J.), Navy (in Landover, Md.) and USC on the road. There are also home games scheduled for Rice, Michigan, Purdue and Northwestern, and road ones at Temple and Arizona State. That's 14 total games, and the only one I can say will stay on for certain among the second group is Michigan, as that
will be the final matchup between the Wolverines and the Irish for the foreseeable future
. So there are nine games. I would guess that Purdue stays on for that season, as the contract for that game
runs through the 2014 season
, two years before the Big Ten implements a nine-game conference schedule and makes that series more difficult to schedule. As for the rest, the Rice game
is a one-game deal
, the ASU series
is seemingly up in the air
, the Northwestern deal
is part of a home-and-home that will be returned to Evanston, Ill., in 2018
and Temple
is part of a three-game series
that starts in 2013 at Notre Dame, continues in 2014 in Philadelphia and
returns to Notre Dame in 2017
.
April, 19, 2013
4/19/13
5:00
PM ET
How many times have you heard fans and coaches shaking their fists at the scheduling gods whenever a new conference slate is announced?
Well, my friends, Friday's
Notre Dame-ACC scheduling announcement
should
not
be one of those times. Both the Irish and the league should be applauded for the way they handled an often maddening process to provide a win for all parties involved.


The schedules for 2014, 2015 and 2016 are perfectly balanced. Each season features one major high-profile game with national implications. Simply put, it was a wise move to have the Irish play
Florida State
in 2014,
Clemson
in 2015 and
Miami Hurricanes
in 2016.
Both the Seminoles and Tigers have elevated themselves back into the national spotlight and appear to be annual Top 25 programs again. Both the Irish-Noles and Irish-Canes rivalries are classics with huge national interest (even if the Miami game last season was decidedly one-sided).
In addition to those games,
Louisville
snagged a huge spot in Year One of the three-year rotation -- potentially adding two more Top 25 teams onto the Irish schedule from the ACC. Not a bad way for the Cardinals to start off their first year in a new league, especially with the subpar nonconference slate they have for 2013.
As for some of the games that had already been on the Irish schedule, Notre Dame was able to keep its two-game series with
Syracuse
intact. The Orange are actually the only one of the 14 ACC teams that will play Notre Dame twice in this three-year cycle. But, as expected,
Pitt
and
BC
will lose games previously set.
Pitt -- the ACC team that has played the Irish the most with 68 previous appearances -- remains on the schedule for 2015. That means its games against Notre Dame for 2014 and 2016 are off. Pitt will play
Delaware
,
FIU
,
Akron
and
Iowa
in nonconference in 2014.
Boston College remains on the schedule for 2015 as well. That means its game against Notre Dame scheduled for 2016 is off as well.
Folks in Pittsburgh and Boston have had time to come to terms with these expected changes as part of the ACC-Notre Dame partnership. Looking at the bigger picture, the ACC stands to benefit from what should be an overall stronger nonconference schedule -- especially since that is going to play such a large factor in the future playoff. Should Notre Dame continue what it started last season, the ACC benefits even more.
As for the Irish, their future ACC schedules are not totally daunting. On paper, 2014 looks to be the most difficult with Florida State, Louisville and
North Carolina
all on the slate. But the Louisville and UNC games are in South Bend. Even in 2016, both Miami and
Virginia Tech
play at Notre Dame.
Of course, predicting the ease or difficulty of future schedules is an exercise in the unknown, since teams change so much year-to-year. But at least today, the schedule split looks exactly right.
New Notre Dame Uniforms Revealed
FBS INDEP. SCOREBOARD
Friday, 8/29
Saturday, 8/30