Notre Dame Football:

NCF Next Level
June, 10, 2013
6/10/13
1:00
PM ET
By
Brett Perrotta
| ESPN Stats & Info
Ric Tapia/Icon SMIEverett Golson's departure from Notre Dame will have an effect on the rushing attack.
The loss of starting quarterback
Everett Golson
is major cause for concern at Notre Dame.
Though the offense in 2011 was slightly better with
Tommy Rees
at quarterback (2.3 points per drive) than it was with Golson last season (2.2 points per drive), the loss of Golson's rushing ability will be an issue.
Golson's departure means the Irish will be without their top three rushers from a year ago (Theo Riddick was a senior in 2012 and Cierre Wood left school early for the NFL). The only returning contributor from the backfield is
George Atkinson III
. He'll be joined by USC transfer
Amir Carlisle
(who missed 2012 due to injury) and
Greg Bryant
(No. 2 RB in 2013 ESPN 150).
After a slow start last season, Golson and the Irish rushing attack came into their own in October. The team averaged 3.8 yards per rush in its first four games, but that average jumped to 5.3 from that point forward -- and that includes the 19-rush, 32-yard performance against Alabama in the BCS National Championship Game.
Starting with the game against Miami on Oct. 6, more designed runs were called for Golson. He also took it upon himself to pick up yards with his legs more often. Golson's designed runs went from 2.0 to 5.1 per game, and his scrambles went from 1.2 to 2.9 per game.
In the first four games of the season, Golson rushed a total of 13 times for one first down and two touchdowns. After that, 23 of his 64 rushes resulted in a first down and he reached the end zone four times.
Rees simply does not have this element in his game. He has exactly one rushing play in his career longer than 8 yards -- a 12-yard run against Tulsa during his freshman season -- and has never had more than 6 net rushing yards in a game.
January, 5, 2013
1/05/13
5:33
PM ET
By
Jon T. Stewart, ESPN Stats & Info
| ESPN.com
When the No. 1
Notre Dame Fighting Irish
take on the No. 2
Alabama Crimson Tide
in the Discover BCS National Championship Game on Monday, one of the biggest difference-makers on the field could be
Tyler Eifert
.
Eifert, this season's
John Mackey
Award winner, given annually to the nation's top tight end, is the latest and possibly the best in a long line of great players Notre Dame has produced at that position.
Notre Dame's last three starting tight ends –- Anthony Fasano (2003-05), John Carlson (2004-07) and Kyle Rudolph (2008-10) –- are all playing in the NFL, yet no tight end has caught more passes for more yards in Irish history than Eifert.
A major reason Eifert could be the player who gives the Crimson Tide defense more fits than anyone else is that Alabama has had issues when its linebackers are forced into pass coverage.
When opposing offenses have lined up in four-or-five-receiver sets against the Tide, they've been more effective than in sets with three or fewer receivers.
The numbers are even more telling when you take a look at the five games in which Alabama faced ranked opponents (Michigan, Mississippi State, LSU, Texas A&M and Georgia).
No team was more successful than the Aggies, a natural spread-offense team with a mobile, redshirt freshman quarterback; eventual Heisman Trophy winner
Johnny Manziel
completed 19 of 23 passes for 184 yards and 2 TD when A&M operated out of a four-or-five-receiver set in a 29-24 upset in Tuscaloosa, the Tide's only loss of the season.
In comes Notre Dame, also a natural spread-offense team with a mobile, redshirt freshman quarterback. As a unit, the Irish passing attack is better when operating out of a four-or-five-receiver set.
However, when it comes to Eifert, the senior has been more effective when working out of a set with three or fewer receivers (including him), a formation that usually dictates opposing defenses cover him with a linebacker.
When the Irish had three or fewer receivers on the field and Eifert was the targeted receiver, they completed 25 of 42 passes for 363 yards and four touchdowns.
He was most lethal when Notre Dame operated out of what's known as "11" personnel (one running back, one tight end, three receivers) and he was the targeted receiver.
In those situations, the Irish were 15-of-23 for 208 yards and a touchdown. But when operating out of a four-or-five-receiver set and Eifert was targeted, Notre Dame was 19-of-33 for 261 yards and no touchdowns.
In other words, Eifert's presence opened things up for the other receivers.
Therein lies the conundrum for Alabama. What should the Tide do with Eifert?
No one's had success covering him with a linebacker when the Irish are operating out of "21" (two backs, one tight end) or "11" personnel and rolling the coverage over toward him when they've operated from four-or-empty (five-receiver) sets only opened things up for Notre Dame's other capable pass catchers like
TJ Jones
,
Robby Toma
and
Theo Riddick
when they move him from running back spot and into the slot-receiver position.
It's a sure bet that Nick Saban is glad to have had the extra time to prepare for this problem.
January, 4, 2013
1/04/13
5:30
PM ET
By
Tobin Petipas, ESPN Stats & Info
| ESPN.com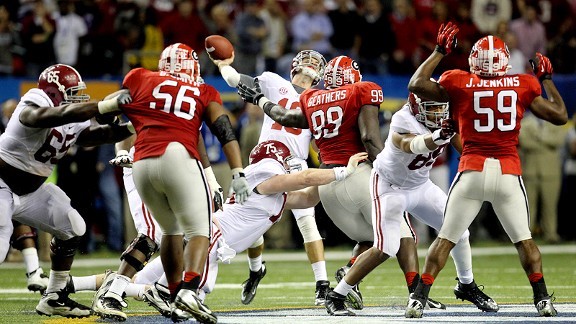 Daniel Shirey/USA TODAY SportsIt was appropriate that this throw was the decisive one for Alabama in its SEC-title win.
AJ McCarron
and his
Alabama Crimson Tide
teammates broke the huddle with a fresh set of downs after
T.J. Yeldon
's 5-yard run on third-and-5 kept the drive alive against the
Georgia Bulldogs
in the SEC Championship.
With 3:40 remaining and facing a 3-point deficit, Alabama lined up at Georgia's 45 with two tight ends on the line and two wide receivers set to the same side. It was the same formation the Crimson Tide had used on 20 of their 22 plays after Georgia took an 11-point lead with 6:31 remaining in the third quarter.
Twenty of those 22 plays were runs that gained 167 yards and two touchdowns, including Yeldon's drive-sustaining run.
Georgia lined up defensively with one deep safety on this play, leaving one-on-one coverage on the outside for
Amari Cooper
.
When McCarron took the snap, he faked a handoff to Yeldon, looked left and threw the ball 43 yards in the air to Cooper, who went untouched into the end zone for the game-winning touchdown.
It was McCarron's 11th touchdown pass off play-action this season and his ninth such touchdown on first down. In 2011, McCarron had a total of five touchdowns off play-action.
Alabama's running game has set up McCarron all season. He leads FBS in pass efficiency (173.1), and play action has been the key.
McCarron completes nearly 70 percent of his passes thrown after a run fake and is averaging an SEC-best 11.9 yards per attempt. He has not thrown an interception off play-action in 130 attempts, with his last one coming in last season's loss to LSU.
McCarron's average throw after a run fake travels 11.7 yards downfield, and he completes 76 percent of his deep throws that are set up by play-action. On such passes, he has eight touchdowns and no interceptions in 21 attempts.
As he was against Georgia, Cooper has been McCarron's favorite target on those downfield throws, catching 11 of 14 passes thrown 20 yards or longer when he was the target. Eight of those receptions were off play-action, including four touchdowns.
McCarron will face a
Notre Dame Fighting Irish
team in the BCS Championship Game that leads the nation in scoring defense (10.3 PPG).
The Irish have given up two touchdown passes on play-action all season, tied for third fewest against an AQ team, and one touchdown on a pass thrown 20 yards or more.
On paper, it will be the biggest test that McCarron has faced this season. A passing grade could give McCarron his second straight BCS Championship, something no quarterback has accomplished.
November, 23, 2012
11/23/12
4:00
PM ET
By
ESPN Stats & Information
| ESPN.com
Matthew EmmonsWith one more win, Manti Te'o (right) and Notre Dame will play for the right to be No. 1.
(USC hosts Notre Dame on Saturday at 8 p.m. ET on ABC.)
If the
Notre Dame Fighting Irish
can win on the road against the
USC Trojans
. History could, again, repeat itself.


Four different head coaches have been responsible for Notre Dame's eight national championships in the AP poll era (since 1936). All four captured their first national title in their third season at Notre Dame, and head coach Brian Kelly is in his third season at the helm in South Bend.
Notre Dame is one win from playing for the BCS Title thanks in larger part to its defense. The Irish have conceded a touchdown on 6.7 percent of their opponents' possessions, the lowest percentage in FBS this season.
Notre Dame's red zone defense also is the best in the nation, allowing a touchdown on 24.1 percent of their opponents' drives inside the 20-yard line. (Opponents have seven touchdowns and five turnovers in 29 red zone possessions.) That's the lowest percentage for any FBS team in the last eight seasons.
The defense is led by senior linebacker
Manti Te'o
. With two more tackles, Te'o will join Bob Crable as the second Notre Dame player with three 100-tackle seasons. Te'o also leads the Irish with six interceptions after not having any in his first three seasons.
Notre Dame's defense will be tested one more time, this time by one of the best wide receivers in the country. USC's
Marqise Lee
has more receiving yards (821) in his last four games than 52 FBS teams during that time span. Lee has gained more yards after the catch (837) than any player from any BCS-AQ school, and leads FBS with eight 100-yard receiving games. However, only one player this season has 100 yards receiving against Notre Dame,
Jalen Saunders
from Oklahoma.
However, Lee will not have
Matt Barkley
throwing to him – the senior quarterback will not play because of a sprained shoulder. Since 2002, USC's only loss to Notre Dame came in 2010 when Barkley (then a sophomore) had a sprained ankle and did not play.
Without Barkley, USC may turn to its running game. The Trojans are averaging 160 rushing yards per game, and has gained 10 yards or more on almost 17 percent of their rush attempts.
Curtis McNeal
has 324 yards in USC's last two games, but he'll face a Notre Dame defense that has allowed just three running backs to rush for 80 or more yards this season.
November, 21, 2012
11/21/12
3:00
PM ET
By
Sharon Katz & Tobin Petitpas, ESPN Stats & Info
| ESPN.com
Notre Dame and Alabama have each given up 111 points this season, the fewest in FBS. Both teams have held six opponents to 10 points or fewer, the most in the nation.
If defense wins championships, then who has the edge? The Tide and their defensive schemes under coach Nick Saban or the Irish and their dominating front seven led by Heisman candidate Manti Te'o?
RUNNING DEFENSE
The first thing teams must do on defense is stop the run. FBS teams are 211-42 when rushing for at least 250 yards this season.
Alabama and Notre Dame are two of the best against the run. Neither team has allowed an opponent to run for more than 170 yards this season. Florida State, Florida and TCU are the only other FBS teams who can make this claim.
Alabama has been slightly better at limiting yards. The Tide are allowing the third fewest yards per game (75.6) and the second-lowest yards per rush (2.3) in FBS this season. That is 16.6 fewer yards and 0.8 fewer yards per rush than Notre Dame. The Tide have also been better at limiting long runs. Alabama's opponents have 21 rushes that have gained 10 or more yards, second-fewest in FBS and 10 fewer than Notre Dame.
Notre Dame has been the nation's best at conceding touchdowns. The Irish have conceded two rushing touchdowns this season; every other FBS team has allowed at least five. In goal-to-go situations Notre Dame has been dominant, allowing one rushing touchdown and -31 rush yards in 18 attempts. That's the fewest touchdowns and yards on such runs in FBS.
Tackling is fundamental to stopping the run. The Irish have 55 missed tackles this season, the third fewest among AQ schools. Alabama has 66 missed tackles, third fewest in the SEC and 13th amongst AQ schools.
PASSING DEFENSE
Opponents have struggled to move the ball through the air against both Alabama and Notre Dame. Both teams have allowed just six pass touchdowns and rank in the top 11 in pass efficiency defense.
At first glance, the Tide's numbers appear to be better than Notre Dame's. They are allowing 164.5 yards per game, fourth fewest in FBS and roughly 30 fewer yards per game than the Irish. Yet, Notre Dame has been better against ranked opponents. Alabama's averaged 239.5 passing yards per game with five touchdowns and four interceptions. The Irish's ranked opponents averaged 203.5 passing yards per game with no touchdowns and eight interceptions.
Notre Dame's secondary has been questioned, but the Irish have allowed just seven completions on 41 pass attempts thrown 20 yards or longer downfield. The Tide have allowed 13 completions on 50 such passes.
Alabama has been better at keeping short throws to short gains. The Tide have given up 56.6 yards after the catch per game this season and only two opponents have had more than 100 yards after the catch. Notre Dame on the other hand has allowed 102.7 such yards per game with eight of its 11 opponents gaining at least 100 yards after the catch.
RED ZONE DEFENSE
Notre Dame is one of the best red zone defenses in recent history. The Irish have allowed a touchdown on 24.1 percent of their opponents' red zone drives this season, the lowest percentage for any FBS team in the last eight seasons. Overall, Irish opponents have scored seven touchdowns and committed five turnovers in 29 red zone possessions.
Alabama is allowing opponents to score a touchdown on 47.8 percent of their red zone possessions, the 20th-lowest percentage in FBS this season. The good news for Tide fans is their opponents do not reach the red zone often. Alabama's opponents have reached the red zone on 23 of their 136 drives (16.9 percent), the fourth lowest percentage in FBS. Like Notre Dame, Alabama has forced five red zone turnovers, including four in conference play.
LIMITING GAME-CHANGING PLAYS
Notre Dame has allowed 14 plays that have gained 25 yards or more, tied for second fewest in FBS. Alabama has allowed 20 such plays, tied for 13th in FBS. Alabama and Notre Dame are tied with Florida for the fewest touchdowns of 25 yards of longer (1) allowed this season.
Alabama has forced 24 turnovers that have led to 143 points this season. Notre Dame has 21 turnovers but has scored only 45 points off of those turnovers. Yet, 12 of Notre Dame's 21 turnovers have come when the game is within one score. Alabama has built so many big leads that only five of their 24 turnovers have come in close games.
November, 18, 2012
11/18/12
1:23
AM ET
By
ESPN Stats & Information
| ESPN.com
Thanks to upset victories by Baylor and Stanford, Notre Dame is in position to become No. 1 in the BCS standings for the first time ever.
The Fighting Irish haven't been No. 1 in the Associated Press poll since November 1993.
Within minutes of each other, Baylor finished off its upset over No. 1 Kansas State and Stanford won in overtime over No. 2 Oregon.
This is the first time since 2007 that the team atop the BCS standings has lost in consecutive weeks.
That week, LSU lost to Arkansas on Nov. 23 and Missouri lost to Oklahoma on Dec. 1.
This is the third time in BCS history that the top two teams both lost on the same weekend.
Both previous instances happened in 2007. Missouri and West Virginia lost on Dec. 1 after LSU and Kansas lost the previous weekend (LSU lost on Friday, Kansas on Saturday on Thanksgiving weekend).
Kansas State's 28-point loss at Baylor is tied for the largest loss by a team ranked No. 1 in the BCS standings. Oklahoma lost to Kansas State by 28 points in 2003.
Kansas State is the fifth team ranked No. 1 in the BCS to lose to an unranked opponent. The Wildcats are the first BCS No. 1 to lose to a team with a losing record heading into the game.
How did Kansas State lose?
The Wildcats allowed 16 rushes of at least 10 yards against Baylor and three touchdowns on those rushes. Entering Saturday's game, Kansas State had not allowed more than six rushes of at least 10 yards in a single game and had not allowed a touchdown on rushes of at least 10 yards all season.
How did Oregon lose?
Oregon scored just 14 points against Stanford, its fewest points in a game since Sept. 3, 2009 against Boise State (lost 19-8).
Outside of Marcus Mariota's 77-yard scramble in the first half, Stanford was able to limit Oregon on the ground. The Ducks had four rushes that gained 10 or more yards and did not make it past the line of scrimmage on 10 of their 43 rushes. It was the second straight game that the Ducks did not gain 200 yards after averaging 341.2 rushing yards per game in their first nine games.
September, 14, 2012
9/14/12
6:26
PM ET
By
ESPN Stats & Information
| ESPN.com
Matt Cashore/US PresswireNotre Dame RB Cierre Wood returns from a two-game suspension Saturday against Michigan State. Wood rushed for 61 yards and two touchdowns last season against the Spartans.
In the only matchup between teams ranked in the AP Top-20 this weekend, No. 10
Michigan State
hosts No. 20
Notre Dame
at 8 p.m. ET on ABC. The Spartans and Fighting Irish have split their last 10 meetings with the home team winning each of the last four contests.


The last time these two teams met in East Lansing, Michigan State defeated Notre Dame, 34-31, on a fake field goal in overtime two seasons ago. The 29-yard TD pass from Aaron Bates to Charlie Gantt gave the Spartans their first and only lead of the game.
Including that win, Michigan State is 9-1 in games decided by eight points or fewer since 2010. The win was also the second of what is now 15-straight wins at home for Michigan State, the fourth-longest active streak among FBS schools.
Notre Dame enters the game at 2-0 and hopes to win its first three games of the season for the first time since starting 8-0 in 2002. The Irish have entered their matchup with Michigan State at 2-0 twice since then (2005 and 2008) and lost each of those games on the road.
Should the Irish come away with the win, it would be their first win over a team ranked in the AP Top-10 since 2005 when they knocked off No. 3 Michigan. They have lost nine straight such games since then, the longest streak in Notre Dame history.
One player the Irish will need to slow down if they hope to come up with the road win is Michigan State running back
Le'Veon Bell
. Bell ranks sixth in the nation with 140.0 rush yards per game but has been limited when opponents have stacked the line of scrimmage.
Against defensive fronts with seven or more players in the box, Bell has averaged 3.5 yards per carry on 32 attempts with 37 yards after contact. Against fronts with six or fewer in the box, he has averaged 5.6 yards per carry on 30 attempts with 74 yards after contact.
You can expect Notre Dame to bring a safety or two up to help against the run because Spartans quarterback
Andrew Maxwell
has yet to stretch the field consistently. He's completed only 38.9 percent of his pass attempts 10 yards or more downfield this season.
Speaking of defense, it's tough to ignore the numbers that Michigan State has put up in two games this season.
The Spartans enter the weekend as one of three teams in the FBS yet to allow an offensive touchdown in 2012 and the other two (Florida State & TCU) have played only schools from the FCS. The 225.5 total yards they have allowed per game lead the Big Ten and rank eighth in the FBS.
Last weekend,
Tommy Rees
replaced
Everett Golson
at quarterback for Notre Dame's final offensive drive against Purdue, which led to a game-winning field goal. However, head coach Brian Kelly said Golson will be the starter on Saturday.
Elsewhere in the backfield, the Irish hope the return of RB
Cierre Wood
will provide a spark against Michigan State like he did last season in South Bend. Wood, suspended the first two games of 2012, rushed for 61 yards and a pair of touchdowns in Notre Dame's upset win over the No. 15 Spartans last season.
The latest from Gustin at The Opening
FBS INDEP. SCOREBOARD
Friday, 8/29
Saturday, 8/30