Notre Dame Football:

Syracuse Orange
October, 21, 2014
Oct 21
5:29
PM ET
Notre Dame and the ACC announced their playing dates Tuesday through 2025, which rounds out the average of five league opponents a year for the Irish for 12 years.
"The football partnership between the ACC and Notre Dame is a terrific enhancement for all parties," ACC commissioner John Swofford said in a release. "Notre Dame not only adds to our league's already highly ambitious schedules, it also provides the opportunity for almost all of our student-athletes to play against Notre Dame during their careers. When you add in the excitement that it brings to our fans, there's no question that this partnership is significant."
Dates were finalized through 2019, with opponents and sites set up for the six years after that. The full 2015 and 2016 schedules had already been announced last December, when this season's schedule -- the first of the ACC football agreement for Notre Dame -- was released.
"Nine additional seasons of games against Atlantic Coast Conference opponents again adds both variety and quality to future University of Notre Dame football schedules," Notre Dame athletic director Jack Swarbrick said in a release. "Over those nine years, four ACC programs that have never played in Notre Dame Stadium (Louisville, NC State, Virginia and Virginia Tech) will come to South Bend, and two others that have only played at Notre Dame one time (Wake Forest and Clemson) also will travel to our campus.
"On the other side of the coin, during that period we will take our team to four ACC campuses at which Notre Dame never has played football (Louisville, NC State, Virginia and Virginia Tech), plus three others (Clemson, Duke and Wake Forest) where our team has played only once."
Some notes on the Irish's future schedules:
Notre Dame will get its shot at redemption against Florida State in four years, when the Seminoles visit South Bend on Nov. 10, 2018 -- three days shy of the 25th anniversary of the 1993 "Game of the Century" between these two. The Irish will return to Tallahassee on Sept. 6, 2021, Labor Day, before the Noles go back to Notre Dame Stadium sometime in 2024.
That holiday date at FSU is actually the second of two Labor Day road games for the Irish, who travel to Louisville on Sept. 2 (Labor Day) in 2019. As of now, it does not look like Notre Dame will play any Thursday night games.
That 2019 opener at Louisville is the first of a strenuous slate of road games for the Irish in 2019: They also go to Georgia (Sept. 21), Georgia Tech (Oct. 19) and Duke (Nov. 9). They are also expected to travel to Stanford that year, since it is an odd-number year, though no official date has been set. You can bet the Irish staff will point out this year to Peach State recruits, who will get a pair of trips back to their home state in a span of a month.
Notre Dame gets six ACC games in 2019 and 2023, while playing just four in 2022 and 2024. The Irish, of course, have just four ACC games this year, but will play six next season.
Notre Dame will play seven of the ACC's 14 teams in consecutive years: Miami in 2016 and 2017 and 2024 and 2025; NC State in 2016 and 2017; Wake Forest in 2017 and 2018; Virginia Tech in 2018 and 2019; Duke in 2019 and 2020; UNC in 2021 and 2022; Clemson in 2022 and 2023.
There remains no clarity on Notre Dame's Shamrock Series game -- in which it moves a home game off-site to a metropolitan area -- beyond 2016, when it faces Army in San Antonio. Next year's game against BC is at Fenway Park.
Not pictured in the graphic (and not-ACC related): As of this past summer, Notre Dame and Michigan State had a verbal agreement for two games in the 2020s, though they have said they may look at a single neutral-site contest.
September, 29, 2014
Sep 29
9:00
AM ET
Brian Kelly was greeted in the locker room after Saturday's game by the surest sign his voice was getting through.
Notre Dame turned the ball over five times in a sloppy performance against Syracuse. The Irish's decorated quarterback,
Everett Golson
, was responsible for four of those giveaways. They still won anyway, 31-15, to improve to 4-0.
So when Kelly met his players afterward, the environment was considerably toned down, for his players knew that their performance was not up to par.
[+] Enlarge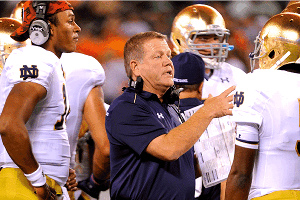 Rich Barnes/USA TODAY SportsBrian Kelly and Notre Dame will have to overcome Stanford's stellar defense on Saturday in order to remain unbeaten.
"Well, it's what you build your program on is a level of expectation that you know that you don't have to go in and deliver the message that's already pretty clear," the fifth-year Irish coach said Sunday. "If they were in there giddy and happy, I'd be a little bit concerned. I want them to enjoy the win, but I also want them to know that there's better football that needs to be played, and they knew that."
Especially this Saturday, when they get their first true measuring stick of the season. No. 14 Stanford is coming to town, a program that has served as somewhat of a measuring stick for No. 9 Notre Dame in the Kelly era. The Irish know that they cannot perform anywhere near the way they did against the Orange and expect to beat the Cardinal, who have one loss to their name.
Football teams play bad games, even the best ones. Especially at the college level. That Notre Dame got its stinker out of the way against a Syracuse team seemingly with zero interest in taking advantage of Irish miscues is a tremendous burden off the program's shoulders, and one it can waste little time thinking about this week.
"They're a very tunedin group to my message," Kelly said. "I always start with, 'You need to be excited about winning.' It's hard to win in college football, especially when you're playing Power 5 teams. Winning is difficult. Just look across the landscape of college football. We start always with that premise because if you can't enjoy winning, it doesn't mean as much.
"Then we get to the heart of it, is that you can't win consistently by turning the football over. You can't win consistently if you don't compete for the ball in the air. And we know that. That was a given. That conversation took place, but I know that when I walked in that locker room, those kids had already had that passing through their mind."
So they move on to Stanford, which enters Notre Dame Stadium with the nation's No. 1 overall defense, No. 1 scoring defense and No. 1 passing defense. Two years ago, in a somewhat similar scenario, an undefeated Irish team stopped a one-loss Cardinal team in an overtime goal-line stand very much symbolic of how far the program had come in three short years under this regime.
This year's team took four games to figure out its offensive line situation, another area Notre Dame can be glad it sorted out against Syracuse, before Stanford. It would help if the fate of the Irish's five suspended players — and whatever other micro and macro fallouts come from that — is decided as well.
MetLife Stadium marked the finale of an early-season slate that Kelly had deemed before the season as "manageable." When it was all said and done in New Jersey, getting out of this stretch alive was, in some ways, as relieving as it was exhilarating.
"You know, five years into your program, I think you walk in the locker room and you expect the kind of locker room that I got," Kelly said. "In the first year you don't know what to expect, and so you have to make sure that that message is heard loud and clear. I was not shocked about the way our kids handled themselves after the game."
The players received Kelly's message without him having to deliver it. All that awaits now is the season's biggest test.
September, 28, 2014
Sep 28
12:35
AM ET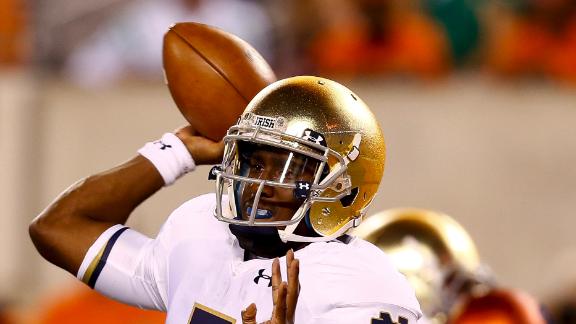 Notre Dame beat Syracuse
31-15
on Saturday night at MetLife Stadium in East Rutherford, New Jersey. Here's how the Irish got to 4-0:


How the game was won:
Good question. Notre Dame turned the ball over five times but still won by double digits. You don't see that every day, but it speaks to how great this young defense has been in Year 1 under new coordinator Brian VanGorder, as it gave Syracuse nothing offensively. Six of the Orange's points came on a pick-six. They had little else going for them from a scoring standpoint.
Gameball goes to:
Everett Golson
will get plenty of credit, and he deserves some of it: 32-of-39 passing for 362 yards and four touchdown passes. He completed 25 consecutive passes at one point, one shy of the FBS record. But he also had two picks and two lost fumbles, so we'll give this nod to sophomore
Will Fuller
, who had the game's first two touchdowns on consecutive plays in the second quarter and finished with six grabs for 119 yards.
What it means:
Notre Dame did not play very well on Saturday, but if you turn the ball over five times and still win -- fairly easily, at that -- you have to take the W and not look back. Teams play poorly, and they often suffer consequences for it. The Irish didn't, and they can go into the Stanford game 4-0, with a blank slate and thankful a sloppy performance such as this is in the past and they don't have a blemish to show for it.
Playoff implication:
No. 8 Notre Dame is still undefeated, so the Irish are certainly alive in this discussion. We will probably know more about them, however, after they face rival Stanford at home next Saturday. Again, they can be thankful they got this sloppy performance out of the way. But to say this looks like one of the four best teams in the country right now is probably a bit much as we move to October.
What's next:
Notre Dame has three games -- Stanford, North Carolina and at Florida State -- before its next bye. Syracuse's upcoming slate is actually less kind: Louisville, FSU, at Wake Forest, at Clemson. The Orange might have had their best opportunity to steal a tough game during this rugged stretch (sorry, Wake Forest) with five takeaways Saturday, but they will have to go back to the drawing board and see what they can get going offensively Friday against a Cardinals team that showed flaws in Saturday's win over Wake Forest.
August, 1, 2014
Aug 1
8:00
AM ET
Anyone who has watched Jimmy Fallon in the past year or so has seen some of the absurd stunts he has gotten his celebrity guests to take part in. Among the most popular of those is lip sync battling,
an art seemingly perfected by Joseph Gordon-Levitt
. (My editor prefers Emma Stone's performance, so we cannot overlook
her rendition of "All I Do is Win"
here, either.)
Who knew that a pair of ACC mascots are aspiring lip syncers themselves? The Notre Dame leprechaun and Otto the Orange have taken it upon themselves on Twitter to challenge Fallon and Hashtag the Panda to a lip sync battle during the week leading up to Notre Dame and Syracuse's Sept. 27 clash at MetLife Stadium in East Rutherford, N.J.
The late-night host has yet to accept the challenge, but both schools are preparing their mascots just in case. Each has enlisted its fan base to vote on two songs the mascots will lip sync when their time comes.
Bon Jovi's "Livin' On A Prayer"
is a fitting frontrunner so far for the leprechaun
, who could perhaps enlist the artist's son, Irish walk-on cornerback Jesse Bongiovi, to help with preparations.
DJ Snake and Lil Jon's "Turn Down for What"
has been the most popular hit for Otto
, whom we figure must be an expert at lip syncing, considering it is the only known form of singing for an orange.
Maybe the mascot will surprise us if this dream battle comes to fruition. Or perhaps he'll do a heel turn as payback for the leprechaun's insensitive introduction after Notre Dame's ACC entry last season?
The possibilities, it seems, are endless.
July, 7, 2014
Jul 7
12:00
PM ET
BlueandGold.com's Dan Murphy takes a nice look this week at how Notre Dame is
embracing technology to find better ways to train and recover
. Murphy spends time with Brian Kelly's consigliere, strength and conditioning coach Paul Longo, who shows off some of the new toys he gets to work with as part of the Irish's investment in the next weapon of the college football arms race.
One of those, EliteForm, is a digital system that less than a dozen colleges are currently using, according to the article. The short of it: Players check in, see the goals awaiting them in the weight room that day, then afterward get to see the speed at which they did each rep.
Our David Hale
did a similar story two weeks ago looking at Florida State
, which utilized GPS technology all the way to the national title last season.
Murphy's story is behind a pay wall, but the story shows some great statistics illustrating just how thin the margin for error really is in a season — namely, how much closer 2011 was to being a great year for Notre Dame and how the 2012 squad narrowly avoided a campaign like the 2011 one.
Elsewhere in the land of the Irish ...
May, 2, 2014
May 2
12:15
PM ET
February, 17, 2014
Feb 17
12:30
PM ET
If you had Nate McLouth as the first athlete to get a cameo in "House of Cards," congratulations.
January, 31, 2014
Jan 31
5:30
AM ET
1. It took Notre Dame 67 years to perform its first facelift on Notre Dame Stadium in 1996. It took 17 years for the university to announce plans for a new iteration of The House That Rockne Built. The new construction will give Notre Dame the club seating and the suites that every other major stadium has. My favorite part of the news release: Father John I. Jenkins, the university president, said that he didn't think raising $400 million to fund the construction would be an issue. With that fan base, he's dead right.
2. The good and bad of Twitter: the travel nightmare endured by Ohio State offensive coordinator Tom Herman in Atlanta, when he spent 19 hours stuck on an icy interstate, is only a slight exaggeration of the road-warrior sagas that FBS recruiters go through every January. Herman used Twitter as lifeline and diary during his overnight stay. Then there's Syracuse coach Scott Shafer, who, unaware of how serious conditions were, tweeted that Atlantans were "softnosed." Shafer meant it as a chain-jerk, but it was a classic ready-fire-aim use of the medium. We've all been there.
3. Alabama has a commitment from kicker
J.K. Scott
of Denver Mullen High, which rings a bell for anyone who remembers Wide Right I and II. After Florida State lost to Miami in consecutive seasons, knocking itself out of the race for No. 1, Seminoles coach Bobby Bowden had enough. In Feb. 1993, he signed the best high school kicker in the nation, Scott Bentley, also from the Denver area. Less than a year later, Bentley kicked the field goal that gave Bowden the 1993 national championship.
January, 22, 2014
Jan 22
3:04
PM ET
The 2014
ACC schedule was released
Wednesday, featuring Louisville's inaugural season in the conference, the first year of the ACC's partnership with Notre Dame, one of the nation's toughest nonconference schedules and a weekend of rivalry games to end the regular season.

Defending national champion Florida State will start the first season of the College Football Playoff on Aug. 30 at Cowboys Stadium, where the Seminoles will face Oklahoma State in the sixth annual Cowboys Classic. It also happens to be the site of the final game of the season, as Arlington, Texas, is where the new College Football Playoff will crown its first champion on Jan. 12, 2015.
Some of the
ACC schedule's highlights
include:
Miami will travel to Louisville on Labor Day night.
Notre Dame will play North Carolina, Syracuse, Louisville and Florida State.
Week 1 also includes Clemson at Georgia and UCLA at Virginia.
Five nationally televised Thursday night games, including Virginia Tech at Pitt (Oct. 16); Miami at Virginia Tech (Oct. 23); Florida State at Louisville (Oct. 30); and Clemson at Wake Forest (Nov. 6). The final 2014 ACC Thursday night contest on ESPN will have North Carolina traveling to Duke on Nov. 20.
Three nationally televised Friday night games, including Virginia Tech hosting Virginia (ABC, ESPN or ESPN2) on the Friday after Thanksgiving, Nov. 28. The Hokies and Cavaliers previously played on Thanksgiving Friday in 1996. Boston College will also host Pitt (ESPN or ESPN2) on Sept. 5 and Louisville will play at Syracuse (ESPN or ESPN2) on Oct. 3.
ACC teams will play nine games against teams from the final 2014 Associated Press poll (No. 4 South Carolina, No. 12 Ohio State, No. 16 UCLA, No. 17 Oklahoma State, No. 19 USC and No. 20 Notre Dame).
Here's what we like about this schedule, aside from the fact it came out unusually early this year: great rivalries to end the season (including Louisville-Kentucky), another Labor Day matchup and a strong nonconference lineup that includes the likes of Ohio State, South Carolina and UCLA. We're going to break it all down -- lots -- between now and Aug. 30, so stay tuned.
December, 20, 2013
12/20/13
11:30
AM ET
The ACC and Notre Dame
announced future dates
for the 2014, 2015 and 2016 seasons, highlighted by an Irish-Boston College matchup in 2015 at Fenway Park as part of the Shamrock Series.


The joint announcement, made Friday, is part of the scheduling agreement Notre Dame made with the ACC when it decided to join the league in all sports but football. Because of previous schedule commitments, Notre Dame will face four ACC teams in 2014. Wake Forest, initially scheduled to play Notre Dame in 2014, will now face the Irish in 2015 -- giving Notre Dame six ACC games.
Beginning in 2016, Notre Dame will play five ACC teams each year and alternate between playing three home and two away games one year, with two home and three away games the next. BC announced separately it will host Notre Dame at Alumni Stadium in 2017. Below is a look at the Irish's future ACC opponents over the next three years, with Notre Dame as the home team.
2014
Sept. 27 at Syracuse (MetLife Stadium, East Rutherford, N.J.)
Oct. 11 North Carolina
Oct. 18 at Florida State
Nov. 22 Louisville
2015
Sept. 12 at Virginia
Sept. 19 Georgia Tech
Oct. 3 at Clemson
Nov. 7 at Pitt
Nov. 14 Wake Forest
Nov. 21 Boston College (Fenway Park, Boston)
2016
Sept. 24 Duke
Oct. 1 at Syracuse (MetLife Stadium, E. Rutherford, N.J.)
Oct. 8 at NC State
Oct. 29 Miami
Nov. 19 Virginia Tech
May, 10, 2013
5/10/13
5:00
PM ET
What's happening?
Brad from Benton, Ky., writes
: Matt- Any word on Tuitt's weight gain? During the Spring Game his physical appearance as opposed to last season was very bad. I'm just hoping it doesn't slow him down and make him less of the great end that he is. Thanks!
Matt Fortuna
: Brad, in short, I wouldn't worry about it.
Stephon Tuitt
missed the first half of spring ball recovering from an offseason operation to repair a sports hernia that bothered him late last season, which, from personal experience as a child, I can confirm severely restricts your movements. (Even if you don't have a whole lot of athletic tools in the arsenal, like yours truly.)
---
Tyler Kelly from Jacksonville, N.C., writes
: Where do you think Notre Dame will rank in the pre-season polls and how do you think they will finish?
Matt Fortuna
: Tyler, it's never too early, is it? Based on some of the early post-spring indications (
our Mark Schlabach has the Irish 10th
,
SI.com's Andy Staples has them fifth
,
CBSSports.com's Jerry Palm has them slotted for the Orange Bowl
), I'd expect this to definitely be a preseason top-10 team, maybe even a top-five. I'm not about to make a record prediction more than three months before the first ball of the season is kicked off, but I do think this team has the potential to be better than the 2012 team, even if the record at season's end may not indicate it.
---
Sam from Dallas writes
: How will joining the ACC in 2014 affect the scheduling for the four open dates on their schedule going forward? I am taking into consideration the five ACC games and the three games with USC, Stanford and Navy to fill eight of the twelve slots. Would you expect ND to play at least three if not all four of those other games at home each year or possibly a neutral site game? Looking ahead do you see them scheduling home & home with teams like Texas in the future? It may be difficult to guarantee some teams home and home arrangements. Thnx.
Matt Fortuna
: Sam, there are plenty of logistical issues with scheduling moving forward, some of which
we covered this morning in conjunction with Big Ten bloggers Adam Rittenberg and Brian Bennett
. The Shamrock Series will continue, but does that become a ninth game or, in some cases, will an ACC game get to be used for that? I think the home/road configuration will depend on the year, as the Irish get three ACC home games one year and two the next. Look at 2014, for example: Notre Dame
gets Louisville, North Carolina, Wake Forest
and Stanford at home; it faces Florida State, Syracuse (in East Rutherford, N.J.), Navy (in Landover, Md.) and USC on the road. There are also home games scheduled for Rice, Michigan, Purdue and Northwestern, and road ones at Temple and Arizona State. That's 14 total games, and the only one I can say will stay on for certain among the second group is Michigan, as that
will be the final matchup between the Wolverines and the Irish for the foreseeable future
. So there are nine games. I would guess that Purdue stays on for that season, as the contract for that game
runs through the 2014 season
, two years before the Big Ten implements a nine-game conference schedule and makes that series more difficult to schedule. As for the rest, the Rice game
is a one-game deal
, the ASU series
is seemingly up in the air
, the Northwestern deal
is part of a home-and-home that will be returned to Evanston, Ill., in 2018
and Temple
is part of a three-game series
that starts in 2013 at Notre Dame, continues in 2014 in Philadelphia and
returns to Notre Dame in 2017
.
April, 19, 2013
4/19/13
5:00
PM ET
How many times have you heard fans and coaches shaking their fists at the scheduling gods whenever a new conference slate is announced?
Well, my friends, Friday's
Notre Dame-ACC scheduling announcement
should
not
be one of those times. Both the Irish and the league should be applauded for the way they handled an often maddening process to provide a win for all parties involved.


The schedules for 2014, 2015 and 2016 are perfectly balanced. Each season features one major high-profile game with national implications. Simply put, it was a wise move to have the Irish play
Florida State
in 2014,
Clemson
in 2015 and
Miami Hurricanes
in 2016.
Both the Seminoles and Tigers have elevated themselves back into the national spotlight and appear to be annual Top 25 programs again. Both the Irish-Noles and Irish-Canes rivalries are classics with huge national interest (even if the Miami game last season was decidedly one-sided).
In addition to those games,
Louisville
snagged a huge spot in Year One of the three-year rotation -- potentially adding two more Top 25 teams onto the Irish schedule from the ACC. Not a bad way for the Cardinals to start off their first year in a new league, especially with the subpar nonconference slate they have for 2013.
As for some of the games that had already been on the Irish schedule, Notre Dame was able to keep its two-game series with
Syracuse
intact. The Orange are actually the only one of the 14 ACC teams that will play Notre Dame twice in this three-year cycle. But, as expected,
Pitt
and
BC
will lose games previously set.
Pitt -- the ACC team that has played the Irish the most with 68 previous appearances -- remains on the schedule for 2015. That means its games against Notre Dame for 2014 and 2016 are off. Pitt will play
Delaware
,
FIU
,
Akron
and
Iowa
in nonconference in 2014.
Boston College remains on the schedule for 2015 as well. That means its game against Notre Dame scheduled for 2016 is off as well.
Folks in Pittsburgh and Boston have had time to come to terms with these expected changes as part of the ACC-Notre Dame partnership. Looking at the bigger picture, the ACC stands to benefit from what should be an overall stronger nonconference schedule -- especially since that is going to play such a large factor in the future playoff. Should Notre Dame continue what it started last season, the ACC benefits even more.
As for the Irish, their future ACC schedules are not totally daunting. On paper, 2014 looks to be the most difficult with Florida State, Louisville and
North Carolina
all on the slate. But the Louisville and UNC games are in South Bend. Even in 2016, both Miami and
Virginia Tech
play at Notre Dame.
Of course, predicting the ease or difficulty of future schedules is an exercise in the unknown, since teams change so much year-to-year. But at least today, the schedule split looks exactly right.
September, 12, 2012
9/12/12
12:15
PM ET
Big East commissioner Mike Aresco just released a statement on
Notre Dame's departure from the league
.
"The University of the Notre Dame has informed us that it is joining the Atlantic Coast Conference in all sports other than football. Notre Dame has been a valued member of the Big East Conference and we wish them success in the future. However, Notre Dame's departure does not change our plans. We have prestigious institutions that are excited to be a part of the Big East. We remain committed to making the Big East stronger than it has ever been."
Mark Schlabach of ESPN.com also reports that Notre Dame must pay a $5 million exit fee and wait 27 months to leave the conference. Pitt, Syracuse and West Virginia all negotiated departures from the Big East that allowed them to leave without having to wait the full 27 months.
West Virginia paid $20 million to join the Big 12 for this season. Pitt and Syracuse will each pay $7.5 million to leave for the ACC in 2013.
'College Football Live' Extra: Biggest Plays
FBS INDEP. SCOREBOARD
Saturday, 12/20
Monday, 12/22
Tuesday, 12/23
Wednesday, 12/24
Friday, 12/26
Saturday, 12/27
Monday, 12/29
Tuesday, 12/30
Wednesday, 12/31
Thursday, 1/1
Friday, 1/2
Saturday, 1/3
Sunday, 1/4
Monday, 1/12