Notre Dame Football:

Texas A&M Aggies
January, 2, 2014
Jan 2
8:10
PM ET
SAN ANTONIO -- Thursday's practice session for the U.S. Army All-American Bowl saw players in more of a rhythm on offense, but it also saw defensive players showing their skills. If Thursday is any indication, Saturday's contest could be a low-scoring affair.
Here are a few notes:
Cannon reaffirms Baylor commitment … again.
For the Baylor fans who read the late-Wednesday tweet coming from ESPN 300 receiver
K.D. Cannon
(Mount Pleasant, Texas/Mount Pleasant), don't read anything into it.
To continue reading this article you must be an Insider
December, 31, 2013
12/31/13
7:55
PM ET
Three days of practice are now in the books and overall execution was sharper as the players begin to move into final preparations for the Under Armour All-America Game on Thursday. The productivity of the players picked up as did the speed of the play, and they're continuing to think less and display their natural ability more. It was a physical day, with the pads popping and some big hits throughout the practice. Here are some of the highlights.
Top performers
To continue reading this article you must be an Insider
December, 30, 2013
12/30/13
5:26
PM ET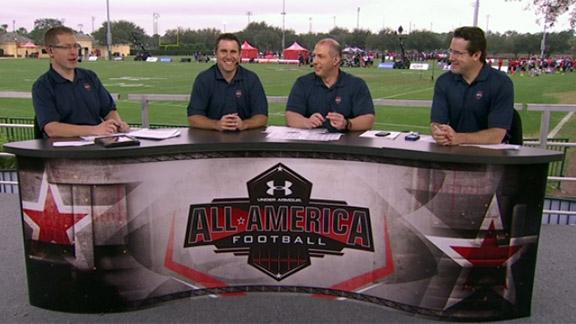 As expected, Day 2 at the Under Armour All-America practices were smoother, more concise and much more productive. The players are now starting to think less and play more. Natural ability is starting to come to the forefront, which allows for them to be more productive. There have been fewer dropped passes, fewer misses by the QBs and the offensive lines are starting to jell quicker than expected. Perhaps the most impressive thing about this group is there have not been any true letdowns. They have stepped up and been as advertised almost top to bottom for both squads. Let's hit the highlights of the day:
Top performers
WR Cameron Sims (Monroe, La./Ouachita Parish):
Sims might not wow anyone with his 40-yard dash time, but it may not matter. Sims is so similar to
Mike Evans
at Texas A&M. He just makes plays. He has extremely long arms and is outstanding when in contested matchups. The ball will look like it is uncatchable and then next thing you know he jumps out of nowhere, extends and makes a play and the defender is left scratching his head. When it comes down to it, the QBs for Team Highlight can trust that if they need to throw it up, Sims will make a play. The most basic thing about the position is catching the football and Sims has no problem doing that.
To continue reading this article you must be an Insider
December, 30, 2013
12/30/13
5:30
AM ET
LAKE BUENA VISTA, Fla. -- The Early Offer is RecruitingNation's regular feature, giving you a daily morning dose of recruiting.
Today's Early Offering is coming to you from the Under Armour All-America Game. Here's a sample of some of the top news from the event, including a look at who stood out on the first day of practices and a quarterback who hopes to make a big impression.
No. 1 preps for announcement
Seven of the nation's top prospects will commit live during the Under Armour All-America Game on Jan. 2 (ESPN, at 4 p.m. ET), including the No. 1 player in the country, running back
Leonard Fournette
(New Orleans/Saint Augustine). Fournette has stuck with his top two of Alabama and LSU and said both school's hats will be in front of him when he announces. A Texas hat will be there too, but it's down to the Tigers and Tide. Fournette said he's tired of getting asked where he's going to end up, but that thankfully will end in a few days. "It is just something I want to get off my shoulders," he said. "Everybody has been nagging me about a thousand times. At the end of the day, it's where I'm going to be most successful and most comfortable at."
To continue reading this article you must be an Insider
December, 29, 2013
12/29/13
4:45
PM ET
LAKE BUENA VISTA, Fla. -- One thing is for sure for all the 2014 Under Armour All-Americans: This isn't high school anymore. Day 1 is about gauging the competition. Some guys dive right in and some test the waters with their big toe, but by the end of the first day of practice, all those in attendance have a pretty good idea of where they stand and what they need to do to compete and get better.
Given that it is Day 1, the playbook is introduced (Team Nitro is going no huddle with wrist bands and limited plays), and there can be sloppy moments of indecision and uncertainty. With each rep, most, if not all, prospects began to get a better feel for what is expected. Most importantly, the center-quarterback exchanges were very good for the most part, which is generally the biggest worry. Upon completion of the first practice, here are some observations and things to look for over the week:
Top Performers
To continue reading this article you must be an Insider
December, 29, 2013
12/29/13
10:30
AM ET
ORLANDO, Fla. -- There are many topics of conversation among prospects playing in the 2014 Under Armour All-America Game. One of them centers around the past two Heisman Trophy winners.
On Saturday, upon checking in for the prestigious game, a number of prospects weighed in on a hot topic involving Texas A&M's
Johnny Manziel
and Florida State's
Jameis Winston
.
If they had to choose between the two, who would the players take as their college quarterback? Here are their responses:
[+] Enlarge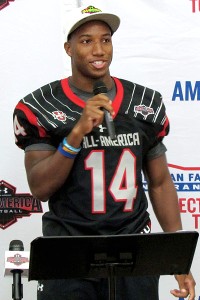 Courtesy of IntersportNo. 9 overall prospect Marlon Humphrey likes how Johnny Manziel makes others around him better.
Five-star cornerback Marlon Humphrey (Hoover, Al./Hoover High)
: Ah man, I think I'm going to have to go with Johnny Manziel. I just feel like he kind of made a team out of nothing. Jameis Winston is a great quarterback too, but he doesn't have the scrambling skills that Manziel has. This year, you could tell that his teams defense wasn't that good, the players around him weren't as good, but he kept making his team better. He's has the fight in him I would want on my team.
Florida commit and No. 20-ranked Dalvin Cook (Miami/Central High)
: I would say Jameis Winston. He's really a pure quarterback, and I think he sets up things more for a running back than Johnny Manziel does.
Auburn running back commit Racean Thomas (Oxford, Al./Oxford High)
: I would probably pick Jameis Winston. The reason behind that is because he is more of a leader for a young quarterback, and I think he can make his team a more mature team. I really think he would be a great quarterback to play with.
Florida wide receiver commit and No. 28 Ermon Lane (Homestead, Fla./Homestead Senior High)
: Whew, I don't know. I think Jameis Winston. I look at how both of them played as a freshman, and I like how Jameis Winston leads his team. He is also more pro-ready than Manziel.
Texas defensive end commit and No. 78-overall Derick Roberson (San Antonio, Texas/William J. Brennan High)
: I guess I would say Johnny Manziel. I like how he plays with his swagger and confidence the most, so I would probably say him.
Notre Dame commit and No. 76-ranked Tyler Luatua (la Mirada, Calif./La Mirada High)
: I would take Manziel just because of the way he plays. If he doesn't have a wide receiver open, he can make plays himself. He can get the ball to his players if and when he wants to, but can also do it on his own when he needs to.
No. 38 overall John Smith (Long Beach, Calif./Long Beach Polytechnic High School)
: That's a hard one. As of right now, I would go with Jameis Winston. Overall, he's a great player. I think Winston has an awesome football IQ. Johnny had his year too, but I think Winston is just a great player. Outstanding.
Dylan Sumner-Gardner
: Jameis Winston, man. I feel comfortable with Jameis Winston as my quarterback because he's smart and accurate. Johnny is accurate too, but Johnny is Johnny. How he runs around, people may get nervous. I would just feel more comfortable with Jameis as my quarterback.
No. 22 overall Laurence Jones (Monroe, La./Neville High)
: That's a hard one right there. Let me think ... maybe Johnny Manziel because I don't think I've ever seen a white boy get down like that. It would have to be Johnny Manziel.
Penn State wide receiver commit Chris Godwin (Middletown, De./Middletown High)
: I think Jameis Winston. I think overall he's a better passer. I want a quarterback back there that can get me the ball on a consistent basis, but Johnny Manziel is a great player, too. I'm actually a big fan of both of them.
Five-star and Virginia defensive tackle commit Andrew Brown (Chesapeake, VA
Oscar Frommel Smith High)
: Dang, that's a good question, man. I would go with Jameis Winston. His leadership qualities, coming in as a freshman and doing the things he is doing is definitely uncommon. It just foreshadows what he is going to do in the future, too. He's already established a great foundation for himself, and I would definitely take him in the future.
Maryland commit Will Ulmer (Washington, D.C./Saint John's High)
: I'm going with Johnny Manziel. I think he's more dynamic, and more of a game-changer. Jameis Winston is a great quarterback too, but you have to think about all the dudes he has around him at FSU -- all the great receivers and good running backs. I would go with Manziel because if you put him on the Florida State team, or a stacked team like that, it would be a scary sight.
December, 17, 2013
12/17/13
5:30
AM ET
The Early Offer is RecruitingNation's regular feature, giving you a daily dose of recruiting in the mornings. Today's offerings: Ohio State moves up three spots in the RecruitingNation Class Rankings after the addition of five-star linebacker
Raekwon McMillan
, but the Buckeyes aren't done in the South yet; Notre Dame also moves into the top 10 after landing the nation's No. 1 tight end; and the NJCAA All-America team features a number of well-known recruits.
Ohio State makes Southern push
Shortly after Ohio State landed five-star linebacker Raekwon McMillan (Hinesville, Ga./Liberty County), I asked on Twitter if it's time to stop doubting Buckeye coach Urban Meyer's recruiting efforts. Of course, fans from other schools all over the country jumped in and said the jury is still out (and several other things that aren't safe for print). But even then the biggest Meyer critics might have to change their minds if he is able to also land No. 4 receiver
Johnnie Dixon
(Palm Beach, Fla./Dwyer) in the next couple of days. The Buckeyes currently have the
nation's No. 8 class
and have some major momentum heading into the final push.
To continue reading this article you must be an Insider
October, 6, 2013
10/06/13
7:10
PM ET
ESPN Junior 300 defensive tackle
Daylon Mack
(Gladewater, Texas/Gladewater) has a new top four.
To continue reading this article you must be an Insider
August, 9, 2013
8/09/13
12:05
PM ET
By
ESPN.com staff
| ESPN.com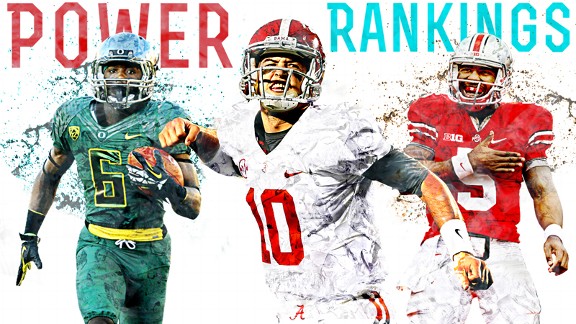 ESPN IllustrationTBD BY EDITORIAL
Not surprisingly, the back-to-back BCS champions are again preseason favorites and top
ESPN's power rankings
. But a number of elite programs are ready for their chance to dethrone the king.
Top 15 breakdown
No. 1 Alabama
No. 2 Ohio State
No. 3 Oregon
No. 4 Stanford
No. 5 Texas A&M
No. 6 (tie) Georgia
No. (tie) South Carolina
No. 8 Louisville
No. 9 Clemson
No. 10 Florida
No. 11 Florida State
No. 12 LSU
No. 13 Notre Dame
No. 14 (tie) Michigan
No. 14 (tie) Texas
May, 21, 2013
5/21/13
4:00
PM ET
Want to know how popular Notre Dame is? Take a look at ticket prices for some of this fall's games.
OK, not the top price. That has been paid for by folks traveling to College Station, Texas, on Sept. 14 to see if the reigning Heisman Trophy winner can once again take down the defending national champions.

But how about second?
And third?
And fourth?
And seventh?
Coachingsearch.com's Chris Vannini
compiled a list of the 10 highest-priced college football games for this fall, using the cheapest available ticket on StubHub as a measure
.
Notre Dame appears on the list four times, including twice at home.
The Irish's Oct. 19 night game against arch-rival USC is the second-most expensive ticket to grab now, with the lowest-priced ticket going for $375. Not much further behind is Notre Dame's home tilt three weeks earlier with Oklahoma, which will cost you $350, at minimum, to attend.
Want to see Notre Dame try to even its record to 1-1 in night games at Michigan Stadium? A cool $295, at minimum, will do, making that the fourth-highest priced ticket — $20 more and one spot higher than the Wolverines' annual end-of-season tilt with arch-rival Ohio State, which itself could be playing to put itself in position for a spot in the national title game.
One of the bigger surprises comes in at No. 7, with the Irish's annual Shamrock Series tilt — this year against Arizona State in Arlington, Texas, — drawing a minimum of $249 for a ticket.
Notre Dame's four appearances on the 10-game list edge out Alabama, whose quest for a three-peat features three games demanding plenty of cash — the aforementioned tilt with the Aggies, a Nov. 9 home game with LSU ($255 minimum, good for sixth-most expensive) and the Nov. 30 Iron Bowl at Auburn ($245, ninth).
Oklahoma and Michigan appear on the list two times apiece, including their contests against the Irish.
December, 7, 2012
12/07/12
12:32
AM ET
By
ESPN.com staff
| ESPN.com
Top Returning Players: AAC and Notre Dame
FBS INDEP. SCOREBOARD
Saturday, 12/21
Monday, 12/23
Tuesday, 12/24
Thursday, 12/26
Friday, 12/27
Saturday, 12/28
Monday, 12/30
Tuesday, 12/31
Wednesday, 1/1
Thursday, 1/2
Friday, 1/3
Saturday, 1/4
Sunday, 1/5
Monday, 1/6