Notre Dame Football:

Vanderbilt Commodores
April, 29, 2014
4/29/14
9:00
AM ET
Florida has Florida State. Georgia has Georgia Tech. Kentucky has Louisville. And, of course, South Carolina has Clemson.
When it comes to the
new SEC scheduling format starting in 2016
, those four schools are already on board. Their annual rivalry games fulfill the league's forthcoming requirement for a yearly nonconference game against an ACC, Big 12, Big Ten or Pac-12 school.
But for the rest of the teams around the league, there's a void.
Sure, they can go year to year and rotate in nonconference opponents. But where's the fun in that? Let's create some new rivalries, and in the case of some programs, reignite old ones.
[+] Enlarge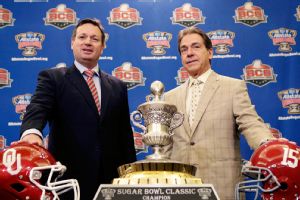 AP Photo/Gerald HerbertThe spectacular salaries of college football coaches such as Bob Stoops, left, and Nick Saban are generated mostly by the labor of unpaid workers.
Alabama-Oklahoma:
If FSU wasn't already taken, the Noles would have been a perfect fit. The physical and philosophical proximity between programs is obvious. But looking elsewhere, Oklahoma might be a fun matchup. The Sugar Bowl has already created tons of tension on both sides with
Sooners coaches delighting in calling out Nick Saban
and the SEC.
Arkansas-Baylor:
Call it a throwback to the old Southwest Conference. Arkansas, which didn't join the SEC until 1992, has played more games against Baylor (69) than any school in its current conference. On top of that, the differences between Bret Bielema's physical style and Art Briles' free-flowing offensive scheme would be a joy to watch.
Auburn-Oregon:
Recent history and playing styles dictates this matchup. Not only do we get a rematch of the 2010 BCS National Championship Game, but it pits offenses that live to go fast. Maybe it could be a two-hand touch game in which whoever reaches 100 points first wins.
LSU-Notre Dame:
We couldn't make a list of nonconference matchups and leave Notre Dame off, could we? Pitting the Golden Domers against an SEC program would be appointment viewing. Make that program LSU and the opposing coach Les Miles, and television networks will scratch each other's eyes out to get the game.
Mississippi State-Texas Tech:
The Bulldogs have shied away from high profile nonconference games in the past, loading up on the likes of Memphis, UAB and South Alabama. Well, it's time to infuse a little spice into the schedule. Kliff Kingsbury is too cool to keep out of the SEC. His Red Raiders would be a good matchup with Mississippi State, which faced Texas Tech seven times from 1953-70.
Missouri-Kansas:
Does this one really need to be explained? The Border War should have never gone away in the first place. Now is the perfect opportunity to save face and bring back a rivalry that goes all the way back to 1891.
Ole Miss-Miami:
We've got to get 'The U' involved. Miami and Ole Miss have already played a few times in their history, with the Rebs holding a 2-1 series lead. But bigger than that, it would get the SEC back into South Florida on a permanent basis because
Miami and Florida don't have the common sense to do that
already.
Tennessee-North Carolina:
Even if most people don't remember it, there's history there. Tennessee and UNC have played 29 times, with the Vols holding a 20-8-1 advantage. Plus, even if your memory is short, you should recall the double overtime
Music City Bowl from 2010
between the schools. If they can re-create that just once, it would make the rivalry worth it.
Texas A&M-Texas:
See Missouri-Kansas. Don't let conference affiliations ruin great rivalries. Texas A&M-Texas should have never been shelved in the first place. And while the
UT administration
might not see a reason to bring it back -- nor
Texas A&M's leadership,
for that matter -- surely both fan bases do.
Vanderbilt-Duke:
Call it a private school showdown. The proximity is reasonable, the fan bases similar, and the rivalry could easily extend to the hard court. Plus, have you seen Derek Mason's nonconference schedule this year? It needs help.
January, 2, 2014
1/02/14
8:10
PM ET
SAN ANTONIO -- Thursday's practice session for the U.S. Army All-American Bowl saw players in more of a rhythm on offense, but it also saw defensive players showing their skills. If Thursday is any indication, Saturday's contest could be a low-scoring affair.
Here are a few notes:
Cannon reaffirms Baylor commitment … again.
For the Baylor fans who read the late-Wednesday tweet coming from ESPN 300 receiver
K.D. Cannon
(Mount Pleasant, Texas/Mount Pleasant), don't read anything into it.
November, 20, 2013
11/20/13
9:35
PM ET
May, 20, 2013
5/20/13
9:00
AM ET
Notre Dame's 12-0 regular-season record last fall was enhanced by the fact that the school also rose to the top of the NCAA Graduation Success Rate rankings. Coach Brian Kelly pointed to it as validation that the highest level can be reached both on the field and in the classroom, as Notre Dame was the first school in the BCS era to hold the top spot in both the BCS and the GSR rankings at the same time.
Colleague Ivan Maisel highlights the dual success of the Irish and other teams in a recent story.
It's not just that Stanford is 35-5 over the past three seasons and just won its first Rose Bowl in 41 years. It's that the campus that has embraced the hashtag #NerdNation has a lot of company among the academic/athletic elite.

Notre Dame matched Stanford's 12-1 record last season and played for the BCS National Championship. Northwestern went 10-3 and won its first bowl game since the Truman administration. Vanderbilt, from an ancient Southern dialect meaning "last place," went 9-4. The Commodores won their last seven games, the longest winning streak in a Southeastern Conference that includes BCS champion Alabama and four other top-10 teams.

Even Duke (6-7) went to its first bowl game in 18 years. Duke has won the most awards for the highest graduation rate, as given by the American Football Coaches Association. Notre Dame is second. Northwestern, in third place, shared the 2012 award with Stanford. Think about that. The two programs with the highest graduation rates went a combined 22-4.

Brand would have a smile that stretched from Palo Alto to Durham, at least until he tried to explain the success. It could be as random as five schools whose numbers came up. "I have to say I think it's probably like a Powerball ticket," Stanford provost John Etchemendy said.

There is nothing systemic, nothing in the NCAA manual that tilted the football field toward the sideline with the highest GPA. But there are some similarities among the schools in how they have approached football.
To read the full piece from Maisel, click
here
.
Freshman Quarterbacks A Growing Trend?