Notre Dame Football:

Virginia Cavaliers
October, 21, 2014
Oct 21
5:29
PM ET
Notre Dame and the ACC announced their playing dates Tuesday through 2025, which rounds out the average of five league opponents a year for the Irish for 12 years.
"The football partnership between the ACC and Notre Dame is a terrific enhancement for all parties," ACC commissioner John Swofford said in a release. "Notre Dame not only adds to our league's already highly ambitious schedules, it also provides the opportunity for almost all of our student-athletes to play against Notre Dame during their careers. When you add in the excitement that it brings to our fans, there's no question that this partnership is significant."
Dates were finalized through 2019, with opponents and sites set up for the six years after that. The full 2015 and 2016 schedules had already been announced last December, when this season's schedule -- the first of the ACC football agreement for Notre Dame -- was released.
"Nine additional seasons of games against Atlantic Coast Conference opponents again adds both variety and quality to future University of Notre Dame football schedules," Notre Dame athletic director Jack Swarbrick said in a release. "Over those nine years, four ACC programs that have never played in Notre Dame Stadium (Louisville, NC State, Virginia and Virginia Tech) will come to South Bend, and two others that have only played at Notre Dame one time (Wake Forest and Clemson) also will travel to our campus.
"On the other side of the coin, during that period we will take our team to four ACC campuses at which Notre Dame never has played football (Louisville, NC State, Virginia and Virginia Tech), plus three others (Clemson, Duke and Wake Forest) where our team has played only once."
Some notes on the Irish's future schedules:
Notre Dame will get its shot at redemption against Florida State in four years, when the Seminoles visit South Bend on Nov. 10, 2018 -- three days shy of the 25th anniversary of the 1993 "Game of the Century" between these two. The Irish will return to Tallahassee on Sept. 6, 2021, Labor Day, before the Noles go back to Notre Dame Stadium sometime in 2024.
That holiday date at FSU is actually the second of two Labor Day road games for the Irish, who travel to Louisville on Sept. 2 (Labor Day) in 2019. As of now, it does not look like Notre Dame will play any Thursday night games.
That 2019 opener at Louisville is the first of a strenuous slate of road games for the Irish in 2019: They also go to Georgia (Sept. 21), Georgia Tech (Oct. 19) and Duke (Nov. 9). They are also expected to travel to Stanford that year, since it is an odd-number year, though no official date has been set. You can bet the Irish staff will point out this year to Peach State recruits, who will get a pair of trips back to their home state in a span of a month.
Notre Dame gets six ACC games in 2019 and 2023, while playing just four in 2022 and 2024. The Irish, of course, have just four ACC games this year, but will play six next season.
Notre Dame will play seven of the ACC's 14 teams in consecutive years: Miami in 2016 and 2017 and 2024 and 2025; NC State in 2016 and 2017; Wake Forest in 2017 and 2018; Virginia Tech in 2018 and 2019; Duke in 2019 and 2020; UNC in 2021 and 2022; Clemson in 2022 and 2023.
There remains no clarity on Notre Dame's Shamrock Series game -- in which it moves a home game off-site to a metropolitan area -- beyond 2016, when it faces Army in San Antonio. Next year's game against BC is at Fenway Park.
Not pictured in the graphic (and not-ACC related): As of this past summer, Notre Dame and Michigan State had a verbal agreement for two games in the 2020s, though they have said they may look at a single neutral-site contest.
January, 22, 2014
Jan 22
3:04
PM ET
The 2014
ACC schedule was released
Wednesday, featuring Louisville's inaugural season in the conference, the first year of the ACC's partnership with Notre Dame, one of the nation's toughest nonconference schedules and a weekend of rivalry games to end the regular season.

Defending national champion Florida State will start the first season of the College Football Playoff on Aug. 30 at Cowboys Stadium, where the Seminoles will face Oklahoma State in the sixth annual Cowboys Classic. It also happens to be the site of the final game of the season, as Arlington, Texas, is where the new College Football Playoff will crown its first champion on Jan. 12, 2015.
Some of the
ACC schedule's highlights
include:
Miami will travel to Louisville on Labor Day night.
Notre Dame will play North Carolina, Syracuse, Louisville and Florida State.
Week 1 also includes Clemson at Georgia and UCLA at Virginia.
Five nationally televised Thursday night games, including Virginia Tech at Pitt (Oct. 16); Miami at Virginia Tech (Oct. 23); Florida State at Louisville (Oct. 30); and Clemson at Wake Forest (Nov. 6). The final 2014 ACC Thursday night contest on ESPN will have North Carolina traveling to Duke on Nov. 20.
Three nationally televised Friday night games, including Virginia Tech hosting Virginia (ABC, ESPN or ESPN2) on the Friday after Thanksgiving, Nov. 28. The Hokies and Cavaliers previously played on Thanksgiving Friday in 1996. Boston College will also host Pitt (ESPN or ESPN2) on Sept. 5 and Louisville will play at Syracuse (ESPN or ESPN2) on Oct. 3.
ACC teams will play nine games against teams from the final 2014 Associated Press poll (No. 4 South Carolina, No. 12 Ohio State, No. 16 UCLA, No. 17 Oklahoma State, No. 19 USC and No. 20 Notre Dame).
Here's what we like about this schedule, aside from the fact it came out unusually early this year: great rivalries to end the season (including Louisville-Kentucky), another Labor Day matchup and a strong nonconference lineup that includes the likes of Ohio State, South Carolina and UCLA. We're going to break it all down -- lots -- between now and Aug. 30, so stay tuned.
December, 30, 2013
12/30/13
5:26
PM ET
As expected, Day 2 at the Under Armour All-America practices were smoother, more concise and much more productive. The players are now starting to think less and play more. Natural ability is starting to come to the forefront, which allows for them to be more productive. There have been fewer dropped passes, fewer misses by the QBs and the offensive lines are starting to jell quicker than expected. Perhaps the most impressive thing about this group is there have not been any true letdowns. They have stepped up and been as advertised almost top to bottom for both squads. Let's hit the highlights of the day:
Top performers
WR Cameron Sims (Monroe, La./Ouachita Parish):
Sims might not wow anyone with his 40-yard dash time, but it may not matter. Sims is so similar to
Mike Evans
at Texas A&M. He just makes plays. He has extremely long arms and is outstanding when in contested matchups. The ball will look like it is uncatchable and then next thing you know he jumps out of nowhere, extends and makes a play and the defender is left scratching his head. When it comes down to it, the QBs for Team Highlight can trust that if they need to throw it up, Sims will make a play. The most basic thing about the position is catching the football and Sims has no problem doing that.
December, 29, 2013
12/29/13
10:30
AM ET
ORLANDO, Fla. -- There are many topics of conversation among prospects playing in the 2014 Under Armour All-America Game. One of them centers around the past two Heisman Trophy winners.
On Saturday, upon checking in for the prestigious game, a number of prospects weighed in on a hot topic involving Texas A&M's
Johnny Manziel
and Florida State's
Jameis Winston
.
If they had to choose between the two, who would the players take as their college quarterback? Here are their responses:
[+] Enlarge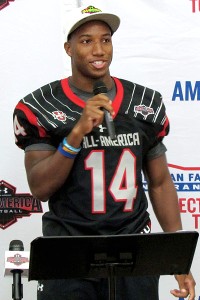 Courtesy of IntersportNo. 9 overall prospect Marlon Humphrey likes how Johnny Manziel makes others around him better.
Five-star cornerback Marlon Humphrey (Hoover, Al./Hoover High)
: Ah man, I think I'm going to have to go with Johnny Manziel. I just feel like he kind of made a team out of nothing. Jameis Winston is a great quarterback too, but he doesn't have the scrambling skills that Manziel has. This year, you could tell that his teams defense wasn't that good, the players around him weren't as good, but he kept making his team better. He's has the fight in him I would want on my team.
Florida commit and No. 20-ranked Dalvin Cook (Miami/Central High)
: I would say Jameis Winston. He's really a pure quarterback, and I think he sets up things more for a running back than Johnny Manziel does.
Auburn running back commit Racean Thomas (Oxford, Al./Oxford High)
: I would probably pick Jameis Winston. The reason behind that is because he is more of a leader for a young quarterback, and I think he can make his team a more mature team. I really think he would be a great quarterback to play with.
Florida wide receiver commit and No. 28 Ermon Lane (Homestead, Fla./Homestead Senior High)
: Whew, I don't know. I think Jameis Winston. I look at how both of them played as a freshman, and I like how Jameis Winston leads his team. He is also more pro-ready than Manziel.
Texas defensive end commit and No. 78-overall Derick Roberson (San Antonio, Texas/William J. Brennan High)
: I guess I would say Johnny Manziel. I like how he plays with his swagger and confidence the most, so I would probably say him.
Notre Dame commit and No. 76-ranked Tyler Luatua (la Mirada, Calif./La Mirada High)
: I would take Manziel just because of the way he plays. If he doesn't have a wide receiver open, he can make plays himself. He can get the ball to his players if and when he wants to, but can also do it on his own when he needs to.
No. 38 overall John Smith (Long Beach, Calif./Long Beach Polytechnic High School)
: That's a hard one. As of right now, I would go with Jameis Winston. Overall, he's a great player. I think Winston has an awesome football IQ. Johnny had his year too, but I think Winston is just a great player. Outstanding.
Dylan Sumner-Gardner
: Jameis Winston, man. I feel comfortable with Jameis Winston as my quarterback because he's smart and accurate. Johnny is accurate too, but Johnny is Johnny. How he runs around, people may get nervous. I would just feel more comfortable with Jameis as my quarterback.
No. 22 overall Laurence Jones (Monroe, La./Neville High)
: That's a hard one right there. Let me think ... maybe Johnny Manziel because I don't think I've ever seen a white boy get down like that. It would have to be Johnny Manziel.
Penn State wide receiver commit Chris Godwin (Middletown, De./Middletown High)
: I think Jameis Winston. I think overall he's a better passer. I want a quarterback back there that can get me the ball on a consistent basis, but Johnny Manziel is a great player, too. I'm actually a big fan of both of them.
Five-star and Virginia defensive tackle commit Andrew Brown (Chesapeake, VA
Oscar Frommel Smith High)
: Dang, that's a good question, man. I would go with Jameis Winston. His leadership qualities, coming in as a freshman and doing the things he is doing is definitely uncommon. It just foreshadows what he is going to do in the future, too. He's already established a great foundation for himself, and I would definitely take him in the future.
Maryland commit Will Ulmer (Washington, D.C./Saint John's High)
: I'm going with Johnny Manziel. I think he's more dynamic, and more of a game-changer. Jameis Winston is a great quarterback too, but you have to think about all the dudes he has around him at FSU -- all the great receivers and good running backs. I would go with Manziel because if you put him on the Florida State team, or a stacked team like that, it would be a scary sight.
December, 20, 2013
12/20/13
11:30
AM ET
The ACC and Notre Dame
announced future dates
for the 2014, 2015 and 2016 seasons, highlighted by an Irish-Boston College matchup in 2015 at Fenway Park as part of the Shamrock Series.


The joint announcement, made Friday, is part of the scheduling agreement Notre Dame made with the ACC when it decided to join the league in all sports but football. Because of previous schedule commitments, Notre Dame will face four ACC teams in 2014. Wake Forest, initially scheduled to play Notre Dame in 2014, will now face the Irish in 2015 -- giving Notre Dame six ACC games.
Beginning in 2016, Notre Dame will play five ACC teams each year and alternate between playing three home and two away games one year, with two home and three away games the next. BC announced separately it will host Notre Dame at Alumni Stadium in 2017. Below is a look at the Irish's future ACC opponents over the next three years, with Notre Dame as the home team.
2014
Sept. 27 at Syracuse (MetLife Stadium, East Rutherford, N.J.)
Oct. 11 North Carolina
Oct. 18 at Florida State
Nov. 22 Louisville
2015
Sept. 12 at Virginia
Sept. 19 Georgia Tech
Oct. 3 at Clemson
Nov. 7 at Pitt
Nov. 14 Wake Forest
Nov. 21 Boston College (Fenway Park, Boston)
2016
Sept. 24 Duke
Oct. 1 at Syracuse (MetLife Stadium, E. Rutherford, N.J.)
Oct. 8 at NC State
Oct. 29 Miami
Nov. 19 Virginia Tech
April, 19, 2013
4/19/13
5:00
PM ET
How many times have you heard fans and coaches shaking their fists at the scheduling gods whenever a new conference slate is announced?
Well, my friends, Friday's
Notre Dame-ACC scheduling announcement
should
not
be one of those times. Both the Irish and the league should be applauded for the way they handled an often maddening process to provide a win for all parties involved.


The schedules for 2014, 2015 and 2016 are perfectly balanced. Each season features one major high-profile game with national implications. Simply put, it was a wise move to have the Irish play
Florida State
in 2014,
Clemson
in 2015 and
Miami Hurricanes
in 2016.
Both the Seminoles and Tigers have elevated themselves back into the national spotlight and appear to be annual Top 25 programs again. Both the Irish-Noles and Irish-Canes rivalries are classics with huge national interest (even if the Miami game last season was decidedly one-sided).
In addition to those games,
Louisville
snagged a huge spot in Year One of the three-year rotation -- potentially adding two more Top 25 teams onto the Irish schedule from the ACC. Not a bad way for the Cardinals to start off their first year in a new league, especially with the subpar nonconference slate they have for 2013.
As for some of the games that had already been on the Irish schedule, Notre Dame was able to keep its two-game series with
Syracuse
intact. The Orange are actually the only one of the 14 ACC teams that will play Notre Dame twice in this three-year cycle. But, as expected,
Pitt
and
BC
will lose games previously set.
Pitt -- the ACC team that has played the Irish the most with 68 previous appearances -- remains on the schedule for 2015. That means its games against Notre Dame for 2014 and 2016 are off. Pitt will play
Delaware
,
FIU
,
Akron
and
Iowa
in nonconference in 2014.
Boston College remains on the schedule for 2015 as well. That means its game against Notre Dame scheduled for 2016 is off as well.
Folks in Pittsburgh and Boston have had time to come to terms with these expected changes as part of the ACC-Notre Dame partnership. Looking at the bigger picture, the ACC stands to benefit from what should be an overall stronger nonconference schedule -- especially since that is going to play such a large factor in the future playoff. Should Notre Dame continue what it started last season, the ACC benefits even more.
As for the Irish, their future ACC schedules are not totally daunting. On paper, 2014 looks to be the most difficult with Florida State, Louisville and
North Carolina
all on the slate. But the Louisville and UNC games are in South Bend. Even in 2016, both Miami and
Virginia Tech
play at Notre Dame.
Of course, predicting the ease or difficulty of future schedules is an exercise in the unknown, since teams change so much year-to-year. But at least today, the schedule split looks exactly right.
September, 13, 2012
9/13/12
4:00
PM ET
Now that we know Notre Dame will play five ACC teams every year beginning in 2014, here is a look at how the Irish have fared against ACC competition.
Thanks to ESPN Stats & Information for compiling all these stats.
First point: Does the scheduling change that much for Notre Dame?
In three of the past five seasons, the Fighting Irish have played or will play against four current/future ACC schools.
2012: Miami, Pittsburgh, Boston College, Wake Forest
2011: Pittsburgh, Wake Forest, Maryland, Boston College, Florida State (bowl game)
2010: Boston College, Pittsburgh
2009: Boston College, Pittsburgh
2008: North Carolina, Pittsburgh, Boston College, Syracuse
Notre Dame has games against Pitt, Miami, Wake Forest, Syracuse and Boston College also scheduled into the future as well.
Second point: So how have the Irish fared against ACC competition?
Notre Dame has won six of its past seven against ACC teams (including 1-1 in bowl games over that stretch).
Since the ACC began in 1953, Notre Dame is 28-13 against ACC opponents (conference membership at the time of game).
Notre Dame has an all-time losing record against just two current ACC members (Florida State and NC State).
There is only one ACC team Notre Dame has never played: Virginia Tech.
Rivalry Week: Notre Dame-USC
FBS INDEP. SCOREBOARD
Friday, 11/28
Saturday, 11/29