Irish O-line focused on task at hand
January, 4, 2013
1/04/13
4:00
PM ET
FORT LAUDERDALE, Fla. -- Chuck Martin pleaded ignorance Friday when asked about Alabama's offensive line. The Notre Dame offensive coordinator only sees the Tide's top-ranked rushing defense -- and he has little to add to the growing narrative that the Alabama offensive line his Irish will face in Monday's Discover BCS National Championship is among the best in college football history.
"I'd say our offensive line is much more concerned with Alabama's very good defensive line," Martin said. "I would say we probably don't know a lot about what's been written about Alabama's offensive line. They've got their own set of issues dealing with the big boys on the other side of the ball."
[+] Enlarge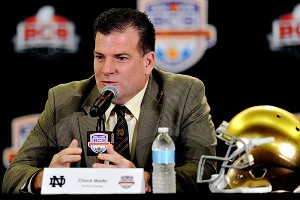 Steve Mitchell/USA TODAY SportsNotre Dame offensive coordinator Chuck Martin's line has steadily improved since struggling in the home opener against Purdue.
For the Irish's front, that will be one final challenge on its steady climb toward a perfect season.
Notre Dame surrendered five sacks in its home-opening nailbiter against Purdue. By the end of their first month of games, the Irish ranked 87th nationally rushing the ball, averaging 140.25 yards per outing.
Flash forward three months, and those numbers paint a different picture: Notre Dame has surrendered just 11 sacks in the 10 games since beating the Boilermakers, good for 28th-fewest nationally. Their rushing average has risen to 29th overall, at 202.5 yards per game.
Getting on the same page with a first-year starting quarterback in
Everett Golson
has been part of that surge. Getting accustomed to new offensive line coach Harry Hiestand likely has been, too.
Alabama surrenders just 79.77 rushing yards per game and 2.46 yards per carry. Notre Dame's line has paved the way for a pair of 700-plus-yard rushers in
Theo Riddick
and
Cierre Wood
.
"I think collectively they will be the toughest defensive line we face," left tackle and captain
Zack Martin
said of the Tide. "We have played some talented players, but collectively Alabama is the most talented. They are big, physical and have guys that can stop the run. They can also get after the quarterback, so we will have to be on our game."
"They are similar to our defense, which we see every day," he added. "They have big D-linemen who can stop the run and rush the passer. Also, Alabama has mobile linebackers who can make big plays and an active secondary, so very similar to our defense. We will have to be ready."
College Football
Notre Dame/ACC reporter
Joined ESPN.com in 2011
Graduate of Penn State University
College Football Minute
Josh Shaw's story is in question, Auburn has a plan at quarterback for Week 1, and Notre Dame suspends three starters for the season opener. It's all ahead in the College Football Minute.
College Football Minute
VIDEO PLAYLIST
FIGHTING IRISH NATION RECRUITING NEWS
NOTRE DAME FB RECRUITING SCORECARD
DwnTheTunnel

DownTheTunnel.com


Worried about the Irish defense? NOT SO FAST! http://t.co/XHrD42CD3x
about 5 hours ago

GoIrishGlory

Sgt Shamrock


Need a late night read? Check out my latest piece on @DwnTheTunnel ... Worried about the Irish defense? NOT SO FAST! http://t.co/lqH4WA6DKe
about 5 hours ago

hansenNDInsider

Eric Hansen


#NotreDame football mega-notebook: Kelly finally tabs captains; former Irish where are they now?; singing? and more: http://t.co/aQtqpiaxV6
about 7 hours ago

napoleonkaufman

Pastor Napoleon


Do something extraordinary for someone else……then don't tell anyone about it. #justhinking
about 7 hours ago

IntThings

MIND BLASTING


http://t.co/OhqYZmreV6
about 7 hours ago

hansenNDInsider

Eric Hansen


Some notes and numbers about the players who will replace the four #NotreDame FB players behind held out for Rice: http://t.co/ehmzJmhmjA
about 7 hours ago

CollinsworthNBC

Cris Collinsworth


Proud Papa. Daughter Ashley recently named Captain of the Harvard Track Team. Son Austin just named Captain of the Notre Dame Football team
about 7 hours ago

Matt_Fortuna

Matt Fortuna


The best free-agent pick-up his coach ever had, Cody Riggs is making an impact at #NotreDame http://t.co/FIxXTVmjd0 http://t.co/O9ablLci9L
about 8 hours ago

BrianHamiltonSI

Brian Hamilton


Report: #UNC investigating football hazing incident. http://t.co/McRWEaf8OV http://t.co/dgrqgQaJeU
about 8 hours ago

FightingIrish

The Fighting Irish


There are only a few upgrade EXPERIENCE options left for for @NDFootball vs Rice. Sign up now- http://t.co/B1nneswkAC.#GoIrish
about 8 hours ago

FightingIrish

The Fighting Irish


We're creating a new @Spotify playlist for the @NDFootball season and we need your help!Send us the songs that make up YOUR ideal tailgate!
about 8 hours ago

FightingIrish

The Fighting Irish


On Thursday at 8pm ET we are debuting our Thursday Night Classic Games, presented by @Tire_Rack.1st game is NDFB vs Michigan, 1998 #GoIrish
about 9 hours ago

stephenjnesbitt

Stephen J. Nesbitt


Clint Trickett's full quote, context and all. Romeo and Juliet scene gonna play out Saturday in Atlanta. #WVU http://t.co/S6aDXlcWlR
about 10 hours ago

Matt_Fortuna

Matt Fortuna


#UNC Tar Heels investigating football training camp incident http://t.co/DSdNTvGqNT Reported earlier by @eric_adelson and @YahooForde
about 10 hours ago

FightingIrish

The Fighting Irish


We know VIRGINIA is for lovers, but it's also for Irish fans! RETWEET if you're @ProudtobeND #VAirish #NDFamily http://t.co/hMXFzRVuHZ
about 10 hours ago

DwnTheTunnel

DownTheTunnel.com


Your captains for the 2014 Irish Football team are Cam McDaniel, Sheldon Day, Austin Collinsworth, and Nick Martin. #WeAreND
about 11 hours ago

InsideUSC

InsideUSC


#USC told by multiple sources that Josh Shaw's injury stemmed from an incident involving his girl friend in Los Angeles
about 11 hours ago

BGI_AndrewOwens

Andrew Owens


#NotreDame announced its 2014 captains Tuesday evening: http://t.co/wyoa9HbrC6
about 11 hours ago

Matt_Fortuna

Matt Fortuna


A little surprised Joe Schmidt wasn't named a #NotreDame captain.
about 11 hours ago

Matt_Fortuna

Matt Fortuna


RT @CoachBrianKelly: Honored to announce the @NDFootball captains for 2014. Austin Collinsworth, Sheldon Day, Nick Martin and Cam McDaniel.
about 11 hours ago

BGI_AndrewOwens

Andrew Owens


#NotreDame's 2014 captains: Austin Collinsworth, Sheldon Day, Nick Martin and Cam McDaniel.
about 11 hours ago

CoachBrianKelly

Brian Kelly


Honored to announce the @NDFootball captains for 2014. Austin Collinsworth, Sheldon Day, Nick Martin and Cam McDaniel.
about 11 hours ago

FightingIrish

The Fighting Irish


Welcome to ND! "@NDXCTF: Notre Dame welcomes Matt Sparks as assoc head coach for track & field and cross country! http://t.co/gfhe3ML1AO"
about 11 hours ago

FightingIrish

The Fighting Irish


Haven't signed up for the #ShamrockSeries 5k? Get your registration in- http://t.co/OAsvACEhvt#GoIrish
about 11 hours ago

NDvolleyball

NotreDameVolleyball


A big congrats goes out to senior Jeni Houser for earning preseason all-ACC honors! http://t.co/vSEc18SN0k http://t.co/o6xSRyIQAu
about 11 hours ago

FightingIrish

The Fighting Irish


Everything you need to know about this weekend's activities- http://t.co/kd1pPyMLdgMake sure you follow @GameDayND for info in real time.
about 11 hours ago

Matt_Fortuna

Matt Fortuna


Nice story from @laurakeeley on one of the sharpest college football players I've ever spoken to, @laken77 http://t.co/ImXLvcFwjc
about 12 hours ago

InsideUSC

InsideUSC


The LAPD is expected to make a statement this afternoon on Josh Shaw story #USC
about 12 hours ago

FightingIrish

The Fighting Irish


Want to learn more about @VyskComm's encryption tech that will be used by @NDFootball this season? Visit the website https://t.co/CDGfJl2c7a
about 12 hours ago

FightingIrish

The Fighting Irish


.@VyskComm is powering @NDFootball's headsets this season! We're giving away 1 of their iPhone 5S cases to celebrate. RETWEET to win!
about 12 hours ago

jemelehill

Jemele Hill


If you listen to @finebaum, you know about #Phyllis. If you don't know who she is, it's time to learn http://t.co/yT6tfaWNuH
about 13 hours ago

InsideUSC

InsideUSC


#USC has received multiple calls that Josh Shaw incident did not occur in Palmdale and did not involve family. Police are checking
about 13 hours ago

FightingIrish

The Fighting Irish


.@Meijer on Grape Rd (Mishawaka) is having a Blue Gold Day, Weds Aug 27, 5:30-6:30pm ET.@NDTix for Rice & Michigan are up for grabs!
about 13 hours ago

Matt_Fortuna

Matt Fortuna


Q&A: #BC QB Tyler Murphy on his second act, @BCCoachAddazio and what to expect from the Eagles http://t.co/q1OHBMOAeo http://t.co/o7i2QPOUlN
about 14 hours ago

BrianHamiltonSI

Brian Hamilton


Special thanks to @Brian_Mason, who got so hyped about #Wisconsin O-line piece that his wife gave birth that weekend. http://t.co/sW8Ury4K20
about 14 hours ago

BrianHamiltonSI

Brian Hamilton


For #Wisconsin story, thanks to TJ Woods and @UWCoachAndersen for access and @RobBigDaddy78 for playing tour guide. http://t.co/sW8Ury4K20
about 14 hours ago

BrianHamiltonSI

Brian Hamilton


"We want to be a tough-***** #Wisconsin line." The story of a weekend in the life of a #Badgers O-lineman: http://t.co/sW8Ury4K20
about 14 hours ago

BrianHamiltonSI

Brian Hamilton


#USC investigating Josh Shaw's story about getting injured saving nephew (via @SIPeteThamel) http://t.co/loYfH6obor http://t.co/2GKTuYlKup
about 14 hours ago

BGI_LouSomogyi

Lou Somogyi


Isaac Rochell is going to be a crucial X-factor along the #NotreDame D-line with his versatility.http://t.co/0Z2ZK9N1WL
about 14 hours ago

NDfidm

FIDM


Full video archive of @CoachBrianKelly @NDFootball press conference from today - http://t.co/WPzdwhBknf
about 14 hours ago

FightingIrish

The Fighting Irish


We know you guys have been patiently waiting, so here we go. VERMONT, are you @ProudtobeND? Go #VTirish #NDFamily http://t.co/KdnWQFDh3V
about 14 hours ago

NDfidm

FIDM


First segment of our developing show for the @NDFootball Tuesday press conference - http://t.co/AL0SrgCqsQ - @RegBrooks40 's camp standouts
about 15 hours ago

BQ9

Brady Quinn


...all the players and coaches this season!
about 15 hours ago

BQ9

Brady Quinn


It was short lived but I enjoyed every second. Thank you @MiamiDolphins for the opportunity to play the game I love again. Best of luck to..
about 15 hours ago

WatchND

WatchND by @stjoemed


The show will be called Thursday Night Classics. This week we will broadcast ND vs. Michigan circa 1998 #TuneIn http://t.co/ztOgYmYlbT
about 15 hours ago

WatchND

WatchND by @stjoemed


We are excited to give you something new with our Thursday Night Classic games and more excited to have you interact w/us on social media
about 15 hours ago

FightingIrish

The Fighting Irish


Love a sneak peek? Sign up to see the new @NotreDame commercial that air during @NDFootball games on @NBC http://t.co/8yOWiLnYbn#WeAreND
about 15 hours ago

BrianHamiltonSI

Brian Hamilton


RT @DanWetzel: And USC may be trying to one-up Notre Dame's fake dead girlfriend with a fake drowning nephew? Now that's a rivalry
about 16 hours ago

Matt_Fortuna

Matt Fortuna


#NotreDame-#USC: The Battle for the Fooled Shillelagh. #IllSeeMyselfOut
about 16 hours ago

Matt_Fortuna

Matt Fortuna


Uh oh #USC RT @ArashMarkazi: Sarkisian says he has received contradicting stories on Shaw and what happened. He said team is investigating.
about 16 hours ago

footballscoop

FootballScoop Staff


I'm sorry, what? RT @InsideUSC: Sources told me incident did not involve family party or rescuing nephew from pool. USC investigating claims
about 16 hours ago

TomLoy247

Tom Loy


#NotreDame head coach Brian Kelly has seen growth this offseason from quarterback Everett Golson http://t.co/T76lWrsJWc via @BGInews (FREE)
about 16 hours ago

TomLoy247

Tom Loy


#NotreDame head coach Brian Kelly discusses the depth chart and a look at the defensive line. http://t.co/T76lWrsJWc via @BGInews (FREE)
about 16 hours ago

TomLoy247

Tom Loy


#NotreDame head coach Brian Kelly discusses Saturday's upcoming game against #Rice. http://t.co/T76lWrsJWc via @BGInews (FREE)
about 16 hours ago

Matt_Fortuna

Matt Fortuna


Four #NotreDame players at center of academic probe to miss opener http://t.co/q1OHBMOAeo via @ESPNCFB http://t.co/KFaZhyU4x6
about 16 hours ago

CarlDeff

Carl Deffenbaugh


Former #NotreDame player Will Mahone has apparently landed at Youngstown State as a walk-on. http://t.co/clCgWYcEmw
about 16 hours ago

FightingIrish

The Fighting Irish


No better way to end an @NDFootball press conference than with the @NDFIDM 2014 NDFB Primer- http://t.co/XUf8nwzZ2t#GoIrish #BeatOwls
about 16 hours ago

BGInews

Blue and Gold News


Click here for complete updates regarding the press conference of #NotreDame head coach Brian Kelly. http://t.co/6anDpDLE93 @BGInews (FREE)
about 17 hours ago

BGI_DanMurphy

Dan Murphy


Kelly said he expects Conor Hanratty will play at guard despite not being in the starting lineup.
about 17 hours ago

TomLoy247

Tom Loy


#Bolt: Four players dealing with academic investigation are out vs. Rice. http://t.co/idSVZWiMbs via @BGInews (FREE)
about 17 hours ago

Matt_Fortuna

Matt Fortuna


#NotreDame QB Everett Golson has worn red jersey all camp. First contact will come against Rice, 600 days since his last snap vs. #Alabama.
about 17 hours ago

BGI_AndrewOwens

Andrew Owens


Golson has kept the red jersey during camp. BK: "He's got a pretty good idea of what we expect from him in terms of taking on contact."
about 17 hours ago

BGI_DanMurphy

Dan Murphy


Kelly says freshman Justin Brent and Corey Holmes will both be "dynamite" players at #NotreDame. Brent starts season in two-deep.
about 17 hours ago

FightingIrish

The Fighting Irish


Belated congrats to @NDFootball's former @WOPUnation members Connor Cavalaris, Tyler Plantz & Charlie Fiessinger on their scholarships!
about 17 hours ago

BGInews

Blue and Gold News


Brian Kelly on Koyack: "Ben can get down the middle of the field."
about 17 hours ago

Matt_Fortuna

Matt Fortuna


If AD comes to BK, says 2/4 players cleared, could they return now? "Hypothetically I'd say that's a doable situation but we'll have to see"
about 17 hours ago

hansenNDInsider

Eric Hansen


Six freshmen are in the two deeps on defense for #NotreDame football, two on offense and Tyler Newsome at kicker and punter.
about 17 hours ago

Matt_Fortuna

Matt Fortuna


#NotreDame HC Brian Kelly: "I think our walk-on program has proven that you will be rewarded with a scholarship." Next 20 important after 85
about 17 hours ago

BGInews

Blue and Gold News


Brian Kelly: "I think our walk-on program has proven that you will be awarded with scholarships." It's happened in each of Kelly's 5 years.
about 17 hours ago

BGI_AndrewOwens

Andrew Owens


Among freshmen #NotreDame will count on, Kelly lists Trumbetti, Williams, Martini, Morgan and Blankenship.
about 17 hours ago

hansenNDInsider

Eric Hansen


Kelly said investigation has not been a distraction for the team other than caring about their teammates.
about 17 hours ago

Matt_Fortuna

Matt Fortuna


#NotreDame HC Brian Kelly says he never felt blindsided by academic probe.
about 17 hours ago

hansenNDInsider

Eric Hansen


Kelly. "At no time did I feel blindsided (by the investigation). It does to good to put a timetable on it."
about 17 hours ago

BGI_AndrewOwens

Andrew Owens


Here are some notes on #NotreDame's depth chart for Saturday against Rice: http://t.co/BbtxueXpoE
about 17 hours ago

BGI_DanMurphy

Dan Murphy


Kelly says he has "never felt out of the loop" during the academic investigation at #NotreDame.
about 17 hours ago

hansenNDInsider

Eric Hansen


WR Corey Robinson had minor thumb surgery Friday but has returned to practice and is expected to play vs. Rice on Saturday.
about 17 hours ago

BGI_AndrewOwens

Andrew Owens


Corey Robinson had a fractured thumb and pin placed Friday. He was back at practice Monday. He is fine to play Saturday vs. Rice.
about 17 hours ago

Matt_Fortuna

Matt Fortuna


Corey Robinson had pin placed in fractured thumb Friday but was back at practice Monday. Fine for #Rice. #NotreDame
about 17 hours ago

hansenNDInsider

Eric Hansen


For the singing aficionados Brian Kelly went to the team and asked them the Alma Mater question.
about 17 hours ago

hansenNDInsider

Eric Hansen


Kelly said WR Torii Hunter (groin injury) appears to be ahead of schedule in his recovery. Could resume practicing next week.
about 17 hours ago

FightingIrish

The Fighting Irish


Just got out of the office for lunch? You haven't missed much from the @NDFootball presser- http://t.co/n0Axlwnl6X #NowOnWatchND
about 17 hours ago

BGI_DanMurphy

Dan Murphy


Kelly: "Defensively, it's one of our most inexperienced groups (in his career), but one of our more athletic groups."
about 17 hours ago

hansenNDInsider

Eric Hansen


Four players affected by investigation are out for Rice per Kelly. He has not received any updates re investigation.
about 17 hours ago

Matt_Fortuna

Matt Fortuna


No update on 4 suspended #NotreDame players, but none will play Saturday against #Rice.
about 17 hours ago

BGI_AndrewOwens

Andrew Owens


The four removed players are out this weekend. Kelly says he has received "zero" updates.
about 17 hours ago

hansenNDInsider

Eric Hansen


Kelly said it's not for lack of leadership.
about 17 hours ago

Matt_Fortuna

Matt Fortuna


#NotreDame HC Brian Kelly open to game-by-game captains, or 1 or 2 permanent and rotating captains. Everything really on table.
about 17 hours ago

hansenNDInsider

Eric Hansen


#NotreDame head coach Brian Kelly said picking captains is still ongoing. Game Day captains could be part of the process.
about 17 hours ago

BGI_DanMurphy

Dan Murphy


Kelly calls older leadership council the most active group he's had since coming to #NotreDame.
about 17 hours ago

BGI_AndrewOwens

Andrew Owens


Kelly said he will consider going game-by-game with captains. Looks at it as a positive rather than a negative.
about 17 hours ago

BGInews

Blue and Gold News


Jarrett Grace won't be ready for Rice, but Kelly says Torii Hunter is "ahead of schedule." Used the zero gravity machine yesterday.
about 17 hours ago

Matt_Fortuna

Matt Fortuna


Jarrett Grace will not be ready for #Rice but making progress. Torii Hunter Jr. ahead of schedule. #NotreDame
about 17 hours ago

Matt_Fortuna

Matt Fortuna


#NotreDame HC Brian Kelly on Romeo Okwara over Andrew Trumbetti on depth chart: "I think you'll see Trumbetti playing there." Likely both.
about 17 hours ago

BGInews

Blue and Gold News


Brian Kelly says Andrew Trumbetti will start over Romeo Okwara at weakside defensive end. The depth chart isn't official.
about 17 hours ago

BGI_AndrewOwens

Andrew Owens


Brian Kelly says #NotreDame has not named captains, but expects to have that wrapped up "in the next 24 hours."
about 17 hours ago

Matt_Fortuna

Matt Fortuna


#NotreDame HC Brian Kelly: Captains should be named in next 24 hours.
about 17 hours ago

BGI_DanMurphy

Dan Murphy


Kelly calls #Rice DT Christian Covington one of the better players #NotreDame will face all year.
about 17 hours ago

BGI_AndrewOwens

Andrew Owens


Romeo Okwara is listed as starting at weakside DE over Andrew Trumbetti. Makes sense with Okwara available for interviews tom.
about 17 hours ago

Matt_Fortuna

Matt Fortuna


Brian Kelly speaking now. Only real surprise on #NotreDame depth chart is Andrew Trumbetti behind Romeo Okwara on the D-line.
about 17 hours ago

FightingIrish

The Fighting Irish


Time for @NDFootball's weekly press conference. Tune in on @WatchND- http://t.co/n0Axlwnl6X#GoIrish #BeatOwls
about 17 hours ago
2014 FBS Indep. STANDINGS
FBS INDEP. SCOREBOARD
Friday, 8/29
Saturday, 8/30
BLOG ARCHIVE:
CATEGORIES: