Where ND players stood as recruits
February, 4, 2014
Feb 4
9:00
AM ET
We are one day away from national signing day, an occasion packed with promise. As we noticed last week when
looking at the Ultimate 300
, some prospects meet their potential better than others.
Recruiting is an inexact science, as projects such as the Ultimate 300 reveal, and as many rosters filled with blue-chip prospects show, too.
[+] Enlarge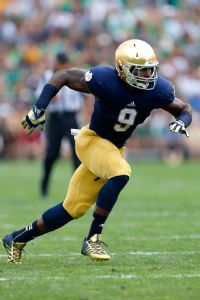 AP Photo/Scott BoehmJaylon Smith was the only five-star recruit among Notre Dame's starters last season.
Look no further than Notre Dame, which currently has Recruiting Nation's No. 11 overall haul for the Class of 2014, down from No. 4 last season. The Irish were No. 9 in 2012, No. 9 in 2011, No. 21 in 2010 and No. 14 in 2009.
The 2009-13 classes made up the 2013 Notre Dame roster. So, using Recruiting Nation's rankings, we will take a look back at this past season's (general) starters to see where they stood as recruits.
The numbers? Notre Dame had one five-star recruit, six four-star recruits, 11 three-star recruits and one two-star recruit.
(Note: ESPN did not use the star system until 2010.)
Offense
QB Tommy Rees, Lake Forest (Ill.) High: Three stars, No. 19 QB, Class of 2010. Scout grade: 79

RB: George Atkinson III, Granada (Calif.) High: Three stars, No. 40 ATH, Class of 2011. Scout grade: 79

WR: TJ Jones, Gainesville (Ga.) High: Four stars, No. 68 overall prospect, Class of 2010. Scout grade: 81

WR: DaVaris Daniels, Vernon Hills (Ill.) High: Four stars, No. 65 overall prospect, Class of 2011. Scout grade: 81

WR: Chris Brown, Hanahan (S.C.) High: Three stars, No. 66 WR, Class of 2012. Scout grade: 78

TE: Troy Niklas, Servite (Calif.) High: Three stars, No. 19 TE, Class of 2011. Scout grade: 79

T: Zack Martin, Indianapolis Bishop Chatard High: No. 109 overall prospect, Class of 2009. Scout grade: 81

T: Ronnie Stanley, Las Vegas Bishop Gorman High: Four stars, No. 34 OT, Class of 2012. Scout grade: 79

G: Chris Watt, Glenbard West (Ill.) High: No. 68 overall prospect, Class of 2009. Scout grade: 82

G: Christian Lombard, Williams Fremd (Ill.) High: Three stars, No. 20 OT, Class of 2010. Scout grade: 79

C: Nick Martin, Bishop Chatard (Ind.) High: Three stars, No. 39 OT, Class of 2011. Scout grade: 78
Defense
DE: Stephon Tuitt, Monroe (Ga.) High: Four stars, No. 90 overall prospect, Class of 2011. Scout grade: 81

DE: Sheldon Day, Indianapolis Warren Central High: Four stars, No. 143 overall prospect, Class of 2012. Scout grade: 80

NG: Louis Nix, Jacksonville (Fla.) Raines High: Four stars, No. 64 overall prospect, Class of 2010. Scout grade: 81

LB: Prince Shembo, Charlotte (N.C.) Ardrey Kell High: Three stars, No. 47 DE, Class of 2010, Scout grade: 78

LB: Dan Fox, Cleveland St. Ignatius High: No. 76 OLB, Class of 2009. Scout grade: 76

LB: Carlo Calabrese, Verona (N.J.) High: No. 12 ILB, Class of 2009. Scout grade: 78

LB: Jaylon Smith, Fort Wayne (Ind.) Bishop Luers High: Five stars, No. 7 overall prospect, Class of 2013. Scout grade: 90

CB: Bennett Jackson, Hazlet (N.J.) Raritan High: Three stars, No. 97 WR, Class of 2010. Scout grade: 77

CB: KeiVarae Russell, Everett (Wash.) Mariner High: Three stars, No. 28 RB, Class of 2012. Scout grade: 79

S: Matthias Farley, Charlotte Christian (N.C.) High: Three stars, No. 92 ATH, Class of 2011. Scout grade: 77

S: Austin Collinsworth, Highlands (Ky.) High: Two stars, No. 121 S, Class of 2010. Scout grade: 74
Special Teams
K/P: Kyle Brindza, Plymouth (Mich.) High: Three stars, No. 6 K, Class of 2011. Scout grade: 79
'College Football Live' Extra: Biggest Plays
FBS INDEP. SCOREBOARD
Saturday, 12/20
Monday, 12/22
Tuesday, 12/23
Wednesday, 12/24
Friday, 12/26
Saturday, 12/27
Monday, 12/29
Tuesday, 12/30
Wednesday, 12/31
Thursday, 1/1
Friday, 1/2
Saturday, 1/3
Sunday, 1/4
Monday, 1/12