Video: Manti Te'o overcomes tragedy
October, 6, 2012
10/06/12
11:38
AM ET
By
ESPN.com staff
| ESPN.com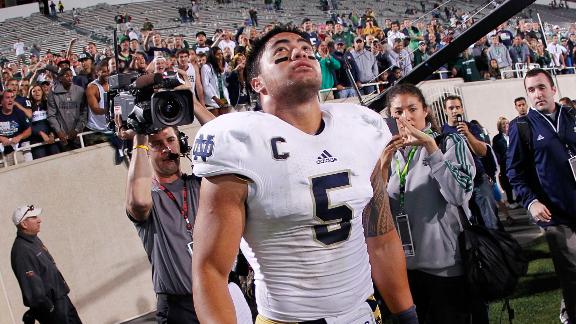 Notre Dame linebacker Manti Te'o went out and played the best two games of his career the same week that he lost his grandmother and his girlfriend. Gene Wojciechowski sits down with Te'o to talk about overcoming such personal tragedies.
College Football Minute
Josh Shaw's story is in question, Auburn has a plan at quarterback for Week 1, and Notre Dame suspends three starters for the season opener. It's all ahead in the College Football Minute.
College Football Minute
VIDEO PLAYLIST
FIGHTING IRISH NATION RECRUITING NEWS
NOTRE DAME FB RECRUITING SCORECARD
CoachBolen

Lionel Bolen


Congrats @CoachTrentMiles
about 2 hours ago

Matt_Fortuna

Matt Fortuna


Think #Clemson's worried about Georgia this Saturday after it saw its Nov. 22 opponent do that? #ACUvsGSU
about 2 hours ago

brittanyhorn

Brittany Horn


Easily the best decision I made in college: MT @DailyCollegian Interested in joining the Daily Collegian news staff? http://t.co/BjzWtQXXnJ"
about 4 hours ago

Matt_Fortuna

Matt Fortuna


"My name is Adam Eaton, and I play for your favorite South Side baseball team." ... #JRW?
about 4 hours ago

FightingIrish

The Fighting Irish


Have everything for your tailgate? Look for last minute items or just add a few things- http://t.co/8S3OneOMP3Tailgating items are 15% off
about 4 hours ago

Matt_Fortuna

Matt Fortuna


Does a contract extension quell questions about Frank Beamer and the #Hokies? Time will tell, @aadelsonESPN writes. http://t.co/KWsWNSGetp
about 4 hours ago

MCHammer

MC HAMMER


Talking with some young brothers & sisters in #Ferguson & at @AntonioFrench HQ ..#Pray for them. #Grieving silently http://t.co/JXWwwplPvQ
about 5 hours ago

FightingIrish

The Fighting Irish


The debut of #NDFBClassic will be @NDFootball vs Michigan, 1998. Bonus points if you work in 90s pop culture references into your tweets!
about 5 hours ago

TomLoy247

Tom Loy


#NotreDame CB Cody Riggs discusses taking on a leadership role in KeiVarae Russell's absence. http://t.co/jWjmmVtCMv via @BGInews (FREE)
about 5 hours ago

FightingIrish

The Fighting Irish


Thursday 8pm ET we are debuting @NDFootball Thursday Classic Games. Tune in on @WatchND and tweet along using the hashtag #NDFBClassics.
about 5 hours ago

thegob70

Zack Martin


Big congrats to little bro @NDmartin72 @acollinsworth28 @S_NDbound_Day91 and @cammcdaniel33 for being named Notre Dame team captains!
about 5 hours ago

TomLoy247

Tom Loy


#NotreDame QB Everett Golson discusses his preparations for Rice and what it means to get back on the field. http://t.co/DUEDhp3tTe (FREE)
about 5 hours ago

BrianHamiltonSI

Brian Hamilton


USC's Josh Shaw admits his story about getting injured while saving his drowning nephew was a 'complete fabrication' http://t.co/n2781Uls3p
about 5 hours ago

Matt_Fortuna

Matt Fortuna


Told Rice player compared him to Johnny Manziel, #NotreDame QB Everett Golson says he's just "trying to be the best Everett Golson I can be"
about 6 hours ago

Matt_Fortuna

Matt Fortuna


This was from yesterday: http://t.co/toL7YrNRUO #UNC
about 6 hours ago

Matt_Fortuna

Matt Fortuna


#UNC's Larry Fedora suspends Des Lawrence, Donnie Miles, M.J. Stewart, Brian Walker for opener. Team policy violation http://t.co/sDowvk8xzv
about 6 hours ago

CFBHeather

Heather Dinich


Still so many questions here ... USC's Shaw suspended after admitting to lie http://t.co/5nOf3lPLis via @ESPNLosAngeles
about 6 hours ago

FightingIrish

The Fighting Irish


24 hours until the first @CoachBrianKelly Radio Show, presented by @Tire_Rack! In town? Swing by O'Rourke's for the show starting at 7pm ET.
about 6 hours ago

FightingIrish

The Fighting Irish


Hey WEST VIRGINIA! Are you @ProudtobeND? RETWEET! #WVirish #NDFamily http://t.co/yCjXUbUxt7
about 6 hours ago

Matt_Fortuna

Matt Fortuna


#NotreDame RB Cam McDaniel's offseason: Got married, becoming a dad, named captain. "2014, I've grown up more than any year of my life."
about 7 hours ago

Matt_Fortuna

Matt Fortuna


#NotreDame RB Can McDaniel, asked about learning he'll become a father: "You kind of stumped me on that one."
about 7 hours ago

NDBlogGonzo

Anna Gonzalez


Had a great time shooting the pilot of "Linemates" w/ @ndhockey alums @leeberr09, @rsheahan15, Mark, and @ICole28 http://t.co/4PgTnt8Bs5
about 7 hours ago

FightingIrish

The Fighting Irish


.@NDAlumni is looking for the Biggest Fan! Is it you? You could win 4 tickets to @NDFootball vs Northwestern- http://t.co/KQy26GolxO
about 7 hours ago

gamedayND

Notre Dame Game Day


My oh my won't you look so fly in #NDgameday shades! Go get em! #popupND Thx @SAOnd!
about 7 hours ago

gamedayND

Notre Dame Game Day


Go get your #NDgameday on! #popupND giveaway at South Dining Hall!
about 8 hours ago

Matt_Fortuna

Matt Fortuna


Virginia Tech #Hokies extend Frank Beamer's contract two years http://t.co/V1spsFPOBi via @ESPNCFB http://t.co/nA2tNo5v6f
about 8 hours ago

BrianHamiltonSI

Brian Hamilton


The SI College Football Crystal Ball predictions for 2014 (http://t.co/SSyGntkGRb) and our infallible playoff picks: http://t.co/SjYSv4PqvI
about 8 hours ago

JackEasterby

Jack Easterby


What we take home doesn't matter much. What we give others means the world. #impact
about 8 hours ago

AriWasserman

Ari Wasserman


Follow @BillLandis25. He is joining @DougLesmerises and I on the OSU beat. Hope you like hip hop AND One Direction.
about 8 hours ago

FightingIrish

The Fighting Irish


.@Meijer's Blue Gold Day begins at 5:30 pm ET. Head to the Grape Road Store in Mishawaka for your chance to win Rice & Michigan @NDTix!
about 8 hours ago

gamedayND

Notre Dame Game Day


OK go! @SAOnd is helping us give you game day shades NOW! #popupND
about 8 hours ago

gamedayND

Notre Dame Game Day


#NOTpopupND Keep watching! #sorry
about 8 hours ago

BrianHamiltonSI

Brian Hamilton


Is 2014 the end of Clemsoning? @martinrickman explores the state of Dabo Swinney's program after two 11-win seasons: http://t.co/ItKx0RHTwy
about 8 hours ago

RJsmith1000

Rony


Hey @JustinTuck I thought you might enjoy this https://t.co/pDcX8kJy8m #failharder
about 9 hours ago

asianmamba27

One Man One Dream


Hey @JustinTuck I thought you might enjoy this https://t.co/9I0UYxqLGg #FailHarder
about 9 hours ago

gamedayND

Notre Dame Game Day


Get your Game Day shades....NOW! #popupND giveaway in front of SDH a la @SAOnd
about 9 hours ago

Matt_Fortuna

Matt Fortuna


Virginia Tech #Hokies announce two-year contract extension for coach Frank Beamer, through Jan. 1, 2019. http://t.co/eYv0SVMfAt
about 9 hours ago

FightingIrish

The Fighting Irish


Students, we just joined @WeHeartIt! Check out our profile and tell us what YOU heart about @NotreDame http://t.co/MBnQx63Gvb#LoveND
about 9 hours ago

gamedayND

Notre Dame Game Day


Need to get your #NDgameday swag on for this weekend! Get over to SDH to get your Game Day shades from our friends @SAOnd! #popupND
about 9 hours ago

BGI_AndrewOwens

Andrew Owens


MBB: Here's a quick story on #NotreDame's 2014-15 schedule: http://t.co/pkfL859OXk
about 10 hours ago

Matt_Fortuna

Matt Fortuna


#Duke visits #NotreDame hoops Wed., Jan. 28. #Syracuse visits Tues., Feb. 24.
about 10 hours ago

gamedayND

Notre Dame Game Day


Time to hand out some #NDgameday shades! #popupND number 1! Grab your shades from @SAOnd in front of SDH now!
about 10 hours ago

BGI_AndrewOwens

Andrew Owens


#NotreDame ACC schedule cont. BC (2/4) @ Duke (2/7), @ Clemson (2/10), WF (2/17), @ BC (2/21), SYR (2/24), @ Louisville (3/4), Clemson (3/7)
about 10 hours ago

BGI_AndrewOwens

Andrew Owens


#NotreDame ACC schedule- FSU (12/13), GT (1/3), @ UNC (1/5), UVA (1/10), @ GT (1/14), Miami (1/17), @ VT (1/22), @ NCSU (1/25), Duke (1/28)
about 10 hours ago

BGI_AndrewOwens

Andrew Owens


Duke comes to #NotreDame on Jan. 28.
about 10 hours ago

FightingIrish

The Fighting Irish


How's your Wednesday, WASHINGTON! Are you @ProudtobeND? RETWEET #WAirish#NDFamily http://t.co/Gwl4UMl3Hq
about 10 hours ago

BGI_AndrewOwens

Andrew Owens


Here's the 2014-15 ACC men's basketball schedule: http://t.co/I8N8BxfR8K #NotreDame
about 10 hours ago

WatchND

WatchND by @stjoemed


For those of you wondering what the social hub will look like for #NDFBClassics tomorrow. Here you go #WatchandTweet http://t.co/iDarKIVcUc
about 11 hours ago

BrianHamiltonSI

Brian Hamilton


Four #Kentucky players land on list of college hoops' best big men (via @byDavidGardner): http://t.co/qWCSTFmurL http://t.co/7y32bLjqPO
about 11 hours ago

BrianHamiltonSI

Brian Hamilton


@NDatRivals Dammit I knew I left something important
about 11 hours ago

FightingIrish

The Fighting Irish


You must visit an Indy @sprint store before Sept 7th to win. Visit http://t.co/4Alz7g7Wcc for plan details and head to a Sprint store today!
about 11 hours ago

FightingIrish

The Fighting Irish


.@Sprint is giving away #ShamrockSeries tix! Visit any Sprint store in Indy and check out the new #DoubleData plans. http://t.co/M1IcNzxLgk
about 11 hours ago

hansenNDInsider

Eric Hansen


However, QB Everett Golson's odds to win the Heisman are 20-1, same as on 7/22 and bettered from 25-1 on 1/7.
about 11 hours ago

hansenNDInsider

Eric Hansen


#NotreDame football odds to win the national title have gone from 33-1 on 1/7 to 50-1 on 7/22 to 66-1 today per Bovada.LV.
about 11 hours ago

NDMonogram

ND Monogram Club


Celebrating a terrific year for the @FightingIrish - our new Heritage Hall display! http://t.co/2VW3VbMdld
about 11 hours ago

BrianHamiltonSI

Brian Hamilton


The @SINow College Football Playoff predictions: Semis, title game, champion, top bowl slots. Surely you won't argue. http://t.co/SjYSv4PqvI
about 12 hours ago

FightingIrish

The Fighting Irish


.@Meijer's Blue Gold Day is tonight!Store: Grape Road in MishawakaTime: 5:30-6:30pm ETWhat: Win @NDTix for Rice OR MichiganGood luck!
about 12 hours ago

Matt_Fortuna

Matt Fortuna


#UF transfer Cody Riggs is the best free agent pick-up #NotreDame could have made. http://t.co/FIxXTVmjd0 http://t.co/lDeudlwED6
about 12 hours ago

nickbaumgardner

Nick Baumgardner


Ty Isaac's hardship request was denied last week. Michigan is now appealing that ruling.
about 12 hours ago

BrianHamiltonSI

Brian Hamilton


It's the @SINow College Football Crystal Ball! National champs, Heisman winners, etc. Take this very seriously. http://t.co/SSyGntkGRb
about 13 hours ago

hansenNDInsider

Eric Hansen


Link is finally up for chat, so fire off your questions.
about 13 hours ago

FightingIrish

The Fighting Irish


New to @Spotify? Check out our profile-http://t.co/Su4I1WMapuHere's the Fighting Irish playlist to get you started- http://t.co/ZI5zPoG2cZ
about 13 hours ago

FightingIrish

The Fighting Irish


Building the official @Spotify Tailgate Playlist for the @NDFootball season.Tweet us your song suggestions! #GoIrish
about 13 hours ago

gamedayND

Notre Dame Game Day


.@NDFootball fans on #FootballFridays show us your #IrishPride by wearing green! Let's see some creative outfits! http://t.co/a0UmZlXJwB
about 13 hours ago

gamedayND

Notre Dame Game Day


.@NDFootball fans on #FootballFridays show us your #IrishPride by wearing green! Let's see some creative outfits! http://t.co/a0UmZlXJwB
about 13 hours ago

hansenNDInsider

Eric Hansen


#NotreDame Football Live Chat at http://t.co/7ZWGrxRpD8 starts at noon EDT, which is just a few minutes away for the time zone challenged.
about 13 hours ago

theACC

The ACC


The @ACCMBB 2014-15 schedule will be announced this afternoon! Watch http://t.co/QUW1jxI68H for details!
about 13 hours ago

NDFootball

Notre Dame Football


Congrats again to Austin, Sheldon, Nick and Cam! RT @NDFBEquipment: Captain's "C" just arrived for their jerseys http://t.co/clPg6DQ0a0
about 14 hours ago

FightingIrish

The Fighting Irish


You've seen the 1st Domer Den, now share YOURS! Send pics and a description to charder@nd.edu! http://t.co/kx8ZZC0oaK
about 14 hours ago

FightingIrish

The Fighting Irish


First Domer Den! Chris Miller (OH)- "The walk down to my basement, replicating @NDFootball's locker room stairway." http://t.co/BjwE33H3F0
about 14 hours ago

BrianHamiltonSI

Brian Hamilton


From 6:47am to The Cage to film room to training table, a story on the life of a #Wisconsin lineman as #LSU awaits: http://t.co/sW8Ury4K20
about 15 hours ago

NDAlumni

Notre Dame Alumni


Think you're the #NDBiggestFan? Prove it & win 4 #NDFB tickets. Here's how: http://t.co/zgbbK3arwA. http://t.co/OmQY6OJXxP
about 15 hours ago

FightingIrish

The Fighting Irish


We have a winner for the @Vyskcomm iPhone 5s case giveaway! Congrats @MikeSloan01! Email charder@nd.edu #GoIrish http://t.co/aid9000L2R
about 15 hours ago

FightingIrish

The Fighting Irish


Notre Dame Athletics In The News - http://t.co/ZSNfRgAJsz
about 15 hours ago

FightingIrish

The Fighting Irish


adidas Notre Dame Fighting Irish Sports Arch Volleyball T-Shirt - Navy Blue http://t.co/rigGQHqRvo
about 15 hours ago

BrianHamiltonSI

Brian Hamilton


I know @DanWolken will appreciate this: Started in on The Americans last night. It makes House of Cards look like a steaming trash pile.
about 16 hours ago

ndclubofsjsv

ND Club of San Jose


.@NDSoccer is coming to the Bay Area! Will you be there to help support? Get your tickets! http://t.co/AOclBR2yeb http://t.co/BeQYcJl2LE
about 16 hours ago

FightingIrish

The Fighting Irish


number,one, http://t.co/GMgWJJU2FS
about 16 hours ago

FightingIrish

The Fighting Irish


Post @NDFootball press conference, @RegBrooks40 and @rscamden talked about the standout players from camp http://t.co/ELP72ErKAL #GoIrish
about 16 hours ago

Matt_Fortuna

Matt Fortuna


Four #NotreDame players at heart of academic investigation to miss opener http://t.co/X1DwqtQaLC via @ESPNCFB http://t.co/30HQNpyUKv
about 16 hours ago

FightingIrish

The Fighting Irish


Did you see the new addition to the @NDFootball press conference? @RegBrooks40 and @rscamden pre-press show- http://t.co/ynJ9r0BGC6
about 16 hours ago

hansenNDInsider

Eric Hansen


ICYMI Some notes and numbers about the players who will replace the 4 #NotreDame FB players behind held out for Rice: http://t.co/oZ93mXoSCG
about 16 hours ago

GoIrishGlory

Sgt Shamrock


ICYMI from last night on @DwnTheTunnel: Worried about the Irish defense? NOT SO FAST! http://t.co/lqH4WA6DKe
about 16 hours ago

DwnTheTunnel

DownTheTunnel.com


Worried about the Irish defense? NOT SO FAST! http://t.co/XHrD42CD3x
1 day ago

GoIrishGlory

Sgt Shamrock


Need a late night read? Check out my latest piece on @DwnTheTunnel ... Worried about the Irish defense? NOT SO FAST! http://t.co/lqH4WA6DKe
1 day ago

hansenNDInsider

Eric Hansen


#NotreDame football mega-notebook: Kelly finally tabs captains; former Irish where are they now?; singing? and more: http://t.co/aQtqpiaxV6
1 day ago

napoleonkaufman

Pastor Napoleon


Do something extraordinary for someone else……then don't tell anyone about it. #justhinking
1 day ago

IntThings

MIND BLASTING


http://t.co/OhqYZmreV6
1 day ago

hansenNDInsider

Eric Hansen


Some notes and numbers about the players who will replace the four #NotreDame FB players behind held out for Rice: http://t.co/ehmzJmhmjA
1 day ago

CollinsworthNBC

Cris Collinsworth


Proud Papa. Daughter Ashley recently named Captain of the Harvard Track Team. Son Austin just named Captain of the Notre Dame Football team
1 day ago

Matt_Fortuna

Matt Fortuna


The best free-agent pick-up his coach ever had, Cody Riggs is making an impact at #NotreDame http://t.co/FIxXTVmjd0 http://t.co/O9ablLci9L
1 day ago

BrianHamiltonSI

Brian Hamilton


Report: #UNC investigating football hazing incident. http://t.co/McRWEaf8OV http://t.co/dgrqgQaJeU
1 day ago

FightingIrish

The Fighting Irish


There are only a few upgrade EXPERIENCE options left for for @NDFootball vs Rice. Sign up now- http://t.co/B1nneswkAC.#GoIrish
1 day ago

FightingIrish

The Fighting Irish


We're creating a new @Spotify playlist for the @NDFootball season and we need your help!Send us the songs that make up YOUR ideal tailgate!
1 day ago

FightingIrish

The Fighting Irish


On Thursday at 8pm ET we are debuting our Thursday Night Classic Games, presented by @Tire_Rack.1st game is NDFB vs Michigan, 1998 #GoIrish
1 day ago

stephenjnesbitt

Stephen J. Nesbitt


Clint Trickett's full quote, context and all. Romeo and Juliet scene gonna play out Saturday in Atlanta. #WVU http://t.co/S6aDXlcWlR
1 day ago

Matt_Fortuna

Matt Fortuna


#UNC Tar Heels investigating football training camp incident http://t.co/DSdNTvGqNT Reported earlier by @eric_adelson and @YahooForde
1 day ago

FightingIrish

The Fighting Irish


We know VIRGINIA is for lovers, but it's also for Irish fans! RETWEET if you're @ProudtobeND #VAirish #NDFamily http://t.co/hMXFzRVuHZ
1 day ago

DwnTheTunnel

DownTheTunnel.com


Your captains for the 2014 Irish Football team are Cam McDaniel, Sheldon Day, Austin Collinsworth, and Nick Martin. #WeAreND
1 day ago
2014 FBS Indep. STANDINGS
FBS INDEP. SCOREBOARD
Friday, 8/29
Saturday, 8/30
BLOG ARCHIVE:
CATEGORIES: