What we learned about Notre Dame: Week 6
October, 7, 2012
10/07/12
10:00
AM ET
Here's what we learned about Notre Dame in its
41-3 thrashing
of Miami.
1. The offense can be very good
. We use the word "can" here because Miami, like Navy, does not have a great defense. But the Irish were dominant offensively in both of those contests, as any offense with weapons should be. Stanford will be a much tougher test next week, but putting up 40-plus points is a definite step in the right direction for Notre Dame, regardless of opponent.
[+] Enlarge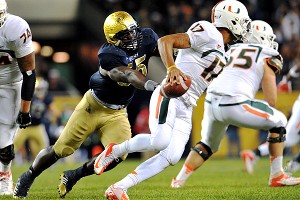 Matt Cashore/US PresswirePrince Shembo and the Notre Dame defense didn't allow a touchdown for the third consecutive game.
2. The defense is still very good
. When I asked
George Atkinson III
about the offense breaking out, he was quick to remind me that the defense did not allow a touchdown. Again. It gets lost when it seems to be the norm -- especially on a night when the offense breaks out -- but three consecutive games without allowing a touchdown is incredible. The Irish, who have yet to trail in a game this season, are surrendering just 7.8 points per game.
3. Golson responds
. There seemed to be uncertainty surrounding the quarterback recently, from getting yanked from the Michigan game to the chatter that he may not start.
Everett Golson
was late for a meeting and punished accordingly, but he was not fazed by the discipline or, this time, by the big stage. He turned in his best performance of the season, and he illustrated why, long-term, he likely will be worth the early growing pains for Notre Dame.
4. This team can be special
. "Special" seems to be the buzz word around this team, but it has the formula for success down pat through five games: Don't turn the ball over, play incredible defense. The schedule gets harder, but Stanford, Oklahoma and USC look nothing like they were perceived to be entering the season. And with so many higher-ranked teams losing, the dominoes could be falling into place for Notre Dame to make a serious run at a BCS bowl game this season.
College Football
Notre Dame/ACC reporter
Joined ESPN.com in 2011
Graduate of Penn State University
The latest from Gustin at The Opening
ESPN 300 athlete Porter Gustin (Salem, Utah/Salem Hills) took time out to talk recruiting and more with WeAreSC's Garry Paskwietz on Tuesday at The Opening.
The latest from Gustin at The Opening
VIDEO PLAYLIST
FIGHTING IRISH NATION RECRUITING NEWS
NOTRE DAME FB RECRUITING SCORECARD
adidas Men's Notre Dame Fighting Irish #7 Navy Replica Football Jersey Shop »
Matt_Fortuna

Matt Fortuna


Hoppin on @WJOX945 to talk some college football.
7 minutes ago

BGI_DanMurphy

Dan Murphy


From @BGI_AndrewOwens, a good look at the innovative concussion research being done by two folks w/ #NotreDame ties: http://t.co/XmLdzrBKmA
7 minutes ago

tweetjhood

Jonathan Hood


.http://t.co/3Umi9s56Ix - Download Tues. show. Plenty on @TonyDungy's remarks, @Matt_Fortuna on #ACC, & #uofm #Lions @brandymancan & more.
33 minutes ago

BQ9

Brady Quinn


#BVD: Romans 10:9
about an hour ago

BQ9

Brady Quinn


Thoughts and prayers are with Mr. Pat Bowlen. One of the best in the business and runs nothing but a first class organization @Broncos.
about 2 hours ago

TomMendozaTalks

Tom Mendoza


Chipotle went public at $22 in 2006. Now up 1400% ($660). Burrito's anyone? #amazing http://t.co/RSXALNEDhx
about 8 hours ago

BGInews

Blue and Gold News


The #NotreDame Tunnel Vision from yesterday, courtesy of @TomLoy247 and @SWiltfong247, is nearing 13,000 views! Enjoy http://t.co/A9W6NegLwg
about 10 hours ago

TomLoy247

Tom Loy


Just added my Top Three Most Wanted players for the #NotreDame 2015 class to the earlier thread. http://t.co/FMXSr2pv7M via @BGInews (FREE)
about 11 hours ago

TomLoy247

Tom Loy


All of my @247Sports #CrystalBall predictions are located here: http://t.co/wReh0ykHui via @BGInews (FREE)
about 11 hours ago

TomLoy247

Tom Loy


Every recruit with a #NotreDame prediction on the @247Sports #CrystalBall is on this list: http://t.co/GT1jTKoOqF via @BGInews (FREE)
about 11 hours ago

TomLoy247

Tom Loy


Want to know who the real "Top Targets" are for #NotreDame in the 2015 class? Take a look at this: http://t.co/WTustOmgGo via @BGInews
about 11 hours ago

TomLoy247

Tom Loy


Five-star DE Keisean Lucier-South to narrow his recruitment to a top five. #NotreDame in the mix. Details: http://t.co/0OmFz8o2TG @BGInews
about 11 hours ago

TomLoy247

Tom Loy


MAJOR concussion research taking place at #NotreDame. A Must Read story from @BGI_AndrewOwens http://t.co/uBzLXsohmK via @BGInews (FREE)
about 11 hours ago

TomLoy247

Tom Loy


A look at the big Recruiting weekends for #NotreDame this year - vs. #Michigan and #Stanford: http://t.co/8O8mCYHSZe @BGInews #TunnelVision
about 11 hours ago

RyanBartow

Ryan Bartow


5-star DE @KLSouth16 will trim his list to five on August 8. http://t.co/BsKSP3TCqc @TremendousUM @Bruin247 @FightOn247 @TomLoy247
about 11 hours ago

MFosmoe

Margaret Fosmoe


#AYOP2014 at @NotreDame contributes nearly $3M to #SouthBend economy. Via @SBTribune: http://t.co/15EWFjGrNT http://t.co/ITfAnnefix
about 11 hours ago

Matt_Fortuna

Matt Fortuna


Hopping on with the good folks at @ESPN1000 in a few to talk #NotreDame, college football. Listen live: http://t.co/oDaBbKIsa4
about 11 hours ago

TomLoy247

Tom Loy


Does #NotreDame have a shot with 2016 five-star DE Shane Simmons? Just spoke with him. Story: http://t.co/xHxIjz87Qx via @BGInews (VIP)
about 11 hours ago

TomLoy247

Tom Loy


Hyattsville (Md.) DeMatha class of 2016 five-star DE Shane Simmons calls #NotreDame offer "Huge." http://t.co/yCZedtCYFR via @BGInews (VIP)
about 11 hours ago

BGInews

Blue and Gold News


Our August issue is now available online, featuring @ronnie_stanley on the cover: http://t.co/Wpdxkjoaah http://t.co/6fz0aBcAJI
about 12 hours ago

BGI_AndrewOwens

Andrew Owens


At #NotreDame, a pair of research projects could change the way head injuries are diagnosed and treated: http://t.co/qtpH3uZ3VD
about 12 hours ago

Matt_Fortuna

Matt Fortuna


Also nice seeing @laken77 and @DaveHardingjr. One may be a future doctor, the other's already a media member. Not sure who I admire more ...
about 13 hours ago

Matt_Fortuna

Matt Fortuna


Finally home after a fun couple of days in Greensboro. Nice seeing @MinkNate, @SWernerPG, @JDiPaola_Trib, @MarkEnnis and many others.
about 13 hours ago

vxmcclure23

vaughn mcclure


Falcons say both Corey Peters (Achilles) and Zeke Motta (neck surgery ) will start training camp on PUP. But don't expect Motta in 2014
about 14 hours ago

JustinTuck

Justin Tuck


"@KyleFArnold: @JustinTuck here is an illustration I made of you. @RAIDERS http://t.co/lAzDSib0Um"looks just like me
about 15 hours ago

RAIDERS

OAKLAND RAIDERS


A combined 117.5 career sacks - @JustinTuck & @LaMarrWoodley break down each other's film: http://t.co/9V48ctX6HX http://t.co/gC5fUlTP43
about 15 hours ago

Matt_Fortuna

Matt Fortuna


And with that, flight taking off. Again. Finally.
about 15 hours ago

Matt_Fortuna

Matt Fortuna


Georgia Tech dismisses Anthony Autry, Darius Commissiong, Travin Henry from program, suspends Lynn Griffin 2 gms. Code of conduct violation.
about 16 hours ago

BrianHamiltonSI

Brian Hamilton


Successor Series: It's the big one…who in the world replaces Mike Krzyzewski at #Duke? http://t.co/D4qCy37xaB
about 16 hours ago

Matt_Fortuna

Matt Fortuna


RT @TomahawkNation: How long before some restaurant in Tally sells Coke w/ peanuts, or labels orange soda w/ peanuts a "Bowden."
about 16 hours ago

Matt_Fortuna

Matt Fortuna


How I voted in the ACC preseason poll (Spoiler alert: I was not the Brenden Motley voter) http://t.co/XGHmKYPBVB
about 16 hours ago

BGInews

Blue and Gold News


Video: Elijah Burns discusses his #NotreDame commitment: http://t.co/gqzuUsTorv (VIP)
about 17 hours ago

NDfidm

FIDM


For #FunWithGIFs today, DYK that @NDFootball -Miami in '88, the TD to cut it to 31-30 WASN'T a catch - check it out: http://t.co/9eOsmAo53x
about 17 hours ago

BQ9

Brady Quinn


"@drinkbai: @3rd_Goal 🙌 did you know it's National Blueberry month?" Whaaaaaaaaaaaat?!?!?
about 17 hours ago

BQ9

Brady Quinn


Just got a shipment of @drinkbai! If you haven't tried this stuff yet, grab one next time you are… http://t.co/KZPEKJvWie
about 17 hours ago

Matt_Fortuna

Matt Fortuna


@AschoffESPN then Dayton coach Archie Miller's the middle child.
about 18 hours ago

FightingIrish

The Fighting Irish


Because everyone should get a little Happy, right @NDstrength? http://t.co/L7SMZBW0ws#GoIrish
about 18 hours ago

Matt_Fortuna

Matt Fortuna


Also, peanuts float. Who knew?
about 18 hours ago

Matt_Fortuna

Matt Fortuna


The "Pulling a Jimbo Fisher" selfie http://t.co/Dt6gQzuVZu
about 18 hours ago

BrianHamiltonSI

Brian Hamilton


#TCU star DE Devonte Fields suspect in domestic disturbance call, now "separated" from school pending investigation. http://t.co/Bx59AQDrMZ
about 19 hours ago

JustinTuck

Justin Tuck


"@XOakieRaidersX: @JustinTuck just got this in the mail mind if i sent it out to raiders hq to get it signed? http://t.co/bDymxIAP7Q"sure
about 19 hours ago

michaelstrahan

Michael Strahan


@RAIDERS @JustinTuck You're giving me too much credit. I didn't let you take reps because I knew I wouldn't get my job back if I did. Lol
about 20 hours ago

FightingIrish

The Fighting Irish


#NDFollow the gang at @NDwbb! @MuffetMcGraw @IrishCoachIvey @GoIrishCoachO @BCunninghamNDAnd don't forget to vote for the class video!
about 20 hours ago

BGI_DanMurphy

Dan Murphy


For your lunchtime reading: a list of #NotreDame-relevant links from this week's ACC Media Days: http://t.co/9EDV2KNHEh
about 20 hours ago

NDlacrosse

Notre Dame Lacrosse


What is it like 2 b a student-athlete & member of ND Lax program? Check out "ND Lax Experience" Playlist on YouTube https://t.co/IrQ1OwWiWX
about 20 hours ago

Matt_Fortuna

Matt Fortuna


Does he dip peanuts in it? MT @DavidHaleESPN: Jimbo talked up ACC & didn't even mention superior bourbon marketing: http://t.co/pusbVnYyci
about 21 hours ago

FightingIrish

The Fighting Irish


Field turf is being installed at Notre Dame Stadium- let's #HitPlay on @LepLegion's Green Out @Spotify playlist- http://t.co/45oFYfTxIN
about 21 hours ago

TheRobFranklin

Robert Franklin


Another shot of @FieldTurf being installed at Notre Dame Stadium today. SBT Photo/ROBERT FRANKLIN http://t.co/TsMybeohHG
about 21 hours ago

Matt_Fortuna

Matt Fortuna


You just had to go there, didn't you? RT @NDFootball: This isn't your grandma's sewing machine #TurfWatch http://t.co/5GHBHCeofA
about 21 hours ago

BrianHamiltonSI

Brian Hamilton


Australian Ben Simmons takes unconventional path to No. 1 spot in Class of 2015. Story by @SethDavisHoops: http://t.co/kb93JvcBWE #LSU
about 21 hours ago

BrianHamiltonSI

Brian Hamilton


#Creighton guard Austin Chatman tore ligament in right thumb, will be out for two months. Expected to be ready for season though.
about 21 hours ago

BGI_DanMurphy

Dan Murphy


Endzone oasis at #NotreDame. From @JoeRaymond52 http://t.co/UyYy58Hlsz
about 21 hours ago

BrianHamiltonSI

Brian Hamilton


Report: Ex-#SMU recruit Emmanuel Mudiay signs in China with Guangdong on a one-year, $1.2M deal. Via @SInow: http://t.co/rhIjhTXFVw
about 22 hours ago

BQ9

Brady Quinn


Big thanks to @finishfirst_pt for getting me back to 100% after back surgery. Couldn't have been in better hands!
about 22 hours ago

VoicesOfThKingd

Voices OfThe Kingdom


@JustinTuck Its Your Time! Talk With God Tonight! Write the Vision! Set Your Goals! Pray! Expect the Manifestation! Destined for Greatness
about 22 hours ago

Matt_Fortuna

Matt Fortuna


Now that the war of words has resumed, some reading on #Canes, #Noles, Petrino & more as we sign off from Greensboro http://t.co/jUunpZPDkx
about 22 hours ago

Matt_Fortuna

Matt Fortuna


RT @McMurphyESPN: Steve Spurrier on Dabo Swinney's "He's from Pluto, I'm from Mars" quote: "Dabo still thinks there are 9 planets out there"
about 22 hours ago

BrianHamiltonSI

Brian Hamilton


"The forgotten men." #Baylor defense aims to be as formidable as high-powered offense, via @LindsayRaeSI: http://t.co/rTVD1s3ent
about 23 hours ago

FightingIrish

The Fighting Irish


Because it's Tuesday- http://t.co/Xm8nRUraef#NDFamily
about 23 hours ago

FightingIrish

The Fighting Irish


In Chicago on Fri? @BengalBouts alum @MikeLeeBoxer is fighting @ UIC Pavilion and we want to see our #NDFamily there! http://t.co/Tr5ySVa6Tj
about 23 hours ago

FightingIrish

The Fighting Irish


In Chicago on Fri? @BengalBouts alum @MikeLeeBoxer is fighting @ UIC Pavilion and we want to see our #NDFamily there! http://t.co/Tr5ySVa6Tj
about 23 hours ago

BQ9

Brady Quinn


These pups are already becoming feisty! http://t.co/HLwI9vKKs9
1 day ago

catwatters

Catherina Watters


Come see Ricky Watters Jr live this Wed in South Bend! #goirish @fiddlershearth @Lilrickywatters @RickyWatters http://t.co/AkBQDorVKy
1 day ago

FightingIrish

The Fighting Irish


Are YOU part of #TeamUA? @UnderArmour gear is available at the online store- http://t.co/NdERXqySfeFall is almost here… #GoIrish
1 day ago

wingoz

trey wingo


This MUST happen RT @PaulAzinger Charles Barkley come to FI I will give you a free golf lesson if not fixed in 20 min you can shave my head
1 day ago

FightingIrish

The Fighting Irish


.@NDTix has a great deal for 1st time buyers of @NDSoccer and @NDmenSoccer season tickets- 25% off http://t.co/ooLJHdtOmt #GetYours
1 day ago

BGInews

Blue and Gold News


Does #NotreDame have a realistic shot at WR Equanimeous St. Brown? @TomLoy247 and @SWiltfong247 give their take. http://t.co/m1rojbN7wB
1 day ago

NDTheLeprechaun

The Leprechaun


Hey @NDFootball and @WOPUnation any open spots on the depth chart? That's how you call out a blitz. #MascotMonday http://t.co/304Mg8Qln0
1 day ago

BGInews

Blue and Gold News


#NotreDame has 17 commits for its 2015 class. You won't find a cleaner looking commit page than the one at @247Sports http://t.co/hrG9jCTffN
1 day ago

TomLoy247

Tom Loy


The #NotreDame Target page is up to date. Check out who the real "Top Targets" are for the #Irish http://t.co/WTustOmgGo via @BGInews (FREE)
1 day ago

Matt_Fortuna

Matt Fortuna


QB juggling act for Coastal favorite Miami http://t.co/9oEzdp3BHj #Canes
1 day ago

TomLoy247

Tom Loy


What's the latest with #NotreDame and Fla., 4-star LB Tevon Coney? We have you covered: http://t.co/8O8mCYHSZe via @BGInews #TunnelVision
1 day ago

MrOakTown55

Sio Moore


3 Days Men... 3 Days http://t.co/Lznl4rZY53
1 day ago

BQ9

Brady Quinn


So blessed to have such a wonderful father. My hero, my role model and my best friend. Love you Chopper! http://t.co/GCylAvQUmV
1 day ago

BGI_AndrewOwens

Andrew Owens


Matt Hegarty is one of three players vying for the final starting spot on #NotreDame's OL. Player Projection: http://t.co/vCHboavwmA (VIP)
1 day ago

RavensInsider

Aaron Wilson


7. Tom Brady, 8. Drew Brees, 9. Aaron Rodgers, 10. 12th Fan (Seahawks)
1 day ago

RavensInsider

Aaron Wilson


NFL jersey sales: 1. Johnny Manziel, 2. Russell Wilson, 3.Colin Kaepernick, 4. Peyton Manning, 5. Richard Sherman, 6. Michael Sam ..
1 day ago

Matt_Fortuna

Matt Fortuna


#Pitt HC Paul Chryst to the feverishly-typing @SWernerPG: "Do I talk that slow?" We ain't complaining ...
1 day ago

Matt_Fortuna

Matt Fortuna


#Pitt's Paul Chryst on open-door policy: "If you're a coach with no players it's not a great job." http://t.co/b9HEqUURBs
1 day ago

Matt_Fortuna

Matt Fortuna


Locked in a tight battle this week vs #wishthemwell RT @SWernerPG: And Paul Chryst drops a #footprint when discussing recruiting in the ACC.
1 day ago

Matt_Fortuna

Matt Fortuna


#GaTech's Paul Johnson on former QB Vad Lee: "Vad's a good kid. I wish him well. He didn't feel like he fit what we did. He's prob. right."
1 day ago

Matt_Fortuna

Matt Fortuna


#Canes' Al Golden is staying away from a timetable for QB Ryan Williams' return.
1 day ago

Matt_Fortuna

Matt Fortuna


#Canes' Al Golden says QB race will go from 4 to 2 after 1st scrimmage. Currently Kevin Olsen, Jake Heaps, Brad Kaaya & Malik Rosier in mix.
1 day ago

Matt_Fortuna

Matt Fortuna


#Miami's Al Golden: "I'm looking forward to just coaching," not worrying about sanctions, etc. http://t.co/Y49Jlyj458
1 day ago

BrianHamiltonSI

Brian Hamilton


Australian Ben Simmons takes unconventional path to top of Class of 2015, per @SethDavisHoops: http://t.co/kb93JvcBWE
1 day ago

Matt_Fortuna

Matt Fortuna


#Hokies' Frank Beamer says belief now is if you win the ACC, you're a national title contender. Wasn't there before but #FSU changed that.
1 day ago

gamedayND

Notre Dame Game Day


Just received a new shipment of Game Day shades! Getting them packed up and ready to hand out on… http://t.co/uHzKIpsu1r
1 day ago

Matt_Fortuna

Matt Fortuna


#Hokies' Frank Beamer tells recruits so long as he has QB, PK & health, he has few more years. Doesn't know 2/3, but "We got possibilities."
1 day ago

rallo_NDinsider

Curt Rallo


Ex-South Bend St. Joseph OT Mirko Jurkovic Jr. @mirko_jurko64 commits to Nebraska. Jurkovic was first-team all-state for the Tribe.
1 day ago

cam_scarlett11

NOŁ Cameron Scarlett


Thanks to all the universities and coaches that have offered and recruited me. Here is my list of my top 5 schools. http://t.co/uOyQHil6zE
1 day ago

Matt_Fortuna

Matt Fortuna


#Hokies' Frank Beamer asked about Jeter/Mo retirement tours: "Baseball guys do that better ... I'm trying to get ready for William & Mary."
1 day ago

Matt_Fortuna

Matt Fortuna


#Hokies HC Frank Beamer on if he feels any extra pressure with new AD: "I think any coach feels pressure to win. That's the bottom line."
1 day ago

Matt_Fortuna

Matt Fortuna


#Hokies HC Frank Beamer says new QB Michael Brewer has not taken him hunting yet. "After I retire," he quips.
1 day ago

FightingIrish

The Fighting Irish


Last week we shared @NDFIDM's 3 part series on @NDmbb's Pat Connaughton. Check out the piece in its entirety http://t.co/xtoioDyhpf#GoIrish
1 day ago

jerrymeyer247

Jerry Meyer


W commitment of 3-star Elijah Burns, Notre Dame is #14 in #247Sports Composite 2015 team rankings http://t.co/3SqCi7JtDn @BGI_AndrewOwens
1 day ago

NDAthEquipment

Notre Dame Equipment


Women's Blur IV FG cleats are the first custom cleats in for 14-15. Hey @NDSoccer check'em out! #teamUA @UnderArmour http://t.co/4ys0oDx5go
1 day ago

JDiPaola_Trib

Jerry DiPaola


UNC's Larry Fedora asked: "If you were God, would you change ACC division alignment. "If I was God, I wouldn't be worried about the ACC."
1 day ago

Matt_Fortuna

Matt Fortuna


I've never seen someone hustle in my life the way Paul Johnson just scarfed down a Chick-fil-A sandwich while racing to a radio interview.
1 day ago

TomLoy247

Tom Loy


Where do things stand with #NotreDame and class of 2016 QB Recruiting? Who's the top target? More here: http://t.co/QQK3U4UX5l via @BGInews
1 day ago

Matt_Fortuna

Matt Fortuna


Clearly RT @JShankerESPN: Upon telling Jimbo Fisher I had no idea people put peanuts in Coke: "That's what's wrong with today's generation."
1 day ago
2014 FBS Indep. STANDINGS
FBS INDEP. SCOREBOARD
Friday, 8/29
Saturday, 8/30
BLOG ARCHIVE:
CATEGORIES: