Notre Dame Football:

2012 ND spring QB
March, 26, 2012
3/26/12
5:00
PM ET
SOUTH BEND, Ind. -- The question caught
Gunner Kiel
off guard, despite the fact most of his friends have likely spent much of the spring finalizing their end-of-high-school plans for the coming months.
So, college kid, will you still be going to prom or graduation this year?
"I haven't really thought about it too much," Kiel said. "I've been thinking about schoolwork. A lot of stuff going on here, so I need to work on that. I need to probably do that first."
Life is only busier for Kiel now that Notre Dame's spring practice season is underway, giving the early-enrollee freshman his first live look at the same college players he hopes to lead on the field when the Irish face Navy a little more than five months from now.
It is a process that, by all accounts, started the minute the quarterback showed up on campus Jan. 17 after de-committing from LSU.
"He's always asking for playbooks, always asking for reads," said Andrew Hendrix, a sophomore quarterback. "When we'll be back there watching the play, if he doesn't understand something I'll explain it to him. Sometimes I'll nudge him and be like, 'Well, what'd you see out there?' just to make sure he's understanding, because I can honestly say I wasn't as great at taking mental reps as I was now."
Added receiver John Goodman: "He came here with confidence, and that's what we wanna see out of a guy that's gonna be an early enrollee. You don't wanna see a guy come in here and be scared to talk to guys or be scared to take initiative or anything. He's a leader, he's definitely a leader, and he's gonna be a great player. But right now he's gotta prove himself and we'll see what happens with that."
The credentials may help explain the hype, as Kiel left Columbus (Ind.) East High School as an ESPNU four-star prospect, the No. 1 player in the state and the No. 3 quarterback overall from the Class of 2012.
He also has at least two inches on each of his competitors for the Irish's starting job.
"He's extremely talented, and he has something that the other three quarterbacks don't have, and that's 6-foot-4. When you've got that size it allows you to see some things," Irish coach Brian Kelly said.
"He's asking about, 'What time is film study?' " Kelly added. "I'm like, 'Listen, we're on a 20-hour rule. So everything's voluntary.' He goes, 'Oh, I'll be here.' So you can tell early on this is a guy that's gonna spend the time on watching film, doing those things necessary."
Kiel said the transition to college has been more of a mental challenge than anything else at this point, though he repeatedly expressed how difficult it is to adjust to the speed of the game.
Chuck Martin, the Irish's offensive coordinator and quarterbacks coach, described Kiel as "over-exuberant," saying he's already requested the whole playbook.
"Coach Kelly's like, 'Hey, if we give you the whole playbook you're gonna be useless all spring. Let's give you things you can do every day and be successful and keep growing within the package,' " Martin said. "So far, so good with him."
In his first padded practice Saturday, with media members and Junior Day visitors looking on, Kiel hit Alex Welch for a modest gain on the left side, prompting a slap on his helmet from Martin upon his return to the sideline, along with a hearty "That's it, Gunner!"
Prom can wait. Graduation, in this life, is not even in sight yet.
"It's tough. I can't imagine leaving high school and coming into the flames like this," said Hendrix, who enrolled in the fall of 2010. "I was on my entire year coming into spring and it was really difficult for me, so I can't imagine what it's like.
"He handles it well, he's a big kid, he's got a cannon. But right now I think he just has to start understanding the jump between high school and college. It's not an easy jump, but I think that he can definitely do it and it'll just be about him developing more in his future."
March, 26, 2012
3/26/12
2:30
PM ET
SOUTH BEND, Ind. —
Everett Golson
fumbled consecutive snaps Saturday, and Brian Kelly was less than pleased.
"I think that's one of those game simulators," Golson said after Notre Dame's first spring practice in pads, the end of which was viewed by roughly two dozen reporters.
"In the game you have the effect of the crowd and just the pressure of the game on you, and I think coach Kelly does a great job of simulating that in practice so that when we get to game time it'll be much easier to handle."
[+] Enlarge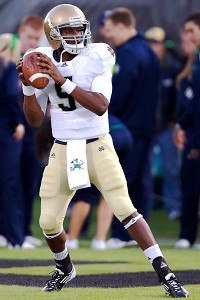 Cal Sport Media via AP ImagesEverett Golson could be the best QB for Notre Dame's offense, but when he'll get a chance is uncertain.
Golson is still waiting for that opportunity to get into a game after a redshirt campaign last fall that earned him offensive scout team player-of-the-year honors and time to learn the playbook and adjust to college life as sophomores
Tommy Rees
and
Andrew Hendrix
saw the majority of game action.
"It was a blessing," Golson said. "Being on scout team and going against the first-team defense helped me out a lot. I got used to the speed of the game, real quick and everything. I think the only thing I was lacking after that was the footwork, just because I didn't have a coach back there with me and stuff like that. But as far as getting used to the speed of the game and seeing defenses and all that type, it's helped me out tremendously."
Though Rees and Hendrix have been seen taking snaps with the first-team offense and Golson with the 2s so far in spring practice, the mentality is different this time around, as he enters his second season in the program.
Last spring, Golson was an early enrollee, buried behind eventual starters Rees and
Dayne Crist
, in addition to Hendrix, who ended up seeing meaningful snaps in 2011 as well.
"I would say I've progressed tremendously," Golson said. "As far as me coming in, it was more nerve-wracking for me. It felt like I probably put a little bit too much pressure on myself, but now coming into spring I feel a little bit more relaxed and comfortable."
The 6-foot, 185-pounder's deceptively strong arm and elusiveness would appear tailor-made for the spread offense. He mentioned footwork as a weakness four separate times in a six-minute span, but Kelly praised that aspect of Golson's game following the Irish's first spring practice.
Now, it's about putting it all together.
"He's got quick feet. He's got a strong arm. He's got all the tools," Kelly said. "Now for me, it's about accuracy, getting the ball out on time, and obviously having good football intelligence. And those are the areas that he'll continue to work on. Because there's no question about his footwork. There's no questioning his arm strength. We've gotta continue to work on those other three areas."
March, 26, 2012
3/26/12
10:30
AM ET
SOUTH BEND, Ind. — Hey,
Andrew Hendrix
was one of four scholarship quarterbacks last spring, too. It's just that, in his first spring, following a freshman season he redshirted in, well ...
"Last spring I was kind of like a chicken with its head cut off at times, just running around," Hendrix said. "I didn't really understand how our offense worked or even an offense worked. I wasn't as comfortable reading defenses as I am now."
And now?
"And now it's really exciting for me as things are falling into place for me as I see it," he said. "The game's slowing down for me and it makes it a lot easier, a lot less stressful. The game's a lot more fun when you're out there and you know what you're doing, so we're just trying to help
Gunner [Kiel]
and
Everett [Golson
],
Tommy [Rees
] and I. The more we all understand the game, the more fun it is for all of us."
[+] Enlarge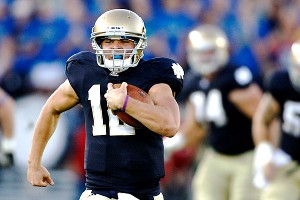 Brian Spurlock/US PresswireNotre Dame QB Andrew Hendrix has demonstrated his mobility during his limited playing time.
Plays like the 78-yard dash Hendrix showed off last year in his first college game, late in Notre Dame's Week 6 rout of Air Force, proved plenty of fun for the then-sophomore. Plays like the fourth-quarter interception in a tight Champs Sports Bowl loss to Florida State, meanwhile, did not.
Hendrix saw more reps in the lead-up to the bowl game following the departure of
Dayne Crist
, along with an impressive relief outing after Rees struggled early in the regular-season finale loss at Stanford. But Hendrix started only one series against the Seminoles, and he finished the night with an underwhelming line of 3-for-8 passing for 24 yards.
"It's hard to say," Hendrix said when asked if he missed seizing an opportunity late in 2011. "Obviously I got more reps with the Dayne situation last year. I think that's when my development really started last year. So I think I've just been trying to build on my reps last year. In my mind maybe I gained confidence, I think, not to say that's what the real situation was. But right now I'm extremely confident. Any of the four quarterbacks are — you have to be in order to compete. So right now we're just all working to get better, and we'll see what happens later."
Hendrix, who appeared in five games last season, did add 26 yards on four carries in the loss, and he finished with 162 rushing yards and a score on 25 carries, bringing a dimension to the position that had not previously been seen in Brian Kelly's two years coaching the Irish.
The Cincinnati native said the mobility is a nice commodity, but understanding the offense and making quick decisions will be among the first priorities.
Putting a bad play behind him will be another step for Hendrix, Chuck Martin said, illustrating an exchange between the two during Notre Dame's first spring practice.
"A bad play happened. Andrew got that little body language that he gets when things go bad because he cares so much and he practices so hard," Martin, the offensive coordinator and quarterbacks coach, recalled. "I'm like, 'Here's the first thing we got to correct: When it goes bad, Andrew, you got to turn around like you're Brett Favre. Because even the defensive guys look at you.
"'Hey, you threw the ball bad. Who cares? Everybody makes mistakes.'"
Whoever makes the least mistakes will likely be under center for the Sept. 1 opener in Dublin, Ireland, and the self-critical Hendrix knows forgetting his will go a long way in making progress.
"I always said that I'm my toughest critic — I'm always in competition with myself," Hendrix said. "So whether it's five guys or just me or two guys, I'm always competing with myself, whether I can do it better the next time. So that's the way I think about it. I'm not competing with anybody else but myself. I can only be the best quarterback I can be, so at the end of the day I can do that. I can't control what Tommy does, what Coach Kelly does, so as long as I can be the best me, that's all I can do."
March, 26, 2012
3/26/12
9:00
AM ET
SOUTH BEND, Ind. -- Late in Notre Dame's first full-pads practice of the spring Saturday,
Tommy Rees
took a snap, broke off and ran.
And ran. And ran some more.
Rees' red jersey kept him from getting hit on his roughly 40-yard burst down the right sideline, which ended with him being "forced" out of bounds. Nonetheless, the sight turned the heads of many, considering Rees gained just 39 rushing yards in all of 2011 and actually netted negative-56 rushing yards after accounting for sacks.
So, was that a glimpse of the new Rees?
[+] Enlarge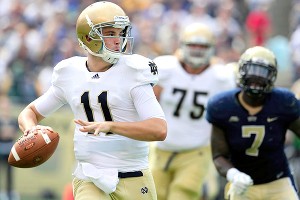 Jeanine Leech/Icon SMIIncumbent starter Tommy Rees knows he will need to work this spring to keep his job.
"I don't know," the junior cracked, adding, "It opened up pretty well for me. I'm gonna be honest, I didn't expect to get that far down the field. I was a little tired at the end of it."
Yes, Rees knows he needs to make more plays by running. Or, at the very least, extend more plays by running.
And no, he does not have a problem with the fact that his 16 career starts -- 16 more than any other quarterback on the roster -- are not being catered to this spring, which began with all four signal-callers starting from Page 1 of the playbook.
"If you hand the full playbook to those guys they'd be spinning, so I understand where they're coming from," Rees said. "It also can give me an advantage because I've run it so much that I should be the most comfortable with it. I should be the guy that understands what we're putting in.
"I think it's probably the right way to do it, to help everyone out, even the receivers, running backs learning new positions, just trying to get the whole offense clicking before we put in so much and guys' heads would spin, and now by scaling back we can execute things even better."
Rees took over for
Dayne Crist
midway through 2010 and again after the first half of the 2011 opener, compiling a 12-4 record as a starter while completing better than 64 percent of his passes for 3,977 yards and 32 touchdowns.
But he has also had his share of miscues, throwing 22 interceptions over the course of those two seasons. Experience and better execution should help with curbing such gaffes, he said.
"I think you get a little bit of both: There's things you learn from and move past, and there's things that you look back on and think, why would I ever do that?" Rees said. "And those are just the mistakes you've got to erase. When a play turns bad you can't make it worse, and you've got to make the smart play. If that's throwing it away or just scrambling for a yard to get out of bounds -- just making the smart play, not trying to force something that's not there."
Rees knows credentials alone will not help him fend off
Andrew Hendrix
,
Everett Golson
and
Gunner Kiel
, and said the deficiencies from last season have allowed him to enter the four-man race with the right mindset.
"'You gotta beat me out' -- that's his mentality and that should be his mentality," offensive coordinator and quarterbacks coach Chuck Martin said of Rees. "And Hendrix should have a different mentality. Hendrix's mentality is, 'I'm gonna beat…' you know?
"I think [Tommy's] mentality is: 'Was I a Heisman Trophy winner? Have I locked the vault shut and I'm the guy? Maybe not. But I know I'm ahead of these guys and I'm gonna stay ahead of these guys. And there's things I need to work on to improve.' And he's not worried about the competition. The beautiful thing is him and Dayne were great friends, and still are great friends. And the beauty of the kids you recruit at Notre Dame, Andrew and him are good friends, and Everett and Andrew are good friends, and Gunner's becoming. So it's weird because they are all competitive kids, but it's not, 'Well, I'm gonna steal his playbook so I can win the job.' It's just a different animal. That's the great thing about coaching here. It doesn't get any funner than coaching at Notre Dame."
'College Football Live' Extra: Biggest Plays
FBS INDEP. SCOREBOARD
Saturday, 12/20
Monday, 12/22
Tuesday, 12/23
Wednesday, 12/24
Friday, 12/26
Saturday, 12/27
Monday, 12/29
Tuesday, 12/30
Wednesday, 12/31
Thursday, 1/1
Friday, 1/2
Saturday, 1/3
Sunday, 1/4
Monday, 1/12