Notre Dame Football:

2014 ND Draft
May, 13, 2014
5/13/14
9:00
AM ET
The NFL draft came and gone, and, as we know by now, it was a pretty good one for Notre Dame. Here's a look at what those in NFL circles are saying about some of the drafted former Irish players and their new employers:
Zack Martin
Mel Kiper Jr.
gave the Cowboys a draft of B
, but he said Martin can make the Dallas offensive line among the best units in the NFL. … Todd McShay
lists Martin as one of his favorites picks
. … ESPNDallas.com's Todd Archer
says the pick of Martin was the Cowboys' best move of the draft
… ESPNDallas.com's Calvin Watkins
said the Cowboys went for the best player available
. … ESPNDallas.com's Jean-Jacques Taylor
says the Cowboys made the right move in passing on
Johnny Manziel
for Martin. … Archer
says the Cowboys stayed
Tony Romo
-friendly by picking Martin. … Watkins
says Martin may start at guard, but his future with the Cowboys is at right tackle
.
Stephon Tuitt
Kiper
gave the Steelers an A-
, saying that Tuitt, at his 2012 level, can be a disruptive stud. … McShay
lists Tuitt as one of his favorite picks
, calling him a top-15 talent who is a great fit for Dick LeBeau. … Pittsburgh defensive line coach John Mitchell
says Tuitt would've been a top-10 pick if he were healthy in 2013
. … ESPN.com Steelers reporter Scott Brown
says taking Tuitt in the second round was the club's best move
. … Brown also
says that Tuitt is part of a rookie group that will give the Steelers an immediate return
.
Troy Niklas
In giving the Cardinals a draft grade of a B, Kiper
says coach Bruce Arians might see some of what he loved about the Steelers'
Heath Miller
in Niklas. … ESPN.com Cardinals reporter Josh Weinfuss
says Niklas solidified a tight end group that is the foundation of Arians' offense
. … Weinfuss also
says that Niklas is a long-term answer who will be a crucial blocker in the early going
.
Louis Nix
Kiper
gave the Texans an A-
, saying that Nix is a steal at No. 83 if he is in decent shape and that Houston's defensive front is now extremely versatile. … ESPN.com Texans reporter Tania Ganguli
says Nix could start early
. … Ganguli also
says Nix had a good attitude about his draft slide
.
Best of the rest
ESPN.com' Chargers reporter Eric D. Williams
says
Chris Watt
fills a need and could be an answer at right guard. … ESPN.com Falcons reporter Vaughn McClure
writes that Atlanta general manager Thomas Dimitroff stands behind
Prince Shembo
. … ESPN.com Giants reporter Dan Graziano
says that
Bennett Jackson
is part of the franchise's character-driven plan. … ESPN.com Lions reporter Michael Rothstein
says that
T.J. Jones
could end up being a surprise in the slot.
May, 12, 2014
5/12/14
9:00
AM ET
Notre Dame walked away from NFL draft weekend with eight of its former players getting picked, tied with Alabama for the second most of any school in the country, behind LSU's nine. The eight picks also marked the most in a single draft for the Irish in 20 years, as they had 10 draftees in 1994.
In addition, six former Notre Dame players signed with NFL clubs after the draft, with five of those players coming from last season's team.
Seven of Notre Dame's defensive starters from the Discover BCS National Championship following the 2012 season have now been drafted as well:
Kapron Lewis-Moore
(Ravens, 200th),
Manti Te'o
(Chargers, 38th) and
Zeke Motta
(Falcons, 244th) last year;
Stephon Tuitt
(Steelers, 46th),
Louis Nix
(Texans, 83rd),
Prince Shembo
(Falcons, 139th) and
Bennett Jackson
(Giants, 187th) this year.
It's not a stretch to say that linebacker Danny Spond, who also started against Alabama in the title game, was on track to be drafted prior to retiring before last season because of hemiplegic migraines. It's also worth noting that safety
Jamoris Slaughter
, who was drafted 175th overall by the Browns last year, started on the Irish's 2012 defense before suffering a season-ending Achilles' tear in Week 3. Two defensive starters from that title game,
KeiVarae Russell
and
Matthias Farley
, still have two years of eligibility left at Notre Dame.
Here's a recap of Notre Dame's 2014 draft weekend. Irish transfers
Shaquelle Evans
(fourth round, 114th overall) and
Aaron Lynch
(fifth, 150th) were both drafted as well.
DRAFTED
LT
Zack Martin
,
Dallas Cowboys
(first round, 16th overall)
DE Stephon Tuitt,
Pittsburgh Steelers
(second, 46th)
TE
Troy Niklas
,
Arizona Cardinals
(second, 52nd)
NG Louis Nix,
Houston Texans
(third, 83rd)
LG
Chris Watt
,
San Diego Chargers
(third, 89th)
LB Prince Shembo,
Atlanta Falcons
(fourth, 139th)
CB Bennett Jackson,
New York Giants
(sixth, 187th)
WR
TJ Jones
,
Detroit Lions
(sixth, 189th)
UNDRAFTED FREE AGENT SIGNINGS
RB
George Atkinson III
,
Oakland Raiders
LB
Dan Fox
, New York Giants
LB
Carlo Calabrese
,
Cleveland Browns
QB
Tommy Rees
,
Washington Redskins
NG
Kona Schwenke
,
Kansas City Chiefs
C/G
Mike Golic Jr.
,
New Orleans Saints
May, 7, 2014
5/07/14
9:00
AM ET
Our NFL Nation team played a game of virtual GM this week, with beat writers covering all 32 pro teams
participating in a group mock first-round
of Thursday's NFL draft. As has been the case with most mock drafts around this time of the year, two former Notre Dame players heard their names called, though the teams may come as a bit of a surprise.

16. DALLAS COWBOYS: ZACK MARTIN

ANALYSIS: Maybe the Cowboys should have traded up to No. 13 with St. Louis, which I contemplated, but the Steelers snuck in and took [Anthony] Barr. A jarring move for Jerry Jones, who thought he had his right defensive end. Now I move on to the best player available despite the need for defensive help. The pick is Notre Dame offensive lineman Zack Martin. He would be the third lineman picked in the first round in the past four years, joining Tyron Smith and Travis Frederick. (Todd Archer)

25. SAN DIEGO CHARGERS: LOUIS NIX

ANALYSIS: The Chargers gave up 4.59 rushing yards per carry last season, No. 27 in the NFL. Nix fills an obvious need up front, reuniting with former Fighting Irish teammate Manti Te'o. His presence in the middle should help keep Te'o and fellow inside linebacker Donald Butler clean. (Eric D. Williams)
The prospect of Nix and Te'o playing together again has to be one that makes Irish fans smile. It's worth remembering that, in the lead-up to the 2012 Heisman Trophy ceremony, Te'o said he would have voted for Nix. Te'o, of course, finished second that year to Johnny Manziel, though Nix had a breakout campaign that was capped by a stellar individual performance in the BCS title game loss to Alabama.
May, 6, 2014
5/06/14
9:00
AM ET
No Notre Dame players will be at Radio City Music Hall for this weekend's NFL draft. No matter. The event could end up being one of the biggest pro showcases the Irish have ever been a part of.
There is a chance, albeit an outside one, that Notre Dame could hear 12 of its former players' names called in New York. If that happens, it would mark the Irish's biggest draft haul in 64 years, since the program had 13 former players taken in the 1950 draft. Notre Dame's two biggest drafts came several years before that, as it had 16 former players taken in the 1946 draft and 15 taken one year before that, in 1945.
Let's not forget that
Danny Spond
was in position to play himself into a draft pick before retiring last summer, which would have swelled the Irish's potential picks this weekend to 13. (Note: This number does not include transfer
Aaron Lynch
, an early entrant from USF.) The fact that a dozen former Irish players have a chance to be drafted is an obvious testament to the strides made in the Brian Kelly era.
Of course, it can be argued that only three of the Irish's 12 draft hopefuls --
Stephon Tuitt
,
Troy Niklas
and
George Atkinson III
-- were true Kelly recruits, but as
our friend Scott Janssen over at uhnd.com recently noted
, the Irish's draft success under Kelly is more than just a coincidence.
If Notre Dame's ability to develop NFL talent is connected to its long-term success, one look at Notre Dame's draft history since the last national championship in 1988 clearly highlights why the Fighting Irish have been largely mediocre during the years after Lou Holtz's departure and before Kelly's arrival.

Notre Dame's ability to produce elite, first-round NFL talent has been nearly non-existent since Lou Holtz's departure in 1997. Bob Davie and Charlie Weis each oversaw five different draft classes and were only able to produce one first round draft selection. Tyrone Willingham, who oversaw two fewer NFL draft classes while head coach at Notre Dame, managed to produce one first round draft choice in center Jeff Faine, making Willingham's production of first round selections slightly better than that of either Weis or Davie.
At this stage of the spring,
Zack Martin
is a virtual lock to be taken in the first round.
Louis Nix
and Tuitt could be as well. All three getting drafted Thursday would give Kelly six first round picks at Notre Dame, doubled the combined total of Willingham, Weis and Davie.
Looks like
the pots of gold could be getting a bit heavier for high schoolers thinking about the Irish
.
May, 5, 2014
5/05/14
11:30
AM ET
One byproduct of
George Atkinson III
's early departure from Notre Dame? He's never been this far away from his brother.
"Definitely, and the longest for sure," Atkinson said with a laugh.
[+] Enlarge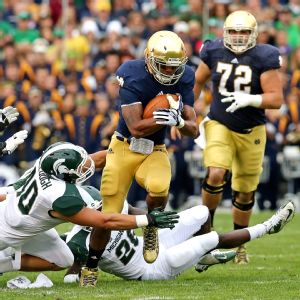 Jonathan Daniel/Getty ImagesGeorge Atkinson III's speed could make him a valuable special teams asset in the NFL.
But while his twin,
Josh
, gears up for summer workouts before his final season as a cornerback with the Irish, George has been completing final preparations for this weekend's NFL draft, an event that came a year earlier than expected after an unceremonious end to his collegiate career.
Atkinson said that the physical part of February's NFL combine was the easy part when compared to all of the questions he received from executives wanting to know where things went south for him at Notre Dame, as coach Brian Kelly suspended him from the New Era Pinstripe Bowl for an unspecified violation of team rules. (Atkinson had tweeted, and deleted, that he was suspended for texting during a team meal, something he said he had done all season.)
"Of course the bowl game got brought up, why was I suspended, why am I leaving early, typical questions for people leaving early," Atkinson said of questions executives asked him. "But I just handled it how I'd handle it if anybody else asked me the question: Just stayed true to myself and true to the situation and took responsibility for my actions, and that's the basics my dad raised me on."
Atkinson's dad, former Oakland Raiders defensive back and current broadcaster George Atkinson, has been an invaluable resource during this time, with the son living back at home in the Bay Area this spring while training at California Strength in San Ramon.
"It's definitely a blessing, but then again when [my father] came out I don't think they even had the combine," Atkinson quipped about an event that started in 1982, three years after his father's final year in the NFL. "But he's been in the league for many years, so he knows what to expect. It's kind of like boot camp, [with him] making sure my bed's made and everything just to make sure I'm staying disciplined and things like that, what it takes to be successful at the next level. But it's been a blessing to have him guiding me throughout his whole situation."
Ironically enough, Atkinson says his mom pushed him and his brother toward football when they were growing up more than his father did. His career at Notre Dame got off to a roaring start, with the part-time track star returning a pair of kickoffs for touchdowns during his freshman season in 2011. From there, the man with 4.48 speed had an uneven next two years, showing flashes of promise as the third-string running back during the Irish's 12-1 2012 campaign (361 yards, three touchdowns) before stagnating when given the No. 1 role (555 yards, three touchdowns in 2013).
Still, the 6-foot-1, 218-pound speedster's big-play capability, especially on special teams, gives him a chance to be a late-round pick, and he insists he has no regrets on his time spent in South Bend.
"It was definitely a good experience, for sure. I don't take it for granted at all," Atkinson said. "I don't regret going there. I loved my three years there -- my teammates and my brother and the coaching staff and all that. It's definitely something I'm going to remember for the rest of my life. I was really grateful for the opportunity that I had there, and I'm planning on finishing my degree in the near future for sure, so it was a great time."
May, 2, 2014
5/02/14
9:00
AM ET
Bennett Jackson
knows life is about to change. Back in South Bend, Ind., to complete his training, the former
Notre Dame
cornerback is relishing the time spent with many of his Irish teammates before they go their separate ways following next month's
NFL draft
.
"The good thing about it is you're all going through the same thing," Jackson told ESPN.com. "Everyone's a little different, but I feel like it helps you bond more with each other. We'll still see each other and keep in contact, but it's not like we're going to be running (into each other) around the corner anymore."
[+] Enlarge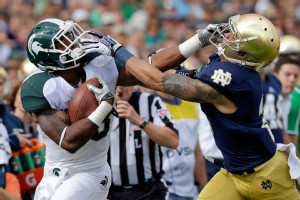 AP Photo/Michael ConroyNotre Dame cornerback Bennett Jackson had six interceptions in his college career.
Fitting that the Hazlet, N.J., native uses that term, considering Jackson's running ability is what has put him in position to be drafted. He had a foray as a track star during his time at Notre Dame and, less than thrilled with his 40-yard dash time at the NFL scouting combine in February, improved his mark at pro day, from a 4.51 to 4.40. It would have been good for fifth-fastest among his position group in Indianapolis. His 20-yard shuttle time of 4.00 matched the best among all corners as well.
The 6-foot, 195-pound Jackson switched to corner after arriving to Notre Dame as a receiver. A junior season as a pivotal piece on the nation's No. 2 scoring defense, followed by a senior campaign in which he was the lone defensive captain, offered pro scouts plenty of work to judge, as he is projected as a mid-to-late round pick.
Still, the benefit of a late-career position switch might be upside, as Jackson could still be far from his ceiling as a cover man.
"I think my better days are ahead, for sure," Jackson said.
NFL clubs have discussed a move to safety, something Jackson is open to. He had spent time in the winter in Knoxville, Tenn., working with Charles Petrone, the same athletic trainer who helped
Harrison Smith
as the former Irish safety became a first-round pick with the Minnesota Vikings two years ago.
Jackson has spoken with roughly a half-dozen teams. From the combine through this final stretch of conditioning, the pre-draft process has been exhausting and rewarding all at once. But Jackson has come to appreciate it, and he will happily watch everything unfold with his mom in New Jersey next week as he waits to hear his and his teammates' names called.
"You think as a player there are all these unnecessary tests, but when I sit there and look back at it, they put millions of dollars into these players," Jackson said. "When I look back at it, I understand why (NFL teams) do it."
May, 1, 2014
5/01/14
9:00
AM ET
As fate would have it,
Dan Fox
will find himself in New York next weekend during the NFL Draft. His older brother, Bill, is graduating from the Icahn School of Medicine at Mount Sinai next Friday. And if Dan Fox's name happens to be called at nearby Radio City Music Hall sometime between next Thursday and Saturday, well, it will mark one happy weekend for a pair of brothers on the brink of fulfilling childhood goals.
"It's very exciting, and a little nerve-wracking," Fox said. "But this is what I played the game for. It's what I've grown up dreaming up about."
[+] Enlarge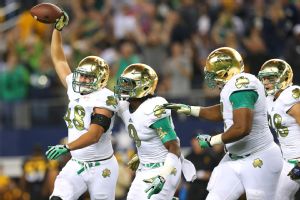 Ronald Martinez/Getty ImagesDan Fox led Notre Dame in tackles last season, something he hopes will get him selected in the NFL draft next week.
Nerve-wracking is one way to describe the wayward path the former Notre Dame linebacker has taken in the months since completing his five-year college career. The Cleveland native has done pre-draft prep everywhere from Fort Lauderdale, Fla., to South Bend, Ind., and now just outside of Chicago.
He did not go to Indianapolis, as he was left off the guest list of February's NFL scouting combine, creating a chip on his shoulder in the two months since.
"That was definitely disappointing," Fox said. "But I realized there were a lot of juniors that came out, and I definitely feel like I'm one of the best linebackers. So that was disappointing, but it just added fuel to the fire. I've been training harder and working out harder, too."
The 6-foot-2, 233-pounder responded with a strong showing at Notre Dame's pro day, taking part in every drill and posting a time of 4.59 in the 40-yard dash, which would have been the third-fastest 40-time by a linebacker at the combine. Fox said he has run faster before, but the overall takeaway was a positive one, as a handful of teams have reached out to him with interest since.
He is spending the home stretch before the draft working out at EFT Sports Performance in Highland Park, Ill., just north of Chicago. Fox feels all the better for having endured an up-and-down final season with the Fighting Irish, one that saw him lose his starting job halfway through the campaign while playing through a knee injury before rebounding to play arguably the best ball of his career down the stretch, finishing with a team-best 95 tackles.
"I grew as a person, just because that stuff wasn't really in my hands," a fully-healthy Fox said. "I wasn't able to play to the best of my ability at the beginning, and then a little bit in the middle. And then once I started getting healthy and feeling good, that's when I could really show what I was capable of."
It might just be good enough to get drafted, as Fox has been widely projected as a late-round pick or free-agent signee. Either of those scenarios would inch him ever-so closer to what has been a lifelong dream, something his parents reminded him of recently when they unearthed a third-grade letter he had written to himself about life goals.
His first goal was to play football at Cleveland St. Ignatius High. His second was to play at Notre Dame. His third was to play quarterback for the Browns.
Close enough -- even if Fox has never taken a snap under center in his life.
"I don't know where I thought that was going to come from," he laughed.
April, 30, 2014
4/30/14
9:00
AM ET
Consistency has been the definition of
Chris Watt
's career. He started 34 straight games in his final three seasons at
Notre Dame
. Alongside tackle and roommate
Zack Martin
, Watt helped form a left side that became the anchor of the Irish's stout offensive line the past three seasons.
[+] Enlarge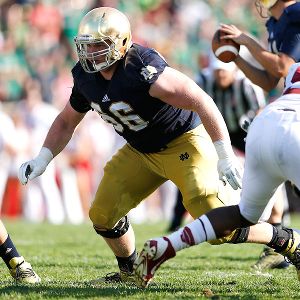 Joe Robbins/Getty ImagesChris Watt hopes to hear his name called at the NFL draft as early as the second day.
Perhaps it's the nature of the job, or the seemingly never-ending ascent of his buddy Martin's stock. But Watt quietly has flown under the radar these past four months. With the NFL draft just more than a week away, Watt could hear his name called as early as the third round.
Only then will the left guard allow himself to exhale and enjoy the feeling of a dream realized.
"I think the biggest thing is just stay patient and avoid the noise," Watt said. "The biggest thing to do right now is just really concentrate on yourself. When it's all said and done, it's really how you perform when you go to training camp, so all you really can control is getting better at this point. Don't worry about the things that are out of your control."
Watt, who suffered a PCL tear and an MCL sprain in his right knee late in his final season with the Irish, flew to IMG Academy in Bradenton, Fla., following the New Era Pinstripe Bowl, which he did not play in. He went to work there with Martin and
Stephon Tuitt
, preparing for February's NFL scouting combine, where he was only able to bench-press because of his lingering injuries. He did 29 reps.
The 6-foot-3, 310-pound Watt said he felt close to 100 percent right before last month's pro day at Notre Dame, where he did everything but the bench press. He had a three-cone drill time of 7.6 seconds and a vertical leap of 28.5 inches. (Each number would have ranked tied for 11th and tied for 12th, respectively, among offensive linemen at the combine.)
Watt has stayed in South Bend, Ind., since, and he said he has relied heavily on Irish offensive line coach Harry Hiestand throughout this process, as the assistant's five years of experience with the Chicago Bears has given him plenty of information to share.
Watt was one of about a half-dozen offensive linemen to work out with Bears line coach Pat Meyer two weeks ago at Halas Hall during the franchise's local pro day — a treat for a Glen Ellyn, Ill., native who grew up attending the club's training camp back when it was held in Platteville, Wis., more than a decade ago.
Watt has found himself snapping for teams on visits, and he is open to a switch to center if deemed necessary. It won't affect the way he approaches the game, however.
"The biggest thing is that I understand how to block, especially in our system. I understand everything it takes and some of the changes you have to make," Watt said. "I'm a smart player that's going to go out there and really just play through the end of the whistle at all times, and that's just kind of the attitude I've carried since I've been playing in high school, so I'm never really going to change the way I approach the game."
April, 29, 2014
4/29/14
9:00
AM ET
Tommy Rees
has had no shortage of familiar surroundings these past couple of weeks. The former
Notre Dame
quarterback is with several of his Irish teammates back in South Bend, Ind., as they make their final preparations for next week's NFL draft, and he was one of a handful of prospects invited to the Chicago Bears' local pro day.
Rees father, Bill, worked for the franchise more than a decade ago, one of many stops in a college and pro scouting career that has taken him across the country. The younger Rees enjoyed his time working with head coach Marc Trestman and quarterbacks coach Matt Cavanaugh, and the trip to Halas Hall certainly evoked old memories.
[+] Enlarge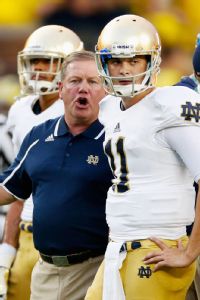 Gregory Shamus/Getty ImagesTommy Rees' high-profile career playing for Brian Kelly at Notre Dame could help his chances of reaching an NFL camp.
"[When] my dad was working there, I would go over to the facility all the time, so it was cool to be back," Rees told ESPN.com. "There were a lot of guys that I remember, guys on staff, it was good to see. It was a cool experience for me to go there so many years later and be able to work out."
The training hasn't been all that different back at Notre Dame. Rees has been working with new Irish quarterbacks coach Matt LaFleur, whose recent experience with the Washington Redskins has proved to be beneficial for Rees as he tries to reach the pro level.
"It's been great, he's really a great coach and a cool guy to work with," Rees said. "He's younger, so there's a connection there right away, and he's been in the league the last couple of years, so he's been able to watch film and talk about mistakes. And just putting me through some of the drills and some of the footwork stuff has gone a long way to help with my progression."
Also going a long way was the performance that Rees was able to put on last month at Notre Dame's pro day. The 6-foot-1.5, 210-pound signal-caller pushed a combine snub aside and completed 32 of 34 passes, with one of the incomplete throws being dropped.
Rees is hoping that the showing in front of the 59 NFL personnel men in attendance helped answer some questions about his ability after a four-year college career that featured just about every high and low imaginable.
"I was really happy with how pro day went, and followed that up with some good throwing sessions similar to that," Rees said. "And I just wanted to go out and show I could make all the throws and [that] my footwork was where it needed to be, and I felt like I did that, and I got a lot of positive feedback from it."
Little has surprised Rees these last four months, something that can likely be attributed to his background. While having a parent in the business (Bill now works for the Tampa Bay Buccaneers) carries its advantages, Rees is appreciative of his father not being overbearing during pre-draft process.
"My dad's been pretty good about trying to let it be my thing, and obviously he knows a lot about it and when he needs to say something he speaks up and helps out," Rees said. "But when I made the decision to try to [pursue the NFL], it was my decision. I'd be meeting with my agent. It was going to be our deal. And my dad's done a really good job of trying to separate that, but it's been great hearing from him for help or words of advice. He's always been there."
There is a strong possibility that Rees goes undrafted, though his pedigree suggests he could be an ideal invite to an NFL camp, if not an eventual coach. It was a narrative that followed him throughout his Notre Dame career, and one that head coach Brian Kelly validated after Rees' finale: "He'll keep trying to play the game as long as he can. But I told him he's got a bright future as a graduate assistant for Brian Kelly any time."
Rees will take in Night 1 of the draft at former roommate
Zack Martin
's place for the tackle's likely first-round selection before heading home, confident that he has held nothing back before his fate is decided.
"I think if you turn on tape you can see a lot of good things," Rees said. "But a lot of these intangibles: playing at Notre Dame, where you're on TV every week against the best competition, I did it for four years -- that wasn't by accident. I didn't play at Notre Dame by accident. And I think I'm the kind of guy who will go in there and just need to get better and that will only go in one direction, and I can definitely help a team with whatever they need."
April, 28, 2014
4/28/14
9:00
AM ET
Modest would be one way to describe the way
TJ Jones
handled himself during his decorated four-year career at Notre Dame. Ask Jones to sell himself to his future NFL bosses, however, and the former Irish receiver wastes few breaths.
[+] Enlarge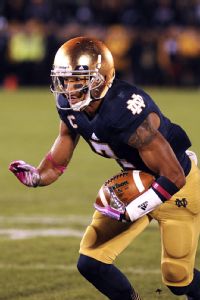 AP Photo/Joe RaymondTJ Jones, a 2013 team MVP, is expected to be a mid-round pick in the NFL draft.
"You should pick me because, in my opinion, I'm the model of consistency," Jones told ESPN.com. "I came in as a freshman at Notre Dame, I started all four years, I've gotten better each and every year, with graduating in three-and-a-half years as a senior captain in the record books at Notre Dame, and I'm nowhere near my best. This is me getting better after four years.
"Imagine four years from now. I'm only 21 right now. I'm young for my [grade], so I have plenty of time to mature and to get better than where I'm at now."
He did forget to mention his team MVP honors from 2013. Forgive him; his degree wasn't in marketing.
While many of his former teammates stayed in South Bend, Ind., after Notre Dame's pro day, Jones is spending the home stretch of the pre-draft process back home in Atlanta. His preparation includes strength and footwork training at DSA Training in Marietta, Ga., and it also includes being back under the same roof as his mother and three of his five siblings, a welcome reprieve that he says helps make up for lost time after four years in college. The last of those years away included 70 catches, 1,108 yards, nine touchdowns and plenty of heads turned during the future pro's biggest job rehearsal.
In the months since, Jones has relied heavily on his godfather, former Notre Dame great Raghib Ismail, whose biggest words of advice have been to invest in his body, something Jones -- who checked in at six feet, 188 pounds at the NFL scouting combine -- has taken to heart during these past four months of training.
"I think that the biggest area I needed to improve was my physical strength, my weight, being able to carry 195-200 strong without losing any speed and being able to physically handle myself at the NFL level," Jones said. "And I think in the three or four months I've been able to -- not at the ideal weight I want right now -- but with the weight I've gained, I've been able to also maximize the strength and the speed of the game as well and not losing any quickness or speed with [the addition of] a couple pounds as well."
Jones' family has given him needed space during his time back home, careful not to overload him with questions similar to the ones he's been getting from everywhere else since completing his college career. Group text messaging has kept him in touch with his fellow Irish teammates going through the same process as him, as it has with the receivers behind at Notre Dame looking to fill his void. (That includes the academically-exiled
DaVaris Daniels
, whom Jones expects to return to the team and "make the impact that most people should be expecting.")
Jones' well-chronicled marine biology interests
have been put on hold, though he says he can't help but watch the Discovery Channel during his free time.
Still, the lead-up to next week's NFL draft has carried a bittersweet taste for Jones, who lost his father Andre to a brain aneurysm in the summer of 2011 at the age of 42. Pursuing the professional dream was something often discussed between Jones and his father, who was a starting end on the Irish's 1988 national title team.
On the doorstep of completing that journey, Jones knows his father is looking down on him with a smile.
"I would hope to think he's real proud," said Jones, a projected mid-round pick. "Definitely having my degree already in my kitchen right now and being able to go through this process and -- I don't want to say expect to be drafted, but having the opportunity to be drafted, hearing there's talk about me being drafted, it was enough in itself for him to really be proud because that's something we've talked about since I was a kid, since I really could remember."
Irish Flips Top TE Jones, Back In Top 10