June, 11, 2013
6/11/13
9:15
PM ET
Notre Dame wanted out of its series with Arizona State, but the Sun Devils wanted to play. A compromise was announced Tuesday that is a win for the Sun Devils.


The Fighting Irish will visit Tempe on Nov. 8, 2014, but the Sun Devils won't make a return trip to South Bend, Ind., in 2017.
The meeting scheduled for Oct. 5, 2013, between the teams at Cowboys Stadium outside Dallas has nothing to do with this game contract. It's still on.
A statement from ASU vice president for athletics Steve Patterson:
"We're pleased that Notre Dame was able to resolve its scheduling issues in a way that allows it to play at Sun Devil Stadium in 2014. ... Our entire Sun Devil family -- season ticket holders, fans, students, alumni -- and our entire community here in the Valley have been looking forward to playing Notre Dame in Tempe since the original agreement was signed in 2008. While the game at Notre Dame in 2017 has been canceled, what is most important to us is that the game in Tempe has been saved."
Notre Dame, which has been reworking its schedule after it agreed to play five ACC football games per year from 2014 on, apparently had a weakness in its negotiating position with ASU: Not including a buyout in the original game contract.
October, 10, 2011
10/10/11
5:45
PM ET
With Notre Dame's season halfway over and BCS rankings coming out in less than a week, it's time to look at where the Fighting Irish could be headed for the holidays.
Our Mark Schlabach and Brad Edwards both have the Irish playing in the Champs Sports Bowl
in Orlando. And both have them playing Virginia Tech.

That would be a great get for a bowl that regularly pits the Big East and ACC — arguably the two worst automatic qualifying conferences — against each other, but the folks near Disney World better hope an Irish loss is on the horizon.
Notre Dame has overcome an 0-2 start to win four straight before its bye. It likely won't be an underdog until its finale at Stanford, which itself could be playing for big stakes — possible even the biggest if the Cardinal are 11-0 going into it.
There's little doubt that a win in Palo Alto, Calif., would leave a strong last impression on bowl executives, and winning that one, plus the five before it, is likely the only way Notre Dame will find itself in a BCS bowl.
But considering the Irish remain unranked and likely need to go 6-for-6 in the second half of the season to make a BCS bowl, I wouldn't think about booking any travel plans just yet.
September, 27, 2011
9/27/11
12:00
PM ET
Two less games of Ozzie Guillen is everybody's loss.
September, 22, 2011
9/22/11
12:00
PM ET
I really hope Brian Kelly hasn't been watching his Red Sox lately.
September, 19, 2011
9/19/11
4:30
PM ET
SOUTH BEND, Ind. -- A day before being admitted into the ACC, Pittsburgh's football team held a 17-point fourth-quarter lead in a hostile Big Ten stadium before losing by four.
Sound familiar?
[+] Enlarge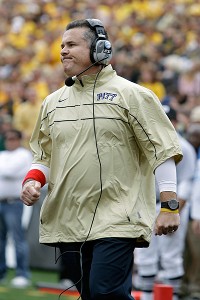 AP Photo/Charlie NeibergallTodd Graham's departure forced Pitt to find its fourth head coach in a two-year span.
OK, so the Panthers' collapse in a 31-27 loss to Iowa didn't exactly replicate Notre Dame's 35-31 loss at Michigan a week earlier. And, to be fair, the loss Saturday was Pitt's first of the season, so it might not be scratching its head and playing with the same chip on its shoulder that the Fighting Irish did in the culmination of two frustrating weeks Saturday, a 31-13 win against Michigan State for victory No. 1.
Brian Kelly, for one, doesn't think Pitt will let its loss linger.
"They're a football team in a first year with coach [Todd] Graham," Kelly said during a conference call Sunday. "They're still learning, they're still learning about the coaching staff. I know where they are relative to that development. We'll be more concerned with what we do and how we do it then losing a tough game. I know we lost a couple tough games, too, and the first thing he'll probably do is talk about, 'Put that behind you, because you've got Notre Dame coming into town. Because if you let that linger you'll get beat by Notre Dame.'
"So I'm pretty sure what happened last week won't have much effect on what happens this week."
What the Irish should be more concerned about is not letting what happened last year against Graham happen again.
Last year's game against Tulsa, Graham's previous head-coaching stop, was supposed to provide ample opportunity for the Irish to bounce back from a tough loss to Navy and get back over .500.
Instead, the Golden Hurricanes knocked
Dayne Crist
out of the game, ending his season. They scored 10 unanswered points in the second half and picked off
Tommy Rees
in the end zone in the final minute, sealing a 28-27 win that was the program's first against a BCS-AQ team since 1996.
More troubling is how they did it.
They blocked an extra point and returned it 98 yards for two the other way.
They returned an interception 66 yards for a touchdown.
And, late in the third quarter, they returned a punt 59 yards for a score.
Notre Dame finally put two weeks of misery behind it with a win this past Saturday, and with a favorable schedule in the next three weeks, it can be tempting for the team to look ahead.
To prevent that, the Irish should look back at the last time they faced a Graham-coached team, and know that the more talented one they will face Saturday may carry an anger that is all-too-familiar.
Notre Dame knew the feeling just a short week ago.
September, 19, 2011
9/19/11
12:00
PM ET
I guess the Giants are playing to keep their spot in the NFC East tonight.
September, 18, 2011
9/18/11
4:07
PM ET
SOUTH BEND, Ind. -- As the game of musical chairs that is conference re-alignment takes place across the nation, Brian Kelly remains head coach at Notre Dame, a football independent. Having coached at a Big East school, Cincinnati, two years ago, Kelly has had a view from both sides of the landscape.
"Football independence at Notre Dame, I think it's schedule and recruiting," Kelly said during his Sunday teleconference of the advantages. "Those are the two things. You can put together a schedule that gets you from the East Coast to the West Coast, and in recruiting it allows you to have that large sampling. You're not marginalized geographically in your recruiting. On the other side, you're not playing for a conference championship. So, there's pluses and minuses. I like the pluses that we have as an independent right now, but like anything else, I think I've said this a number of times, we'll keep our ear to the ground."
Notre Dame athletic director Jack Swarbrick was surprised by the departure of Syracuse and Pitt for the ACC, telling reporters Saturday that he never envisioned such a scenario.
The moves became official this morning, leaving the conference 18 of the Fighting Irish's other teams compete in smaller by two.
Still, Swarbrick insisted, football independence remains Notre Dame's intention,
according to the Chicago Tribune:
"We will approach this, no matter what the change is, with that as our goal," Swarbrick said. "We'll see whether we can manage our circumstances to meet that goal."
Kelly said the constant shuffling doesn't affect his day-to-day operations as a football coach, though he does feel the timing of the circus takes away from what college football Saturdays are generally about — football games.
"Yeah I think so," he said. "I think anytime there's movement like this, it takes a little bit away from the games on Saturday. But I think for the average fan, they care very little bit about this. They're more interested in their teams, and they know the networks are more interested in showing these games. So I think it's just good talk for the media. But I think the people that are involved, week-to-week, their focus is on the game and their opponent."
The latest from Gustin at The Opening
FBS INDEP. SCOREBOARD
Friday, 8/29
Saturday, 8/30