Notre Dame Football:

Air Force
October, 8, 2011
10/08/11
2:16
PM ET


Matt Fortuna previews Air Force at Notre Dame.
October, 5, 2011
10/05/11
8:00
PM ET
SOUTH BEND, Ind. — The bruises covering Troy Niklas' arms were enough of a concern that an elementary school teacher phoned home, wondering if he was a victim of child abuse.
"My parents weren't happy about that phone call," Niklas recalled with a laugh Wednesday.
In truth, Niklas had been joining his older brother, Austin, every Wednesday behind the junior high building about a mile away to play football with kids three years older than him.
[+] Enlarge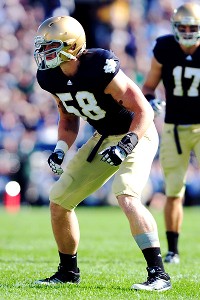 Chris Williams/Icon SMITroy Niklas will see his brother, Austin, on the opposing sideline when the Irish play Air Force.
"Let's just say my parents didn't really want us doing that," Austin Niklas said.
"I was like, 'No, I was playing a lot of dodge ball,'" Troy explained of the scars.
On Saturday, their parents and 10-12 other family members will be singing a much different tune inside Notre Dame Stadium, as Troy and Austin Niklas will take the field for Notre Dame and Air Force, respectively.
Since both are linebackers, there is little chance for them to be on the field together, which may not be such a bad thing.
"I'm kind of glad they're not going against each other," Troy Thomas, their coach at Servite High School, said, "because both of those guys are very, very physical and very, very competitive guys."
Troy has earned the nickname "Hercules" from some of his Fighting Irish teammates because of the freshman's 6-foot-6.5, 250-pound physique.
Thomas said the younger Niklas couldn't possibly have weighed more than 180 pounds his freshman year of high school, but he was big enough at a young age to compete with big brother by the time he reached third grade.
"He was a nasty guy," Troy said of Austin, in the highest form of a compliment for a football player. "He did whatever it took, because he knew he wasn't gonna lose to his little brother, and so he didn't let me win much. But when I did win I made sure he knew."
One of the competitive activities they only recently grew out of did not involve a field or ball of any sort: bed wrestling.
And the only reason those matches came to an end was because they broke a couch two years ago.
"There were a couple matches in high school," Troy said. "My mom used to always kind of flip out whenever we'd start up because things would break. We're big people."
Saturday will be the first time they take the same field since Troy's freshman year of high school, when he got called up to varsity for the playoffs.
Making big brother proud is something that was never lost on Troy, especially given Austin's dedication and responsibility at the Air Force Academy.
"Last year Austin came to the Mater Dei game in his uniform, in his blue suit that Air Force guys wear, and I saw him talking to Troy during the game," Thomas said. "And you could just tell Troy was just trying to represent his brother, and it was just a really cool dynamic to see that on the sidelines. And it was such a big game for us and I thought Troy played extremely well."
Still, competition isn't lost on the brothers going into this week.
Austin said the two usually talk once or twice a week over the phone, but Troy said Wednesday that Austin had not returned any of his calls so far leading up to Saturday.
"This next Christmas there's gonna be some major bragging rights," Troy said. "Someone's gonna be eating first."
If that happens to be Troy, who has seen extensive playing time and even started one game this season as a true freshman, Austin has only himself to blame.
And he couldn't be prouder.
"Coming to college I figured he was gonna do all right, because he's always had that competitive edge where he's always played against older people," Austin said. "Coming in as a true freshman and being able to compete and do better than some veteran guys is pretty insane. And I knew he had it in him, but I didn't know he was gonna show it this early. So I'm just really proud of him for being able to step up and do what he's doing."
October, 4, 2011
10/04/11
5:45
PM ET
SOUTH BEND, Ind. -- Toward the end of his weekly news conference, Brian Kelly was asked questions on his opponent's offense: Is Air Force even really an option team? How much option do the Falcons actually run?
"That might be true in Troy's eyes," Kelly responded to the first question, speaking about Air Force coach Troy Calhoun. "But let me tell you what, if you fall asleep for one second on his offensive scheme, and that being the triple option and veer option, you're gonna be in big trouble. So I think what he does very, very well offensively is he forces you defensively to be ready for triple option, and when you are so committed to triple option, he's running the zone play at you. And his ability to morph back into either one of those, if the defense is overplaying one scheme or the other."
[+] Enlarge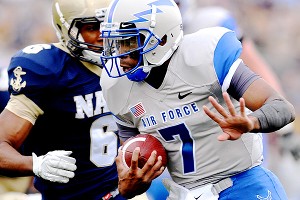 Evan Habeeb/US PresswireTim Jefferson has close to 500 yards passing and more then 200 yards rushing through four games.
In layman's terms, Notre Dame's opponent Saturday is not an option team as much as it is a team that likes to run the option.
But just how complex is Air Force's offense? If public discourse is an accurate measurement, then plenty.
Kelly fielded 51 questions on Tuesday, and 15 centered around Air Force's offense, including the first six.
The difference in Air Force's offense and schemes jump out when comparing it to Navy, a traditional option team that the Falcons beat Saturday in a 35-34 overtime contest. The Midshipmen ran for 367 yards in a 35-17 rout of the Fighting Irish last season in East Rutherford, N.J.
"There's many more pieces in the Air Force offense," Kelly said when asked to compare and contrast the offenses of the two military academies. "They're gonna run some traditional zone, inside/outside zone, they're gonna run some power, some gap. You're not gonna get any of that from Navy, whereas you're gonna get a balance in terms of what you'll have to defend.
"[Air Force quarterback Tim] Jefferson is obviously a guy that can throw the ball very well, and so the receiving corps, it's not off of play-action or crack-and-go, it's a comprehensive passing game. So this incorporates a lot of principles, so quite different in that respect."
The Falcons offense lines up in a variety of different formations, including the shotgun and spread, giving Jefferson more time to read defenses.
The senior quarterback has completed 70 percent of his passes (33-of-47) for 493 yards, five touchdowns and two interceptions, and he has been sacked just once. Air Force ranks fourth in the nation in passing efficiency.
Kelly called facing Jefferson "a nightmare," thanks in large part to all of the different looks Calhoun can throw at defenses.
"You have to look at how the defense is playing," Kelly said. "If the defense is all out set for triple option, he's not gonna run much of it. He's gonna run zone, he's gonna run lead, he's gonna throw the football. So if you're running a middle-of-the-field alley player who's set for option, you're not gonna see much of it. They're gonna throw the football and they're gonna run the zone.
"So that's really where he has a great scheme here, is that he sets what he does based upon what the defense shows."
Oddly enough, Air Force ranks 116th in the nation in time of possession, at 24 minutes, 55 seconds per game, though that likely speaks more to its offensive efficiency.
"They're running the ball effectively, getting tons of yardage, and then getting the opportunity to throw the ball over your head," Kelly said. "So consequently the time of possession's down a little bit. I would say that it's not attributed to their inability to put points on the board. I think that's the most important stat."
Kelly said Tuesday the Irish got away from who they were last season against Navy before re-gaining their physical edge four weeks later in a 27-3 rout of Army, another option team.
Maintaining that nature, specifically in the trenches, is something Kelly hopes to see from his team this Saturday.
"I think what I'm trying to say is that I don't want to get away from who we're becoming, and that is a team that's playing really physical," Kelly said. "I don't think you jump into the sixth week and all of a sudden now you stand up and you take a step back.
"I think we keep charging. I think we keep doing what we've been doing. Certainly we have to be aware of option and the responsibilities. It's an extremely multifaceted offense. But we've gotta be who we are, and that is being physical on both sides of the ball."
October, 4, 2011
10/04/11
4:00
PM ET
SOUTH BEND, Ind. -- For the first time since the games began this season, Brian Kelly could take the podium for his weekly news conference without being the head coach of a football team that has turned the ball over more than any other in the nation.
Satisfying? Hardly.
"I think that it could have been a two- or three-turnover game, that's how close it is," Kelly said of Notre Dame's performance at Purdue. "We fumbled the snap on a third-and-short on a missed assignment. We threw a ball that went in and out of a defender's hands. So even though we didn't turn the football over, we're as diligent and constant in talking about taking care of the football as we've ever been."
The potential gaffes -- a potential pick-six bobbled by Purdue's Josh Johnson in the second quarter, a
Jonas Gray
fumble two drives later that
Tommy Rees
dived on -- broke Notre Dame's way for once, but it's not like ball protection is something Kelly won't still try to shore up this week before the Fighting Irish face Air Force.
Notre Dame turned the ball over five times each in its first two games before cutting that total to three and two, respectively, in Weeks 3 and 4.
Throw in Gary Gray's pick on the first play from scrimmage, and the Irish improved their turnover margin to -1.8. East Carolina, Iowa State and Western Kentucky are all at -2.
Five teams have at least 15 turnovers, making Notre Dame 115th nationally in that category.
"Well, I've said this many times. There's one thing about this group: They've had a lot of confidence," Kelly said. "What they've had to exhibit is some poise. What they've had to exhibit to me is a consistency in their approach and believing that they were going to win every game they play. Those things are starting to come together, and that happens with winning."
"But there were other components that weren't there yet and are still in that work-in-progress mode. And that was controlling the line of scrimmage. I think that's obviously very, very important. And then eliminating costly mistakes, which as you know, has been the reason why we're 3-2 right now.
"So confidence has been there. Obviously it gets stronger when you win. But the one great thing about this group is their preparation has been really good, and their consistency to preparation. That's why we feel very confident that we don't want to change much relative to week-to-week. Certainly we have to game plan, and that's got to be important. But we want to stay consistent with who we are."
October, 4, 2011
10/04/11
12:47
PM ET

SOUTH BEND, Ind. -- A Week 6 matchup with Air Force presents Notre Dame with unenviable task of containing the triple-option offense. But coach Brian Kelly is hoping the new look doesn't force a defense that has played so good so far to get out of character.

"I just think being more familiar with it as a staff and being more familiar with it as the game unfolds are all experiences you can take with you," Kelly said Tuesday at his weekly news conference. "Certainly we have to play the way we've played. We cannot become so out of character in stopping the option that we forget about the things that we teach every day, and that is playing physical, flying to the football, great tackling.

"I think you've gotta be careful because sometimes option, you get the sense of, 'Hey, it's option.' But we have to do what we do and that is we got to play physical at the line of scrimmage and we've gotta tackle well a understanding the option as being the most important principle."
October, 4, 2011
10/04/11
12:00
PM ET
A.J. Burnett in an elimination game. Finally the Yankees-as-underdogs line makes sense.
October, 3, 2011
10/03/11
4:00
PM ET
Brian Kelly was asked Sunday about the growth of his defense since Notre Dame's loss last season to Navy, which utilized the triple-option offense to run for four touchdowns and 367 yards -- including 210 from
Alexander Teich
-- in a 35-17 rout by the Midshipmen.
"You know, I think the Navy game was schematic more than it was kids not understanding how to play the right kind of defense," Kelly said. "So if you look at that as not about our players, I think we've showed steady improvement since last year. I think it's continuously been better and better defensive play leading up to where we are right now.
[+] Enlarge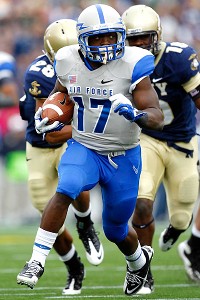 AP Photo/Luis M. AlvarezAsher Clark is averaging 9.3 yards per carry for Air Force this season.
"We still have a ways to go. But I will tell you this, that it's tough to run the ball on us, and that's where you wanna start. So our starting point was, be difficult to run the ball on, and then let's continue to improve in the back end."
After that loss last Oct. 23, the Fighting Irish did not allow another 100-yard rusher over their last five games and gave up just one touchdown run, a 1-yard sneak by USC quarterback Mitch Mustain. Over their last four games, Notre Dame did not allow so much as a 50-yard rusher.
Only one player has rushed for more than 100 yards against the Irish since their loss to Navy, and that was
Denard Robinson
in Week 2 of this season. Robinson's 16-carry, 108-yard effort on the ground Sept. 10 is just as notable for another number Shoelace put up that night: One, as in the number of rushing touchdowns he scored. As in the only rushing touchdown Notre Dame has allowed this season.
And even that could be considered a fluke, as Robinson simply scooped up the ball and took it in for a 1-yard score after Irish safety Harrison Smith jarred it from Michigan running back
Stephen Hopkins
.
In allowing just one score on the ground this year, Notre Dame is tied for the nation lead with four other schools. The Irish have allowed just 91.2 yards per game on the ground this season, good for 19th nationally.
All of which is a roundabout way of saying that this Saturday's contest against Air Force and its triple-option offense should be a fascinating test of execution on each side of the ball.
The Falcons' 364.5 rushing yards per game are good for third in the nation. Only seven teams have scored more than Air Force's 15 rushing touchdowns, but six of them have played five games to the Falcons' four.
The challenge could be all the more difficult if defensive end Ethan Johnson cannot play. Johnson, a two-year starter, suffered a right ankle sprain in Saturday's 38-10 win at Purdue, and Kelly would only say that there's a chance he could return this weekend.
"We'll immobilize him for the next few days and then get him moving and see," the second-year coach said. "It's one of those things where it's such an individual case-by-case situation when it comes to ankles, so he'll be immobilized.
"Last night he was in a boot. He'll stay in that until probably mid-week and then we'll start moving him and see what he looks like."
If Johnson can't go, Aaron Lynch will likely get the start. Known for his ability to rush the passer, Lynch saw more action Saturday after fellow freshman Stephon Tuitt did not make the trip to West Lafayette, Ind., because of a violation of Kelly's missed-class policy.
Kelly said after the game he expected Tuitt back, but neither Tuitt nor Lynch played Week 2 at Michigan because of the complex offense the Wolverines and, more specifically, Robinson, ran.
In any event, it makes this week's contest all the more important, one that can't be overlooked with a bye week and USC looming afterward.
October, 3, 2011
10/03/11
1:00
PM ET
A look back at the good, bad and ugly (yes, even a 38-10 win has some low points) from Notre Dame's thrashing of Purdue:
[+] Enlarge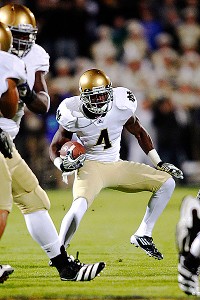 AP Photo/AJ MastNotre Dame cornerback Gary Gray's interception set the tone of the game for the Irish.
The Good:
Notre Dame did not commit a turnover in its 38-10 win over Purdue.
Tommy Rees
threw three touchdown passes, the Fighting Irish averaged 7.2 yards per rush and
Michael Floyd
got back in the thick of things with 12 catches for 137 yards and a touchdown. Oh, and the first-team defense did not give up a touchdown, either.
The Bad:
Special teams play continues to be a head-scratcher. David Ruffer had one field goal blocked and missed another, and
John Goodman
netted -3 yards on two punt returns, which doesn't include letting one go right by him for a 61-yard punt in the first quarter. Brian Kelly said Sunday he wasn't impressed with kickoffs, either.
The Ugly:
Long-snapper
Jordan Cowart
picked up a 15-yard personal foul penalty after a mini brouhaha on a second-quarter punt, drawing the ire of his head coach. Kelly revealed Sunday that Cowart broke his hand in the scuffle, something that has to infuriate him. The Irish will still try to play Cowart this Saturday. Purdue's 13 penalties for 118 yards weren't exactly pretty sights, either.
Turning point:
Gary Gray's pick on the first pass of the game and Rees' ensuing 35-yard touchdown pass to Floyd two plays later never gave Purdue a chance in the game, starting the rout early and never looking back.
Best of the rest:
Notre Dame's 551 total yards of offense were its most since a 592-yard performance Oct. 31, 2009 against Washington State. … The Irish's 34 first downs were two shy of the school record of 36, set against Army in 1974. … Notre Dame's 289 rushing yards were its most since a 320-yard effort Nov. 29, 2003 at Stanford. Likewise, the Irish's 6.9 yards per rush were their highest average since averaging 7.1 yards per rush Aug. 28, 1999 against Kansas (minimum 20 carries). … With defensive end Stephon Tuitt not making the trip because of a missed-class violation, sophomore Kona Schwenke lost his redshirt option by entering in the first half. …
Dayne Crist
entered late in the fourth quarter and completed his only pass attempt, a 10-yard throw to
George Atkinson III
. "I have a lot of respect for Dayne," Kelly said. "I'm not going to throw him in there in meaningless kinds of situations. But he wanted to get in the game."
Next Up:
The Irish host an Air Force team that ranks third in the nation in rushing offense, averaging 364.5 yards on the ground per game. The Falcons improved to 3-1 on Saturday with a 35-34 overtime win over Navy that featured a controversial unsportsmanlike conduct penalty against the Midshipmen in overtime, forcing an extra-long extra point attempt that was blocked. Air Force's only defeat this season is a 35-19 loss to defending Rose Bowl champion TCU.
October, 2, 2011
10/02/11
2:37
PM ET
Three straight wins to mask an 0-2 start have Notre Dame above .500 for the first time this season, but it's far from where coach Brian Kelly wanted to be after entering the season ranked No. 16.
Kelly re-iterated Sunday that he hopes his players can play with the same kind of anger they carried into Week 3 after dropping two close contests, anger that they've maintained through the past two wins.
And that edge comes from the top.
"Well I think it starts with me, and I set the tone for the way our team goes to prepare each and every game," Kelly said during his weekly Sunday teleconference. "And so I'm not happy where we are; 3-2 is not what we had in our mindset. So it starts with me and our coaches and they take that lead in the way we go to work every day, so I don't see it changing. I'm certainly not gonna change."
Notes:
Kelly said defensive end Ethan Johnson, who spent much of the second half Saturday wearing a protective boot on the sideline after spraining his right ankle, will be immobilized until midweek and there is a chance he could play Saturday against Air Force. ... Long snapper
Jordan Cowart
, who picked up a personal foul after extended physicality against several Purdue players during a second-quarter punt, broke his hand during the melee but may be able to give it a go Saturday.
September, 22, 2011
9/22/11
5:00
PM ET
If two straight losses to start the season didn't hurt Notre Dame in recruiting, a convincing win against the defending co-Big Ten champions had to have helped, right?

The Fighting Irish walked away from Saturday with win No. 1, 2012 commit No. 15 and 2013 verbal No. 1.
Chris Brown, a three-star receiver out of Hanahan (S.C.) High School, became the Irish's third receiver to join the Class of 2012. The 6-foot-2, 170-pounder is ranked as the 58th best wideout in his class and runs a 4.44 40. He committed Sunday.
Steve Elmer, meanwhile, will add some meat to Notre Dame's offensive line two years from now. He became the Irish's first commit for the Class of 2013 before their 31-13 win against Michigan State on Saturday. The 6-foot-6, 305-pound tackle from Midland (Mich.) High School is one of the top prospects from Michigan in his class.
According to our guy Jared Shanker
, it would take a major meltdown in South Bend over the next two seasons for the big fella to change his mind.
The only thing missing from this past weekend might have been a commitment from William Mahone, but good things might be on the horizon. Shanker said Mahone, a four-star running back out of Austintown-Fitch (Ohio) High School, loved his visit to Notre Dame so much Saturday that he will pay his way back for the Irish's Oct. 22 primetime showdown against USC.
That weekend will be a huge one for Notre Dame on the recruiting front, especially since it has only one more home game, Oct. 8 against Air Force, before then. Don't be surprised if things are a little quiet for the next month. The week leading up to the Irish's game against the Trojans, however, should be a busy one.
September, 20, 2011
9/20/11
4:00
PM ET
SOUTH BEND, Ind. -- After finally getting in the win column Saturday against a ranked team, Notre Dame can turn its attention to Pitt, followed by Purdue, then Air Force, then six more teams on its schedule, four of which are unranked.

Tempting, no?

"I'll worry about that when they win six, seven, eight, nine in a row," Fighting Irish coach Brian Kelly said of looking ahead. "We're certainly not at that point yet. We have not been infected with success yet. I'll know when that happens. We need to win more, we need to be more consistent and attention to the detail things."

Two losses to start the season have given Notre Dame ample opportunity to put the brakes on getting ahead of itself, even if the slow beginning to 2011 could, in part, be attributed to a tough early season schedule. The Irish's first three opponents have a combined 8-1 record, two of them are ranked and the other, Michigan State, was ranked before falling to Notre Dame on Saturday.

No. 23 USC and No. 5 Stanford are the only ranked opponents remaining on the Irish's schedule. Every other team the Irish will face has at least one loss. Boston College, which Notre Dame will host for senior day Nov. 19, is off to an 0-3 start.

Still, it's not like Kelly is in his players' ears reminding them of everything that went wrong two weeks into the season.

"They know," he said. "They know where they are. We try to correct everything that occurs as we move forward. So we don't go back to those things relative to what happened in the past, other than we try to correct those mistakes and then move forward. They know where they are. I know where -- we're all trying to get better based upon being a 1-2 team."

Kelly said after Saturday's win that his team needed validation sooner or later after a pair of close defeats, and his message to them was simple: Finish.

The message now, he said, is to try to carry that same chip on their shoulders with win No. 1 is out of the way.

"Continue to develop in practice, continue with the same kind of mindset," Kelly said. "You can't come to practice now that you've won a game and feel as though, 'OK, we've arrived,' because we certainly haven't.

"There are a lot things that we need to get better at if we're gonna be a consistent winner. Right now, they know that they've got a lot of work ahead of 'em. So I want to continue to see that same kind of focus and attention to the way we practice and then carry that over into Saturday."
September, 18, 2011
9/18/11
10:00
AM ET
1. These guys can rush:
Aaron Lynch set the tone early by sacking
Kirk Cousins
and forcing a fumble. The defense continued the assault all day long, getting to Cousins time and time again and rendering the Spartans' run game moot.
2. Special teams can make all the difference:
George Atkinson III
's kickoff return for a score made it 14-3 early and the Irish never looked back. The return came after MSU's first scoring drive and gave Notre Dame plenty of momentum and distance the rest of the way.
3. Turnovers need to be curtailed:
Three turnovers are still too many.
Tommy Rees
, at 19, is still growing as a quarterback and will make mistakes, but senior
John Goodman
's fumble of a punt return deep in his own territory could have been costly if not for Blanton's pick three plays later. Three is better than five, and the Irish have at least showed they're capable of bouncing back from mistakes by not letting up against MSU on Saturday. But at some point the bleeding has to stop.
4. Don't look now, but the Irish could be in business:
The Irish should be favored in every game moving forward except for the final one, at Stanford. For now, they can focus on a Pitt team that looked more vulnerable Saturday than the Irish themselves through the first two weeks, as the Panthers blew a 21-point lead to Iowa in a 31-27 loss. Purdue and Air Force follow for Notre Dame before its bye, after which it will host rival USC in its first home night game in 21 years.
Top Returning Players: AAC and Notre Dame
FBS INDEP. SCOREBOARD
Saturday, 12/21
Monday, 12/23
Tuesday, 12/24
Thursday, 12/26
Friday, 12/27
Saturday, 12/28
Monday, 12/30
Tuesday, 12/31
Wednesday, 1/1
Thursday, 1/2
Friday, 1/3
Saturday, 1/4
Sunday, 1/5
Monday, 1/6