Notre Dame Football:

Alex Wulfeck
October, 10, 2013
10/10/13
4:00
PM ET
Our series continues today with special teams, a pleasant surprise for Notre Dame this year.
SPECIAL TEAMS
Grade
: B+

Summary
: We will start with punt return, since anything and everything on Notre Dame's special teams comes back to this unit, which has been, well, not very good in recent years. Fortunately for the Irish, they have a captain in
TJ Jones
who not only is their best offensive player, but who also volunteered for the arduous task toward the end of the spring. And while his initial foray did not go without its cringe-inducing moments, Jones has certainly grown with time as the punt return man, becoming a valuable threat their for the Irish.
Notre Dame finished 116th nationally last year in punt returns and tallied just 46 total punt return yards. The Irish already have 71 punt returns yards through six games this season, and Jones had a nice 27-yard return this past Saturday against Arizona State. Notre Dame is actually a respectable 47th nationally in punt returns so far, averaging 10.14 yards per return.
Behind
George Atkinson III
, the Irish are even better on kick returns, averaging 24.89 yards per return, good for 24th nationally. The kick-return defense has been less than stellar, as opponents are returning kicks at a rate of 25.29 yards per return, making the Irish 108th nationally in that department. But they are 34th in punt return defense, allowing just 4.83 yards per return, and they have not given up a return score this season.
Junior
Kyle Brindza
deserves plenty of credit this season, especially given the heavy workload he has had on his plate. Brindza hit a 53-yard field goal Saturday to tie Dave Reeve's school record for length, and he is 8-for-11 on the season. He earned the game-ball for his efforts in a tight 17-13 home win over Michigan State in Week 4. One of Brindza's punts was blocked in that same game, but that was more of a protection breakdown by
Jarron Jones
, who also has a blocked kick himself this season. Brindza has averaged 41.5 yards on 21 punts, with Wake Forest transfer
Alex Wulfeck
averaging 34 yards per punt on his six boots.
September, 13, 2013
9/13/13
2:00
PM ET
SOUTH BEND, Ind. --
Kyle Brindza
's eyes lit up a bit when he was asked if managing his workload was akin to a pitch count in baseball.
"I'm glad you bring that up," Brindza said. "We're kind of definitely just like pitchers: You kind of have to have a set amount. I go out there with a set amount of field goals on the day. ... I'm not going to go over it. If I go under it, that's fine, because I was able to do it well enough to be able to go under it. But if I go over it, that's kind of something I need to hold myself back from."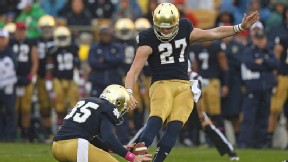 Jonathan Daniel/Getty ImagesIn addition to punting, Kyle Brindza is once again kicking field goals for Notre Dame.
For the second straight year, Brindza took over as place-kicker in Notre Dame's second game. He connected on all three field goal attempts last Saturday in his home state of Michigan, hitting from 24, 44 and 40 yards out. The difference this year is that, in addition to his kickoff duties, Brindza is also the Irish's primary punter, and bears the responsibilities in all three special teams areas after Ben Turk graduated.
Nick Tausch
was invited back for a fifth season of eligibility to compete with Brindza and help lighten the place-kicking load, but Tausch missed on his first attempt in the opener, allowing Brindza the chance to take over.
Brindza also missed, though coach Brian Kelly pegged much of the blame on new holder
Luke Massa
. Brindza was back in his familiar spot last weekend, a year after being thrust into the same role following Tausch's mid-week groin injury following the 2012 opener.
Brindza
responded in Week 2 of last season by kicking a game-winning 27-yard field goal with seven seconds left to beat Purdue
. He ended up hitting a school single-season record 23 field goals, including a 22-yarder in the rain to send the Stanford game into overtime. He hit five in the regular-season finale at USC, including one from 52 yards.
Alex Wulfeck
, a fifth-year walk-on transfer from Wake Forest, can spell Brindza at punter if necessary this season. But the 6-foot-1, 236-pound junior has learned to better manage his workload, relying on stretching, repetition and muscle memory to become what he calls "10 times more flexible" since he arrived at Notre Dame.
"It's kind of like your studies -- when it's football time, you focus on football; when it's your study time, you focus on studying," Brindza said of dividing the duties. "It's kind of just, all right, when I'm punting, focus on punting. When kicking's there, the kicking can come. So I guess it took off a little, but now that I'm able to be kind of in a role of being able to focus on both it's kind of evened its way out."
August, 22, 2013
8/22/13
2:20
PM ET
SOUTH BEND, Ind. —
Notre Dame
's defensive line has taken another hit heading into 2013, as the Irish have lost
Tony Springmann
for the season because of a left knee dislocation with severe ligament damage, coach Brian Kelly said during Thursday's media day.
Springmann, who will undergo surgery, was not dressed and had his left knee wrapped during the previous two media viewings of practice, with Kelly initially ruling the redshirt sophomore out for the Aug. 31 season-opener against Temple.

The 6-foot-5, 296-pound Springmann played in every game last season, notching 11 total tackles, two tackles for loss, one sack and three quarterback hurries.
Notre Dame's depth up front took a blow earlier this summer when five-star defensive tackle
Eddie Vanderdoes
opted out of his National Letter of Intent and went to UCLA, where he was later granted immediate eligibility.
Kelly said that he is not concerned about another Irish end,
Stephon Tuitt
, after the junior went down Thursday in practice after twisting his knee. Tuitt walked off the field on his own power.
As for special teams,
George Atkinson III
will return kickoffs again and T.J. Jones will return punts. Kelly also said that
Nick Tausch
,
Kyle Brindza
and
Alex Wulfeck
will all play against Temple, with Brindza getting the first shot at punter while remaining in charge of kickoffs.
Notes
: Kelly said that
Everett Golson
(academic suspension) is working out in Chicago and plans on heading to San Diego for two months to work with quarterback guru George Whitfield. Golson does not need to enroll in any classes. ...
Zack Martin
,
TJ Jones
and
Bennett Jackson
are Notre Dame's 2013 captains. Martin was a captain last year as well, making him the 18th two-time captain in school history. …
Jaylon Smith
(dog) and
Austin Collinsworth
(safety) both worked with the first-team defense during the media's viewing of practice. … Tackle
Ronnie Stanley
(concussion), guard
Mark Harrell
and running back William Mahone were not in pads.
Steve Elmer
received first-team reps at right tackle with Stanley out, with
Christian Lombard
again at right guard. Kelly said he hasn't nailed down a staring five on the offensive line but said that Stanley and Elmer will both play this year. Stanley should be back Monday if all goes well. … Guards
Chris Watt
and
Conor Hanratty
and running backs
Cam McDaniel
and
Tarean Folston
were all back from practice as well.
August, 9, 2013
8/09/13
5:00
PM ET
What's on your minds?
John from Chicago writes
: Matt, can you point me in direction where I can find a roster breakdown of scholarship vs. walk-on's? Just curious mostly.
Matt Fortuna
: John, the roster we received last Friday listed the following players as walk-ons: Receiver
Josh Anderson
, punter
Andrew Antognoli
, cornerback
Jesse Bongiovi
, offensive lineman
Kevin Carr
, cornerback
Connor Cavalaris
, kicker
John Chereson
, defensive lineman
Marquis Dickerson
, quarterback
Charlie Fiessinger
, receiver
Nick Fitzpatrick
, receiver
Omar Hunter
, offensive lineman
Scott Kingsley
, linebacker
Austin Larkin
, receiver
Eric Lee
, outside linebacker
Connor Little
, defensive lineman
Arturo Martinez
, receiver Gerald Martinez, safety
Eamon McOsker
, kicker
Danny Omiliak
, running back
Tyler Plantz
, safety
Drew Recker
, kicker/punter
Jude Rhodes
, cornerback
Joe Romano
, long-snapper
Hunter Smith
, safety
Ernie Soto
and punter
Alex Wulfeck
.
---
Michael from Irsee, Bayern, Germany, writes
: Hi Matt,By now, you are used to fielding crazy Notre Dame hypothetical questions (mostly about the offense) so I thought that I would throw this defensive one your way. Combining what you saw from
Aaron Lynch
in his first year with Notre Dame's defense last year (in Lynch's absence) and the endless speculation about how good he could have been/will be this year on USF - do you care to speculate as to what Notre Dame's starting defense would have looked like in 2013 if Lynch had never departed?
Matt Fortuna
: Michael, it is easy to picture a starting defensive line of Lynch, Louis Nix and
Stephon Tuitt
-- three guys widely projected as first-round picks next spring -- and, on paper at least, think "Wow." But you have to remember that the Irish wouldn't have done better than 12-1 last year with Lynch, and they benefited from strong play (and even stronger leadership) from Kapron Lewis-Moore. Reports from Tampa, Fla., indicate that Lynch has matured and should have a strong year against American Athletic Conference competition, but let's remember that
Sheldon Day
isn't too shabby, either, and that the Irish still probably boast the top first-team defensive line in the nation.
---
Kenneth Moore from Bluefield, W. Va., writes
: Matt, I know that CBK is on record about the starters playing more in special teams. Is there anything that you have seen or heard that this unit is improving. The return game has been a complete joke considering the prospects that Notre Dame gets every year. It has to be fixed because teams force the Irish to march down the field to score. If this can be fixed I think there will be a jump in points scored in 2013. Thanks.
Matt Fortuna
: Kenneth, there is no question Notre Dame needs to improve its punt return game. More than anything, the Irish need a unit capable of forming solid return after solid return, rather than a big gain here and there with nothing to show for it in between. This is where I think the team's logjam at running back could help, as a number of these guys can do different things well and are capable of finding their ways on the field in separate ways. On Friday, T.J. Jones,
Amir Carlisle
,
Greg Bryant
and
Tarean Folston
were fielding punts.
July, 24, 2013
7/24/13
3:00
PM ET
Our countdown of Notre Dame's Top 25 players for 2013 continues today with No. 24.
No. 24
:
Kyle Brindza
, Junior K
Previous ranking
:
No. 24
Making the case
: Brindza entered 2012 responsible for only kickoffs, then found himself kicking a game-winning 27-yard field goal in Week 2 against Purdue after
Nick Tausch
suffered a groin injury. He made 23 of 31 field goals on the season, the most makes in a single season in school history. He came up with a clutch 22-yarder in the rain to send the Stanford game into overtime, then hit five in the regular-season finale win at USC, including a 52-yarder. This spring Brindza also doubled as the Irish's punter, though those duties remain up in the air this fall with Wake Forest transfer Alex Wulfeck in the fold.
The countdown
No. 25 Greg Bryant
May, 31, 2013
5/31/13
9:00
AM ET
College football guru Phil Steele
has been releasing his preseason All-America teams for each conference recently
, and the independent one is, as usual, dominated by Notre Dame players.

It's not exactly a surprise -- Steele goes three teams deep off just seven schools that make up the independents. He usually goes four teams for actual conferences.
Let's take a look at the Irish honorees, team-by-team.
First team: George Atkinson III, DaVaris Daniels, Troy Niklas, Zack Martin, and Chris Watt on offense; Stephon Tuitt, Louis Nix, Prince Shembo, Danny Spond, and Bennett Jackson on defense.
Second team: Everett Golson, Amir Carlisle, T.J. Jones and Christian Lombard, on offense; Sheldon Day, Jarrett Grace, KeiVarae Russell, and Matthias Farley on defense. Kyle Brindza is also the second-team kicker.
Third team: Ben Koyack on offense; Eddie Vanderdoes, Dan Fox, Jaylon Smith, and Elijah Shumate on defense. Alex Wulfeck is the third-team punter.
Notre Dame's 25 players across the 84 players on all three teams were the most among the independents. BYU had 14, Navy had 12, New Mexico State had 12, Old Dominion had 10, Army had seven and Idaho had four.
Obviously, this list was released before Golson was suspended from school for a semester, and before the recent uncertainty surrounding Vanderdoes' desire to actually go to Notre Dame.
The Irish's entire starting defense makes the teams, save for
Carlo Calabrese
, who has alternated at the Will linebacker spot at Notre Dame with Fox. It's definitely surprising to see Smith, a player who has not even enrolled yet, listed over a fifth-year senior with starting experience in Calabrese.
Throw Carlise or Atkinson in the slot, split Niklas or Koyack wide, and all the Irish are missing to fill out an entire offense on this team are two offensive linemen, or the same number of starters they are still seeking there after the graduations of center Braxston Cave and right guard Mike Golic Jr. (
Nick Martin
and
Conor Hanratty
were in position to fill those spots as recently as the end of spring.)
Also, I wonder if
Tommy Rees
would be on this list if Steele knew of the Golson news ahead of time, considering Golson is only listed as a second-teamer. Old Dominion's
Taylor Heinicke
is the first-team signal caller.
February, 28, 2013
2/28/13
9:00
AM ET
Kyle Brindza
is set to handle place-kicking, kickoff and punting duties for Notre Dame in 2013, but insurance is on the way.
Wake Forest punter
Alex Wulfeck
will be
transferring to Notre Dame after he gets his degree in May
, the South Bend Tribune's Eric Hansen reports. Wulfeck will be using the same NCAA graduate exemption rule that enabled former Irish quarterback
Dayne Crist
to transfer last year to Kansas and play immediately. Wulfeck was the Demon Deacons' starter in 2011 and a preferred walk-on who earned a scholarship before losing his starting job during training camp last year.
Wulfeck told Hansen that a preseason groin injury briefly sidelined him before Alex Kinal took over as Wake's punter and never looked back.
"I kind of tweaked my groin the first day of camp," said the 5-foot-9, 175-pounder. "I spent four days trying to rehab it, just playing it smart so I wouldn't tear it and then be out for the season. When I came back, I was told, I'd have to work my way back to the top.

"It was kind of a weird situation. I felt like I performed and was never really given the chance. So after the season, I knew I wanted to explore other options, and Notre Dame just kind of came out of the woodwork."
Wulfeck averaged 39.7 yards off 70 punts in 2011, booting five kicks for 50 or more yards and recording five touchbacks.
Freshman Quarterbacks A Growing Trend?