Notre Dame Football:

Andre Jones
April, 28, 2014
Apr 28
9:00
AM ET
Modest would be one way to describe the way
TJ Jones
handled himself during his decorated four-year career at Notre Dame. Ask Jones to sell himself to his future NFL bosses, however, and the former Irish receiver wastes few breaths.
[+] Enlarge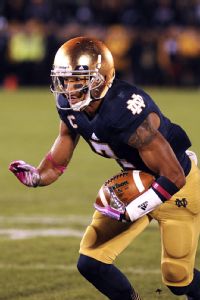 AP Photo/Joe RaymondTJ Jones, a 2013 team MVP, is expected to be a mid-round pick in the NFL draft.
"You should pick me because, in my opinion, I'm the model of consistency," Jones told ESPN.com. "I came in as a freshman at Notre Dame, I started all four years, I've gotten better each and every year, with graduating in three-and-a-half years as a senior captain in the record books at Notre Dame, and I'm nowhere near my best. This is me getting better after four years.
"Imagine four years from now. I'm only 21 right now. I'm young for my [grade], so I have plenty of time to mature and to get better than where I'm at now."
He did forget to mention his team MVP honors from 2013. Forgive him; his degree wasn't in marketing.
While many of his former teammates stayed in South Bend, Ind., after Notre Dame's pro day, Jones is spending the home stretch of the pre-draft process back home in Atlanta. His preparation includes strength and footwork training at DSA Training in Marietta, Ga., and it also includes being back under the same roof as his mother and three of his five siblings, a welcome reprieve that he says helps make up for lost time after four years in college. The last of those years away included 70 catches, 1,108 yards, nine touchdowns and plenty of heads turned during the future pro's biggest job rehearsal.
In the months since, Jones has relied heavily on his godfather, former Notre Dame great Raghib Ismail, whose biggest words of advice have been to invest in his body, something Jones -- who checked in at six feet, 188 pounds at the NFL scouting combine -- has taken to heart during these past four months of training.
"I think that the biggest area I needed to improve was my physical strength, my weight, being able to carry 195-200 strong without losing any speed and being able to physically handle myself at the NFL level," Jones said. "And I think in the three or four months I've been able to -- not at the ideal weight I want right now -- but with the weight I've gained, I've been able to also maximize the strength and the speed of the game as well and not losing any quickness or speed with [the addition of] a couple pounds as well."
Jones' family has given him needed space during his time back home, careful not to overload him with questions similar to the ones he's been getting from everywhere else since completing his college career. Group text messaging has kept him in touch with his fellow Irish teammates going through the same process as him, as it has with the receivers behind at Notre Dame looking to fill his void. (That includes the academically-exiled
DaVaris Daniels
, whom Jones expects to return to the team and "make the impact that most people should be expecting.")
Jones' well-chronicled marine biology interests
have been put on hold, though he says he can't help but watch the Discovery Channel during his free time.
Still, the lead-up to next week's NFL draft has carried a bittersweet taste for Jones, who lost his father Andre to a brain aneurysm in the summer of 2011 at the age of 42. Pursuing the professional dream was something often discussed between Jones and his father, who was a starting end on the Irish's 1988 national title team.
On the doorstep of completing that journey, Jones knows his father is looking down on him with a smile.
"I would hope to think he's real proud," said Jones, a projected mid-round pick. "Definitely having my degree already in my kitchen right now and being able to go through this process and -- I don't want to say expect to be drafted, but having the opportunity to be drafted, hearing there's talk about me being drafted, it was enough in itself for him to really be proud because that's something we've talked about since I was a kid, since I really could remember."
January, 15, 2014
Jan 15
9:00
AM ET
Notre Dame coach Brian Kelly referred to the Fighting Irish's 2013 campaign as a good season that could have been a great one. Tough to argue, considering some of the notable wins (Michigan State, Arizona State and USC) and head-scratching losses (Michigan and Pitt).
Still, a 9-4 record with a bowl win accounts for the program's second-best mark under Kelly in his four years there. And tough as it may be to swallow at the moment, losing both coordinators to head-coaching jobs is a strong endorsement of the direction Notre Dame's program is headed. Many outsiders wrote the Irish off the minute
Everett Golson
's suspension was announced in 2013, but they withstood a rash of injuries on both sides of the ball and found some young contributors who should be better-prepared for bigger roles this fall.

Offensive MVP:
WR
TJ Jones
. Kelly said the vote wasn't even close when he polled the players on the team MVP award. Jones -- son of the late
Andre Jones
, an end on the Irish's previous national title team (1988) -- did everything his team asked of him and then some, playing through multiple injuries and delivering a standout senior campaign. He finished with 70 catches for 1,108 yards and nine touchdowns, adding nine carries for 67 yards and two more scores. He also volunteered to return punts, a spot the Irish had sorely been lacking at in the Kelly era, giving them a legitimate threat back there with his 106 yards on 14 returns.
Defensive MVP:
LB
Dan Fox
. The senior moved from the Will to the Mike early in the season to help fill the void in the middle left by
Manti Te'o
. When
Jarrett Grace
passed him on the depth chart, and then suffered a season-ending knee injury Oct. 5 against ASU, Fox answered the bell the way an upperclassman is expected to: by playing the best ball of his career. He had eight or more tackles a game during a five-game stretch to end the regular season, including 15 at Stanford, and he finished the season with a team-best 95, to go with 5 tackles for loss, 1 sack, 2 picks (1 a pick-six) and a fumble recovery.
Best moment:
It didn't feel like it at the time, but in retrospect, Notre Dame's 17-13 win over eventual Rose Bowl champion Michigan State on Sept. 21 is easily the highlight of the Irish's season. It was an ugly game, to be sure, with the game ball going to a specialist (
Kyle Brindza
) who had a punt blocked and missed a field goal, and questionable calls coming from Spartans coach Mark Dantonio (a halfback pass with a freshman while tied in the second half?) and the officials (the Irish were on the receiving end of a number of debatable pass interference calls). Still, it was a well-earned win that may have ended up befuddling the national title picture, and there's no apologizing for that if you're the Irish.
Worst moment:
A Nov. 9 loss at Pitt is inexcusable, no matter how strong the Panthers ended up playing down the stretch (and no matter how strong they always end up playing the Irish). Losing
Stephon Tuitt
to a highly questionable targeting call did not help matters, but Notre Dame simply gave away a late-season game it had no business giving away, blowing a second-half lead and throwing a pair of costly fourth-quarter picks to
Ray Vinopal
that ended up prematurely crushing BCS-bowl hopes.
November, 22, 2013
11/22/13
12:00
PM ET
October, 18, 2013
10/18/13
9:00
AM ET
SOUTH BEND, Ind. --
TJ Jones
was the last Notre Dame player to meet the media this week, anxious reporters a casualty of what has become the senior's weekly routine of receiving a massage every Wednesday or Thursday. Those rubdowns come after practice, which Jones usually prepares for by attending treatment sessions on Sunday or Monday, all so that he can be ready for the running and hitting that awaits in Tuesday's practice.
What that treatment is for usually depends on which body part Jones hurt in the previous Saturday's game -- and if there is a Saturday Notre Dame game, Jones impairing an appendage of some kind is all but certain, even if the extent of the damage is not known in the immediate aftermath.
"Four years ago I would've been looking to miss practice," the senior said. "I would've really just kind of looked for every chance I got to kind of just milk the injury."
[+] Enlarge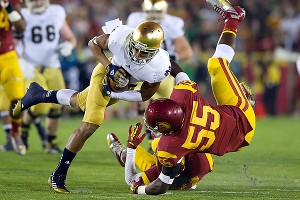 Matt Cashore/USA TODAY SportsNotre Dame wide receiver TJ Jones catches a pass in last year's game against the USC Trojans.
Not anymore, not as one of two Irish offensive captains on a unit still seeking its identity halfway through the season, with rival USC coming to town on Saturday night.
Yes, being Notre Dame's leading receiver and punt returner has taken a toll on a body that the program generously lists at 5-foot-11½ and 195 pounds. It is a frame that has withstood the beating that comes from being the Irish's go-to threat, from catching 33 passes for 481 yards and four touchdowns, from returning seven punts for 71 yards, and from being targeted countless times more.
"Overall, wide receivers are looked at to be some of the softer people out on the field, but TJ definitely shows that it's just the opposite," freshman receiver
James Onwualu
, Jones' roommate on road trips, said. "He gets hit a whole bunch in the game -- he's still sticking his head into plays, blocking for our running backs and doing everything he can when he doesn't have the ball as well. I think the toughness that he shows coming back every week to play his best for the team is really unselfish, and it makes him an even better player than he already is."
The most notable of the bruises came early in a Week 2 loss at Michigan, Jones coming down hard and suffering what coach Brian Kelly said the next day was a slight shoulder sprain. He finished with nine catches for 94 yards and a heads-up touchdown in the loss.
Notre Dame's next defeat was hardly kinder to Jones, who rolled an ankle late in the Oklahoma game.
Kelly, who raised a few eyebrows in August by publicly declaring Jones a first-round NFL talent, said the receiver's toughness has been acquired, a byproduct of being thrust into meaningful moments as a true freshman in 2010.
"He has elevated himself in the sense that he now plays with a mental and physical toughness," Kelly said. "There are times where those bumps and bruises that you mentioned -- which affect everybody, right, in this game of college football? -- may have affected him from week to week. It does not affect him now. He fights through them. He's in practice. He's on the ground diving and making catches. He's on the ground more in practice than any of our young freshmen because he's competing all the time.
"These are the marks of great players. Every great player that I've had practices that way. That wasn't the case with him, and he has developed that over his time here at Notre Dame. He's had others to see in terms of he's seen a Michael Floyd in the way they practice, he's seen a Manti Te'o, he's seen a Tyler Eifert and the way they practice. He's obviously at that level."
Jones, who volunteered for the vacant punt return spot this year, calls it all "normal soreness." He says he never let a nick or bump keep him from the practice field earlier in his career, but admitted "if there was something where I didn't have to go as hard, I may have taken a play off or jogged instead of ran full-speed back then."
The son of the late Andre Jones -- an end on the Irish's last national title team -- attributes maturity to his ability to recover so quickly. He has been more proactive over the years, learning to appreciate Notre Dame's athletic training staff more while jumping into the cold tub or onto the masseuse table quicker than he used to.
This past weekend's bye has served as a bit of a welcome reprieve, too.
"I enjoyed it a lot, this is the freshest I've felt since summer," Jones said. "This was the first real break we've gotten since our three-week-long camp this year, which was longer than normal. So this is the first time I'm actually feeling kind of refreshed and really 100 percent."
August, 7, 2012
8/07/12
9:00
AM ET
No. 19. T.J. Jones, WR
2011 numbers:
Jones played in all 13 games, starting 12, and caught 38 passes for 366 yards and three touchdowns.
Making the case for Jones:
Coach Brian Kelly has said that Jones is close to breaking out, and now would be a good time for the Irish offense, which lost first-round draft pick Michael Floyd to graduation. Jones, who was named to the Biletnikoff watch list this preseason, made an immediate impact his freshman year, catching 23 balls for 306 yards and three scores in 12 games. But Jones was hit with tragedy last summer, as his father, former Irish championship defensive end Andre, died at the age of 41 following a brain aneurysm. His numbers improved only slightly in his sophomore year, but more opportunities should come his way this fall, as he will be a key piece to the Irish's passing game.
September, 22, 2011
9/22/11
3:45
PM ET
SOUTH BEND, Ind. -- Andre Jones had a gift for reading people. Just a few moments upon meeting someone, he could tell if he or she were destined for great things. He would make people comfortable around him, they would eventually open up and relationships would gradually build.
There's a story Andre would often tell one of his sons, Malachi Jones, about how he befriended Jon Jeffries when both were at DeMatha (Md.) High School. Andre told his new friend that he loved him after just a few exchanges, that they would both accomplish a lot in school. Jeffries at first looked at him like he was crazy, but before long the two were playing football at Notre Dame and Virginia Tech, respectively.
"If you ever had the opportunity to meet my dad," Malachi said, "he pretty much touched everybody that he met."
More than 20 years later, Jeffries publicly called Andre Jones a brother.
That's more than the role T.J. Jones, a sophomore receiver on the Fighting Irish, has had to take on since June 22.
[+] Enlarge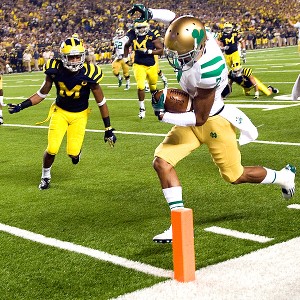 Lon Horwedel/Icon SMIT.J. Jones now understands why his dad, Andre, would get so emotional when he saw T.J. take to the field at Notre Dame Stadium.
One day before then, a Tuesday, North Gwinnett High School coach Todd Wofford was texting back and forth with Andre around noon, telling Jones that Malachi needed to be more assertive and more aggressive as a leader.
Andre told Wofford he had a headache and was going to take a nap.
"I kept our conversation on my phone for the longest time, looking back and forth at it," Wofford recalled, "because he was more than just one of my players' dads."
A few hours later, Malachi Jones called Wofford to inform him he'd miss his senior picture the next day. A day later, Andre Jones was gone, victim of a brain aneurysm at the age of 42.
He left behind 147 tackles in a Notre Dame uniform, a national title from 1988 and a brief NFL career. More importantly, he left behind six kids, the second-oldest of whom is walking in his footsteps in a No. 7 jersey at Notre Dame Stadium.
"He's sitting in my dad's locker, going to his alma mater and wearing his uniform," Malachi said of older brother T.J. "I don't think it can get any better than that."
Malachi, who wears No. 9, does his part by pretending to draw a No. 7 on his chest with his hands whenever he reaches the end zone.
T.J. was working out at his campus' Guglielmo Athletics Complex on June 21 when receivers coach Tony Alford pulled him aside and told him his father was sick. T.J. hopped on a plane to Georgia, joined his family and stuck around for about a little more than a week.
He wanted to stay until the following Friday, to try to be the man of the house for his family that his father had always been. His mother Michele, however, forced him out that Wednesday, getting him back to classes, to practices, to pursuing his dreams.
The family was on the Notre Dame Stadium field together Sept. 3, before the Irish's opener against South Florida, for a ceremony honoring Andre.
"It was hard. It was real hard," T.J. said. "Seeing my mom out there for the first time in six weeks, and she was crying. So that made me more emotional. And definitely just, it hit home that he wasn't gonna be standing there in the tunnel when I came out this year."
Andre always told T.J. how special it was to walk out that tunnel, to hear the roar of all the fans cheering you on. T.J. never understood why his father would tear up or cry seeing his son enter the field, but now he does, as does Malachi.
"I have three younger siblings, and unfortunately they won't get to experience the same experiences we did with our dad because he's gone," Malachi said. "So looking back, we're extremely grateful to know we got to spend a significant amount of time with him during football season and off the field in a short span."
Two springs ago, during T.J.'s first semester on campus, Andre took the family to the Grotto at night, a sight illuminating enough for Malachi to call "beautiful."
It's a place Andre tried to stop by before every home game, and when he wasn't in town he would often tell T.J. to light a candle for someone else who asked.
T.J. tries to go a little bit more now, though the fall is a busy time for a football player at Notre Dame.
Instead he will think about his father before each game, say a prayer and talk to him. Malachi will read the two Bible passages his dad texted him during a pregame meal a year ago: Matthew 10:16 and Psalms 18: 32-38.
Malachi drew connections from the readings to the football field, though a message in the latter may resonate a little bit more in his everyday life:
You have also given me the shield of Your salvation;
Your right hand has held me up,
Your gentleness has made me great.
You enlarged my path under me,
So my feet did not slip.
September, 3, 2011
9/03/11
3:29
PM ET
SOUTH BEND, Ind. -- Here are a few tidbits as the band takes the field and we get ready for kickoff in a few minutes:
-- The national colors today are presented by representatives of three Notre Dame families who lost loved ones in the last year:


Those of kicker Kyle Brindza, whose grandfather, Joseph, died in July.
The family of receiver TJ Jones, whose father, Andre, a former Irish player, died in June.
Alison Drumm and Barry Sullivan, whose son, videographer Declan Sullivan, died during a tragic accident in a practice last October.
-- USF coach Skip Holtz's mother, Beth, and wife, Jennifer, are in attendance for today's game, while former Irish coach Lou Holtz fulfills his duties at ESPN.
-- This game marks Notre Dame Stadium's 220nd straight sellout.
Official Visit: Capitalizing On Momentum
FBS INDEP. SCOREBOARD
Saturday, 10/25
Friday, 10/24