Notre Dame Football:

Arizona State Sun Devils
June, 13, 2014
6/13/14
12:00
PM ET
This week we ranked the
Pac-12's nonconference games
. There's little question which is the best and most anticipated matchup.

If the idea of Michigan State, the defending Big Ten and Rose Bowl champion and a likely top-five team, visiting Oregon, another likely top-five team, doesn't get your juices flowing, you are probably a zombie, and the proper authorities will be alerted.
But which is the second-best game? Or the one you're most excited about? We see five options. Three involve Notre Dame.
Here's how we previously framed those games.
Tradition, obviously, makes the Fighting Irish a draw for national eyeballs, and USC and Stanford are traditional opponents, with the matchup with the Trojans being one of college football's great showcases.
But when something doesn't happen often, such as the Irish visiting Arizona State, that adds some juice.
Speaking of juice -- again -- UCLA's national title hopes could receive some with an impressive performance in front of a huge, antagonistic crowd in the NFL's marquee venue.
And, finally, the Big House is, well, just that: One of college football's most famous venues. The Utes could make some national noise -- and make life really, really difficult for Wolverines coach Brady Hoke -- with an upset victory.
June, 10, 2014
6/10/14
1:30
PM ET
The Pac-12 typically plays a rugged nonconference schedule, but the 2014 slate is, well, only fair to middling.
There's a true marque national game -- Michigan State at Oregon -- and there are three matchups with Notre Dame. But there aren't a whole lot of ranked foes from other areas of the country on the slate.
Here's how we'd rank the Pac-12's best nonconference games in 2014.


1. Michigan State at Oregon (Sept. 6)
: It's a top-10 -- perhaps even top-five -- matchup that looks like a Rose Bowl. Or a College Football Playoff semifinal. The Spartans shut down Stanford in the Rose Bowl in January and are eyeballing even bigger things this fall. Like the Ducks.


2. Stanford at Notre Dame (Oct. 4)
: This has become a strong, national rivalry. The last time the Cardinal was in South Bend, the ending was highly controversial -- the Fighting Irish wouldn't have played for the 2012 national title without a boost from the officials. This game likely reveals if one or the other is a CFP candidate.


3. Notre Dame at USC (Nov. 29)
: It remains the greatest intersectional rivalry in college sports. It would be a good idea for first-year USC coach Steve Sarkisian to win this one. A good way to win over his fan base.


4. Notre Dame at Arizona State (Nov. 8)
: The Fighting Irish tried to get out of this game. They also beat the Sun Devils last year. Arizona State should be plenty motivated in front of what is certain to be a packed house.


5. UCLA vs. Texas (Sept. 13, Cowboys Stadium in Arlington, Texas)
: Texas is breaking in new coach Charlie Strong in what is really a glorified home game. UCLA is only trying to announce itself as a national title contender. While the Longhorns are down, they won't lack talent.


6. Utah at Michigan (Sept. 20)
: Here's a good way for the Utes to announce their return to relevance -- a trip to the Big House. Utah certainly won't be intimidated. It won in Ann Arbor 25-23 in 2008 on its way to an undefeated season. It also lost 10-7 in 2002.


7. California at Northwestern (Aug. 30)
: Sonny Dykes wants to get his second season off with a bang. This is a good -- and winnable -- opportunity to do just that.


8. Rutgers vs. Washington State (Aug. 28, CenturyLink Field, Seattle)
: The Cougars are eyeballing a breakthrough season. It will be hard to do that with an opening loss to a Big Ten team. Yes, Rutgers is now a Big Ten team.


9. Illinois at Washington (Sept. 13)
: The Illini don't seem too scary, but they are a Big Ten team. They didn't make things too easy on the Huskies last year, either.


10. BYU at California (Nov. 29
): We've already noted how nice it would be for Dykes to get his second season off to a fast start. What about a strong finish?
October, 2, 2013
10/02/13
9:00
AM ET
Notre Dame kicks off the first of three games this year against the Pac-12 with Saturday's showdown against No. 22 Arizona State in Arlington, Texas. What should you be looking for? Glad you asked. Notre Dame reporter Matt Fortuna and Pac-12 reporter Kevin Gemmell talk it over.
Matt Fortuna
: Arizona State is a newcomer to the Pac-12 portion of Notre Dame's schedule this year, Kevin. The Sun Devils have looked great against USC, not so great against Stanford and, well, fortuitous in their win over Wisconsin. They put up 62 points last week against what was believed to be a good Trojans defense, getting Lane Kiffin fired in the process. So I guess we'll start there, given Notre Dame's defensive struggles so far this season: What makes Todd Graham's unit so explosive offensively, and what do the Irish need to really keep an eye on Saturday to keep the points down?
Kevin Gemmell:
Tempo, tempo, tempo. Offensive coordinator Mike Norvell, who Graham trusts to run the show offensively, uses "tempo" as a verb, not an adjective. As in, he wants to tempo teams into submission.
[+] Enlarge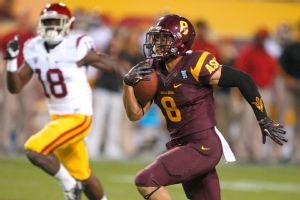 AP Photo/Rick ScuteriNotre Dame will have to find a way to slow down D.J. Foster and the Arizona State offense.
They want to have as many possessions as possible. And they get that with a fast-paced attack that stretches and then compacts a defense. Quarterback
Taylor Kelly
is off to another outstanding start, and a huge reason for that is the addition of wide receiver
Jaelen Strong
, a junior college transfer who already has 31 catches for 433 yards. He gives Kelly that sideline threat the Sun Devils were lacking last season, and Kelly has been fantastic at spotting him on the outside shoulder and letting him make plays. Strong has been targeted 51 times, so it's only a 60-percent completion rate when they look to him. But when he does catch it, it's usually for a substantial gain; he averages 14 yards per reception.
They use running backs
Marion Grice
(12 touchdowns already!) and
D.J. Foster
in creative ways in the screen game and like to splt Foster out into the slot. Tight end
Chris Coyle
has also emerged as one of the top players at his position in the country.
How about the Irish? Things don't seem to be going as swimmingly as they did last year. Only 25.4 points per game. ASU is going to blitz early and often. What does Notre Dame have to do to get its offense moving in the right direction?
Matt Fortuna
: It will get overlooked because Notre Dame lost Saturday, but the Irish were finally able to establish a ground game, tallying 220 rushing yards against the Sooners. They had eclipsed the 100-yard rushing mark as a team just once before, in the opener against Temple. Junior
George Atkinson III
, who was the No. 1 back entering the season, finally played like it, lowering his shoulder and looking more like a downhill runner. He finished with a career-high 148 yards and a touchdown on 14 carries.
Aside from not turning it over on their first two possessions and falling behind 14-0, it is very important for the Irish to continue to establish the ground threat early, as they often can become predictable in second- and third-and-long with a non-mobile quarterback under center in
Tommy Rees
, though Brian Kelly did insert
Andrew Hendrix
in for some zone-read, change-of-pace packages against the Sooners. Receivers must run better routes, too.
TJ Jones
and
DaVaris Daniels
have been big playmakers, but they both had route-running miscues Saturday that were costly. Kelly has said that ordinary things need to be done better. The Irish also regularly play three true freshmen wideouts (
Corey Robinson
,
James Onwualu
,
Will Fuller
).
I'm interested in ASU's defense, particularly
Will Sutton
. Before the season, everyone had pegged this as a matchup of the two best interior defensive linemen in the country, between Sutton and Notre Dame's
Louis Nix
. It's been hard to gauge Nix's performance so far, as the Irish have faced some mobile quarterbacks and quick-strike offenses that have utilized the short passing game early to essentially take the line out of the game. What challenges do Sutton and the rest of the Sun Devils' defense present?
Kevin Gemmell
: They like to blitz a lot. Todd Graham fashions his defense as a "hybrid attacking defense," meaning at times they'll substitute speed for bulk to create pressure from anywhere on the field.
Sutton hadn't made much of an impact the first few games for a couple of reasons: One, they were facing mostly run-based power teams like Wisconsin and Stanford; two, he's been seeing a lot of double and triple teams. Makes sense. His first step is so quick that it precedes his reputation. But he finally broke out against the Trojans with two tackles for a loss and a sack. I think, as the season pushes on, we're going to see more pressure from the front seven based on the teams they'll face.
That said, you have to look out for safety
Alden Darby
, who is coming off a fantastic performance against the Trojans. He had two picks (one returned for a touchdown) and has 19 tackles on the year. Hybrid linebacker
Carl Bradford
is explosive and
Chris Young
has really emerged, leading the team with 29 tackles.
The front seven is a little undersized, but it's quick and if your protections aren't set, someone will get missed with as much as the Sun Devils like to blitz.
Now that the Sun Devils are back in the top 25, it's a huge game for them to keep some of that momentum going on a national stage. The Pac-12 is already coming off of the nonconference season with a 29-4 record.
Notre Dame, however, seems to be scrambling to salvage its national reputation. And with three games against the Pac-12, which many believe is the deepest conference in college football, it seems the Irish could restore some of that lost credibility. How do you see them matching up with the now Lane-less Trojans or Stanford in the season finale?
Matt Fortuna
: Based on everything we have seen from both Notre Dame and Stanford so far, that matchup might not be a very pretty one for the Irish. Fortunately for them, it is not until the regular-season finale, meaning they have plenty of time to fix their issues in the six games before then.
The bigger question pertains to what kind of team the Irish will be heading into that matchup in Palo Alto, a status that will largely be dictated by their performances in both the ASU and USC games. The Irish need to get it together, fast, and Rees has to avoid a repeat performance of this past Saturday (three first-half interceptions) and get the offense going again. In theory, that should be enough to beat a USC team that looks to be reeling after the firing of its coach, though that kind of midseason move can have different lingering effects, good or bad. It's not like the Trojans aren't talented, and it's not like they won't be up for another night game at Notre Dame Stadium.
Still, I say the Irish win that one, especially coming off a bye. And especially with the threat of falling under .500, as a loss to ASU would make them 3-3 on the season. Notre Dame might be the better team, but the Irish have shown me little over the last four weeks that suggests that they are capable of keeping up with the Sun Devils' offense.
So that's an early 1-2 prediction for Notre Dame against the Pac-12 this season. What say you, Kevin?
Kevin Gemmell:
I'm an ASU lean right now simply because of how explosive that offense can be. And if the Sun Devils can fix a couple of assignment issues on defense, I think they have the firepower to be a top-20, maybe even top-15 team. But they have to show they can do it away from home. A neutral field setting provides a nice opportunity. It's close enough for their fans to travel, but it's not a true road game.
As of today, we're in lock-step when it comes to the Stanford matchup. The Cardinal offense is looking better and better each week. I thought back in April that
Tyler Gaffney
was going to be a game-changer for Stanford, and so far he's shown that he is. That season finale could also have huge BCS implications, and I don't see the Cardinal tossing one away at home in a game that could potentially lock them into a fourth straight BCS game.
As for USC, well, who knows? Haven't heard any USC players come out and condemn the firing of Lane Kiffin. Maybe this move reinvigorates them? The Trojans certainly have talent. But as of today (as always, I reserve the right to change my mind), I'd go with Notre Dame at home.
October, 1, 2013
10/01/13
7:00
PM ET
Not to get Biblical on you, but the
Arizona State Sun Devils
-- Devils! -- are embracing their sinister side for their showdown Saturday against Notre Dame in Cowboys Stadium.
The Sun Devils will don
black uniforms with helmets decorated with wild-looking flames
-- hellfire? -- against the Fighting Irish, who will be
wearing angelic white
.
[+] Enlarge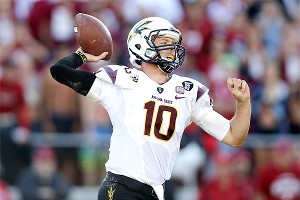 AP Photo/Marcio Jose SanchezArizona State signal-caller Taylor Kelly has thrown for 11 touchdowns and four interceptions this season.
Of course, this isn't a battle of good and evil. It's just two teams embracing the marketplace ideology of branding in college football.
"We wanted to do something unique obviously to Arizona State, so the flames we thought were pretty cool and we put the flames on the back, we obviously want to use our brand," said Arizona State coach Todd Graham, who was involved in the design and noted that every helmet will be different.
The Sun Devils are, er, on fire after a blowout win over USC, while Notre Dame is coming off a loss to Oklahoma and is a disappointing 3-2 after going unbeaten and playing for the national title a season ago. If the Sun Devils can pull off the win and start 4-1 against a rugged early slate, they will enter the meat of the Pac-12 schedule with plenty of momentum and confidence.
Moreover, they can make history. No team has ever beaten USC and Notre Dame, two of the nation's most storied programs, back-to-back.
But while Graham is glad to talk about attention-grabbing uniforms and history, neither is his central focus. There have been two downers so far this year for Arizona State: (1) The first half at Stanford; (2) The Sun Devils' run defense, which ranks 11th in the conference, yielding 192 yards per game.
When asked about what the problems were against the run, Graham, not known for being laconic in any event, went on with a nearly 500-word answer during his Monday news conference. This story is just over 732 words.
"I am answering long because this is the number one thing that we have to do to win a championship," he said. "This has got to get better and I think it can. That is our number one focus."
Graham said that the chief problem was players getting out of position. He said there were 15 misalignments for the defense against the Trojans, who rushed for 247 yards on Saturday. He also said the biggest plays are coming on the perimeter, not up the middle. Part of the problem against USC was noseguard
Jaxon Hood
being out. He's questionable-to-doubtful for the Notre Dame game.
The good news for that run defense, however, is the Fighting Irish's struggles on offense. They rank 85th in the nation in scoring (25.4 points per game) and 93rd in rushing offense (135.5 yards per game).
But even the Irish's vaunted defense has been only mediocre. It has yielded 23.8 points and 364 yards per game, numbers that rank 46th and 53rd in the nation.
It's worth noting that both teams have played tough opponents, so the early-season statistics might be slightly skewed. But in the preseason, the Sun Devils looked like underdogs for this game. Now they are 5 1/2-point favorites.
This game also will be another test for the Sun Devils learning to play better on the road, most particularly QB
Taylor Kelly
. Though this game is technically being played at a neutral site, Irish fans will far outnumber the ASU loyalists. The Sun Devils are 3-4 on the road under Graham, and two of the 2012 road wins were over woeful California and Colorado. The lone quality road win was at rival Arizona last year.
Further, Kelly is a decidedly better QB at home. His rating this season is 156.6 at home and 121.3 on the road (at Stanford, perhaps the Pac-12's best defense). Last season, he was 198.7 at home and 127.6 on the road.
"You could probably take any quarterback and they would have the same stats," Graham said before adding, "If you want to win a championship you have got to win on the road."
Graham was quick to point out that the Pac-12 schedule has more importance for the Sun Devils. But he also knows that lining up opposite Notre Dame means you'll be performing in front of a lot of eyeballs.
Winning is the most important part of branding.
"Is it more important than the Pac-12 games? No, it is not," Graham said. "That is how we emphasize it to our players. But it is very important to our fan base, very important to our football program."
June, 12, 2013
6/12/13
11:33
AM ET
By
ESPN.com staff
| ESPN.com
Ivan Maisel discusses

the Arizona State-Notre Dame series with Steve Patterson from ASU.
October, 12, 2012
10/12/12
2:38
PM ET
Is Notre Dame for real? (Skip.) Is Notre Dame for real? (Skip.) Is Notre Dame for real? (Skip.)
Yes, the college football punditry and peanut gallery can sound like a broken record. The Fighting Irish are 5-0 and ranked seventh, and almost every sign suggests legitimacy, but, well, we've been down this road before. And not only with Notre Dame. It wasn't too long ago that everyone was blowing kisses at Florida State -- the Seminoles are
finally
back -- before it became a national punch line or cautionary tale, however you wish to view a loss at NC State.
Notre Dame plays host to No. 17 Stanford on Saturday. The Cardinal might present the Irish their toughest test yet. Stanford, after all, beat USC. Whipped the once-No. 2 Trojans at the line of scrimmage, no less.
Of course, Stanford also wilted against Washington, making a Huskies defense that would get decimated by Oregon look stout.
[+] Enlarge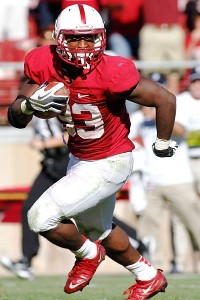 George Nkitin/AP PhotoStepfan Taylor and Stanford can perhaps clear the national title picture a bit by toppling undefeated Notre Dame.
The gist here is there is still a lot of fog over the college football season. We all say stuff, perhaps even with a feigned certainty -- Alabama is unbeatable! -- but we don't really know. The season remains rife with variables and plot twists, even with the first BCS standings being released Sunday.
There are 14 undefeated teams in the Football Bowl Subdivision (Ohio State isn't eligible for the postseason due to NCAA sanctions). Some teams mostly feel -- fairly or unfairly -- like curiosities: three in the Big East (Cincinnati, Louisville and Rutgers), Ohio, Louisiana Tech, Oregon State and Mississippi State. Others own undeniable heft: Alabama, Oregon, South Carolina, Florida, West Virginia, Kansas State and, yes, Notre Dame.
Odd that this weekend's Red River Rivalry feels so far off the radar, although both Texas and Oklahoma could play roles in winnowing the contenders and pretenders. The Sooners still have dates with Notre Dame and West Virginia, while the Longhorns conclude the season against Kansas State.
The "what ifs" are rampant. Such as: What if Alabama, Notre Dame and Oregon all finish undefeated; who then plays for the title? Or switch out Oregon with West Virginia or Kansas State. There are the multiple unbeaten quandaries, and then there are all the best of the once-beaten comparisons, such as: Can USC get back into the national title hunt?
Again, so many variables in our penultimate season yoked by the lovely BCS system. It's difficult to predict how pollsters will react. And don't even start with the computers. With strength of schedule, it's not just what your team has accomplished, but what all its foes did. And all its foes' foes. Etc., etc.
What's also interesting is that the march toward clarity isn't always linear. At any moment, a couple of upsets can put a boot print in our consensus expectations. For example, what might have happened last season if LSU had been nipped in the SEC title game?
The good news is a page will turn next week. If Kansas State and West Virginia both survive tricky road games this weekend -- the Wildcats are at Iowa State, and the Mountaineers are at Texas Tech -- they meet in Morgantown on Oct. 20, so one of the Big 12's two unbeatens will fall.
Same goes for the SEC East. If No. 3 South Carolina manages to win at No. 9 LSU on Saturday, a visit to No. 4 Florida on Oct. 20 seems like the Rubicon for the division. Only one unbeaten will remain in the division, just as only one unbeaten -- Alabama or Mississippi State -- can emerge from the West.
And, if everyone then holds serve, we could have an epic No. 1 versus No. 2 matchup in the SEC title game.
But, alas, that's getting ahead of ourselves.
We started with the notion that Stanford will provide a nice test for Notre Dame's legitimacy. The Cardinal, after all, are riding a three-game winning streak in the series.
But we know past success doesn't guarantee future results. Just look at your 401K. Or the Fighting Irish's storied history.
Is Notre Dame for real? Heck, is anyone for real?
It's probably best to turn to one of history's great college football pundits at times like this. As Socrates once noted when his preseason picks imploded, "I know one thing, that I know nothing."
Or, more charitably, at least very little.
October, 9, 2011
10/09/11
4:00
PM ET
I wasn't kidding when I wrote that the people of Notre Dame's media relations staff had their work cut out for them Saturday. Among the notables they provided:
The last time the Fighting Irish had at least seven different players score touchdowns was Oct. 9, 1999 at Arizona State.
Notre Dame's 42 points in the first half were its most in any half since Nov. 3, 1990, when it scored 42 points in the second half of a 52-31 win against Navy.
Notre Dame had not scored 42 points in the first half since Nov. 11, 1989, when it matched that total in a 52-6 win over SMU.
The Irish's record for points in a half is actually 111, scored Oct. 28, 1905 against American Medical. … And you thought Saturday was impressive. The modern record is 49, in the first half of a Nov. 9, 1968 game against Pitt.
The last time the Irish scored more than 42 points in a half was Nov. 5, 1977, against Georgia Tech. They set a school-record for points in a second half, scoring 48 in a 69-14 win.
And the last time Notre Dame eclipsed the 42-point barrier in the first half was Nov. 4, 1968 against Pitt, scoring a first-half record 49 in a 56-7 win.
On an individual note, Andrew Hendrix has to be kicking himself for not finishing out what would have been an 80-yard touchdown run in the fourth quarter. His 78-yard run ended up one yard shy of the Notre Dame record for longest run by a quarterback. Bill Eder had a 79-yard touchdown run Nov. 1, 1969 against Navy.
A day later, and I'm still exhausted having typed all that. Good thing it's a bye week.
Freshman Quarterbacks A Growing Trend?