Notre Dame Football:

Armando Allen
September, 14, 2011
9/14/11
10:30
AM ET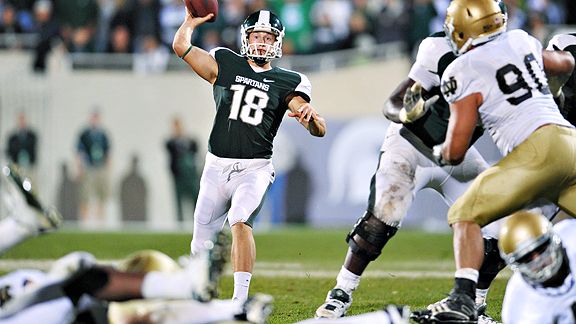 Matt Cashore/US PresswireNotre Dame hasn't forgotten how it lost last year's game to Michigan State.
SOUTH BEND, Ind. -- Trevor Robinson sees it over and over again and can't help but run through number of possible ways Notre Dame could have prevented it.
"You think all we had to do was this ..."
But ...
"But when I was sitting there watching the field goal, it took me until the play was over to realize they're in a fake, because I was zoned in on them missing the field goal. I was picturing that in my mind.
"It is what it is. It's a gutsy play call and it worked out for them."
For the Fighting Irish, a matchup with Michigan State this Saturday serves as a harsh reminder of the way the Spartans utilized a play out of a video game to record a home victory last season.
The situation: Overtime, down 31-28 and facing a fourth-and-14 and from the Irish 29, MSU trotted out its field goal unit, seemingly hoping to force a second overtime.
"I was getting ready, me and Armando [Allen] were sitting right next to each other,"
Jonas Gray
recalled, "and we were sitting and going over what we thought the defense was doing."
But not even the best-prepared unit could have predicted punter, holder and former high school quarterback Aaron Bates taking the snap, hopping to his feet and hitting tight end Charlie Gantt with a perfect throw for a game-winning touchdown, securing a 34-31 Spartans win and making the play call, "Little Giants," a smashing success.
"We were on the sideline just watching, and it was unbelievable," Braxston Cave said. "I couldn't believe it just happened. It did. It took some time. Even walking back into the tunnel I couldn't believe it just happened. I still can remember the feeling of walking off the field after that play."
Added head coach Brian Kelly: "I think the down and distance was a bit of a surprise. We know in that situation, regardless of it, we had to defend it better. But no, I thought it was a great call. It worked."
Offensive line coach and run-game coordinator Ed Warinner called the ending "devastating." Warinner coached the Spartans' linebackers and secondary from 1985-86, when he met his wife, Mary Beth.
She, of course, was working in the school's football office. And, of course, is from a family full of MSU graduates.
"I always go back there, there are so many people there that I still know that I worked with that are part of the shaping of my career and the support mechanisms," Warinner said. "Mark Dantonio and I coached together at the University of Akron, we actually lived together for six months, so we're very close and I know other guys on that staff very well as well.
"So it's one of those things."
Gray drew parallels to that loss and the one Notre Dame is currently rebounding from, a 35-31 loss to Michigan that saw three lead changes in the final 72 seconds.
But Kelly's 24-hour rule couldn't prevent Gray from running into the fake field goal while randomly turning on the television during the offseason.
"You pretty much take the reaction you had before," Gray said. "Still surprised, and realizing how close we were and just a guy here, there and they were able to get that play. You just realize how close you are and how you don't ever wanna be put in that position again."
Hours later, Dantonio, the Spartans' head coach, suffered a mild heart attack. He returned to coaching in the press box three weeks later at Michigan, then to the field two weeks after that at Northwestern.
The Spartans won that game thanks in large part to a fourth-quarter fake-punt call, appropriately titled "Mousetrap."
MSU finished the regular season 11-1 and in a three-way tie for the Big Ten title, and it now has the bull's-eye on its back against a 0-2 Irish squad all-too-familiar with last-second defeats.
"Very shocking," Cave said. "It was the last thing I expected, and it's disappointing. Definitely still got that bad taste in our mouth from that, and to see the highlight over and over when they show the top plays from last year, makes you sick to your stomach.
"And it's definitely something we haven't forgot about, and it's a little extra motivation going into this week."
September, 12, 2011
9/12/11
4:30
PM ET
In the second half of Saturday's 35-31 loss to Michigan, Notre Dame went 0-for-3 in third down situations of three yards or fewer. That problem looks manageable when compared to that of Florida Atlantic's, as the Owls managed just one first down Saturday.
In the entire game.
[+] Enlarge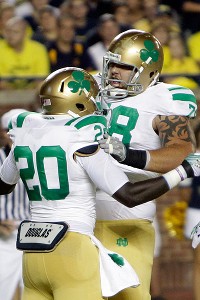 AP Photo/Carlos OsorioNotre Dame might lean on Cierre Wood, 20, and the running game against Michigan State.
FAU's opponent was Michigan State, which dominated on all cylinders in winning 44-0. The 15th-ranked and defending Big Ten co-champion Spartans allowed just 44 yards of total offense, stopped the Owls on all 10 third-down plays and scored a touchdown on defense.
Not exactly what the Fighting Irish are itching to see after a pair of mistake-filled losses.
Notre Dame's offense has a nation-leading 10 turnovers through two games, severely hindering an offense that is 10th among FBS schools in total yards but tied for 69th in points scored. It will face an MSU defense that ranks third against the pass, fourth in total defense and third in scoring defense.
At 2-0, the Spartans have looked like a much more complete team than the South Florida and Michigan teams that have beaten the Irish on the way to their 2-0 starts. The Spartans are sound overall on defense, efficient on offense and, as Notre Dame learned the hard way last season, well-coached.
If there is one area MSU has shown deficiencies in through two weeks this season, it might be its rushing defense. In a 28-6 Week 1 win against FCS opponent Youngstown State, the Spartans surrendered 128 rushing yards. Despite playing from behind most of the game, the Penguins finished with more yards on the ground than they did through the air (126).
That's not to say that Notre Dame should run all over Sparty, which still boasts the nation's No. 22 rush defense. But the Irish should try to establish a ground game early.
For one,
Greg Jones
is no longer in the green and white. Jones, now with the New York Giants, finished last season as the school's third-leading career tackler, with 465 takedowns. His 46.5 tackles for loss were tops in school history.
Notre Dame had plenty of success running the ball up the middle early Saturday in Ann Arbor, Mich.
Cierre Wood
carried the ball four times for 29 yards on the Irish's opening drive, and both he and change-of-pace back
Jonas Gray
combined for 22 yards on four carries on drive No. 2. Both series ended in touchdowns.
Wood finished the evening with 134 yards on 25 carries; Gray with 66 yards on six carries. Wood, who had 104 yards in Week 1, became the first Irish back to rush for 100 yards in two straight games since Armando Allen did so against Michigan and MSU in 2009.
Unlike Allen, Wood fumbled against Michigan, with his team driving in the fourth quarter. Gray fumbled in Week 1 at the goal line, resulting in a 96-yard touchdown for USF.
The key, of course, is protecting the ball while trying to expose a potential weakness in the defense. Then again, with the Irish, that's been the problem all along in this young season.
Top Position Battles Heading In To Spring