Notre Dame Football:

B.J. Daniels
September, 15, 2011
9/15/11
9:00
AM ET
Well, I must say I was feeling pretty good about
last week's prediction
after
Tommy Rees
' touchdown pass with 30 seconds left made it 31-28 Notre Dame. Of course,
Denard Robinson
changed everything.
A new week brings a new team from Michigan, with Notre Dame still searching for win No. 1. It will likely take the Fighting Irish winning out for their BCS bowl aspirations to be met, but that should be the last thing on everyone's mind. For now, to be cliche, it really is about one game at a time.
Kirk Cousins
and the Michigan State offense won't throw a bag of tricks at the Irish the way
B.J. Daniels
and Robinson did in the first two weeks, but they provide a stiff test nonetheless. The Spartans have a stable of four running backs who see meaningful carries and can wear out opposing defenses. But this is exactly the brand of football the Irish were built for, with a strong front-seven and finally some depth on the defensive line that wants to hit hard and hit fast.
Behind Rees, Notre Dame's offense likely won't click the way it did early last week, not against an MSU defense that ranks fourth in the country. But, as is the case with his defense, Rees should know what to expect from a deliberate unit, as opposed to the schemes Michigan threw at him a week ago. The Irish's offensive line, meanwhile, has been champing at the bit for a game like this, especially after the squad's fourth-quarter shortcomings on third-and-short against the Wolverines. Expect that to be an area the Irish better execute in.
Of course, none of this will matter if the Irish can't hang on to the ball. Call me crazy, and forgive me if I sound like I'm repeating myself, but I just don't see a scenario with this team shooting itself in the foot again and again. Ten turnovers through two games is abnormal, to say the least, and the conditions Saturday should be ideal compared to Week 2's rowdy atmosphere and Week 1's torrential downpour.
Throw in the fact that Notre Dame has played opponents of note so far compared to MSU's competition (Youngstown State of the FBS, Florida Atlantic), and I just have a hard time seeing the Irish lose this game.
Prediction: Notre Dame 23, Michigan State 17
September, 14, 2011
9/14/11
2:00
PM ET
SOUTH BEND, Ind. -- If nothing else, Notre Dame knows what it will see this Saturday as it goes for its first win of the season.
"The Big Ten champions are coming to town," Fighting Irish defensive coordinator Bob Diaco said. "They're a smash-mouth team, pride themselves on knocking people around, and if you're a tough guy and you see yourself as a big guy and tough guy, well then you're getting ready for that game and you're mentally preparing for that style of battle."
[+] Enlarge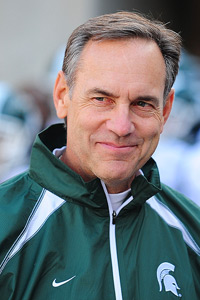 Andrew Weber/US PresswireMark Dantonio's teams are know for being disciplined and physically tough.
Michigan State doesn't boast a
B.J. Daniels
or a
Denard Robinson
, dual-threat quarterbacks who create nightmares for opposing defenses as they prepare. The Spartans play a more deliberate brand of football, one reliant on a running game that utilizes four different backs and a defense that currently ranks fourth overall in the country.
In other words, the Irish know what they're getting, know what they need do and know they just have to go out and do it.
"They're the same team every year," center Braxston Cave said. "They're big, they're physical and that's their game -- they're going to try to come in and out-physical you. And this isn't a team you want to out-physical, and we're planning on proving that on Saturday."
The Irish have shown a steady run game themselves this year, with
Cierre Wood
surpassing the 100-yard mark in each game and the team rushing for 315 yards overall.
But the offense's fourth-quarter performance Saturday in which it went 0-for-3 in third-down situations of three yards or fewer itches at the linemen.
"Definitely," Cave said, "because you'd like to go man-on-man and just out-physical the other team, but when you get those extra guys in there it becomes maybe one against two, and that's really not in your favor sometimes."
Running game coordinator and offensive line coach Ed Warinner believes the ground game has been much more efficient in the second season under this staff, short-yardage plays excluded.
That's where execution comes into play, and the Irish's ability in those situations will determine whether the run game can ultimately be deemed successful or not.
"Production is what you look for, and that doesn't necessarily mean the total number of yards," guard Trevor Robinson said. "It means being efficient when you need to. Just like being a balanced offense doesn't mean you run the ball and pass the ball the same amount of times; it means you do them efficiently when you need to."
As the Irish have learned through two weeks, turnovers and blown assignments can be costly, something that takes on even greater meaning this week against a sound team like MSU.
Irish head coach Brian Kelly succeeded Mark Dantonio as head coach at Cincinnati, and he knows the trademarks of a Dantonio-coached team.
"He demands discipline, attention to detail," Kelly said of the MSU coach. "He demands all those things on a day-to-day basis, a toughness to his football team. He wants them mentally and physically tough, and that's what you've got to be to be a Big Ten champ like they were last year. I know Mark does a great job in attention to those specific areas."
September, 3, 2011
9/03/11
8:33
PM ET
SOUTH BEND, Ind. -- A quick scoring drive following a
B.J. Daniels
touchdown pass has Notre Dame closing the gap on South Florida. But will the Fighting Irish have enough time?
Cierre Wood
's one-yard touchdown run cut the Bulls' lead to 23-13 with 7:35 remaining, but the Irish could not convert on a two-point try after a pair of USF penalties. The Irish took just three minutes, 40 seconds off the clock, relying heavily on
Michael Floyd
. The senior receiver hauled in four catches for 44 yards on the drive and has matched a career-high with 11 catches on the day, totaling 144 yards.
Floyd also surpassed Jeff Samardzija's school reception record of 179 career catches on the drive.
Notre Dame will have to rely on its defense to respond after it surrendered its first touchdown of the season.
Daniels' 2-yard touchdown pass to
Evan Landi
made it 23-7 with 11:05 remaining following a Gary Gray pass interference penalty on third-and-goal.
September, 3, 2011
9/03/11
2:40
PM ET
SOUTH BEND, Ind. -- Tailgaters are slowly starting to trot in to catch an early glimpse of the second year of the Brian Kelly regime as the Irish prepare to take on a South Florida team with Big East title aspirations. Oh, and you may have heard about the
Bulls' head coach
, too.
The heat isn't too bad, at least not compared to the last two days here. And potential showers around kickoff could make things interesting for both offenses.
I'm curious to see what Notre Dame does on its first possession if the weather doesn't hold up. Kelly said Thursday he wants the ball early with a veteran group returning on that side of the ball. With three talented starting receivers in the fold, I think the Irish would look to hit hard and hit first against a Bulls team unfamiliar with a stage like this.
On defense, containing
B.J. Daniels
is key. The versatile quarterback is in his third year at USF, and with three newcomers on his offensive line, I wouldn't be surprised to see him break off at the first sign of trouble.
We're about an hour away from kickoff. Be sure to keep it here for more coverage of Notre Dame's opener.
Here are some notes on Notre Dame as it readies for Saturday's season opener against South Florida. Thanks to ESPN Stats & Information for many of these tidbits.
Notre Dame has its highest preseason AP ranking (No. 16) since starting 2006 at No. 2, when it finished the season ranked 17th. But among the past five preseason-ranked Irish teams, that squad was the only one to finish the season ranked.
Notre Dame's 24 wins over the past four seasons is just 71st among 120 FBS teams during that span. The Irish's .480 winning percentage in that timeframe also ranks 71st in the FBS.
South Florida head coach Skip Holtz, a 1986 Notre Dame graduate, is trying to become the third Notre Dame graduate to beat the Irish as a head coach. Gerry DiNardo coached LSU to a 1997 Independence Bowl win over Notre Dame 57 years after Eddie Anderson led Iowa to a win over Notre Dame, in 1940.
Notre Dame is just 3-6 against Big East schools since 2004 and has lost four of its past five games against the conference.
South Florida quarterback B.J. Daniels was just one of four quarterbacks ranked in the top 90 of pass efficiency last season (82nd) to throw more interceptions (13) than touchdowns (11).
The Bulls are 0-4 in season openers on the road. They are 10-0 when opening at home.
September, 1, 2011
9/01/11
1:00
PM ET
SOUTH BEND, Ind. -- Notre Dame's defensive veterans welcomed the challenges newcomers would bring to the unit before they readied for Saturday's season-opener against South Florida.
They just didn't think so many would come from the other side of the line of scrimmage.
There is no longer a quarterback controversy for the Fighting Irish, but starter
Dayne Crist
saw his spot under center become crowded this week in preparation for the Bulls and their dual-threat signal-caller,
B.J. Daniels
.
[+] Enlarge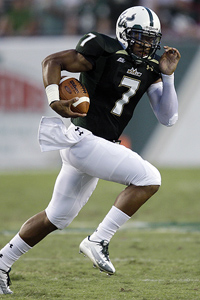 AP Photo/Chris O'MearaContaining quarterback B.J. Daniels will be a top priority for the Notre Dame defense.
Everett Golson
and
Andrew Hendrix
, who have not seen any game action for the Irish, took some first-team snaps during the week, simulating Daniels and his mobility outside the pocket.
"We've gotten some good work when they're in a demonstration kind of scenario, and then we tried to use some ones versus ones with both those guys at quarterback as well," coach Brian Kelly said of Golson and Hendrix. "So we're making sure that our defense gets speed work. Sometimes when you go in demonstration or scout team it slows down, and maybe you don't have the offensive linemen knowing exactly what to do, so we tried to put them with our first unit as well to give us the best preparation."
Preparing for a quarterback who has covered 1,033 yards on the ground over the past three seasons is no easy task.
That's why, defensive coordinator Bob Diaco said, no one player carries the burden of responsibility for stopping Daniels.
"When [Daniels] makes so many plays that are deep-concept passing and all of a sudden he's on the move, and the players are pickled with, do they come out of coverage and tackle him as he's running toward the line of scrimmage or do they stay in coverage and then contend with him after he's crossed the line of scrimmage? It's a dynamic that, you'd almost have to be in that situation to feel how hard it is to get it figured out," Diaco said.
That's what has made facing Golson and Hendrix so valuable to the Irish defense.
"I always enjoy going speed against speed when we go against the ones, because that's how it's gonna be in the game," linebacker Darius Fleming said. "So those are periods that really help both sides out and prepare us for the week."
One variable the Irish defense will have trouble accounting for is the physical nature of the 6-foot, 223-pound Daniels.
Golson checks in at just 6-feet, 185 pounds. And though Hendrix's stature (6-foot-2, 220 pounds) bears much more semblance to that of Daniels, the task of tackling an opponent takes on a different nature within the course of a live game.
"He's not like most quarterbacks that are easy to bring down," safety Harrison Smith said of Daniels. "He'll fight for that extra yard. He's almost like a running back. So that's almost another dimension that you've got to focus on."
Irish Flips Top TE Jones, Back In Top 10