Notre Dame Football:

Big East
October, 12, 2012
10/12/12
2:38
PM ET
Is Notre Dame for real? (Skip.) Is Notre Dame for real? (Skip.) Is Notre Dame for real? (Skip.)
Yes, the college football punditry and peanut gallery can sound like a broken record. The Fighting Irish are 5-0 and ranked seventh, and almost every sign suggests legitimacy, but, well, we've been down this road before. And not only with Notre Dame. It wasn't too long ago that everyone was blowing kisses at Florida State -- the Seminoles are
finally
back -- before it became a national punch line or cautionary tale, however you wish to view a loss at NC State.
Notre Dame plays host to No. 17 Stanford on Saturday. The Cardinal might present the Irish their toughest test yet. Stanford, after all, beat USC. Whipped the once-No. 2 Trojans at the line of scrimmage, no less.
Of course, Stanford also wilted against Washington, making a Huskies defense that would get decimated by Oregon look stout.
[+] Enlarge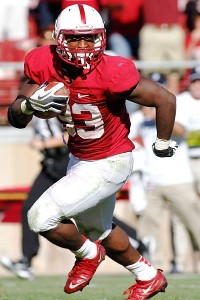 George Nkitin/AP PhotoStepfan Taylor and Stanford can perhaps clear the national title picture a bit by toppling undefeated Notre Dame.
The gist here is there is still a lot of fog over the college football season. We all say stuff, perhaps even with a feigned certainty -- Alabama is unbeatable! -- but we don't really know. The season remains rife with variables and plot twists, even with the first BCS standings being released Sunday.
There are 14 undefeated teams in the Football Bowl Subdivision (Ohio State isn't eligible for the postseason due to NCAA sanctions). Some teams mostly feel -- fairly or unfairly -- like curiosities: three in the Big East (Cincinnati, Louisville and Rutgers), Ohio, Louisiana Tech, Oregon State and Mississippi State. Others own undeniable heft: Alabama, Oregon, South Carolina, Florida, West Virginia, Kansas State and, yes, Notre Dame.
Odd that this weekend's Red River Rivalry feels so far off the radar, although both Texas and Oklahoma could play roles in winnowing the contenders and pretenders. The Sooners still have dates with Notre Dame and West Virginia, while the Longhorns conclude the season against Kansas State.
The "what ifs" are rampant. Such as: What if Alabama, Notre Dame and Oregon all finish undefeated; who then plays for the title? Or switch out Oregon with West Virginia or Kansas State. There are the multiple unbeaten quandaries, and then there are all the best of the once-beaten comparisons, such as: Can USC get back into the national title hunt?
Again, so many variables in our penultimate season yoked by the lovely BCS system. It's difficult to predict how pollsters will react. And don't even start with the computers. With strength of schedule, it's not just what your team has accomplished, but what all its foes did. And all its foes' foes. Etc., etc.
What's also interesting is that the march toward clarity isn't always linear. At any moment, a couple of upsets can put a boot print in our consensus expectations. For example, what might have happened last season if LSU had been nipped in the SEC title game?
The good news is a page will turn next week. If Kansas State and West Virginia both survive tricky road games this weekend -- the Wildcats are at Iowa State, and the Mountaineers are at Texas Tech -- they meet in Morgantown on Oct. 20, so one of the Big 12's two unbeatens will fall.
Same goes for the SEC East. If No. 3 South Carolina manages to win at No. 9 LSU on Saturday, a visit to No. 4 Florida on Oct. 20 seems like the Rubicon for the division. Only one unbeaten will remain in the division, just as only one unbeaten -- Alabama or Mississippi State -- can emerge from the West.
And, if everyone then holds serve, we could have an epic No. 1 versus No. 2 matchup in the SEC title game.
But, alas, that's getting ahead of ourselves.
We started with the notion that Stanford will provide a nice test for Notre Dame's legitimacy. The Cardinal, after all, are riding a three-game winning streak in the series.
But we know past success doesn't guarantee future results. Just look at your 401K. Or the Fighting Irish's storied history.
Is Notre Dame for real? Heck, is anyone for real?
It's probably best to turn to one of history's great college football pundits at times like this. As Socrates once noted when his preseason picks imploded, "I know one thing, that I know nothing."
Or, more charitably, at least very little.
October, 10, 2011
10/10/11
5:45
PM ET
With Notre Dame's season halfway over and BCS rankings coming out in less than a week, it's time to look at where the Fighting Irish could be headed for the holidays.
Our Mark Schlabach and Brad Edwards both have the Irish playing in the Champs Sports Bowl
in Orlando. And both have them playing Virginia Tech.

That would be a great get for a bowl that regularly pits the Big East and ACC — arguably the two worst automatic qualifying conferences — against each other, but the folks near Disney World better hope an Irish loss is on the horizon.
Notre Dame has overcome an 0-2 start to win four straight before its bye. It likely won't be an underdog until its finale at Stanford, which itself could be playing for big stakes — possible even the biggest if the Cardinal are 11-0 going into it.
There's little doubt that a win in Palo Alto, Calif., would leave a strong last impression on bowl executives, and winning that one, plus the five before it, is likely the only way Notre Dame will find itself in a BCS bowl.
But considering the Irish remain unranked and likely need to go 6-for-6 in the second half of the season to make a BCS bowl, I wouldn't think about booking any travel plans just yet.
October, 5, 2011
10/05/11
5:14
PM ET
SOUTH BEND, Ind. -- Notre Dame athletic director Jack Swarbrick likes the direction the Big East is heading. Now, it's time for the 14-team conference to act on its plans to expand, something its presidents voted unanimously to authorize commissioner John Marinatto to pursue after a meeting Sunday at Georgetown.

"It's great to make plans," Swarbrick said Wednesday at Notre Dame's new Compton Family Ice Arena, where its hockey team announced it would join Hockey East. "It's whether the people you might be interested in or the circumstances will allow you to achieve those plans, but certainly the way the conference is thinking and what it's trying to achieve are consistent of what I think it needs to do."

The Big East lost Pittsburgh and Syracuse to the ACC on Sept. 18, causing concern about the viability of the league in which 18 Notre Dame sports compete in, including its men's and women's basketball teams.

A weakened or nonexistent Big East would likely force Notre Dame to re-evaluate its status as a football independent, something it desires to maintain.

The Pac-12 announced it would not expand three days after Pitt's and Syracuse's moves to the ACC, seemingly quelling the realignment circus momentarily.

But Swarbrick, who in earlier interviews had said he was caught off-guard by Pitt's and Syracuse's moves, said Wednesday that he knows better than to think all is settled in the college sports landscape.

"You know I certainly have been taught enough times now not to claim there's any calmness emerging," Swarbick said. "Every time I declare it someone proves me wrong. So our assumption is it's not. Certainly the factors that have contributed to the larger conference realignment continue to exist and we're doing the same thing we've done throughout: monitoring it closely and hoping that the Big East stays a vibrant and successful partner for us."

Asked the odds of the Big East staying vibrant and successful, Swarbrick said: "I'm not placing any odds on anything these days."

September, 27, 2011
9/27/11
4:00
PM ET
SOUTH BEND, Ind. -- Brian Kelly took the podium for his weekly news conference Tuesday and delivered a four-and-a-half minute opening statement, one that began with several references to Notre Dame's opening slate in the month of September.
"OK, we're into Week 5, and obviously it's been a rugged schedule for our guys, you know, playing our third Big Ten team, two very good Big East opponents, both bowl teams last year," Kelly began. "So you know, going into Week 5 the most important thing is that our guys are taking care of themselves, and you know, making sure that we're able to get all of our players at 100 percent on Saturday, because when you play the kind of schedule that we have in the first five weeks, you've gotta make sure that your guys are ready to play every week physically."
The Fighting Irish escaped the first-third of their season with a .500 record despite opening 2011 with a pair of close losses. Or they redeemed themselves after underperforming to start a campaign that began with a No. 16 ranking, depending on one's viewpoint.
[+] Enlarge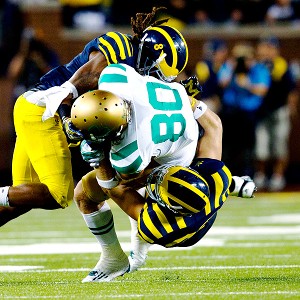 Rick Osentoski/US PresswireNotre Dame faced one of the toughest schedules in all of college football to start the season.
How long it has taken Notre Dame, particularly its offense, to efficiently run Kelly's spread offense in his second year at the helm was the first question posed to the head coach Tuesday.
"Well, you know, I look at the first two weeks where we averaged over 500 yards in offense and we lost both games," Kelly said. "You know, so really for me, it's really about winning games and making certain that we do that. I'd rather do that and be out-coached and, you know, win ugly and do all those things but at the end of the day win the football game. Beauty points, style points I'm not really interested in those things.
"Would I like to play better? Certainly. Do we want to take care — absolutely. All those things are absolutely crucial. But I don't think this is a matter of we're not moving forward. I think it's still about building some more of those important components that I believe are necessary for long-term winning."
At 2-2, Notre Dame received just three votes in this week's Associated Press poll, good for 37th nationally. The Irish received none in the USA Today poll.
Other measures, especially on paper, show more promise so far.
Statistician Jeff Sagarin ranks the Irish 25th overall and has their schedule through four games as the fifth-toughest in the nation.
Notre Dame will try to climb above the .500 mark Saturday at Purdue, a 2-1 team that has played, according to Sagarin, the 188th-toughest schedule so far. Sagarin's ratings include all 247 FBS and FCS teams.
No. 6 Stanford is the only ranked opponent remaining on the Irish's schedule with eight regular-season games left. Notre Dame has lost to a pair of currently ranked, 4-0 opponents in No. 16 South Florida and No. 19 Michigan, and it beat Michigan State when the Spartans were ranked 15th.
In his first year at Notre Dame, Kelly opened last season against Purdue, Michigan, Michigan State and Stanford, the latter two teams finishing their regular seasons with just one loss each.
Notre Dame started 1-3 before winning its final four games to finish 8-5. Kelly thought the tough early stretch helped his team last season but acknowledged there's a balance to be had for programs hoping to contend for BCS bowls.
The Irish would likely need to win out to notch a BCS-bowl berth. Illinois, which lost three regular-season games in 2007, was the only three-loss BCS-bowl team since the system started in 1998.
"I think what the most important principle is, is that you have to develop depth within your ranks," Kelly said. "I'll give you an example. Against Southeast Missouri, Purdue probably played their front-line guys less than 30 plays, plus they had the week off; where I've gone through, with our team, four very physical football games with South Florida, Michigan, Michigan State and Pittsburgh. So I'm more concerned with keeping my guys healthy and getting them at 100 percent. That's probably my biggest concern with the kind of schedule that we have."
September, 26, 2011
9/26/11
12:00
PM ET
September, 22, 2011
9/22/11
8:04
PM ET
SOUTH BEND, Ind. -- Conferences are growing. Freshmen are getting bigger. Coaching salaries are escalating.
Could Notre Dame Stadium be next to join this era of college football and get high-definition scoreboards? Brian Kelly seems to hope so.
"I think it enhances the game experience more than anything else," Kelly said during his weekly radio show at Legends of Notre Dame. "I'm not afraid to say it's a great addition because it creates a great atmosphere within the stadium."
"Michigan's didn't have any advertising," he added, "so count me in the favor of that. But as I've said many times before, they're not gonna be polling me as to whether we get a jumbotron or not."
Kelly went so far as to say he would be surprised if Notre Dame Stadium didn't eventually receive bigger scoreboards, though he insisted he had no inside information.
"If you're gonna stay in this arena, I'm sure things will eventually change," he said, "it's just gonna take some time."
Kelly does have inside information on the Fighting Irish's uniforms, saying the green jerseys would return for at least one game this season. The question he was answering was if the Irish would wear them against USC on Oct. 22, but the head coach wouldn't disclose the date.
Here are some more notes from Kelly's radio show:
He said the pregame meal for a noon game Saturday will be around 9 a.m., with wheat pasta, chicken breasts, baked potatoes and small filets on the menu. Asked who eats the most on the team, Kelly joked: "The guys who know they're not gonna play."
Reminded of his last time at Pitt, a 21-point comeback in his final game at Cincinnati that clinched his second straight Big East title, Kelly said, "That was 2009? Feels like 15 years ago."
September, 18, 2011
9/18/11
4:07
PM ET
SOUTH BEND, Ind. -- As the game of musical chairs that is conference re-alignment takes place across the nation, Brian Kelly remains head coach at Notre Dame, a football independent. Having coached at a Big East school, Cincinnati, two years ago, Kelly has had a view from both sides of the landscape.
"Football independence at Notre Dame, I think it's schedule and recruiting," Kelly said during his Sunday teleconference of the advantages. "Those are the two things. You can put together a schedule that gets you from the East Coast to the West Coast, and in recruiting it allows you to have that large sampling. You're not marginalized geographically in your recruiting. On the other side, you're not playing for a conference championship. So, there's pluses and minuses. I like the pluses that we have as an independent right now, but like anything else, I think I've said this a number of times, we'll keep our ear to the ground."
Notre Dame athletic director Jack Swarbrick was surprised by the departure of Syracuse and Pitt for the ACC, telling reporters Saturday that he never envisioned such a scenario.
The moves became official this morning, leaving the conference 18 of the Fighting Irish's other teams compete in smaller by two.
Still, Swarbrick insisted, football independence remains Notre Dame's intention,
according to the Chicago Tribune:
"We will approach this, no matter what the change is, with that as our goal," Swarbrick said. "We'll see whether we can manage our circumstances to meet that goal."
Kelly said the constant shuffling doesn't affect his day-to-day operations as a football coach, though he does feel the timing of the circus takes away from what college football Saturdays are generally about — football games.
"Yeah I think so," he said. "I think anytime there's movement like this, it takes a little bit away from the games on Saturday. But I think for the average fan, they care very little bit about this. They're more interested in their teams, and they know the networks are more interested in showing these games. So I think it's just good talk for the media. But I think the people that are involved, week-to-week, their focus is on the game and their opponent."
Good Luck Playoff Selection Committee