Notre Dame Football:

Blake Bell
September, 28, 2013
9/28/13
7:11
PM ET
SOUTH BEND, Ind. -- Oklahoma escaped Notre Dame Stadium with its second-ever victory over the Irish,
winning 35-21
. Here are a few quick takeaways from this contest:


It was over when:
Facing a third-and-3 from his own 46 early in the fourth quarter,
Blake Bell
hit
Sterling Shepard
for a 54-yard touchdown pass in which Shepard simply outran Irish linebacker
Jarrett Grace
. Shepard then caught the two-point conversion pass to give the Sooners a 35-21 lead.
Game ball goes to:
Oklahoma's defense gets to share this honor today. The Sooners picked off
Tommy Rees
three times and brought pressure early and often. Oklahoma was able to convert all three turnovers into touchdowns, including a 24-yard pick-six by
Corey Nelson
on the game's first drive.
Frank Shannon
's interception on the next Notre Dame offensive play helped set the Sooners up with a 14-0 lead not even three minutes into the game.
Stat of the game:
During a contest in which Notre Dame finally established its ground game and got creative on offense by sprinkling in backup quarterback
Andrew Hendrix
here and there, the easy answer is turnovers. Notre Dame gave the ball away three times; Oklahoma gave it away zero times. It is sometimes that simple, as we saw last week in an ugly offensive game that the Irish were able to pull out against Michigan State thanks in large part to forcing the game's only turnover, which they turned into a touchdown.
What it means:
At 4-0, Oklahoma has to feel good about its chances in the Big 12, especially after seeing Oklahoma State lose to West Virginia earlier Saturday. Notre Dame, meanwhile, will likely have to win out to make a BCS bowl game after falling to 3-2 on the season. The Irish's next test comes next week against Arizona State in Arlington, Texas.
September, 28, 2013
9/28/13
7:00
AM ET
No. 22 Notre Dame hosts No. 14 Oklahoma today in a rematch of last year's contest in Norman, Okla. Will the Irish improve to 10-1 all-time against the Sooners, or will
Blake Bell
and Co. put a serious damper on BCS-bowl hopes in South Bend, Ind.?
Here are five things to keep an eye on when these teams square off at 3:30 p.m. ET:


Getting the ground game going:
Another week, another plea for the Notre Dame running game to finally take off. The Irish finished with just 78 rushing yards last week, albeit against an elite Michigan State defense. They have now gone three straight games without breaking the 100-yard rushing mark, after opening the season with a 188-yard rushing effort against Temple. Notre Dame ranks 99th nationally in rushing yards per game (114.3), and it will need to have some early success running the ball to beat Oklahoma. In last year's 30-13 win, the Irish out-rushed the Sooners 215-15.
Pressure Bell:
Bell is making his first career road start. He had plenty of success in his starting debut two weeks ago, but that was against Tulsa, which, to put it nicely, does not quite have the same man-power up front as Notre Dame. The Irish might have turned a corner defensively in their 17-13 win last week over Michigan State, but we soon will know for sure whether that was truly the case.
Stephon Tuitt
looked like his old self against the Spartans, and fellow end
Sheldon Day
is back after missing last week with an ankle sprain, giving the Irish another body on the defensive line. There is no questioning the 6-foot-6, 252-pound Bell-dozer's talent, but Notre Dame can try to make him uncomfortable in an unfamiliar environment and pressure him into mistakes early.
Tackle:
Sounds simple enough. Notre Dame had the nation's No. 2 scoring defense last year but the No. 7 overall defense, because it did a tremendous job of keeping the points down and not giving up big plays. Last year's win in Norman was Exhibit A of the Irish D in action: Landry Jones threw for 351 yards and
Jalen Saunders
caught 15 balls for 181 yards, but the Sooners reached the end zone just once, on a Bell touchdown run. The Irish were a sure-tackling team in the regular season last year, happy to give up the underneath routes and mentally test an offense to march the length of the field over a longer period of time. Sloppy tackling plagued the Irish this year in a loss at Michigan and a narrow win at Purdue, but they still have plenty of the same personnel from last year, and they need to play like it to beat Oklahoma.
Protect the ball:
Another bullet-point that sounds straightforward but is more meaningful than most.
Tommy Rees
has been a much better decision-maker this season, throwing just two interceptions through four games. Not coincidentally, Notre Dame's only loss, at Michigan, was when he threw both picks. Rees wasn't at his best last week against the Spartans, but the Irish won the turnover battle, 1-0, and escaped with a tight win. This is the contest where that veteran savvy will matter most, as Rees is a senior playing in one of the biggest home games of his career, going up against a highly-touted newcomer in Bell, who has never had so much responsibility while walking into an environment like the one he will face in Notre Dame Stadium.
Seeing green:
Speaking of the Notre Dame Stadium environment, it will be interesting to see what kind of atmosphere is inside the building come kickoff. The program has called for a "green-out" all week, and Brian Kelly said that 40,000 pom-poms will be given out ahead of the contest. Last year's night game at Owen Field featured the awesome sight of a stadium nearly completely decked out with its alternating crimson- and white-clad sections, and it's neat to see the Notre Dame faithful answer the challenge this year.
September, 27, 2013
9/27/13
3:35
PM ET
I'm 4-for-4. You probably don't want me to go 5-for-5.


When Oklahoma has the ball
:
Blake Bell
is making his first career road start. He has given everyone he has faced trouble with his ability to run the football, but Brian Kelly stressed this week that Bell will beat you with your arm as well. He is 6-foot-6, 252 pounds, and he is coming off a 413-yard, four-touchdown outing two weeks ago in his first career start, albeit against Tulsa. Notre Dame gave up a lot of yardage last year in Norman, Okla., but the Irish were able to keep the ball in front of them, bunkering down when push came to shove in the red zone. They cannot afford to miss tackles the way they have early this season, and they cannot let the Sooners' receivers -- namely,
Jalen Saunders
, he of 15 catches and 181 yards in last year's meeting -- get behind them.
When Notre Dame has the ball
: The Sooners have the nation's No. 5 scoring defense (9 ppg). Of course, they have played just three games against three bad opponents. Notre Dame won last year's game by 17, but it is easy to forget that this was a 13-13 contest with six minutes remaining. The Irish had done a brilliant job of controlling the line of scrimmage before catching the Oklahoma defense off-guard with a big play -- a 50-yard, play-action strike to then-freshman
Chris Brown
that set up the go-ahead score. That's easier to do with Everett Golson than it is with
Tommy Rees
. And it's easier to execute when you have a strong running game. Cierre Wood's 62-yard first-quarter touchdown helped open that up for the Irish early. They should continue to try to establish a ground attack early, but they have had lots of trouble getting it going through four games.
Intangible
: Everyone was sleeping on the Irish during last year's contest. That is no longer the case. Oklahoma got pushed around in a venue the Sooners don't pushed around much in, and they are coming off a bye entering this contest.
Prediction
: Oklahoma 24, Notre Dame 17. These slow starts will eventually catch up to the Irish, and the Sooners are too talented to not make them pay.
September, 27, 2013
9/27/13
10:00
AM ET
As always, thanks to ESPN Stats & Info and sports information departments for these stats:
Entering his first start on Sept. 14, Blake Bell had thrown 26 passes and rushed for 24 touchdowns. He had averaged one rushing touchdown every 1.7 carries in goal-to-go situations, which was the best ratio in the FBS among active players with at least 15 such rushes. Against Tulsa, Bell completed 73 percent of his passes for 413 yards and four touchdowns. He set a school record for the most passing yards by an Oklahoma quarterback in his first career start, and posted a 96.7 Total QBR. When looking just at passing plays, Bell had a Total QBR of 99.1, the second-highest QBR on passing plays for an Oklahoma quarterback in the last 10 seasons behind only Sam Bradford, who had a 99.3 against Baylor in 2008.
With Bell at quarterback, the Sooners averaged 4.6 points per drive against Tulsa, which was their highest mark over the past five seasons. Their offense also added about 33 expected points toward their 31-point margin of victory, the third-most expected points added for the Sooners offense over the past five years. In one start, Bell has thrown as many touchdowns (four) as Trevor Knight had in his first two starts of the season.
Oklahoma's offense is averaging 7.1 yards per play with Bell as its quarterback, compared to 5.4 yards per play with Knight under center. Bell gave the Sooners a downfield-passing threat. Bell has completed 40 percent of his passes thrown 15 yards or longer, including two touchdowns against Tulsa. That is right on par with the AQ average on such throws (40 percent). In comparison, Knight had completed 1-of-14 passes thrown 15 yards or more with no touchdowns and two interceptions before getting injured in Week 3 against West Virginia.
Last week against Michigan State, Tommy Rees completed just three of a career-high 17 passes thrown 15 yards or longer downfield with nine overthrows. Entering that game, Rees had completed 14-of-28 passes of 15 yards or longer and had seven overthrown passes.
Oklahoma opponents have completed 4-of-17 passes (23.5 percent) thrown 15 yards or more this season, and the Sooners have allowed the fourth-lowest completion percentage (27 percent) since the start of the 2012 season among AQ schools.
Since 2009, Oklahoma lost eight games to teams it had the opportunity to play the following season. Oklahoma won all eight rematches and scored at least 40 points in five of those games.
Oklahoma is 1-9 all-time against the Irish. There are only two schools the Sooners have a losing record against who they have played at least 10 times -- Notre Dame (.100 win percentage) and Texas (.425). This is OU's first trip to South Bend since 1999.
Entering the BCS Championship Game last season, the Notre Dame defense allowed just nine total touchdowns -- seven through the air. Through four games this season, they have already allowed 10 touchdowns -- eight of the passing variety.
Notre Dame, which finished last season second in the FBS in scoring defense, has had trouble getting off the field on third down this season. On third-and-7 or more, opponents are converting 36.7 percent of the time, which ranks 113th among FBS schools.
Notre Dame has won its last 10 home games dating back to 2011. The Irish are 4-1 all-time against the Sooners in South Bend, with Oklahoma's lone win coming in 1956.
The Sooners' defense has allowed just 27 total points in three games -- all against FBS teams. The only team to allow fewer than Oklahoma's 9.0 ppg to FBS opponents this season is Louisville (6.7).
With 152 wins at Oklahoma, Bob Stoops is just five behind Barry Switzer for most in program history (157).
September, 25, 2013
9/25/13
4:00
PM ET
On Saturday, Oklahoma will make its first trip to Notre Dame Stadium in 14 years. The Irish won that 1999 contest, 34-30, and have won eight others against the Sooners, as they hold a 9-1 all-time mark in the series. Last season's game turned on several big Notre Dame plays on both sides of the ball, lifting the Irish to a 30-13 road win and an 8-0 record.
What will happen this time around? We turn to Big 12 reporter Brandon Chatmon and Notre Dame reporter Matt Fortuna to preview this weekend's tilt in South Bend, Ind.
Matt
: Brandon,
Blake Bell
earned the noble distinction last year of becoming the first player to rush for a touchdown against Notre Dame. That was eight games into the Irish's season, and this year they have already given up two scores on the ground. Obviously, Bell has a lot more on his plate this time around. And he is making his first career road start, in a stadium where the Irish have won 10 straight games. What can Notre Dame's defense expect to see from Bell on Saturday?
Brandon
: The Irish will actually have to account for the possibility they will see No. 10 throw the ball when he's behind center. Notre Dame will have to be prepare for Bell to test its secondary with his arm more than his feet, and he showed he might be a better passer than people think in his first start against Tulsa. Undoubtedly, the windows will shrink against ND but the fact remains that the Irish will have to prepare for Bell, who could test them with his arm and feet, unlike their preparations for
Landry Jones
, who doesn't put fear into the heart of any defense with his legs. The overriding question in Norman is: how have the Irish changed in the trenches after manhandling OU in Norman last season? Can they do that again?
Matt
: The depth of Notre Dame's defensive line took some hits this offseason -- first with the transfer of
Eddie Vanderdoes
to UCLA, then with the ACL tear suffered by
Tony Springmann
. Still, the front-line guys remain very dangerous, though the numbers have not exactly depicted that through four games. The Irish's opponents have done a good job of establishing a quick-strike passing game, effectively negating the strengths of the Irish's defensive linemen. A mobile quarterback like Bell will likely present more challenges Saturday, and it us up to the Irish to continue to adjust. The other side is a bit of a mystery as well. Notre Dame has struggled to establish much of a run game so far, but its offensive line has done a tremendous job of keeping
Tommy Rees
standing up straight through four games, and the offense has again limited the turnovers. Rees and this year's group of running backs just don't pose the kind of threat that Everett Golson and last year's backfield did, so it's hard to imagine the Irish running to set up the deep pass in the same way they were able to last year, when they connected with
Chris Brown
for a game-changing 50-yard strike in the fourth quarter. They may have more weapons at receiver this year, though. How does Oklahoma's pass coverage match up with
TJ Jones
,
DaVaris Daniels
and company?
Brandon
: Well, Matt, the Sooners' secondary would like to think it's ready for the challenge against Rees and Notre Dame's receivers. All-Big 12 cornerback
Aaron Colvin
won't be a concern, but the rest of the secondary is somewhat untested. Senior
Gabe Lynn
is starting at safety, a new position, after spending his first three seasons at nickelback and corner, and he has played well. OU's three new starters, nickelback
Julian Wilson
, cornerback
Zack Sanchez
and safety
Quentin Hayes
, have looked good but haven't yet played a quarterback who will capitalize on their mistakes. That said, the OU secondary, without question, is faster and better in coverage than the 2012 version. Whether it will it hold up mentally in a hostile environment is the unanswered question, so I can't wait to see how it all plays out. Anyway, who do you like this weekend?
Matt
: Notre Dame's defense played its best game Saturday, responding to Brian Kelly's mid-week challenge. But I'm just not sure it has completely turned the corner yet. I think the Irish are getting Oklahoma at a more opportune time, as Bell is making just his second start and the Sooners have yet to really be tested. But I have not seen enough so far that makes me believe Notre Dame will be able to handle everything Oklahoma will throw at it offensively. Oklahoma has had one more week to prepare, and I sense a bit of wounded pride coming from the Sooners after the Irish out-muscled them late last year and, eventually, ended up ruining the their BCS-bowl hopes. How do you see this one unfolding?
Brandon
: I think everything falls on the shoulders of the quarterbacks. Rees is much more experienced than Bell and I have a feeling that's going to show itself on Saturday as the Irish make Bell uncomfortable in the pocket and force a couple of mental mistakes from the junior during his first road start. OU's defense will hold up and play well, giving the Sooners the chance to remain in the game no matter what happens offensively. But turnovers will be the difference and ND will win the turnover battle and win a close, hard-fought game at home.
September, 24, 2013
9/24/13
1:25
PM ET
SOUTH BEND, Ind. — Oklahoma had a 356-yard passer and a 181-yard receiver in last year's game against Notre Dame. The Sooners put the ball in the end zone just once, though, and they lost by 17.
Call it keeping the points down or bending but not breaking. Whatever it is, it has worked well for the Irish in the past, and they are cognizant of that as they ready for a rematch Saturday at Notre Dame Stadium.
"A lot of it has to do with our ability to not give up big plays — keeping the ball in front of us has been one of our mainstays defensively ," coach Brian Kelly said during his Tuesday news conference, adding: "You've got to be sound and fundamental and contain. You can't give up easy runs. I think that's really what it comes down to. When the quarterback's running the football, you've got to make sure you're minimizing their ability to get big plays."


New Sooners quarterback
Blake Bell
was used in short-yardage situations last year, as he accounted for the first rushing score against the Irish in 2012.
Will Cronin
and
Rashad Kinlaw
, both of whom stand 5-foot-11, have mimicked the 6-6, 252-pound Bell on the scout team this week.
The challenge is different from facing drop-back passer Landry Jones last season, though the Irish have become familiar with mobile signal-callers in different parts of each of their first four games.
"I think from a chemistry standpoint they put you in a position where you have to cover a lot of different scenarios," Kelly said. "You're put in a very difficult position when you can be running the football and have options to throw as well. That constant bind that the running quarterback gives you is a stress on your defense, and we've had that for the last couple of weeks. Our staff and [defensive coordinator Bob] Diaco have done a great job of formulating a plan, and we're going to have to have another great one this weekend."
Notes
:
Matthias Farley
and
Austin Collinsworth
were listed as co-starters at one safety spot, with
Elijah Shumate
holding down the other. The inside linebacker depth chart showed similar structure, with
Jarrett Grace
and
Dan Fox
as co-starters at one spot while
Carlo Calabrese
was the lone starter at the other spot. All five running backs were listed as co-starters. … Notre Dame Stadium is calling for a "green out" but the team will not wear green jerseys. Upward of 40,000 pom-poms will be given out.
September, 23, 2013
9/23/13
10:00
AM ET
NORMAN, Okla. -- Is Oklahoma a BCS title contender? Or a pretender?
Those questions will start to get answered on Saturday when the Sooners visit South Bend, Ind., to take on Notre Dame.
[+] Enlarge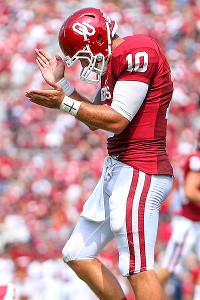 Kevin Jairaj/USA TODAY SportsIf Blake Bell can help the Sooners control tempo and execute in the red zone, OU's chance of winning at Notre Dame increases.
Turnovers, third down efficiency and sacks are obvious statistics that point to the eventual winner. But here are five overlooked stats to keep on eye on if the Sooners hope to knock off the Fighting Irish.
Rush attempts:
OU will want to establish the running game and be much more balanced than it was during its 30-13 loss to ND in Norman last season. The Sooners passed the ball 52 times and ran 24 times in that defeat.
Why it matters:
If OU's rushing attempts surpass 35, that likely means the Sooners are having success on the ground, particularly on first down. Four- or five-yard gains on first down will increase the chances of second down rushes. One- or two-yard gains will not. If the Sooners can run the ball, their odds of winning increase significantly.
Tackles for loss:
The Sooners need to play the majority of the game on Notre Dame's side of the line of scrimmage. OU had two tackles for loss against the Fighting Irish in 2012 as Notre Dame was never really taken out of its comfort level despite starting a redshirt freshman quarterback in Everett Golson.
Why it matters:
Mike Stoops' defense has been much more aggressive this season with more blitzing and a one-gap scheme along the defensive line. Those moves were made to get more penetration into opponent's backfield. If OU has five or more tackles for loss on Saturday, that's a great sign. If not, its defense could be losing the battle in the trenches.
Tackles recorded by Sooners' linebackers:
OU's leading tacklers after three games are
Corey Nelson
and
Frank Shannon
. Last season, the Sooners' leading tacklers were safeties Tony Jefferson and Javon Harris. Jefferson and cornerback
Aaron Colvin
combined for 21 tackles in OU's loss to ND last year, a sign that the defensive line and linebackers were subpar at best.
Why it matters:
Nelson and Shannon have played extremely well, along with pass rush specialist
Eric Striker
. If Nelson and Shannon are making plays sideline-to-sideline and Striker is getting pressure on ND quarterback
Tommy Rees
, the Sooners defense will have the chance to dominate the game. If OU safeties
Gabe Lynn
and
Quentin Hayes
are making the majority of the tackles, that means Nelson and Shannon aren't stepping up their game against the run or pass.
Red zone efficiency:
People often talk about how the Irish came into OU's house and dominated the Sooners in their last meeting. OU was 1 of 5 in the red zone in that loss, a negative state in a game that was tied 13-13 with just under 12 minutes left in regulation. Clearly, the Sooners weren't that far away from leaving Memorial Stadium with a win. Worse yet, they were 1 of 3 in goal-to-go situations that evening.
Why it matters:
Scoring points and capitalizing on opportunities decide games, particularly games between two quality opponents. The Sooners can't expect to win if they make consistent trips into the red zone and don't come away with points like they did in 2012.
Blake Bell
scored OU's lone touchdown last season, so the Sooners should be able to come up with ways to use Bell's skill set to make things harder on ND's defense. OU was 4 of 7 in the red zone and 3 of 4 on goal-to-go situations against Tulsa on Sept. 14 -- Bell's lone start this season -- but they'll need to be even more efficient against the Irish.
Time of possession:
There are several games where time of possession is irrelevant in this era of college football. This game will not be one of them. ND won the time of possession battle in 2012, as the Irish generally controlled the pace of the game.
Why it matters:
If OU can control the ball and maintain possession, it'll help take the crowd out of the game, potentially making things a lot easier in Bell's first collegiate road start. Obviously, if the Sooners can score five touchdowns on drives of two minutes or less to start the game, they'll take it. But the much more realistic scenario is to try to control the pace of the game by maintaining possession, much like the Irish did a year ago.
September, 17, 2013
9/17/13
12:00
PM ET
Thoughts and prayers for all those affected by the Navy Yard tragedy.
June, 13, 2013
6/13/13
9:00
AM ET
No. 2 marks the arrival of Notre Dame as a legit national title contender.
As always, my mailbag is open to hear your suggestions on rankings such as these.
Oct. 27, 2012: Brown catch leads to big fourth in upset at OU (Stories here and here)
A three-point home win over a so-so BYU team a week earlier hardly had anyone convinced that 7-0 Notre Dame was ready for a trip to Norman, Okla.
College GameDay was on-hand for this one, too. So were an Owen Field-record 86,031 fans, who did a nice job of striping the stadium for a candy cane-like look of alternating red and white sections. And for three quarters, the contest looked like it had the chance to become a classic.
Then
Everett Golson
hit rookie
Chris Brown
on a 50-yard fourth-quarter completion — the first catch of Brown's career — setting off 17 straight points for an Irish team that went on to win 30-13.
Manti Te'o had a devastating sack of Landry Jones and recorded a diving interception late.
Blake Bell
did score the first rushing touchdown of the season against the Irish, but in the end it hardly mattered.
Golson turned the corner as a quarterback in this game, completing 13 of 25 passes for 177 yards and rushing for a score. The Irish dominated the lines of scrimmage. No. 5 Notre Dame upset No. 8 Oklahoma, giving the Sooners their second home loss of the season. The Irish won their fourth game of the season against a Top 25 team. They held an offense that had averaged 44.7 points per game to 31 points under par.
The Irish were back, officially. And they received contributions from all over in getting there -- none bigger than the one delivered by a true freshman who entered with zero career catches.
Previously
No. 10
: Rees replaces Golson on final drive, leads Irish to win over Purdue
No. 9
: Irish open season in Dublin with rout of Navy
No. 8
: ND gets revenge on Robinson, UM in night win to cap perfect opening month
No. 7
: ND survives missed FG, missed penalty and 3 OT scare from Pitt to stay perfect
No. 6
: Notre Dame tours award circuit after perfect regular season
No. 5
: Notre Dame joins ACC, will play five ACC games per year in football
No. 4
: Irish rout Wake on Senior Day, ascend to No. 1
No. 3
: Goal-line stand stuffs Stanford in OT
April, 30, 2013
4/30/13
2:00
PM ET
Between Manti Te'o's 2012 run and Jadaveon Clowney's 2013 promise, so much of the conversation surrounding the Heisman Trophy has been the seemingly inevitable moment when a pure defensive player will capture the trophy. Te'o was the closest to ever do it, gaining 321 first-place votes and 1,706 points in losing to
Johnny Manziel
in 2012. And Clowney's monstrous hit of Michigan's
Vincent Smith
in the Outback Bowl has set the stage for a season in which Clowney will likely have the opportunity to play himself into serious Heisman contention.
But the award has still belonged to players on the other side of the ball, and a recent well-regarded preseason watch lists only re-affirms that.
The Heisman Pundit, Chris Huston,
has released his initial 30-man watch list for the 2013 award
, and Notre Dame has one representative on it:
Everett Golson
.
Golson enters his third year at the school and second year as the starter, this after a 12-1 season that saw him amass 2,703 yards of offense, score 18 total touchdowns, complete 58.8 percent of his passes and turn the ball over 10 times.
The Irish return eight starters from what was the nation's second-best scoring defense in 2012, including potential first-round picks Louis Nix and
Stephon Tuitt
, but the quarterback is the man that has the chance for the biggest spotlight.
In fact, Clowney is the only defensive player among the 30 listed on the watch list, as there are 19 quarterbacks, eight running backs and two wide receivers.
Video had surfaced this offseason of Clowney sacking Golson on the first play of the 2010 South Carolina High School League AAA title game, a game that Golson's Myrtle Beach team ended up winning. Golson, much more comfortable entering his second season in the spotlight,
gave a confident and complimentary answer
when asked early this spring if he was quietly rooting for the fellow Palmetto State native to win the Heisman in 2013.
"I hope he does, but at the same time, I think I'm pushing for the same thing," Golson said. "I know it's maybe a goal some may say is a little bit far-fetched, but I want to be the best competitor I can be. So I want to see him do great, but I also want to be there at the same time."
As for other familiar names on Huston's list? Oklahoma's
Blake Bell
, Michigan's
Devin Gardner
, Stanford's
Kevin Hogan
and USC's
Marqise Lee
are all players Notre Dame will face this year. Miami's
Duke Johnson
, Alabama's A.J. McCarron and
T.J. Yeldon
, meanwhile, all played against the Irish last season.
December, 2, 2012
12/02/12
8:38
PM ET
Notre Dame Fighting Irish (12-0) vs. Alabama Crimson Tide (12-1)
Jan. 7, 8:30 p.m. ET, Miami (ESPN)
Notre Dame take from Notre Dame blogger Matt Fortuna:
Haven't you heard? Notre Dame is back. No, not BCS-bowl back. BCS national title game back.

The No. 1 Irish ran the table in the regular season and are the only bowl-eligible team left that is spotless in the loss column. They navigated a tough stretch featuring opponents from five BCS conferences and two independents. And now they will get one more chance to prove this was no fluke on Jan. 7, when they take on a team from the one conference they have yet to face in 2012: the SEC, winners of the past six national titles.
The key for Notre Dame all season has been the defense, which gives up just 10.33 points per game and has surrendered just 10 touchdowns all season long, with one of those scores coming from the opposing team's defense (Stanford). The Irish showed their toughness in the trenches by utilizing goal-line stands to hold off a pair of Pac-12 opponents in Stanford and USC, and their offense has started to come along after some early-season missteps.
Redshirt freshman
Everett Golson
went the final three games without getting yanked for performance issues, and he has turned the ball over just once during that stretch. He has been aided by a ground game averaging 202.5 yards per game, and he has flashed his ability to run much more as the season has progressed. He has rushed for 316 yards in his last seven games after netting negative-11 yards on the ground through his first four outings, in which he was benched twice in favor of
Tommy Rees
.
Speaking of rushing … good luck moving the ball on the ground against this defense. Notre Dame ranks fifth nationally against the run, surrendering just 92.42 yards per game. The Irish did not give up a rushing touchdown until the eighth game of the season, against Oklahoma's
Blake Bell
. Heisman candidate
Manti Te'o
gets much of the attention, and he deserves every bit of it, but don't overlook future early-round draft picks
Louis Nix
and
Stephon Tuitt
up front.
For all the national talk about the SEC, America probably won't see something much further from last year's title game, as the Irish fit the blueprint of a successful SEC team this season.
---
Alabama take by TideNation's Alex Scarborough:
Believe it or not, the Crimson Tide are finishing the season right where they started. Despite losing eight starters to the NFL draft in April -- including three first-rounders and one Heisman Trophy finalist -- the expectation for Nick Saban's squad remained "BCS or bust" with a preseason No. 2 ranking. After beating Georgia to win the SEC championship on Saturday night, No. 2 is where Alabama will finish in the final BCS Standings of the season.

The talent in Tuscaloosa, Ala., was never in question. Five straight top-3 recruiting classes filled the coffers, and the coaching staff used their young players wisely, incorporating a pair of potential Freshmen All-Americans in running back
T.J. Yeldon
and wide receiver
Amari Cooper
. With junior
AJ McCarron
under center again, the offense has gone to new heights.
The defense rallied around a handful of veterans to maintain its top-dog status. Alabama led the country in total defense for the second straight season after losing stars like Mark Barron, Dre Kirkpatrick , Courtney Upshaw and Dont'a Hightower. A fresh set of leaders emerged to reinvent the Alabama defense as something possibly less dominant, but more stingy. The Tide created more takeaways and sacks than a year ago, and practiced a bend-but-don't-break mindset in the biggest games.
Like last season, Alabama's path to the national championship game was not without a speed bump, and this time it wasn't LSU blocking the Tide's way. A week after surviving Death Valley and the
LSU Tigers
, Alabama was shocked at home by freshman phenom
Johnny Manziel
and the
Texas A&M Aggies
, dropping the Tide out of the title race from No. 1 to No. 4 in the BCS Standings. A week later, No. 1 Kansas State and No. 2 Oregon fell on the same night, paving Alabama's way back to Miami.
Alabama assured itself a berth in the title game by beating No. 3 Georgia in remarkable fashion, surviving an SEC-title record five lead changes. It was the Tide's fourth win against a ranked team this season. Net up is a chance for a fifth, against No. 1 Notre Dame. Alabama will be the seventh consecutive SEC team to compete in the BCS National Championship Game. It's Alabama's third trip to the title game in four years.
October, 25, 2012
10/25/12
10:15
AM ET
Here are three things to keep an eye out for Saturday night.


1. Deep throw early
. Look for
Chris Brown
to make an early cameo and for
Everett Golson
to try to hit him behind the secondary early. That could do wonders for the offense and complexion of this game -- if successful.
2. Irish front seven vs. "Bell"-dozer
. If Oklahoma gets deep in the red zone, this will be
very
fun to watch. A Notre Dame defense whose biggest win has come on a goal-line stand going up against a 6-foot-5, 254-pound freshman quarterback? Football in its purest form.
3. A composed Golson
. Don't expect the young QB to get rattled by the hostile environment or turn it over multiple times. He already handled a trip to then-No. 10 Michigan State very well. The problem, of course, is that Oklahoma is much better than MSU, and a sound game might not be enough, though I don't expect any
Tommy Rees
appearances Saturday.
Breaking Down Notre Dame-Stanford
FBS INDEP. SCOREBOARD
Friday, 10/3
Saturday, 10/4