Notre Dame Football:

Blake Countess
January, 23, 2014
1/23/14
5:00
PM ET
We're back for another installment of our series looking at the top-10 games from the Big Ten in 2013. Remember that we're taking into account the stakes in the game, the excitement level, the quality of the performances and the atmosphere.
No game has ever had more fans in attendance than the next one on our list ...
No. 9:
Michigan 41, Notre Dame 30
, Sept. 7
The second-ever night game at the Big House didn't quite live up to the thriller between these two teams in 2011, but it was still a back-and-forth contest with plenty of intrigue -- and an NCAA-record crowd of 115,109.
[+] Enlarge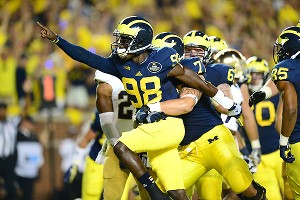 Phil Ellsworth / ESPN ImagesDevin Gardner accounted for five total touchdowns in Notre Dame's last visit to Ann Arbor for the foreseeable future.
How it went down:
A
Blake Countess
interception near the end of the first half set up a Michigan touchdown that gave the Wolverines a 27-13 halftime cushion.
But Michigan quarterback
Devin Gardner
helped the Irish get back in the game with an awful pick-six near his own goal line early in the fourth quarter, and a
Kyle Brindza
field goal with 9:15 left cut the score to just 34-30. Gardner responded by leading a touchdown drive -- aided by a pair of Notre Dame pass interference penalties -- that culminated with his four-yard scoring strike to
Drew Dileo
. Countess intercepted a
Tommy Rees
pass in the end zone on Notre Dame's final chance with 1:29 to go, and Michigan ran out the clock from there.
After the game ended, the "Chicken Dance" played over the Michigan Stadium loudspeakers, in reference to Brady Hoke's summer comments about the Irish chickening out of the series against the Wolverines. This was the last scheduled game between the two marquee programs in Ann Arbor. And if all that wasn't enough to put this game on our top-10 list, it also featured the priceless
halftime exchange between Eminem and Brent Musburger.
.
Player of the game:
Gardner -- who was wearing the No. 98 Tom Harmon legacy jersey for the first time -- threw for 294 yards, ran for 82 more and had five total touchdowns.
Jeremy Gallon
also starred with eight catches for 184 yards and three scores.
Stat of the game:
Michigan's interior offensive line was a big question coming in and would be one of the team's main weaknesses going forward. But against a talented Notre Dame defensive front, the line allowed no sacks and paved the way for 166 rushing yards.
They said it:
"It's an amazing feeling to wear that number," Gardner said about the No. 98 jersey. "I knew about all the great things that he did on the field, but there are all the other things he did. He played two years of basketball, he fought for his country and he was a great human being. It's an honor to know that his family felt I deserved to wear that jersey."
More best games
No. 10:
Ohio State 31, Wisconsin 24
September, 7, 2013
9/07/13
11:54
PM ET
ANN ARBOR, Mich. -- If there's anything this game has taught us recently it's that it's not over until the clock reads zeros. No. 17 Michigan held a 14-point advantage over No. 14 Notre Dame heading in to the fourth quarter but fate wouldn't let that stand. How could it when the Wolverines would need to one-up the fourth quarter from two years ago under the lights?


But even with some really poor decisions and a few clutch plays made on offense and defense,
Michigan was able to pull off the win over Notre Dame, 41-30
. The victory keeps Michigan coach Brady Hoke undefeated in Michigan Stadium in his third year at the helm of the Wolverines.
It was over when:
In most instances, an 11-point lead with less than five minutes remaining would feel pretty safe. But nothing really felt safe for the Wolverines -- especially against this Notre Dame team -- until
Blake Countess
intercepted a tipped pass in the end zone with 1:29 remaining in the game.
Game ball goes to:
Jeremy Gallon
. The wide receiver made catch after catch that he was seemingly too short or too covered to make. His three touchdowns on eight receptions, however, led the Wolverines, and his 184 yards were a career high. With quarterback
Devin Gardner
at the helm of this Michigan offense, it is allowing playmakers like Gallon to really come in to their own, and the senior's performance against the Irish showed just that.
Stat of the game:
Louis Nix III
recorded just four tackles and two of them (including the one for a loss) came when the game was already out of hand. Not once did Notre Dame's stud defensive lineman -- who was going up against three interior offensive linemen from Michigan who all saw their first starts just a week ago -- get to Gardner.
Unsung hero:
Fitzgerald Toussaint
. Because of the nature of Gallon's big performance, Toussaint's 71 yards on 22 carries will largely go unnoticed. However, it is because of his ability to get short yardage and hit holes that the passing lanes were open for guys like Gallon,
Drew Dileo
and
Devin Funchess
. Offensive coordinator Al Borges has always said he wants a featured back in his offense and 22 carries is within their desired range.
Second-guessing:
A safety isn't the worst possible thing. And no, it's not ideal either. But the only thing worse would be exactly what Gardner did -- incidentally throwing it to the other team as three Irish defenders closed in on him. It was a huge dent on a game that was relatively empty of errors on the quarterback's part. But that play completely shifted the momentum of the game and what could've been a small dent in the game turned this game into the dogfight that it became.
Dig of the game:
Michigan Stadium played "The Chicken Dance" following the win, which is a reference back to last May when Hoke said that Notre Dame was chickening out of the rivalry.
September, 4, 2013
9/04/13
9:00
AM ET
If you've been paying attention to college football over the last few seasons, Michigan's rematch with Notre Dame under the lights this weekend is a game you've been waiting for. So why don't we chat about it? You sent in your Michigan-Notre Dame questions and I answered. Here's what we've got.
1. Paul, Chicago: Can Michigan's O-line really hold up against Notre Dame's defensive line?
A:
That's a great question. If Michigan doesn't play well there, it doesn't win the game. Plain and simple. Offensively, the Wolverines will have a really tough test with Notre Dame's odd front (and front seven, but let's just focus on the D-line for right now). On the inside, Louis Nix is going to be a challenge for the young interior offensive linemen. He's 6-foot-3, 340 pounds, meaning the prospect of him outmuscling and overpowering center
Jack Miller
(6-foot-4, 290 pounds) isn't completely out of the question. And defensive end
Stephon Tuitt
is going to be a challenge too, though one I think
Taylor Lewan
can handle.
2. Christian Sack via Twitter: Derrick Green arguably was one of the better RB's yesterday, will he share carries with Fitz Toussaint vs. ND?
A:
I think we will. Offensive coordinator Al Borges still wants to have a featured back but he said Tuesday that from game to game we might see different looks. I think it's smart to use both of them if both can be effective. I think as Green gets his sea legs we'll still see more of Toussaint, but I don't think it's out of the question that we'll see a fair amount of both.
3. Timothy, New York: Does Michigan have enough weapons in the passing game beyond Jeremy Gallon and Devin Funchess? Or is that all the Wolverines will need against Notre Dame?
A:
I believe those will be the two biggest targets we see this season. However,
Joe Reynolds
proved himself effective on Saturday so I wouldn't count him out for a reception or two a game, especially as Michigan works to get the ball in the air more. And
Drew Dileo
is a name that will always pop up. But if you have to pick just two guys who will be the big targets against Notre Dame, I would think it's those two. They create mismatches (for different reasons) and the Wolverines will look for every way to exploit those.
4. Mark, Fowlerville: Why was Drake Johnson being used on special teams? Why would you have the No. 2 RB on special teams?
A:
There are several coaches who look at special teams as the third tier of importance, however Brady Hoke doesn't necessarily look at it that way. He has been very vocal about how there are three equally important parts of the team and he has offered scholarships to special teams players. Last season
Blake Countess
was also injured on special teams during the Alabama game, but I feel like both were injuries that could've happened in any aspect of the game. Now, Michigan has more depth at running back this season than it did at cornerback last season, if there's any kind of silver lining here. However, it will be interesting to see if Hoke's take on special teams changes at all going into the rest of the season.
Weis Likely Done Coaching