Notre Dame Football:

Brian Smith
April, 18, 2012
4/18/12
12:00
PM ET
December, 30, 2011
12/30/11
5:00
PM ET
ORLANDO, Fla. -- Notre Dame held Florida State to 18 total yards in the first quarter of an eventual 18-14 loss. The 18 yards were the fewest by an Irish opponent in the first frame this season.
Here are a few more numbers from the Champs Sports Bowl, thanks to Notre Dame's sports information department:
FSU netted just 18 rushing yards in the first half, the fewest allowed by the Irish in any half since Oct. 16, 2010, against Western Michigan, a span of 19 games. The Seminoles managed 41 rushing yards for the game, the third-fewest by a Notre Dame bowl opponent.
Notre Dame had four sacks in the first half and five for the game. It had not recorded four sacks in a game since Sept. 24 at Pitt.
Zeke Motta's 29-yard fumble return for a score was Notre Dame's first fumble returned for a touchdown since Brian Smith on Sept. 13, 2008, against Michigan. It was just the second in Irish bowl history, joining Ed Hunsinger's 20-yard score against Stanford in the 1925 Rose Bowl.
The Irish committed at least three turnovers for the sixth time this season. They finished with 29 on the year, including nine inside the opponents' 25-yard line, eight in the red zone and six inside the 10.
Dustin Hopkins' 42-yard field goal in the third quarter accounted for the first third-quarter points surrendered by the Irish defense since Sept. 24 at Pitt. For the season, Notre Dame outscored its opponents in the third quarter by a 91-16 margin.
November, 18, 2011
11/18/11
5:00
PM ET
Gary Gray's senior season has been somewhat of an arc. The cornerback was the subject of much scrutiny following Notre Dame's Week 2 loss at Michigan, but he has recovered to have a strong campaign, recording 49 tackles, two interceptions and one fumble recovery.
Here, Gray, one of just six fifth-year scholarship seniors, talks about the emotions of Senior Day, his Irish career and how he would like to go out Saturday.
What are the emotions going through your mind and body right now as you know this is the last time you're going to take this field for a game?
[+] Enlarge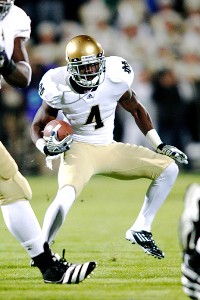 AP Photo/AJ MastGary Gray said he'll be careful not to get too swept up emotionally on Senior Day.
Gary Gray:
Well, it hasn't hit me that much yet. I'm still preparing for BC like any other week. But when Saturday hits the emotions will come over, but you've got to remind yourself it's a game and you've still got to go out there and beat BC. You can't become too emotional. You've still got to go out there and play.
Have you talked to any people who have graduated in the past, and have they kind of prepared you or told you what this day is like?
GG:
No, I've pretty much seen it firsthand. Been here for a lot of senior games. I've been to senior games when we've lost, back when we lost to Syracuse. That was tough. I hated looking those seniors in the eyes and letting them not win their last home game here at Notre Dame. And I've also been here when we won our senior game, like last year against Utah. So it's a great feeling when you know you can leave with a good taste in your mouth.
Do you think of your career at all in big-picture terms? As you see it winding down here, do you think of some low moments, some high moments, and do those start to flash through your mind now?
GG:
Yeah, but I'll look at all that stuff after the game's over -- that big-picture stuff, what's been accomplished and stuff like that. But right now I've got to go out there and beat BC so the rest of these seniors have a great Senior Day.
Obviously I don't mean to harp on it, but the Michigan game was a game where your name was thrown around a lot after. You bounced back from that. A lot of your coaches have talked about your work ethic since then. How much of a relief has it been to kind of put that behind you and not be known for that?
GG:
I put that behind me after the fact. Next week we had a tough opponent against Michigan State, so I couldn't be down on myself for too long because we had a great opponent coming up.
You have a lot of rivalry games. BC is one of them, maybe not thrown in the same stratosphere as USC or Michigan. But do the players look at it as a big rivalry? Do you treat it as another week? What's the mindset with that?
GG:
I do, because it seems like we're always in a dogfight with BC. They always come to play us hard, and we play them hard. So I'm preparing for a dogfight on Saturday, and I don't see why it should be any different from the past.
Playing in the same defensive backfield with a captain like Harrison Smith, how much does he rub off on you guys and the rest of the team, and how do you see the team kind of rally around him whenever he speaks?
GG:
He's a great leader. He's very demonstrative, getting people lined up and putting people in the right spots and just calling our defense. He's a great captain.
A bit of a heavy question, but what are you going to miss most about this place when your career is officially over?
GG:
Just the memories I share with my previous teammates and my teammates on this team now. Just the bonds we had and the ups and downs.
If you could draw up a perfect Senior Day, in terms of pregame, during the game and postgame, what would that entail? Obviously a victory, but anything specific?
GG:
Victory (laughs). I need to get a touchdown before I get out of here, man. I won't be able to live it down from [former Irish linebacker Brian Smith] because he's had like two. We're good friends. I've just got to get one because he had two in his career.
Report: Notre Dame To Play In Pinstripe Bowl