Notre Dame Football:

Brian Te'o
January, 22, 2013
1/22/13
1:00
PM ET
Still all everyone is talking about ...
January, 3, 2013
1/03/13
7:00
PM ET
FORT LAUDERDALE, Fla. -- There is no paper trail to remind him of what could have been, the history that came so close to happening had the linebacker become the only exclusively defensive player to receive college football's highest individual honor.
There are no words stored away in a desk drawer somewhere, awaiting their proclamation for the next time he is on the doorstep of greatness.
No,
Manti Te'o
has not thought of almost winning the Heisman Trophy. He has not spoken much to his Notre Dame teammates about the trip since returning from his six-city, seven-day, 9,936-mile tour of the awards circuit one month ago. He has happily moved on to returning to the Irish and to preparing for Monday's showdown with Alabama in the Discover BCS National Championship.
[+] Enlarge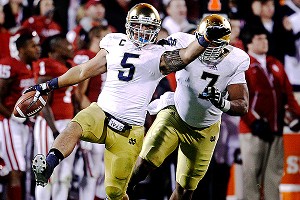 AP Photo/Sue OgrockiFinished with the postseason awards circuit, Manti Te'o can now focus on winning a national title.
And he never had a speech planned had things played out differently, anyway.
"They actually gave him time over at the Heisman for the speech," his father, Brian Te'o, said. "And Manti spent that time sleeping."
Most days began at 4 a.m. local time -- which varied from Eastern to Central to Pacific -- and the obligations rarely ended before 10 p.m. on most nights.
And, really, it is not as if he had an entirely new message to deliver during a circuit that saw him take home a record seven national honors.
Defensive coordinator Bob Diaco says that Te'o has practiced harder than he has at any point this season, and Te'o says that has nothing to do with whatever metaphorical chip he could have developed since his weeklong tour in December.
"No. It's for the simple fact that I know that a lot of the success that you experience on game day was already done throughout the week, and if I don't prepare myself the best I can throughout the week, I won't be ready for Saturday," Te'o said. "Coach always talked about you can't just turn it on and off. I can't just slack the whole weekend and when game day comes, say, 'OK, I'm ready, I'm going to go all out now.'
"It's like how we talked, it's a day-to-day process, and I know that, and everybody on our team understands that. If we want to be successful on Monday, we have to be better on Wednesday and better on Thursday, Friday, Saturday, Sunday and then Monday hopefully will take care of itself."
His teammates have mostly let him be ever since, with the occasional ragging here and there.
"We kind of give him a hard time: 'Hey, where you going next? Hey, how was flying here and there?'" fellow defensive captain
Kapron Lewis-Moore
said.
Still, there is the matter of that speech. His story -- from a Mormon in Hawaii to a Catholic school in Indiana, from passing up the NFL to overcoming the deaths of his grandmother and girlfriend to lead Notre Dame's resurgence -- is already wildly popular.
That's why his parents took no issue with their son using that speech-making time to catch up on some rest. They had a good idea of what he would say if he won, and in four days there will be an even bigger stage to re-tell his story should he and the Irish win a national title.
"I think we're quite comfortable with what he could've said," Brian Te'o said. "He's been pretty consistent about who he acknowledges and who he thanks, so I think we're pretty comfortable with whatever he would've come up with.
"I know he would've paid a very large tribute to his teammates, which was a constant theme throughout all of his acceptance speeches. His teammates, his coaches and of course his family. I think he knew what to say if he had the opportunity to give that speech."
October, 14, 2011
10/14/11
9:00
AM ET
SOUTH BEND, Ind. -- It's not that
Robby Toma
was barely 60 pounds when he first played Pop Warner as a nine-year-old in fourth grade. It's that he gained only 40 pounds from then to his freshman year of high school, when he stood just 5-feet tall and weighed 100 pounds.
"I think for me that was my more major concern," Ross Toma, Robby's father, said. "When he went into JV being that size, that was the first time I thought, 'Man, maybe I better pull him out.'"
[+] Enlarge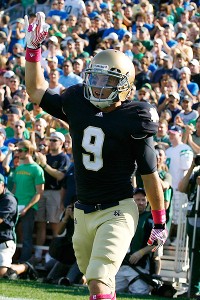 Brian Spurlock/US PresswireRobby Toma says he's focused on making the most of his chances in Theo Riddick's absence.
Doing that would have meant no football scholarship to Notre Dame, nearly 5,000 miles and four time zones away from the Tomas' hometown of Laie, Hawaii. And it would have meant no moments like the one Toma experienced this past Saturday, when he hauled in a 10-yard first-quarter touchdown pass from
Tommy Rees
.
The now 5-foot-9, 185-pound Toma has won over Irish fans with his style of play. Judging by his teammates' reaction after his first career score Saturday, he has won them over as well.
"When I got into the end zone it was an amazing feeling, especially here at Notre Dame in front of 80,000," Toma said. "And it was a great experience to see all of my teammates and how excited they were for me, and it really meant a lot to me."
That excitement was clear at a young age, keeping Ross Toma from telling his son that he was having second thoughts about his football career. Quelling those thoughts was the fact his son was shifty enough on the field, quieting any potential talk from other parents or coaches off the field.
Robby's mother, Tammy, overcame any parental concerns immediately and was almost always pushing him.
"Initially she was that way, but once he got in she was full-force support and just go," Ross Toma said. "After a while almost if he got injured or whatnot, she'd be like, 'Get up and just go. Stop complaining.'"
A lifelong friend and high school teammate of Irish standout linebacker Manti Te'o, Robby Toma's first introduction to the game was from Te'o's father, Brian, who coached both in Pop Warner.
"Brian kept saying, 'You've got to play football, you've got to play football,'" Ross Toma recalled. "And me and my wife were like, 'Uh, he's a little bit small.' But sure enough he bugged us and really wanted to play and we said OK."
Despite being the smallest kid on the team, Robby Toma played running back and outside linebacker initially, and "Uncle Brian" pitted him against Te'o in his first-ever hitting drill.
"I got crushed," he said with a laugh.
He didn't become a wide receiver until high school, and he has found no shortage of fellow little guys at the position to model himself after. Toma will often go on YouTube and study pro players like the Patriots'
Wes Welker
or the Dolphins'
Davone Bess
, the latter having played college ball in Toma's backyard at Hawaii.
"Just the way we're smaller guys, so we have to use our quickness to our advantage and really concentrate on getting in on our breaks," Toma said of techniques he looks at. "And obviously making sure you catch the ball."
The last part has been easier said than done for Toma, though that has been more of a matter of circumstance than lack of seizing the moment. The junior was overthrown in the end zone two weeks ago at Purdue, and he has just two catches for 26 yards through the first half of this season.
But his ability to step up in place of an injured
Theo Riddick
last season -- notching 14 receptions for 187 yards -- is proof that his diminutive stature can handle the load when his number is called.
"I feel like I can play," Toma said. "Obviously I'm not the biggest guy, but when I'm out there I don't feel like I'm that much smaller than anybody, and I feel like I've worked hard to be where I'm at."
St. Brown talks USC, Stanford and more
FBS INDEP. SCOREBOARD
Thursday, 8/28
Friday, 8/29
Saturday, 8/30