Notre Dame Football:

Carlyle Holiday
December, 23, 2011
12/23/11
2:45
PM ET
Darren Everson
brings an interesting question in today's Wall Street Journal
: Will a former Notre Dame player throw a pass in an NFL game this year?
Why ask, you ask? Simply, because it has happened in every single NFL season since 1944, the longest streak of any school.
With two weeks left this season, no Notre Dame alum has thrown a pass yet. Ex-Notre Dame stars Jimmy Clausen and Brady Quinn, who have both been NFL starters, are now both stuck on the sideline. Their chances from here on aren't great: Clausen is third on the Panthers' depth chart, and Quinn's Broncos are gunning for the playoffs and thus are unlikely to sit their starters.
Everson also notes that from 2004-06 — years in which no Irish quarterback threw an NFL pass — non-QBs Jerome Bettis, Hunter Smith, Arnaz Battle and Carlyle Holiday threw passes, leaving room for optimism with two weeks left in the NFL regular season.
Oregon is second in consecutive years with an alumnus throwing a pass in the NFL, extending its streak to 63 years this season.
October, 8, 2011
10/08/11
9:07
PM ET
SOUTH BEND, Ind. --
Andrew Hendrix
was running for the end zone, no question about it. He had completed every pass he threw Saturday, had just burst through the line and was seeing nothing but six points in front of him.
But he couldn't help but look back.
"If there was a video board I probably would've seen who was behind me," Hendrix said with a laugh. "But I was checking behind me to see who was behind me, whether I had to make a move on somebody or not, and I ended up losing my balance just at the right time to not get in.
"So it was a little embarrassing, but I'm all right with it."
The humble Hendrix had nothing to be ashamed of, as at that point -- up 33 in the fourth quarter -- the biggest question remaining in Notre Dame's
59-33 rout
of Air Force was whether or not the sophomore quarterback would run out of gas during his 78-yard run.
He did, falling forward at the 2, before
George Atkinson III
punched it in three plays later for the Fighting Irish's final points during a historic day for Notre Dame's offense.
For much of the day, it was tough to figure out who was having the hardest time inside Notre Dame Stadium:
Air Force's defense, which gave up 560 total yards and 59 points, including touchdowns on Notre Dame's first six drives?
[+] Enlarge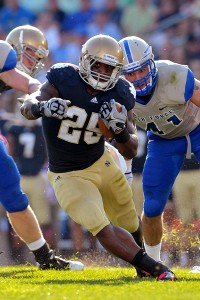 Matt Cashore/US PresswireNotre Dame's Jonas Gray rushed for 69 yards on seven carries with two touchdowns.
The group of high school prospects on hand, who had to wonder if this place was as beautiful every October as the 80-degree temperatures and day-long sunshine would have one believe?
Or Notre Dame's media relations staff, which issued historical reference after historical reference over the press box loudspeaker throughout the offensive showcase?
No Irish team had scored so many points since a 62-0 win over Rutgers in 1996, Lou Holtz's final game at Notre Dame Stadium. The same stadium had never seen as many as 92 total points scored, which the Irish and Falcons combined for Saturday.
And no Notre Dame quarterback had rushed for more than 100 yards since Carlyle Holiday did so in 2001 against Boston College.
Hendrix, seeing his first action this season after not playing his freshman season, entered the game in the first quarter and hit
Michael Floyd
for what amounted to minus-3 yards.
It was smooth sailing from there.
Hendrix finished the day 4-for-4 passing for 33 yards and, more importantly, rushed it six times for 111 yards.
Most of the heavy lifting came on that 78-yard run mid-way through the fourth quarter, the game no longer in doubt and everyone inside the stadium holding their collective breath before Hendrix finally gave out at the 2.
How sudden did that happen? The public address announcer inside the press box had to reiterate the "no cheering" rule, as reporters couldn't help but be stunned by what they saw.
The reaction on the home sideline was far more exciting.
"I did not see that happening," running back
Jonas Gray
confessed. "He did kind of break away from the guy, but I think he just kind of ran out of gas."
Gray, a senior, had a message for Hendrix as he came back to the sideline following the Irish's touchdown to end the drive.
"I told him to not get caught ever again," Gray quipped. "I've been through that situation. I told him to never look back, just believe in his speed."
This was supposed to be about how Notre Dame's defense would handle Air Force's vaunted attack, especially with starting end Ethan Johnson sidelined and two freshmen seeing extended playing time in Aaron Lynch and Stephon Tuitt.
Another freshman end, Chase Hounshell, made his Irish debut as well, but it was a moot point after Jamoris Slaughter forced a fumble on the Falcons' first play.
If Air Force was going to have any chance of hanging with Notre Dame, it could not afford to cough it up and play catch-up, because there was just nothing it could do defensively.
"We got two key turnovers by our defense that we were able to set up, and any time you get a chance to turn over Air Force and put points on the board, it allows you to extend away from them," Brian Kelly said. "And you need some extension from them sometimes in terms of points because they are so difficult to defend, and I think we saw that today."
The fact Air Force actually outgained Notre Dame, 565-560, shows the potential that was there on the other side.
But Kelly and Notre Dame know that means nothing if they cannot protect the ball, something the Irish accomplished by going a second straight week with no turnovers.
They have now put up better than 500 yards of total offense in four of their first six games, winning the last two of them. And they have now won four in a row after two straight defeats.
As Hendrix came out to line up in victory formation with 33 seconds to go Saturday, the student section couldn't help but look ahead.
"Beat-S-C," it chanted, referencing the Irish's battle with the Trojans in the two weeks.
Funny how things play out. Notre Dame kept beating itself to start the season. Now with the momentum going in the Irish's favor, their toughest opponent may be the bye week that comes a week from now.
Top Returning Players: AAC and Notre Dame
FBS INDEP. SCOREBOARD
Saturday, 12/21
Monday, 12/23
Tuesday, 12/24
Thursday, 12/26
Friday, 12/27
Saturday, 12/28
Monday, 12/30
Tuesday, 12/31
Wednesday, 1/1
Thursday, 1/2
Friday, 1/3
Saturday, 1/4
Sunday, 1/5
Monday, 1/6