Notre Dame Football:

Central Michigan
September, 16, 2011
9/16/11
10:00
AM ET
SOUTH BEND, Ind. -- Harrison Smith could do nothing but watch from the sideline four years ago. The frustration that mounted with every play and every loss on seemingly every Saturday had to be put in reserve until he took the practice field the following Monday.
But Smith doesn't want to relive the year he didn't play, his freshman year -- the last time, and only the second time, Notre Dame started a season 0-3.
"All I'm looking at is Michigan State," Smith, now a fifth-year captain, said. "I'm not worried about what happened a couple of years ago, a week ago, yesterday. Focus on right now. Focus on Michigan State and that's where the team's at. That's all we can control, so we're putting everything into preparing for Michigan State."
Smith is one of just six current scholarship players who lived through the Fighting Irish's 2007 season, a campaign that got off to an 0-5 start and ended with a 3-9 record.
[+] Enlarge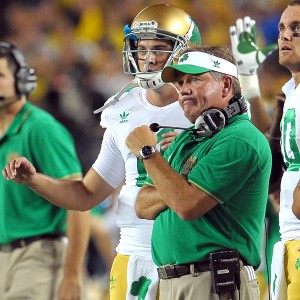 Matt Cashore/US PresswireDespite their 0-2 record, Brian Kelly's Irish have piled up over 1,000 yards of total offense.
But through two weeks and two losses this season, the similarities between the 2007 team and this one ends with the win column and a few familiar faces.
And, in the case of the only other Irish squad to start 0-3, the 2001 group, the parallels are even thinner.
No, Notre Dame certainly didn't envision itself still searching for win No. 1 as it welcomes the defending co-Big Ten champions into town Saturday, not in a season that began with a No. 16 ranking and BCS bowl aspirations.
But the Irish have done enough through two games to suggest that better days are on the horizon.
In two losses this season by a total of seven points, Notre Dame has 1,021 total yards of offense, something it hasn't done through two games since 1974. That season, Ara Parseghian's last as head coach, began with two wins by a combined score of 80-10. More importantly, it ended with a No. 6 ranking after an Orange Bowl win over Alabama made Notre Dame 10-2.
Quite a far cry from 2007, when the Irish were outscored 64-13 through two games. Or even 2001, Bob Davie's fifth and final season as head coach, when Notre Dame was outscored 44-20 and finished the season 5-6.
Which would explain Smith's reaction when asked if any memories from 2007 have popped up this week.
"No, I play DB, so we have a short memory," the safety said flatly, "so I don't remember anything."
The edgy demeanor pleased head coach Brian Kelly, whose message this week was sent by running a live practice Wednesday, the first time he's done so during a game week in his two seasons on the job.
"I think everybody's probably a little bit, I don't know -- I don't want to say annoyed -- but nobody's happy, and I'm OK with that," Kelly said. "Nobody should be in a great mood. We've got work to do, and I think those guys probably reflect the feelings of the entire team."
Kelly has been in this situation before, just never under the spotlight that comes with coaching the third-winningest program in college football history. He has suffered through five 0-2 starts in his previous 20 years as a head coach, even going 0-3 in 1999 and in 2000 at Div. II Grand Valley State. But Kelly finished only one of those five seasons with a losing record, going 4-7 in his first year at Central Michigan in 2004.
Naturally, Kelly has refused to call Saturday's contest against the No. 15 Spartans the most important game of his two-year tenure with the Irish.
And he won't look ahead to what's still left for Notre Dame to accomplish over 10 more games.
"I don't think you can look at it anymore about what's at the end of the season other than playing better right now," Kelly said. "We have to be focused right now on Saturdays, because we haven't played well. We can't think about what's in the future; we have to focus on making money right now. And that means winning for our guys. So it hasn't been hard for me to keep our guys focused because they're 0-2. They're focused on one at a time.
"Hey, if we string together seven or eight in a row, then we can start thinking about hey, what's it look like at the end of the season. But it's too early."
For now, a loss Saturday would be nothing more than just that.
"0-3," guard Trevor Robinson said, "would mean the fourth game is that much more important."
September, 9, 2011
9/09/11
9:00
AM ET
Here are some notes on Notre Dame and Michigan before they take the field at the Big House this Saturday. As always, thanks to ESPN Stats & Information for many of these nuggets.
Both Notre Dame and Michigan enter this game unranked for the fourth time in the past five years. Before 2007, they never played each other when neither was ranked during the poll era (since 1936). Before then, the last time they played each other and neither was ranked was in 1909.
Notre Dame and Michigan rank second and first, respectively, in all-time winning percentage among FBS schools (Notre Dame .732, Michigan .735). They rank third and first in all-time wins among FBS schools (Notre Dame 845, Michigan 885).
Brian Kelly and Brady Hoke faced each other three times as head coaches in the MAC, with Kelly's Central Michigan teams going 3-0 against Hoke's Ball State teams from 2004-06.
Michigan defensive coordinator Greg Mattison was a Notre Dame assistant from 1997-2004, serving as the Fighting Irish's defensive coordinator from 1997-2001 before becoming the defensive line coach and recruiting coordinator from 2002-2004.
Though this will be Michigan Stadium's first night game, the Wolverines have played the Irish three other times under the lights, losing in South Bend, Ind., in 1982, 1988 and 1990.
Michigan is seeking its third straight win over Notre Dame. The Wolverines won the first eight series meetings from 1887-1908 but haven't won three straight against the Irish in the past 30 meetings.
Michigan has won five of the past six meetings with Notre Dame in Ann Arbor, Mich.
Michigan has won its past 10 September games, while Notre Dame has lost its past four September games.
Michigan's defense has surrendered 211 plays of at least 10 yards since the start of 2010, the fourth-most of any FBS team during that stretch.
Denard Robinson's 58 runs of at least 10 yards is the most of any FBS player since the start of the 2010 season.
Robinson is 45 yards away from becoming the ninth player in Michigan history to amass 5,000 yards of total offense.
Since the start of 2010, Robinson has completed 63.3 percent of his passes inside the pocket for an average of 8.7 yards per pass. Outside the pocket, Robinson has hit 54.9 percent of his passes for 7.6 yards per pass.
Notre Dame quarterbacks were 2-for-2 passing to Michael Floyd in the red zone last week and just 2-for-6 when targeting anyone else.
In third down passing last week, Dayne Crist completed 1-of-5 throws for no first downs and tossed an interception. Tommy Rees, meanwhile, was 3-for-4 with three first downs.
Crist was 1-for-6 with an interception last week during throws of 6-14 yards. Rees was 10-of-10 with one touchdown and one pick.
Last week against South Florida, Floyd was the target of three of Crist's throws, catching two for 37 yards in the first half. Floyd was the target of 12 of Rees' throws, catching 10 for 117 yards and two touchdowns in the second half.
Among active FBS players, Floyd ranks sixth in receptions (183), third in receiving yards (2,693) and second in touchdown catches (30).
Notre Dame has allowed just five offensive touchdowns in its last six games.
ESPN's Desmond Howard, the 1991 Heisman Trophy winner, will be honored at halftime by Michigan and the National Football Foundation and College Hall of Fame.
Good Luck Playoff Selection Committee