Notre Dame Football:

Cincinnati Bearcats
April, 1, 2013
4/01/13
9:00
AM ET
When
Gunner Kiel
elected last month to
transfer from Notre Dame
, there was wide speculation that a number of Mid-American Conference programs could be possible destinations for the former four-star quarterback prospect. But Kiel spent his holiday weekend near one of Brian Kelly's old stomping grounds.
Kiel was spotted Saturday at
Paul Brown
Stadium taking in the University of Cincinnati's scrimmage,
according to the Cincinnati Enquirer's Tom Groeschen
.
The Bearcats had about 25 prospects in town Saturday for junior day, Groeschen notes.
One of the better pro-style quarterbacks coming out of the Class of 2012, Kiel would fit in nicely with new coach Tommy Tuberville's offense should he elect to transfer there.
It is unknown what other schools Kiel is looking at.
Kelly said March 19 that it was his understanding that Kiel would finish his spring semester at Notre Dame -- though not with the football program -- to maintain his eligibility.
Kiel will have to sit out next season regardless, meaning he will go two full seasons without any game action, this after redshirting this past fall at Notre Dame.
Kelly had said that Kiel made an extensive list of regional and national programs as potential destinations, with the Irish giving him fair leeway about where he could go.
"I don't think it was a restriction as much as we had an open conversation about the schools," Kelly said March 19. "Again, I think the schools that he was looking at were in line with the schools that I thought were appropriate relative to who was on our schedule."
August, 27, 2012
8/27/12
10:30
AM ET
Fortunately -- for me, anyway -- the Notre Dame blog wasn't around yet to do these the week before last season. Therefore, I am not one of the thousands of embarrassed prognosticators who felt last year's Notre Dame team would roll through USF behind
Dayne Crist
en route to a BCS-bowl season. Nope, I thought 10 turnovers amid an 0-2 start, three quarterbacks and, yes, four different helmets were in the cards all along.

This time, there will be proof for touting my genius. Away we go …
1. Notre Dame will finish the regular season 8-4 and play in the New Era Pinstripe Bowl.
Losses at East Lansing, Norman and Los Angeles seem unavoidable, though I do think this is the year the Irish finally take down Michigan. Surely, though, another roadblock sits among this year's gantlet of opponents. Keep an eye on that Oct. 20 tilt with BYU, which has won 10 games five of the last six years and has an experienced QB in
Riley Nelson
. As for the bowl? The Irish take the Yankee Stadium field as the Big 12's No. 7, which will open this year because the conference will get two teams in BCS bowls. (Here comes the bold part … ) To make matters more fun, the Pinstripe Bowl, not wanting another Pitt/Notre Dame matchup in 2012, picks fifth-place Cincinnati to square off against the Irish. I wonder if there will be any storylines in the lead-up to that one.
2. Cierre Wood will have a hard time winning back his starting job.
Theo Riddick
has impressed everyone this offseason, and he seems to be most comfortable in the backfield. Of course, the uniqueness of the offense will have him catching passes at certain points and allow for both Riddick and Wood to be on the field together. But don't expect a production drop-off from the backfield in Weeks 1 and 2.
3. Gunner Kiel will redshirt.
Everett Golson
, today at least, looks like the quarterback of the future.
Andrew Hendrix
will probably get some time at some point, and
Tommy Rees
is the perfect emergency signal-caller, given his experience and knowledge. Everyone wants to see what Kiel can do, but it would probably be short-sighted to burn a year of eligibility if it's really unnecessary.
4. Miami -- yes, the big, bad Hurricanes -- will be Notre Dame's easiest opponent.
The Hurricanes' thin offensive line will have trouble against Notre Dame's defensive front. They are also coming off back-to-back games against Georgia Tech and NC State, while whatever fatigue issues the Irish had from their Dublin trip should be gone with the Sept. 29 bye. Chicago will be jacked for the Irish's Oct. 6 appearance.
5. Stephon Tuitt will make a lot of people forget about Aaron Lynch.
He is more versatile, and he is more reliable. He is much bigger, too. Let's not forget that he missed three games last year because of a missed class and mono, so his numbers didn't leap off the page the way Lynch's did in Year 1. Tuitt is primed for a breakout sophomore season that will put him on the national radar, along with the radar of many pro scouts entering 2013.
June, 6, 2012
6/06/12
1:10
PM ET
Notre Dame assistant director of strength and conditioning Lorenzo Guess is going to Michigan State to be an assistant strength and conditioning coach in East Lansing, Mich., the Spartans announced Wednesday.

Guess will be returning to his alma mater, where he was a four-year safety from 1998-2001, in addition to winning two letters for Tom Izzo on the basketball team.

"As a coach, Lorenzo has been associated with winning programs at Cincinnati, South Florida and Notre Dame," MSU coach Mark Dantonio said in a release. "He's really a proven commodity. Lorenzo has a tremendous work ethic, and he brings a working knowledge of Ken Mannie's training program, having been through it himself as a player. In addition, he's an ideal role model for our student-athletes because he's already walked in their footsteps."

Dantonio was Guess' position coach from 1998-2000, and the head coach had Guess on his staff at Cincinnati in 2006. Guess was Brian Kelly's tight ends coach with the Bearcats in 2009.

"It's awesome to be returning home to Michigan State," Guess said. "I've known Coach Dantonio since he began recruiting me in 1996. He was my position coach at Michigan State, and later I had an opportunity to work for him at Cincinnati. So my relationship with Coach D certainly played a major role in my decision to return to my alma mater.
May, 16, 2012
5/16/12
9:00
AM ET
Former Notre Dame coach Charlie Weis has received close to $8.7 million to not coach his alma mater, and the number will only grow.
Weis was paid $2,054,744 of buyout money from Notre Dame from July 2010 to June 2011,
according to the Chicago Tribune
, which obtained the figures from Notre Dame's Form 990 it must submit to the IRS.
Fired after the 2009 season, Weis received an initial buyout payment of $6,638,403, bringing the total to $8,693,147. He is slated to receive additional payments through December 2015.
The original $6.6 million payout was to be followed by "much smaller payments," according to previous documents. Weis also received $469,727 from Play by Play sports — now known as Notre Dame Sports Properties — and an additional $1,095 of unspecified "other reportable compensation."
The first glimpse at what current head coach Brian Kelly makes shows that Kelly took in $2,424,301, though $1,762,334 of "other reportable compensation" indicates all or part of that payment is a "one-time payment to Coach Kelly," the Tribune reported. As reporter Brian Hamilton notes, that money might have helped with any buyout Kelly owed Cincinnati after leaving the Bearcats in December 2009.
Kelly's base compensation is $617,846. The form did not include payments from "external sources."
Athletic director Jack Swarbrick made $1,026,942.
March, 20, 2012
3/20/12
4:00
PM ET
SOUTH BEND, Ind. — Notre Dame will kick off spring practice Wednesday with an "open and fair competition" at quarterback, as coach Brian Kelly will start from Page 1 of the playbook to give all four candidates a chance at mastering the offense.
[+] Enlarge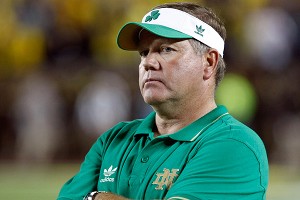 AP Photo/Tony DingNotre Dame coach Brian Kelly is opening up the quarterback competition this spring.
"We've kind of taken a step back and really looked at our offensive structure, and we're gonna make it so all four of the guys that are here can compete at a fair level, because Tommy [Rees] has got, as you know, the best knowledge base," Kelly said during his spring kickoff press conference Tuesday. "But if we started the spring with page 50 of the playbook, Tommy would be ahead of everybody. So not to put him at a disadvantage, but to give it an equal footing for all, we've kind of scaled it back. So the spring, it's gonna give all the quarterbacks, including a midyear in Gunner [Kiel] and of course the two young guys, an opportunity to truly compete for the position."
With a 12-4 record as a starter for the Irish, Rees would likely benefit the least from the back-to-square-one approach, as Kiel,
Andrew Hendrix
and
Everett Golson
have zero combined starts. Hendrix, who saw spot duty as a sophomore this past fall, is the only quarterback of the trio with any college game experience.
Decision-making and limited mistakes -- especially with the offense moving -- will be a priority this spring.
"As you know, we threw way too many interceptions last year for me to be comfortable with," Kelly said. "I'm not used to seeing that kind of turnover rate, and it certainly affected our win loss record. The ball coming out in a timely fashion, coming out accurately, and then good decisions being made with the football. And you know that as well as I do that those decisions were magnified in the red zone. So it'll be safe to say that we'll be active down in the short field areas, as well, and we'll be looking at good decisions, but aggressive decisions as well. I don't want them to have to tuck it and run every time because they're afraid to make a mistake.
"I'll be looking for those kinds of things with the quarterbacks: getting the ball out timely, accurately, making good decisions. And I think the only way we could do it really was to kind of scale it back a little bit. So we went back to some real basic tenets of the position and how I want it played, and we're gonna see that in the spring. I think it'll give us a good, clear indicator. I think the other thing is the ability to make plays outside the traditional call of the play. Making a play here or there that is not the initial read."
Kelly insisted that last part did not mean he would necessarily be looking for a more mobile option, citing Tony Pike's success under him at Cincinnati despite the limitations of his legs, an area that has hamstrung Rees at times when a play breaks down.
"So if you look at the quarterbacks, we don't think that any one of them necessarily has to be electric, but they have to be able to keep plays alive with their feet at times, and I call that escapability," Kelly said. "You mentioned mobility. Maybe they're the same word, but they've got to be able to keep plays alive."
Kelly believes the focus on ball protection will not stunt the offense's growth while the quarterback battle is sorted out, but he ideally would like one signal caller to emerge from the pack.
"I've managed it, as you know, so many different ways," Kelly said. "I'd love to have one guy and he be the guy, and when he comes off the field, I embrace him every time with a big touchdown hug; you know what I mean? That's a hug. Big hugs. That's what we're looking for. That's the vision that I have. Do you guys have another vision? I don't."
January, 25, 2012
1/25/12
3:00
PM ET
Football Outsiders' Brian Fremeau
has Notre Dame as one of five recruiting underachievers over the last few years
, a distinction that should not shock many.
Fremeau looked at the last five seasons to see how often teams with lower-rated recruiting classes beat teams with stronger recruiting success, and vice versa. Teams with better classes won 67 percent of the games.
The Irish, however, have lost 25 games as the "more talented" team.
Like Michigan and UCLA, inconsistency through head coaching transitions has been part of the problem in South Bend. Kelly and his staff landed a number of gems last season that provided an immediate impact on the defensive side of the ball, an area of strength going forward.

But there are many more holes to plug in order for the Irish to live up to its total recruiting profile potential. Gunner Kiel joins an already crowded spring quarterback battle, the outcome of which will ultimately determine Brian Kelly's fate in South Bend.

Kelly's success at Cincinnati in out-performing recruiting expectations hasn't materialized at Notre Dame yet, and the losses to inferior opponents like Navy and South Florida have exhausted the limited patience of some fans already. A challenging schedule in 2012 will stretch that patience even thinner, so it will be absolutely critical for Kelly to win the games the recruiting numbers insist he should win.
Michigan, UCLA, Miami and Florida State join Notre Dame as underachievers.
Brian Kelly's last school, Cincinnati,
is among the overachievers, which include Stanford, Boise State, Baylor and Oregon State
.
December, 20, 2011
12/20/11
6:00
PM ET
Be sure to check out
today's ESPNU College Football Podcast with Ivan Maisel and Todd McShay
, who break down many of the remaining December bowl games, including Dec. 29's Champs Sports Bowl between Notre Dame and Florida State.
McShay thinks this one will come down to the quarterback position for Notre Dame:
"It just comes down to, can they get Tommy Rees where they want to get him at the quarterback position? He's gonna start again, which surprised me after Andrew Hendrix came in for him. Hendrix's just a sophomore and he looked OK. But he didn't do anything to blow you away. He was 11-of-24 with a touchdown and an interception in that game at Stanford when he came in to relieve Tommy Rees. So ultimately what's been so interesting and so frustrating for coach Brian Kelly is the fact that he came in as the quarterback guru. You think about some of the guys he had success with at Cincinnati: Tony Pike, OK. Zach Collaros, OK. But it seemed like he could just work anyone into his system and it has not been the case at Notre Dame, so that's the big challenge moving forward."
The Champs Sports Bowl conversation begins shortly after the 30-minute mark. The two also touch on Florida State's special teams edge and the fallout from each team failing to meet lofty preseason expectations.
October, 18, 2011
10/18/11
5:15
PM ET
In the week leading up to Notre Dame's Oct. 8 game against Air Force, Paqui Kelly had a much bigger task on her hands than simply preparing for the Falcons' triple-option offense.

She hosted a pair of golf outings — one in Grand Rapids, Mich., another two days later in South Bend, Ind. — and helped spread the message that may have helped save her life: be proactive.

The wife of Notre Dame coach Brian Kelly is a two-time breast cancer survivor, undergoing a double mastectomy in the spring of 2008. October, National Breast Cancer Awareness Month, is of particular importance to the Kellys. Notre Dame's uniforms and accessories featured pink accents in its win over Air Force, and Brian Kelly wore pink ties to his midweek and postgame press conferences.

"We need to get the word out that it's not doomsday like it was 25 years ago," Paqui Kelly said.

The Kellys started what would in 2009 become known as the Kelly Cares Foundation, a non-profit focused on breast cancer education, prevention and research.

The groundwork was laid in 2007, when Brian Kelly was coaching at Cincinnati. But cancer soon returned to Paqui Kelly, putting the paperwork for what was originally the Kelly Family Foundation on the backburner.

"We just did two events a year, and it was very much smaller than what we're doing now," Paqui Kelly said. At Notre Dame, she added, "the platform's allowed us not to spend a whole lot of money on advertising, which can be very costly. So just the number of people we've been able to help has been pretty efficient."

In December 2002, a mammogram Paqui Kelly underwent on a doctor's recommendation revealed two cysts on her breast, which she was told to monitor for six months. She felt they were growing, returned in May and was diagnosed with breast cancer.

She waited to see if the cancer would return before choosing to undergo a double mastectomy, something two of her five sisters, Monie and Eli, had done between the first and second time she was diagnosed.

"Immensely," Paqui Kelly said when asked how much it helped to have her sisters to lean on.

She can also credit her light-hearted personality.

A mother of two boys and one girl, Paqui Kelly hosted a head-shaving party during her second battle with cancer, reasoning that her hair would eventually come out anyway.

"The two boys were like, 'Oh I get how funny this is,' and they were asking the neighbors' kids, 'C'mon, we're shaving Mom's head,' and tried to sell it,' " Paqui Kelly recalled with a laugh.

"I think that was a little more offbeat than most people do."

She said the first time the entire extended family saw her bald, at a buffet-style dinner, one of the kids had been grossed out by what appeared to be a piece of hair on one of the plates.

"It's not mine," Paqui Kelly replied, lightening the mood for everyone.

"I tell people I'm not making light of the seriousness of it, we just all handle things differently," she said. "Humor helps me through it and our family through it. Denial is one of those tools that doesn't work with cancer in any form."

Her husband has a humorous side, too, she said, but it comes out in different ways.

"His job doesn't allow for shenanigans, in terms of leading a team and an administrative staff in his type of position," Paqui Kelly said. "But he's quite able to be entertaining as well, just in his own little way. Sometimes it's more dry than a 'ba-dum' kind of deal."

Brian Kelly cannot help but turn serious when discussing the strength of his wife, who has now been cancer-free for four years.

Together, they have used their platform to spread awareness, hoping to, as Paqui Kelly puts it, be "the difference between a really long healing process or a story that doesn't end as well you hope."

"My best friend," Brian Kelly said of Paqui. "When you have those tough days you go and see her and it makes it a lot easier."
October, 7, 2011
10/07/11
5:00
PM ET
Tim Hinton is in his second season as Notre Dame's running backs coach, and in his fifth year under Brian Kelly. Hinton held a number of different positions from 2004-09 on the staff of the Bearcats, whom Kelly coach from 2007-09.
Here, Hinton discusses the standout performances of backs
Cierre Wood
and
Jonas Gray
through five games this season.
Jonas, Brian Kelly publicly challenged him after Week 1 to not be the guy who messed up his senior year with a first-drive fumble. How has he risen to that challenge and how impressed have you been with his response?
"I'm tremendously impressed with the fact that, you have to live, in our world when you coach at Notre Dame or any major institution, you gotta live in your own little bombshell sometimes. And you can't control what people are gonna say, you can't control what people are gonna think. You gotta know who you are, you gotta believe in the system that you're taught, you gotta believe in how you've been coached to do a certain fundamental, and then it's your job to go out and execute it. And we have to show as coaches the same trust and the same commitment toward that young man. They'll sense when you have doubt in them. And when you have doubt then they'll have doubt and we try not to display doubt. We try to display, 'That's a wrong action, don't do it again. Make sure you correct the problem and why it got there.'
"But the bottom line is just keep playing, and there will be mistakes as the year goes along. No one's ever played 12 games perfectly. Doesn't happen. It's an impossible task. What you do is try to minimize them, make sure you have less than your opponent and then the bottom line is to learn from the one that you made and get to the next play."
How much have you learned about Jonas and Cierre through the first five weeks?
"It's really enjoyable to watch young men grow. When I quit enjoying that I'm gonna quit coaching. When it comes to trickling into the competition or sitting in a staff room and writing X's and O's on the board, when I get out of that mode and that's what's most important to me, I'm gonna get out of this business. It's still about watching young men develop and see their growth potential when you start coaching and when they finish. And if they don't get there, a lot of coaches like to blame the kid -- 'He wasn't talented enough. He can't learn the system. Whatever.' That's what coaching is. That's what teaching is, and I was a high school teacher for 17 years. The process of education is taking a person and making him learn and finding the strategy that allows him to learn. And that's what you're doing every day is get to know those running backs. I enjoy them, they're great kids to be around and they're hungry to get better. And we're not done yet. We're gonna improve. It may not be everything that everybody notices, but we've got a lot of improvement yet."
Going off that, is it fair to say they've exceeded expectations so far?
"No, absolutely not. Absolutely not. We set that bar pretty high around here. We can be better. And we want them to better. The expectations aren't met until Game 13, then I'll let them know where they really stand. Until that time we got room to get better."
Where do you have room to get better? Pass protection?
"Yeah we're always getting a better job of moving our feet, punching our hands in protection. Seeing every run read absolutely perfectly. The ability to accelerate and finish that run. The ability to get every yard that run had available and sometimes we may leave 2 yards that we could've gotten three. Or we just misread one and got 5 and it should've been a touchdown. Those are out there, we just gotta continue to improve them."
Notre Dame To Hold Out Another Player Due To Probe
FBS INDEP. SCOREBOARD
Friday, 8/29
Saturday, 8/30