Notre Dame Football:

Collin Klein
December, 7, 2012
12/07/12
10:00
AM ET
Hugh Green looks at the evolution of football over time and cannot feign surprise when seeing that no exclusively defensive player has ever walked away with the college game's most prized individual award. But that doesn't mean he thinks it's right.
From spread offense variations to wider definitions of "unnecessary roughness," from 7-on-7 passing leagues all the way back to the legalization of the forward pass, Green sees one common theme as the sport has progressed.
"They have not made a rule change where offenses have the opportunity to score less points," said Green, the former Pitt and later Buccaneers and Dolphins star defensive end. "They always have rule changes that hamper the defense so that the offense can score more points. Like everything else that happens over the decades with that, defenses adjust. They make the offenses come up with another rule, which is the formula of why a defensive player is so important and why he should be characterized into that major award."
That major award is the Heisman Trophy, which will be given Saturday night to one of three finalists: Texas A&M quarterback
Johnny Manziel
, Kansas State quarterback
Collin Klein
or Notre Dame linebacker
Manti Te'o
.
[+] Enlarge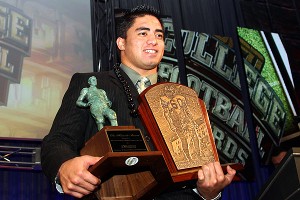 Cliff Welch/Icon SMI Manti Te'o has already garnered several awards, but can he add the Heisman to his trophy case?
No solely defensive player has notched the Heisman, with Michigan cornerback Charles Woodson being the lone winner (1997) who played mostly defense, though he also took reps at receiver and on special teams.
Green's 1980 season -- which featured 123 tackles, 17 sacks and four fumble recoveries -- earned him a second-place finish in 1980 behind South Carolina running back George Rogers. Green is closest to accept the famous stiff-arming trophy soley as a defender. (Iowa tackle Alex Karras finished second in 1957, too.)
That could change if Te'o's name is called this weekend at the Best Buy Theater in Times Square.
"I think first and foremost, for me it would be a great honor for my team," Te'o said. "Without my team, I wouldn't be a Heisman candidate. If we weren't 120, I wouldn't be a Heisman candidate. So without my team and their help, I wouldn't be going to New York. But definitely if I were to win and representing my school and my team and my family and defensive players in general, it would definitely be a great step for all of us.
"If it doesn't happen, then whoever does win it is truly deserving of the award. Anything, whatever happens, it's going to be good."
Manziel is considered the front-runner following an SEC-record 4,600 yards of total offense for the 10-2 Aggies. The redshirt freshman has the catchy nickname ("Johnny Football") and signature moment (last month's upset of then-No. 1 and defending champion Alabama) that have been Heisman hallmarks, based on history.
Working in Te'o's favor are nine takeaways (seven picks, two fumble recoveries), which are tied for the national lead, along with 103 tackles and the label of best player on the nation's No. 1 and only bowl-eligible undefeated team. Notre Dame's seven Heisman winners are tied with Ohio State for most of all time.
"People characterize what a defensive player does and doesn't do, which is score points," Green said. "I thought each and every time, [Te'o's] interceptions either prevented a touchdown or put his offense in position to score a touchdown or kick field goals. So it can be warranted that he does score points."
Te'o also has the character element, an often-overlooked part of the Heisman Trust mission statement, and something he has embodied in overcoming the deaths of his grandmother and his girlfriend within hours of each other earlier this season.
"There are so many superlatives that you can use about players throughout the country," Irish coach Brian Kelly said. "He's a college football player. He loves the game. He's passionate about the game. He's 21 years old and he acts like that. When he walks into a room, there's an energy and a passion for what he does.
"He raises the level of accountability amongst his teammates, and when you have that kind of energy and that kind of personality, it rubs off on everybody. He's a college football player that loves the game and he elevates the play of others around him."
Still, Te'o faces an uphill climb. Only seven defensive players have even been invited to the Heisman ceremony since players first began attending in 1981, the most recent being LSU fifth-place finisher Tyrann Mathieu last year. The Honey Badger, like Woodson, also made a big special teams impact and, like Manziel, also boasted the catchy nickname.
Nebraska tackle Ndamukong Suh's invite to New York following his monstrous 2009 campaign -- 85 tackles, 24 tackles for loss, 12 sacks, 26 hurries, three blocked kicks -- marked the first top-five finish by a defense-only player in 18 years.
That history was not lost on Suh, who was reminded of it everywhere he went after a Big 12 title game loss to Texas in which he notched seven tackles for loss, 4.5 sacks and two hurries. He felt he had a decent shot at winning, but he also knew that the crowded field that year could create some unpredictability, as he was joined in New York by a past winner (Tim Tebow) and two players who would face off in the national title game (Colt McCoy and winner Mark Ingram), along with Toby Gerhart.
"It's unfortunate that defensive guys don't get a better look," said Suh, who finished fourth and is now with the Lions. "I'm happy for Manti Te'o. I'll definitely be rooting for him. If I could vote for him, I'd definitely vote for him.
"I only saw one game of him playing, when he played against Oklahoma, but he seemed like a very dominant defensive player and I wish him the best, especially since I'm on the same side of the ball as him."
December, 3, 2012
12/03/12
6:20
PM ET
Manti Te'o
will be in New York
this weekend for the 78th Heisman Trophy ceremony
, making it two years in a row that a defensive player is a finalist for college football's highest individual honor.
LSU cornerback Tyrann Mathieu was a finalist last year, though he made a big impact on special teams as well.
Te'o is joined by Texas A&M quarterback
Johnny Manziel
and Kansas State quarterback
Collin Klein
.
Michigan cornerback Charles Woodson is the only defensive player to win the Heisman, in 1997, but he, too, saw time on special teams, along with wide receiver.
Te'o won the Butkus Award earlier Monday as the nation's best linebacker, and he will be in a different city each day this week for a different honor following a regular season that saw his team finish atop the rankings with a 12-0 record.
Te'o has 103 tackles, seven interceptions and two fumble recoveries for the nation's top scoring defense.
The official Heisman ceremony is 8 p.m. ET Saturday at the Best Buy Theater in Times Square.
November, 28, 2012
11/28/12
9:00
AM ET
Notre Dame is holding steady atop
ESPN.com's power rankings
, and
Manti Te'o
remains No. 2 this week in
ESPN.com's Heisman Watch
.
Alabama is second in the power rankings, with the Tide's Saturday opponent, Georgia, holding down the fourth spot. The winner of this weekend's SEC title game will likely face the Irish in the Jan. 7 national title game.
Colleagues Mark Schlabach and Brad Edwards
are split on which team will face the Irish
, with Mark picking the Bulldogs and Brad taking the Tide.
As for SEC overload, Texas A&M quarterback
Johnny Manziel
remains atop ESPN.com's Heisman Watch, holding a slim lead over Te'o, whose second-place votes have him within striking distance of Johnny Football (68 points to 59). Kansas State QB
Collin Klein
is third with 39 points, and he will have one more chance to state his case this Saturday against Texas.
As always, here are my ballots. Let's just say it wasn't easy slotting teams 14-25.
HEISMAN WATCH
1) Johnny Manziel, Texas A&M
2) Manti Te'o, Notre Dame
3) Marqise Lee, USC
4) Braxton Miller, Ohio State
5) Collin Klein, Kansas State
POWER RANKINGS
1) Notre Dame
2) Ohio State
3) Alabama
4) Georgia
5) Florida
6) Oregon
7) Kansas State
8) LSU
9) Texas A&M
10) Stanford
11) South Carolina
12) Oklahoma
13) Nebraska
14) Florida State
15) Clemson
16) Oregon State
17) UCLA
18) Northern Illinois
19) Kent State
20) Texas
21) Oklahoma State
22) Michigan
23) Rutgers
24) Louisville
25) Penn State
November, 14, 2012
11/14/12
10:30
AM ET
Manti Te'o
is one of
15 "players to watch"
for the Walter Camp Football Foundation's player-of-the-year award.

Notre Dame's senior linebacker is one of just two defensive players on the list, joining Georgia linebacker
Jarvis Jones
.
Jones has 56 tackles, 10.5 sacks and five forced fumbles, while Te'o has 92 tackles and six interceptions.
I know Notre Dame fans don't want to envision it, but imagine if those two were playing alongside each other on the same defense? (Te'o was all but set to commit to USC, while Jones used to play there.)
The Trojans, by the way, are the only team with two players on the list, in quarterback
Matt Barkley
and receiver
Marqise Lee
; the Irish will face them next week.
Quarterback
Collin Klein
and running back
Kenjon Barner
, from No. 1 Kansas State and No. 2 Oregon, are also on the list.
Five finalists will be announced Nov. 28, with the winner being announced during the 6 p.m. ET edition of "SportsCenter" on Dec. 6.
September, 19, 2012
9/19/12
9:00
AM ET
Notre Dame
checks in at No. 11 this week in ESPN.com's power rankings
, up eight spots from No. 19. And yours truly agrees. Michigan comes in at No. 19. (Yes, I had the Wolverines in that spot as well.)
Here are my rankings following the Week 3 slate:
1. Alabama
2. LSU
3. Oregon
4. Florida State
5. West Virginia
6. Georgia
7. South Carolina
8. Stanford
9. Florida
10. Oklahoma
11. Notre Dame
12. Clemson
13. Texas
14. USC
15. Kansas State
16. Ohio State
17. UCLA
18. Louisville
19. Michigan
20. TCU
21. Arizona
22. Michigan State
23. Northwestern
24. Rutgers
25. Mississippi State
Colleagues Mark Schlabach and Brad Edwards
both moved Notre Dame into the Fiesta Bowl in their bowl projections
following the team's 20-3 victory at Michigan State, with West Virginia and Texas, respectively, as the Irish's opponents.
If the early season is any indication, then the Irish may be facing the Heisman Trophy winner, as Mountaineers quarterback
Geno Smith
leads our Heisman Watch after Week 3
, despite playing in just two games.
Here's my Heisman Watch. As always, these are
extremely
fluid, especially so early in the season, as I go based only off what has happened this season and do not take potential into account.
Top Returning Players: AAC and Notre Dame
FBS INDEP. SCOREBOARD
Saturday, 12/21
Monday, 12/23
Tuesday, 12/24
Thursday, 12/26
Friday, 12/27
Saturday, 12/28
Monday, 12/30
Tuesday, 12/31
Wednesday, 1/1
Thursday, 1/2
Friday, 1/3
Saturday, 1/4
Sunday, 1/5
Monday, 1/6