Notre Dame Football:

Connor Reilly
August, 29, 2013
8/29/13
9:02
AM ET
Notre Dame's long offseason comes to an end Saturday, as the Irish play host to Temple at 3:30 p.m. ET. What can they expect against the Owls?
When Temple has the ball:
Under former coach Steve Addazio, the Owls were a ground-and-pound team. Now they are without their top two backs from last season in Montel Harris and
Matt Brown
. They have a new coach in Matt Rhule, who has implemented a pro spread offense, which allowed quarterback
Connor Reilly
to ascend from the fourth team to starter since the start of this past spring. Leading receiver
Jalen Fitzpatrick
(30 catches, 363 yards, 2 TDs) is back. But
Cody Booth
, who led the Owls last season with four touchdown catches, has moved from tight end to left tackle. Former signal-caller
Chris Coyer
added 30 pounds this offseason as he moved to H-back. Notre Dame will likely look to pressure Reilly in his first career start and force him into some early mistakes, especially now that the Irish have a secondary that is better equipped to seize opportunities than it was last season.
When Notre Dame has the ball:
Tommy Rees
is Notre Dame's quarterback, again. So what changes? For one, Rees is two years older than he was the last time he started extensively for the Irish. He's a bit bigger, too. He has two proven receivers in captain
TJ Jones
and
DaVaris Daniels
, and some unproven talent behind them. Notre Dame's pistol package in camp has caused some buzz in South Bend, and it figures to help a crowded but mostly green backfield. Those tailbacks, by the way, should try to avoid linebacker
Tyler Matakevich
at all costs, as he is the reigning Big East rookie of the year and already one of the leaders of the defense as a sophomore captain.
Intangible:
This is 38-year-old Rhule's first game as a head coach. The former New York Giants assistant returned to the Owls after serving as an assistant under Al Golden. You never know how a new coach and his players will come out early, especially when entering a place with as much history as Notre Dame Stadium. The Irish, meanwhile, should know better than to look ahead to Michigan, as they had their 2011 opener ruined by what turned out to be a 3-9 Big East team (South Florida).
Prediction:
Notre Dame 31, Temple 6. The Owls may be the worst team the Irish face this season. Some early first-game hiccups will keep it from eventually getting too far out of hand.
August, 28, 2013
8/28/13
9:00
AM ET
SOUTH BEND, Ind. —
Tommy Rees
has control over Notre Dame's destiny for yet another season. And yes, the same was true last season, when he started just twice and made a handful of cameos despite relinquishing full-time No. 1 duties to Everett Golson.
"He was a backup quarterback, he was an assistant coach and kind of made everything go," Irish offensive coordinator Chuck Martin said. "If he would've taken a different stance, the whole season's probably completely different. I mean, he could've easily ruined the whole deal for everybody."
[+] Enlarge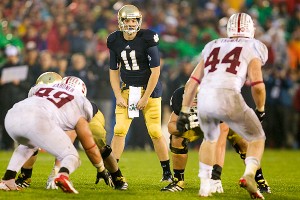 Cal Sport Media via AP ImagesTommy Rees served as a backup last season and declined to transfer. Now he's the starter.
And he could have done the same after the season, with Golson deemed the quarterback of the future and with playing time looking more scarce for the ever-reliable next-man-in.
How things have played out since then illustrates just how beneficial it has been for the Irish to have a signal caller like Rees, whose contingent got its wish when he replaced Dayne Crist in the 2011 home opener, only to turn on him when he replaced Golson late in the 2012 home opener.
"When you win 12, they don't remember what happened the second game of the year," Martin said. "You guys do, we do, but a lot of the fans don't. They forgot that they were booing him. They forgot that it's hard to lead a two-minute drive at home when you're getting booed off the field."
Rest assured, Rees will be a major factor in another Notre Dame Stadium opener this Saturday against Temple, after Golson was hit with a semester suspension from school in May for academic misconduct.
And Notre Dame hopes the lessons Rees learned from a 12-month period that began with a suspension of his own and culminated with the senior in command of the offense once more can help serve a program looking to turn last year's meteoric rise into something resembling the norm.
"I probably should give a lot of credit to my parents, the way I was raised," Rees said of the way he's handled his career. "I love my teammates. I love the guys that I'm out there with every day, so for me there's not really another option. You've just got to stay prepared, and when the moment comes for you, you've got to be ready for those guys, because you count on them, they count on you, and that's really what our team's been built on. People say it's a family all the time, but until you're a part of it and until you feel how close this group is, it's kind of hard to explain."
Perhaps tellingly enough, not a single question among the 42 asked during head coach Brian Kelly's 42-minute Tuesday press conference was about Rees.
[+] Enlarge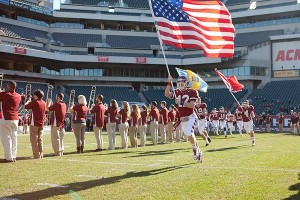 Courtesy of Mitchell LeffConnor Reilly, known for leading Temple onto the field, now will lead the Owls as quarterback.
For once, the closest thing to a quarterback drama comes from the visiting sideline, where
Connor Reilly
will start for Temple, winning over new coach Matt Rhule after entering the spring at No. 4 on the depth chart.
Interestingly enough, Reilly's father, Lt. Col. Neil Reilly, grew up in Rees' hometown of Lake Bluff, Ill. The connection between the two quarterbacks has led some in the 5,000-person community to label Saturday's tilt as the "Lake Bluff Bowl."
More importantly, Neil Reilly recently served with the Army in Afghanistan, and he flew a Temple flag over his battalion while deployed.
Connor Reilly repays the gesture by running onto the field before each game waving the same U.S. flag that his father flew as a squadron commander in the Army on several missions in Afghanistan.
"It's a really cool honor to do that for my dad, because I know he does that and serves and honors and protects my country," Connor Reilly said.
July, 8, 2013
7/08/13
4:30
PM ET
Today we kick off a new series looking at some of the top players Notre Dame will be facing this coming fall. There are some familiar faces on the Irish's schedule (hello again,
Blake Bell
and
Marqise Lee
), but other key rivals are off to greener pastures (goodbye, Denard Robinson and Le'Veon Bell).

Then there are entirely new opponents, like Arizona State. Or today's entry, Temple.
We'll start things off with the Owls, who come to South Bend, Ind., on Aug. 31 for the inaugural game of the Matt Rhule era. Who should the Irish keep an extra eye on?
Offense: Connor Reilly, QB
. A new offense under a new coach has given Reilly quite the opportunity this offseason. And to say he has taken advantage would be a massive understatement. Reilly ascended from fourth to first on the Owls' QB depth chart this past spring, as the pro-style passer and dual-sport athlete (he's also played for Temple's baseball team) threw for 366 yards and four scores in the spring game. Two of his competitors for the job have switched positions (
Kevin Newsome
to H-back;
Chris Coyer
, last year's starter, to tight end/H-back). Not surprisingly, Reilly was named the team's most improved offensive player this spring.
Defense: Tyler Matakevich, LB
. The reigning Big East rookie of the year became the first freshman in school history last year to notch 100 tackles, finishing with a team-best 101. No teammate came within 25 tackles of the newcomer. Matakevich had three tackles for loss, three pass break-ups, a pair of fumble recoveries and a forced fumble. He didn't start until the fourth game of the season, and it's important to remember that the Owls played only 11 contests last year. Matakevich had seven double-digit tackle outings. He was a second-team all-conference pick, a freshman All-American and the ECAC defensive rookie of the year.
Irish Flips Top TE Jones, Back In Top 10