Notre Dame Football:

Cougars-Irish-102012
October, 20, 2012
10/20/12
9:47
PM ET
SOUTH BEND, Ind. -- Sorry for not partying.
The players on the most visible team in college football went another Saturday without a loss and then proceeded to act like they had been there before.
Even if they haven't.
Which is an encouraging sign if you're a Notre Dame fan following the Irish's
17-14 victory
over BYU. The breaks of the game were tipping more toward the familiarity of the previous few years here, and the aftermath in the locker room was not exactly far off.
"Some people were taking it the wrong way," said
Tyler Eifert
, who had four catches for 73 yards and a touchdown. "Guys weren't upset or throwing their helmets or anything like that; it just didn't really feel as loud and celebratory as last week."
Then, in a weird twist, the man most responsible for this change in culture nearly had to shake his players out of their postgame rut, reminding them that, when on a pursuit of perfection, every win is a great one.
"I want them to know, that, listen, you can't win games by 28 and 30 points," coach Brian Kelly said. "You need to find ways to win. That's who we are. There's a lot of teams around the country that have made their programs on winning 7-6 and 13-7. It's just who we are; embrace who we are, I guess is what I'm saying. We just keep fighting, keep playing and we'll find a way to win."
Saturday fit all the makings of a trap game -- from a sidelined starting quarterback to a tipped interception out of last season's scrapbook, from a highly questionable opponent touchdown to the fact that, well, the Irish's defense finally gave up a touchdown after four consecutive games of keeping its opponent out of the end zone.
Throw in a pair of makeable field goals blowing wide for good measure.
"It was kind of like a little shock,"
Stephon Tuitt
said of surrendering a pair of scores. "Kind of like a little, 'Man, they just scored on us. We've got to buckle down because this team came ready to play.'"
[+] Enlarge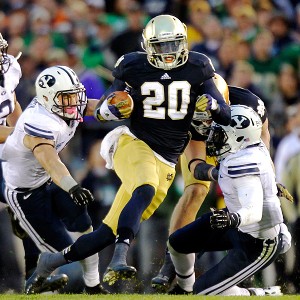 AP Photo/Michael ConroyCierre Wood ran for 114 yards, but was puzzled by his teammates' postgame demeanor
No, this wasn't an overtime goal-line stand against a ranked Stanford team to set off a scene out of a football drama. This wasn't what next week will look like if Notre Dame can knock off Oklahoma and validate national title aspirations.
BYU coach Bronco Mendenhall would call his team's Saturday performance its most complete of the season, and it came at a time the Irish were most vulnerable -- after a big rivalry win in the rain, before a season-defining test on the road.
"I would say that we did not come out like we usually come out of every game," Tuitt said, unable to point to a reason. "But we came back and kept fighting and had a great win."
Facing a Cougars defense that entered the contest No. 3 nationally against the run, the Irish tallied 270 yards on the ground. After a 6-of-7 showing in the first quarter,
Tommy Rees
misfired on his next seven attempts, completing just one pass the rest of the way and throwing it just three times in the second half as his team ground-and-pounded its way out of a 14-7 deficit.
Down three and staring at a potential 51-yard game-tying field goal with 6 minutes, 19 seconds to go and one timeout in hand, the Cougars punted to the Irish, who utilized a nine-play, 48-yard drive to chew up 5:48 before punting it away with 22 seconds to go.
They had notched three first downs. They were mad at themselves for not getting four.
"As far as the offensive line goes, we just wanted to finish the game on our own terms and get that last first down," center
Braxston Cave
said.
Danny Spond
's pick with 2 seconds to go made that a moot point, setting off a mood that left
Cierre Wood
a little confused.
"I'm sitting there like, 'Y'all making it seem like we just lost,'" the always-honest tailback said. "I don't really know what that means. But everybody's just focused, just glad we got the W, and focused on Oklahoma.
"So you can look at it either way, really. I was excited about the win. We won, so what's not to be happy about?"
Wood was one of the few who had little to apologize for after rushing for 114 yards on just 18 carries. His sidekick and roommate,
Theo Riddick
, could hold his head even higher following a career-best, 143-yard performance, on just 15 carries. He looked sunk on a third-and-1 third-quarter rush before emerging from the scrum for a 55-yard gain, setting up a short field goal. But the biggest play came from the No. 3 tailback, as
George Atkinson III
used a video game-like juke on
Joe Sampson
to take it in from 2 on third-and-goal early in the fourth quarter.
What would normally provide a spark instead inspired relief, the Irish's undefeated campaign still intact, the drag of BYU week finally giving way to a trip to Norman, Okla., for the team's second "College GameDay" contest in a three-week span.
The 24-hour, day-after window still has some time, even if the 50-year-old coach is the only one who feels like celebrating on a campus that won't welcome all of its students back from fall break until Monday.
"I do feel both ends of that," Kelly said. "I think you know that you want your guys feeling like they can play better. But I think when you win football games, you wait on Sunday to feel like,
I can play better
. Saturday, you win the football game, and you need to feel that excitement.
"And then Sunday, Sunday could be an interesting day. But let's wait for Sunday. Saturday is for success and celebration."
October, 20, 2012
10/20/12
6:45
PM ET
Notre Dame survived the "trap" game against BYU, winning
17-14
. The Irish will visit Oklahoma next week at 7-0. Here's how it went down Saturday.


It was over when
:
Theo Riddick
rushed for 6 yards on a third-and-5 with a little more than three minutes left, allowing Notre Dame to escape against a BYU team that had just one timeout left. Down by three with 6:19 left and at the Notre Dame 34, BYU had chosen to punt one drive earlier. The Cougars got the ball back at their own 20 with 22 seconds left and no timeouts, and
Danny Spond
picked off
Riley Nelson
with 2 seconds remaining to ice it.
Game ball goes to
: Riddick came up huge for the Irish, rushing for 143 yards on just 15 carries. The key play came on a third-and-1 late in the third quarter, when Riddick somehow escaped a pile at his own 37 and managed to go 55 yards, setting up a field goal for the Irish.
Cierre Wood
deserves plenty of credit as well, adding 114 yards on 18
carries.
Stat of the game
: Notre Dame's defense entered this game having gone 17 straight quarters without a touchdown. The Irish gave up two in a span of 2:28 in the second quarter. In their defense, they were given a short field to play with on the second one after
Kyle Van Noy
recorded an interception off
Tommy Rees
at the Notre Dame 30-yard line. (And, in Rees' defense, his pick was a dropped pass by
DaVaris Daniels
that went up in the air.)
Stat of the game, Part 2
: Notre Dame attempted just three passes in the second half. Rees was 6-for-his-first-7 in the first quarter but did not complete a pass on his next seven throws. He finished 7-of-16 for 117 yards with a touchdown and a pick.
October, 20, 2012
10/20/12
3:00
PM ET
SOUTH BEND, Ind. -- Greetings from Notre Dame Stadium, where quarterback play is again the subject surrounding the No. 5 Irish.


Tommy Rees
will start today after
Everett Golson
suffered
a concussion late in last week's win against Stanford
. Golson is out on the field fully dressed and taking reps, but he's been getting the snaps from Mike Golic Jr. Rees has been getting the snaps from
Braxston Cave
while
Andrew Hendrix
lined up behind
Matt Hegarty
.
Beautiful day here, a far cry from last week's showers, and it will be interesting to see how the Irish offense fares against a BYU defense that ranks fifth nationally in overall defense, and seventh in scoring defense. The Cougars are No. 13 in sacks and in tackles for loss, too, so we'll see if the lack of mobility without Golson under center proves to be an issue.
On the other side, look for Notre Dame to have a field day defensively. BYU's offense is, to put it kindly, not very good, and the Cougars will have a lot of trouble establishing any kind of ground game against this Irish front.
Does another low-scoring slugfest await us? Probably not, though there won't exactly be tons of fireworks, either.
As always, I'll be
tweeting the action throughout, so be sure to follow there
. Any developments or breaking news will be here in the blog, and we will have complete postgame coverage, too.
Should be another fun one. Enjoy.
October, 20, 2012
10/20/12
1:56
PM ET

Matt Fortuna previews today's action from Notre Dame Stadium.
October, 20, 2012
10/20/12
12:13
PM ET
Quarterback
Everett Golson
will
not start for Notre Dame
on Saturday when the Irish host BYU, a source told ESPN.com.
Tommy Rees
will start, the Chicago Tribue reported Saturday, citing an anoymous source.
Golson suffered a concussion late in last Saturday's win over Stanford and did not return to practice until Wednesday.
Top Returning Players: AAC and Notre Dame
FBS INDEP. SCOREBOARD
Saturday, 12/21
Monday, 12/23
Tuesday, 12/24
Thursday, 12/26
Friday, 12/27
Saturday, 12/28
Monday, 12/30
Tuesday, 12/31
Wednesday, 1/1
Thursday, 1/2
Friday, 1/3
Saturday, 1/4
Sunday, 1/5
Monday, 1/6