Notre Dame Football:

Dan Devine
July, 11, 2013
7/11/13
3:00
PM ET
On Sept. 21, Notre Dame will be looking to notch its first three-game winning streak against Michigan State since the Lou Holtz days (1987-94). The two will take a two-year break before meeting in East Lansing, Mich., on Sept. 24, 2016. Who are the biggest Sparty threats to another Irish win?
To read previous entries from this series, click
here
.

Offense: Travis Jackson, C.
The junior was hampered by injuries last season, starting just five games before going down with a broken leg and a knee injury. Now healthy, Jackson is on the watch list for the Rimington Trophy and will look to pave the way for a backfield that is without Le'Veon Bell. He had 10 knockdowns in five contests last year and started 10 games as a freshman in 2011, earning freshman All-America honors from Phil Steele and conference all-freshman honors from three different publications.
Defense: Max Bullough, LB
. The three-year starter in the middle for the always-stout Spartan D has amassed 223 total tackles in 40 career games, including 21 for loss and 6.5 sacks. The Big Ten coaches named Bullough a first-team all-conference selection last season, with the media placing him on the second team. Bullough had a team-best 111 total tackles last season, including 12.5 for loss, to go with 2.5 sacks, one pick, four pass breakups, three quarterback hurries and one forced fumble. He led the team in tackles (89) in 2011, too, getting named second-team all-conference by the coaches and honorable mention by the media. Bullough's grandfather, Jim Morse, played halfback at Notre Dame under Terry Brennan from 1954-56. His uncle, also named Jim Morse, was a cornerback for the Irish under Dan Devine from 1976-77.
July, 9, 2013
7/09/13
12:00
PM ET
December, 27, 2012
12/27/12
12:00
PM ET
Hope everyone in Mobile is OK.
November, 25, 2012
11/25/12
3:03
AM ET
LOS ANGELES -- Brian Kelly emerged from the Coliseum field flanked by security guards left and right, looking nearly disheveled. He held his white Notre Dame baseball cap up toward the sky in a brief moment of bravado, his ensuing toss falling a good 10 feet short of the fans.
The coach of the nation's No. 1 team was already near his locker room by the time the cap landed, his star player rushing to catch up to him. Kelly and
Manti Te'o
embraced, the 51-year-old bear-hugging the linebacker, looking more excited than any of his players were after they had just pulled off the unthinkable.
"I can't remember what I said," Kelly recalled of the moment. "But what we've been saying all along is that we're in this together. It's really been about both of us, player and coach, driving this thing. And I think we were probably sharing that embrace, that we got it one step closer."
From South Bend, Ind., to Southern California, the Fighting Irish now will march on to South Beach, one step closer to holding up that prized crystal football. They will do it after winning Saturday night at rival USC,
22-13
, to clinch a spot in the BCS National Championship Game, which will be played Jan. 7 in Miami Gardens, Fla.
They will go there under a third-year coach, the standard for all legendary Notre Dame leaders, four of whom won national titles with the Irish in Year 3 and have statues on campus to show for it.
They will go there under the nation's best defensive player, who has emerged as an icon amid personal tragedy, who might or might not have some hardware already in hand after another interception Saturday, his seventh of the season.
"If a guy like Manti Te'o's not going to win the Heisman, they should just make it an offensive award," Kelly said afterward. "Give it to the offensive player every year, and let's just cut to the chase. He is the backbone of a 12-0 football team that has proven itself each and every week, and showed it tonight again with another key interception and a great play in the end zone on
Marqise Lee
to save another touchdown.
"If the Heisman Trophy is what it is, I just don't know how Manti Te'o is left out of that conversation."
With the Irish up 19-10 early in the fourth quarter, Te'o hit Lee, USC's Heisman candidate, in the back of the end zone on a third-and-goal play, forcing the ball to the ground and forcing the Trojans to settle for a field goal.
Te'o and the Notre Dame defense returned to that area of the field on USC's next drive, after a 43-yard Lee kick return and a 53-yard Lee reception. Backs against the wall, a 22-13 lead and a little more than five minutes from a perfect regular season, the Irish lined up, prepared to stop a first-and-goal play from the 2.
Eight plays and three minutes later, the visitors sideline was coming apart at the seams, Notre Dame's fate all but sealed. The Irish had kept USC's lethal attack out of the end zone, again. They had made a remarkable goal-line stand, again.
Six weeks earlier, against Stanford, Notre Dame had kept the Cardinal out of the end zone on four consecutive overtime plays from inside the 5. That was the moment everything came to fruition for athletic director Jack Swarbrick, who confessed Saturday night that this season's title run had come a year earlier than expected.
"Coming into the year, I thought Stanford was the test," Swarbrick said. "I just think in the past two years they were more physical than we were, bigger and tougher than we were. I thought, 'That's going to be our benchmark.' And when we survived that, especially the way we did, I thought this team had a chance."
Swarbrick came to Notre Dame as a student in 1973, just in time for Ara Parseghian's second national title. He graduated in the spring of 1977, just missing Dan Devine's first.
He came back to his alma mater four years ago, before a season that ended in this same building, the reporters that time surrounding him for comment about the status of former coach Charlie Weis after another blowout loss here.
"It's what gets you up in the morning," Swarbrick said of restoring the Notre Dame lore.
He helped do that by hiring Kelly, who now has a 12-0 team for the second time in four years. His previous one, at Cincinnati, did not get to play for the national title. This one, after entering the season unranked, after enduring questions from quarterback play to recruiting methods to injury concerns, will.
"We believed in each other," Te'o said of the journey, which took a detour last season after a loss to USC, leading to Kelly comments that threatened to fracture the locker room. "Our coaches believed in us, and we believed in our coaches. It showed the type of camaraderie we have on our team. It's the camaraderie on our team that has helped us be successful."
Upon reaching the visitors locker room after Saturday's win, Kelly greeted a group of players who were, in his words, singing and dancing and laughing. He said a few words to them before presenting the game ball to
Theo Riddick
, who had carved up the Trojans for 146 rushing yards.
Then Te'o, the leader who spurned USC four years ago for Notre Dame, who spurned the NFL last season for this moment, stood up unexpectedly. He said a few words himself, these ones about his coach, and then he presented Kelly with a game ball of his own. Teammates called it a speechless moment.
Notre Dame is back on college football's grandest stage. Not much else is left to be said.
May, 25, 2012
5/25/12
9:00
AM ET
Today wraps up Coaches We Love to Hate week, a theme that brought the readers out in full force the past few days.
On Tuesday, we
asked you who the most hated Notre Dame coach was
, in addition to fielding your feelings toward opposing coaches.
Unsurprisingly given his performance in South Bend, Charlie Weis
has run away in the most-hated poll
, with Dan Devine coming a distant second. Why? One reader, Aaron Short, suggested that could have more to do with his portrayal in "Rudy" than anything else.
Ah, the power of Hollywood.
As for opposing coaches you guys hate, the usual suspects filled my mailbag: Lane Kiffin, Urban Meyer, Pete Carroll and Mark Dantonio.
Here's why ...
Joe from Danville, Pa.:
Two words: Little Giants. Mark Dantonio by a margin so wide science has yet to determine a system of measure that can determine it.
Brian from Raleigh, N.C.:
Currently, I dislike Kiffin the most. If you really listen to nearly any interview he gives, he's still the snotty little brat we always thought he was. I don't know how the media can listen to him and not get that impression. I actually respect Dantonio a lot. I hate MSU, and fortunately that particular school is unable to have more than one really good sports team in a season so committed to mediocrity they are. So as long as [basketball coach Tom] Izzo is there, we won't have to worry about them being too good too often. The ND coach I disliked the most? Gotta be Weis in my lifetime. They all have driven me nuts from time to time ( was born under Devine, grew up under [Gerry] Faust and [Lou] Holtz) but those ND teams simply were not what Notre Dame football is about.
[+] Enlarge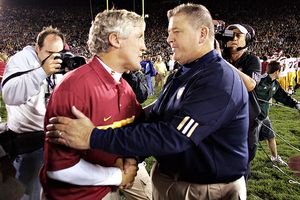 AP Photo/Tom StrattmanYears after their respective departures, coaches Pete Carroll, left, and Charlie Weis, seen here in 2005, still rub Irish fans the wrong way.
Rose from Los Alamitos, Calif.:
No longer a college coach, but Pete Carroll was the worst. The hair at my nape stood on end when I would hear him speak. Just a bad feeling that the guy was not to be trusted.
Jim from Notre Dame, Ind.:
Pete Carroll is far and away my least favorite (former) coach. The man never stopped badgering the officials about any call against his team (even blatant cheap shots ... which, with the players he recruited were frequent), was constantly on the playing field and outside of the coaches box (AT LEAST ISSUE HIM A WARNING!), and honestly, I've never hated an opposing coach more. That said, his replacement is making a run at Carroll's title. His comments about Notre Dame make me irate, and his general demeanor and pouting face are loathsome. I hate them, I hate USC (University of Spoiled Children/University of Sanctioned Cheating), I REALLY HATE USC, and I would love nothing more than for them to be undefeated when the Irish roll into town and beat them. P.S.: When USC was sanctioned (I thought they deserve the death penalty... REGGIE BUSH GOT A HOUSE!!!! A HOUSE!!!) and Pete Carroll got out of dodge, it showed just how slimy he really is.
Brett from Denver:
Im younger so I couldnt tell you about coaches predating the mid to late 90's, but since then, to me it has to be Lane Kiffin. Its not even about the ND USC rivalry either, its what he did to Tennessee. Then pile on his arrogance and I despise no one more.
Aaron Short from Bloomington, Ill.:
Do you think Devine is coming in second on the Notre Dame coach list because of how he was portrayed in "Rudy"? And in response to the opposing coaches. Lane Kiffin has to take this one. The guy jumps to the NFL, fails ... miserably, which I'm not putting the guy down for taking a chance but then Tennessee gives him a great opportunity. So he takes it and talks it up, saying and I quote "We'll be singing Rocky Top all night long after we beat Florida"... Urban Meyer's Florida, that is. Once again FAILS, miserably ... Pete Carroll darts out of LA before his crap hits the fan leaving Lane Kiffin a back door out of Knoxville. And even though he wants to try to beat Florida again because he reaallllyy wants to sing rocky top all night long, he leaves the Vols in the gutter and jumps back into the loving arms of USC, knowing that a 2 year post season ban would still be better than getting wiped up and down in the SEC. Him and Todd Graham need to set a lunch date together, if the two could commit to a place.
Mullin from Hamilton, N.J.:
Without a doubt it's Urban Meyer. Now we know why he wouldn't come to his dream job at Notre Dame. He already has secondary violations at OSU and complaints about his recruiting tactics ... and how come nobody ever brings up the 30 guys that got arrested in his tenure at FLA? That doesn't work at ND. Throw in the fact that he's stolen several top recruits from ND at those 2 schools puts him as public enemy #1.
And we have a voice from the other side, too, as reader Tom Jeffries from Gas City, Ind., defends Charlie Weis' work ...
Tom:
Matt I love reading your stuff every week. You do a great job. That being said, this poll was way off. Charlie got the most votes, but it was totally undeserved. First and foremost lets not forget that the last 2 BCS bowls ND was in, was under Charlie. Also I think we can all agree that he was a great person off the field. He did tons of charity work and donated more money than I will ever make in my lifetime. [He] is a good mind, who had trouble adjusting to the college game and getting the right staff together. [He] belonged in the press box, calling the plays. That why he went to Kansas City and dominated, had a good run at Florida, and is now back coaching at the BCS level at Kansas. Lets at least state the facts and give credit where credit is due.
As always, thanks a bunch for sharing your feelings. And for keeping things civil in a post like this. I can't say I'm too surprised by the amount of hatred toward USC's former and current coaches, and the expectations surrounding the Trojans this season should only add to the intrigue and animosity.
December, 9, 2011
12/09/11
5:15
PM ET
The regular season is over and the end of the semester has arrived. Here, we grade Notre Dame's 2011 campaign by position. The finale of the 10-part series brings us to the coaching staff.
COACHING STAFF
Grade
: B
Summary
: As the Irish enter the Champs Sports Bowl with a different quarterback controversy from the one they began the season with, a lot is left to be desired for Notre Dame fans. What was resolved this year? How can a team turn the ball over so many times? Was progress even really made?
We still don't know much about the quarterback situation, which will only bring more questions when
Everett Golson
is thrown into the mix this offseason. Five turnovers in each of its first two games -- both of which should have been wins -- is, of course, inexcusable. As for progress …
A Dec. 29 loss to Florida State would give the Irish the same record as last season. A win would signal a one-game improvement from last season, which was a two-game improvement from the season before. Either way, the fact is Brian Kelly has consecutive eight-win seasons to begin his Notre Dame career, something only three previous Irish coaches (Charlie Weis, Dan Devine and Terry Brennan) can say. This team no longer gets pushed around in the trenches, has an absolutely lethal defensive line to build off, and made tremendous strides in its running game.
Michael Floyd
rewarded Kelly's faith.
Still … Kelly's comments about the difference between his players and Weis' players almost fractured the team, though it managed to come together and win its next four games. The punt return game was the worst in the nation and will need major evaluation this offseason. And slow starts in the season opener (South Florida) and against its arch rival (USC) are inexcusable for a team that could very easily have been 10-2 and on the cusp of the BCS-bowl berth it spoke so openly about to begin the season.
All of that being said, the season could have easily been thrown away after the 0-2 start. Kelly rallied the troops to win their next four and eight of their final 10. He successfully challenged
Jonas Gray
, who responded by having a senior year no one saw coming. Gary Gray bounced back nicely from a nightmare performance at Michigan. In the end, USC and Stanford were simply better teams, which you can live with. It's the first two games that left the sour taste in Notre Dame's mouth, and the Irish have little room for error next season against an unforgiving slate
Previous report cards:
Quarterbacks
Defensive line
Offensive line
Linebackers
Running backs
Wide receivers
Tight ends
Secondary
Special teams
November, 18, 2011
11/18/11
9:00
AM ET
Thanks to ESPN Stats & Info for these tidbits:
Notre Dame is looking for its third consecutive victory against Boston College, this after losing six in a row to the Eagles.
When the Irish have three or more turnovers in a game this season, they are 1-3. They are 6-0 when committing fewer than three turnovers in a game. They have turned the ball over 22 times this season, though just twice over their past two games.
A Notre Dame victory Saturday would mean a second consecutive eight-win season for Brian Kelly, who would join Charlie Weis (2005-06), Dan Devine (1975-76) and Terry Brennan (1954-55) as the only Irish coaches to win at least eight games in their first two seasons as Notre Dame's head coach.
Jonas Gray's current stretch of seven consecutive games with a rushing touchdown is Notre Dame's longest stretch since 1998, when Autry Denson scored a rushing touchdown in 10 straight games.
A Boston College loss Saturday would be its eighth of the season and mark the program's first eight-loss season since 1995, when it went 4-8.
October, 10, 2011
10/10/11
12:00
PM ET
What happened to you, NFC East?
Irish Flips Top TE Jones, Back In Top 10