Notre Dame Football:

Dan McCarthy
March, 19, 2013
3/19/13
9:00
AM ET
Our series wraps up with the defensive backs.
Starters returning
:
Bennett Jackson
,
KeiVarae Russell
,
Matthias Farley
Players returning
:
Austin Collinsworth
,
Lo Wood
,
Nicky Baratti
, Elijah Shumate,
Jalen Brown
,
Josh Atkinson
,
Eilar Hardy
,
C.J. Prosise
,
Chris Badger
,
John Turner
Players departing
:
Zeke Motta
,
Jamoris Slaughter
,
Dan McCarthy
,
Chris Salvi
Newcomers
: Max Redfield, Devin Butler, Cole Luke, Rashad Kinlaw
The breakdown
: The secondary was the biggest concern going into 2012, and it ended up becoming the biggest surprise. Though the group had a night to forget on Jan. 7 in Miami against Alabama, three starters are back from a stingy unit that suddenly finds itself with another numbers problem -- this time a good one.
Russell, a converted freshman running back, did better than anyone could have ever imagined after rising to the No. 1 spot when Wood went down with a preseason Achilles tear. Jackson lived up to the high preseason words of the coaching staff, finishing third on the team in tackles (65) and adding four picks. Farley, another converted player who made his first appearance in the secondary on a college field (after a redshirt season), adapted well as a tackler. He put in all the necessary post-practice work with safeties coach Bob Elliott to emerge as a strong starter after Slaughter -- who is done after being denied a sixth year by the NCAA -- went down with an Achilles tear of his own. Like Russell, Farley has three years left at Notre Dame.
Wood, a projected starter last season before getting hurt, enters the mix this season as well, though how much he'll be able to do this spring remains to be seen. Collinsworth saw extensive action at safety as a sophomore but underwent both shoulder and back surgeries that forced him to sit out all of last season. He is expected to be back this spring. He will surely give Notre Dame another proven body in the defensive backfield.
Baratti saw plenty of time on defense in his first college season, and you can expect to see him on the field often in one capacity or another. He played often on special teams last season too. Shumate was essentially the Irish's nickelback after converting from safety, so it will be interesting to see where he ends up given the numbers situation back there in 2013.
Among newcomers, Redfield has received the most attention, as he was the No. 23 overall player from the Class of 2013, according to ESPN. He will not enroll until the summer.
November, 4, 2012
11/04/12
3:20
PM ET
Notre Dame survived a potentially self-inflicted mistake Saturday, one that could have put its perfect season in further jeopardy.
When Pitt's
Kevin Harper
missed a 33-yard field goal in the second overtime that would have ended the game had it gone in, the Irish had
Bennett Jackson
and
Chris Brown
, both of whom wear No. 2, on the field together.
By rule, Notre Dame should have been penalized and the Panthers should have gotten a first down.
"No exception to [the rule]," coach Brian Kelly said during his Sunday teleconference. "It was a coaching mistake. ... We've got to do a better job -- an oversight that can't happen."
Kelly said he noticed the gaffe right after the play.
Pitt ended up kicking a field on its next drive to start the third overtime before
Everett Golson
rushed for the game-winning touchdown.
Notre Dame had been penalized for a similar mistake once earlier this season, when
Dan McCarthy
and
Justin Ferguson
, both No. 15, were on the kick return unit together in Week 2 against Purdue. Ferguson has since changed his jersey to No. 82.
"We have an easy way for us to make sure that this doesn't happen again," Kelly said. "[Jackson and Brown] won't be on the field again. It's on me now, so I'm going to make sure it doesn't happen."
Nichols still hurting
: Kelly said tackle
Tate Nichols
may have taken a step back with a knee injury and will get an MRI this week, though information won't be available until later in the week.
September, 9, 2012
9/09/12
3:02
PM ET
Brian Kelly re-enforced Sunday that
Everett Golson
is his starting quarterback, but the decision to put
Tommy Rees
in for Saturday's final drive had little to do with Golson's thumb injury.
[+] Enlarge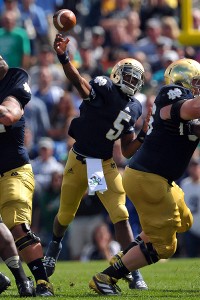 Matt Cashore/US PresswireEverett Golson put up good numbers (21-of-31 for 289 yards, 1 TD) before leaving the game.
"I had already begun the conversation with Coach [Chuck] Martin about installing Tommy into that situation, so the knowledge of running our two-minute trumped any kind of injury that he may have had," Kelly said during a teleconference. "Now, it contributed at the end to make it an easier decision for me."
Kelly again used a pitching analogy to describe his quarterbacks' roles, though he was careful not to peg Rees as his "two-minute" guy should a similar situation arise in the future.
"I don't see it as a role, I see it as if we feel like Tommy can help us win a game or he can come in a situation where we believe its the right fit, then he'll be prepared to do so," Kelly said. "I used this baseball analogy: We like our starters to finish the game. We want them to go all nine innings. Occasionally we might need some help. Maybe we need long relief, maybe we need short relief. I don't want to take anything off the table but we'd like our starter to start it and finish it."
Injury/personnel updates
:
Odds and ends:
Asked if he has a No. 1 running back with Cierre Wood back in the fold, Kelly said: "Yes, Theo Riddick."

Justin Ferguson will wear No. 82 for the rest of the season. Notre Dame was penalized (Purdue declined) during a first-half kickoff Saturday because the freshman wideout, who was No. 15, was on the field at the same time as senior Dan McCarthy, also No. 15. Ferguson changed to No. 82 at halftime. Alex Welch, out for the year (ACL), was No. 82 before.

Kelly elaborated on why he allowed only Te'o and Zack Martin to speak to reporters after the game: "I had to do what I thought was in the best interests of the team. At times that might put me at odds with you guys, and I understand that. Last night I thought it was best for our team to have a couple captains speak and I'll just leave it at that."
September, 1, 2012
9/01/12
12:27
PM ET
The
Everett Golson
era got off to a great start Saturday for Notre Dame, which dominated Navy in a
50-10
season-opening win at Aviva Stadium in Dublin. Golson completed 12 of 18 passes for 144 yards with one touchdown and one interception.


Let's take a closer look at how it happened:
It was over when
:
Theo Riddick
rushed for an 11-yard touchdown to cap an 11-play, 75-yard drive over 5:48.
Nick Tausch
's missed extra point was the only flaw for the Irish, who, unlike last season, completed a stellar opening drive and established their dominance early.
Game ball goes to
: Starting in place of suspended
Cierre Wood
, Riddick rushed for 107 yards and two touchdowns on 19 carries, adding two catches for 25 yards.
George Atkinson III
added 99 yards and two TDs on just nine carries.
Stat of the game
: Notre Dame outrushing Navy 293 to 149 certainly stands out, but the Midshipmen throwing for 192 might be more surprising, given the history of their ground game.
Unsung hero of the game
:
Stephon Tuitt
had a sack and, in the play of the game, returned a
Trey Miller
fumble 77 yards. No one came within sight of the 303-pound defensive end, who made it 27-0 in the second quarter.
Manti Te'o
added a fumble recovery and an interception, both of which, surprisingly enough, were firsts for the senior linebacker.
Second-guessing:
Golson will want back a second-quarter telegraphed throw to
Tyler Eifert
, which was picked off at the 4 by
Parrish Gaines
. It brought back bad red zone memories from a year ago. Still, better to get such gaffes out of the way early in a blowout.
What it means
: Notre Dame couldn't ask for much more, as it took care of business and eliminated any doubt early. Golson looked good in his debut despite the interception. The Irish absolutely dominated in the trenches, and everyone got involved: From
Dan McCarthy
(fumble recovery) to
Robby Toma
(9-yard touchdown rush). Big questions remain at cornerback, with
KeiVarae Russell
at times looking like the true freshman he is, but it will be an enjoyable flight back to the States for Notre Dame.
August, 17, 2012
8/17/12
9:00
AM ET
SOUTH BEND, Ind. -- The Shamrock Series will continue for at least the next four seasons. But that's the only absolute when it comes to the often-complicated future of Notre Dame football.
Although athletic director Jack Swarbrick said Thursday that the Irish have locations (but not opponents) nailed down for off-site home games through the 2016 season, he was noncommittal when it came to upgrades for campus home games -- namely, with FieldTurf and a Jumbotron.
[+] Enlarge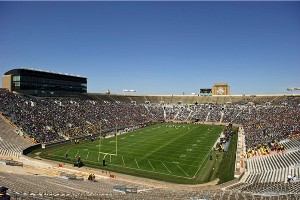 Matt Cashore/US PresswireCoach Brian Kelly has said he'd like FieldTurf installed at Notre Dame Stadium.
"I haven't made a decision," Swarbrick said regarding the playing surface of Notre Dame Stadium, which will undergo its every-five-year removal following this season. "The reasons to do it relate to the use of the stadium. We do commencement in here. We'd like to do an alumni function in here during the summer. I'd love for our team to be able to practice in here on Fridays. So you balance those things against the environment of natural turf, which feels sort of central to this place. That's not an easy balance. We haven't made it yet, but those are factors we'll think about."
Swarbrick said that he hopes Notre Dame's home atmosphere can serve as the Augusta of college football, an aura that cannot be maintained with all of the same additions that most other major college stadiums have installed.
The balance, of course, comes with creating an intense enough home-field advantage. The Irish have won no more than four games inside Notre Dame Stadium in each of the last five years and are just 17-16 in front of their home crowd since 2007.
"We still want to be the most welcoming place in the country," Swarbrick said. "We want to still be the place where, when others schools come, they say, 'That was a marvelous experience for us.' But I don't want athletic directors telling me, 'We love playing here,' which is what they say to me with some frequency."
Swarbrick also said playing a regular-season finale against Stanford in China remains a high priority, but talks have slowed there since former Cardinal athletic director Bob Bowlsby became the Big 12 commissioner in May.
As for football matters …
Coach Brian Kelly said reps among the quarterbacks will start to separate next week. He will also decide on captains next week, though he does not know whether they will be season captains or game-by-game captains.

Redshirt sophomore right tackle Tate Nichols has a patella subluxation in his left knee, an injury that has happened before and kept him out two to three weeks at the time. His status for the season opener is uncertain. With Nichols' injury and the departure of Jordan Prestwood (personal reasons), redshirt freshman Nick Martin and true freshman Ronnie Stanley are the reserve tackle options -- Kelly termed them "1a" and "1b," respectively -- behind starters Zack Martin and Christian Lombard.

Kelly said that junior linebacker Danny Spond, who left an Aug. 8 practice with an apparent head injury, had had a migraine so severe that it required hospitalization. There is no timetable for his return.

Redshirt sophomore noseguard Kona Schwenke practiced with a cast on his right hand. Kelly said Schwenke had a simple bone crack that shouldn't have any effect once the season arrives.

Sophomore running back-turned-cornerback Cam McDaniel is now "cross training" between the positions.

Redshirt sophomore tight end Alex Welch (torn right ACL) recently underwent successful surgery and faces a recovery time of four to six months.

Fifth-year safety Jamoris Slaughter sat out of practice with a bruised heel, but Kelly said it was precautionary. Redshirt freshman Matthias Farley replaced Slaughter, and Kelly said Farley is pushing fifty-year safety Dan McCarthy for the third safety spot.
June, 13, 2012
6/13/12
1:15
PM ET
Notre Dame's problem in the secondary this spring centered around its lack of numbers at cornerback. The Irish will have no such problems this fall at safety, but the news that safety
Austin Collinsworth
may miss the season is a big blow to the deep unit
.
In addition to his work on special teams, Collinsworth was turning into a valuable piece in the secondary, and he figured to see plenty of time there when Notre Dame went into its nickel formations. Starter
Jamoris Slaughter
is as versatile a player as the Irish defense has, and the team even tried Slaughter at corner a bit this spring to help that green unit, which would have allowed for even more playing time for Collinsworth.
That scenario is likely out of the picture now with Collinsworth probably out for 2012. (And with the rising junior having yet to take a redshirt season, it is likely the Irish would not rush his return near the end of the season and burn another year of eligibility.)
Zeke Motta
, the starter alongside Slaughter, is more than capable. And, as mentioned above, the unit is awfully deep, though inexperienced.
Bringing back
Dan McCarthy
for a fifth year has proved to be a great move in hindsight, as he and former walk-on
Chris Salvi
look like the best bets to move into Collinsworth's role. In addition, the Irish return
Eilar Hardy
and likely welcome back Chris Badger from his Mormon mission. And, of course, their 2012 recruiting class is loaded at the position, with Nick Baratti, C.J. Prosise, Elijah Shumate and John Turner expected to arrive this weekend.
Numbers are not an issue at safety for the Irish. But experience is, and playing time is now up for grabs with Collinsworth sidelined.
June, 1, 2012
6/01/12
5:00
PM ET
Add
Deion Walker
and
Hafis Williams
to the list of former Notre Dame players extending their college playing careers.
The duo will re-unite with former Irish offensive coordinator Charley Molnar at Massachusetts,
BlueandGold.com's Wes Morgan reports
.
Walker entered Notre Dame from Christchurch (Va.) High School in 2008 as ESPN's No. 18 wide receiver and the 103rd overall player from his recruiting class. The 6-foot-3, 206-pounder appeared in just seven career games for the Irish, making one catch for 15 yards in 2009.
"It's really exciting just getting the opportunity to make something of myself," Walker said. "I had such high hopes coming out of high school, and not being able to execute on those plans was kind of a setback.

"It goes like that sometimes. You can't win them all. But big picture, I graduated, I had a blast over the last four years and hopefully I can go on to make something of myself in the realm of football. Looking back, it was definitely tough, but I can't be that mad about it."
Williams landed in South Bend, Ind., from Elizabeth (N.J.) High School as ESPN's No. 19 defensive tackle in the Class of 2008. The 6-foot-1, 295-pound nose guard notched 19 total tackles and two tackles for loss in 24 career games at Notre Dame.
Here is a list of Notre Dame's fifth-year players who will be playing elsewhere in 2012:
Nose guard
Sean Cwynar
and
offensive lineman
Lane Clelland
have told the Chicago Tribune and South Bend Tribune, respectively, that they will not pursue fifth years of football. I do not know of
David Posluszny
's plans. The other six fifth-years —
Braxston Cave
,
Mike Golic Jr.
,
John Goodman
,
Kapron Lewis-Moore
,
Dan McCarthy
and
Jamoris Slaughter
— are back at Notre Dame for their final seasons.
May, 14, 2012
5/14/12
12:00
PM ET
Happy belated Mother's Day to all the moms out there ...
April, 16, 2012
4/16/12
12:00
PM ET
Yup, still laughing at
this
.
March, 29, 2012
3/29/12
9:00
AM ET
Our breakdown of Notre Dame's 2012 roster continues today with the defensive side of the ball.
DEFENSIVE LINE
The players:
Aaron Lynch
,
Louis Nix
,
Stephon Tuitt
,
Kapron Lewis-Moore
,
Tony Springmann
,
Chase Hounshell
, Sheldon Day,
Tyler Stockton
,
Kona Schwenke
The incoming:
Jarron Jones
,
Romeo Okwara
[+] Enlarge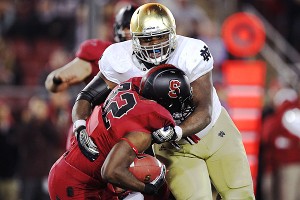 Ezra Shaw/Getty ImagesTackle Louis Nix is a key cog in what should be a strong, experienced defensive line for Notre Dame.
The breakdown:
Injuries forced all three current starters — Lynch, Nix and Tuitt — to play much more than expected last season, and none disappointed. They are all second-year players now, and their pass-rushing ability should have opposing offensive lines and quarterbacks on their heels. Lewis-Moore has been cleared for spring following a season-ending knee injury in 2011 but might not start, though he will likely see plenty of playing time as the line rotates. Hounshell (shoulder surgery) is not cleared yet, but he will likely see significant time this fall after playing as a true freshman last year as well.
LINEBACKERS
The players:
Danny Spond
,
Manti Te'o
,
Dan Fox
,
Prince Shembo
,
Kendall Moore
,
Ishaq Williams
,
Anthony Rabasa
,
Carlo Calabrese
,
Jarrett Grace
, Justin Utopo,
Connor Little
,
Ben Councell
,
Joe Schmidt
The incoming:
None
The breakdown:
As we said with
Tyler Eifert
yesterday, everyone knows what Te'o is capable of, as he likely would have been a first-round NFL draft pick had he left school following his junior year. Fox and Calabrese shared the other inside role last year, and their experience should prove valuable. Shembo has been working at the cat spot this spring, and up-and-coming talents like Williams and Spond figure to see extensive playing time.
SECONDARY
The players:
Bennett Jackson
,
Jamoris Slaughter
,
Zeke Motta
,
Lo Wood
,
Josh Atkinson
,
Austin Collinsworth
,
Dan McCarthy
,
Jalen Brown
,
Cam McDaniel
,
Eilar Hardy
,
Chris Salvi
,
Joe Romano
, Will Salvi,
Connor Cavalaris
,
Matthias Farley
,
Blake Breslau
The incoming:
Elijah Shumate
,
Nicky Baratti
,
C.J. Prosise
,
John Turner
The breakdown:
The loss of
Tee Shepard
really stings this group, which is down to four scholarship corners with a combined zero career starts. Jackson and Wood are in position to take over as the new starters, and playing time last season should help with the transition. At safety, Slaughter and Motta saw plenty of time the last two seasons, and Slaughter in particular has shown a nose for the ball and the capability of providing a leadership force that
Harrison Smith
is leaving behind. Collinsworth will likely also see plenty of snaps after playing last year.
March, 20, 2012
3/20/12
4:35
PM ET
SOUTH BEND, Ind. -- The walls of the Isban Auditorium inside Notre Dame's Guglielmino Athletic Complex are now decorated with motivational sayings and banners celebrating the Irish's past, something the program will honor this season, its 125th, with a special logo. Moments after the school official unveiled the logo, Brian Kelly took to the podium and unloaded a bag of one-liners before taking questions at his spring kickoff news conference.
"Jeff Jeffers will be able to tell you what the 25-year pin looks like; it's very similar to the 125," the head coach cracked, referring to the longtime local broadcaster.
"You can see we've made some improvements to the room -- there will be massage chairs starting tomorrow up front, so I'd get here early," Kelly added. "That's two warm-ups, how we doing now?"
Anthony Rabasa
,
Tate Nichols
(shoulder surgeries) and
Kapron Lewis-Moore
(knee) are doing well, as all three have been cleared for the spring.
Amir Carlisle
(broken ankle) will miss the spring.
Chase Hounshell
(also shoulder surgery) is ahead of schedule and will eventually be involved in some form of spring practice, though likely not at the same level as Rabasa and Nichols.
Braxston Cave
(foot) and Cam Roberson (knee) are both less than 100 percent but will be involved in some spring drills, and
Tony Springmann
(discectomy) will be limited as well.
Lewis-Moore and Cave are two of the six fifth-year players who are back for the 2012 season, joining
John Goodman
,
Mike Golic Jr.
,
Jamoris Slaughter
and
Dan McCarthy
, Kelly said Tuesday.
In other personnel moves,
Troy Niklas
has moved from outside linebacker to tight end, receiver
Matthias Farley
is now a safety and
Cam McDaniel
has moved from running back to cornerback, where the Irish were down to four scholarship players after the departure of Tee Shepard last week.
"There are specifics about Buckley and HIPAA and things of that nature that I really can't get into," Kelly said when asked about Shepard. "You know me -- I'd love to talk for 45 minutes on it, I'm just not allowed to. You know, from our standpoint we love Tee Shepard, and it's unfortunate but he's no longer with us, and we have to move on."
December, 1, 2011
12/01/11
10:30
AM ET
This week we are taking a look at each of Notre Dame's fourth-year scholarship players with eligibility remaining and examining whether he will likely return to the Irish next season. Here, we look at safety Dan McCarthy.
Before Notre Dame:
From Cardinal Mooney High School in Youngstown, Ohio, McCarthy entered Notre Dame as ESPNU's No. 24 safety and was named Gatorade Player of the Year for Ohio. He joined older brother Kyle, who was a 2009 captain for the Irish and currently plays for the Denver Broncos.
At Notre Dame:
The 6-foot-2, 205-pound McCarthy has appeared in 23 games the past three seasons, playing at safety and on special teams. He has totaled 15 tackles and one forced fumble for his career, which has been hampered by injuries.
What's next?:
For now, McCarthy will back up captain Harrison Smith as the Irish prepare for their bowl game.
The verdict:
Going. Much like Clelland, McCarthy never caught much of a break on the field, suffering a neck injury in a high school game his senior year and dealing with a hamstring injury early last season before later undergoing shoulder surgery.
Previous players:
Braxston Cave
Lane Clelland
Dayne Crist
Sean Cwynar
Mike Golic Jr.
John Goodman
Kapron Lewis-Moore
Irish Flips Top TE Jones, Back In Top 10