Notre Dame Football:

Dan Radakovich
May, 21, 2014
May 21
9:00
AM ET
Scheduling talk has consumed all of college football over the last month. But for all the chatter, there are no answers when it comes to getting scheduling right.
[+] Enlarge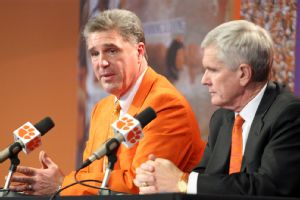 AP Photo/Anderson Independent-Mail, Mark CrammerAs Clemson's AD and a member of the playoff committee, Dan Radakovich (left) will get a first-hand look at how important scheduling becomes.
Eight conference games vs. nine conference games. One power-five opponent or more? Everything remains a guessing game until the College Football Playoff era begins because
nobody truly knows
how the playoff committee will evaluate strength of schedule.
Clemson athletic director Dan Radakovich, one of 13 members on the committee, said plainly, "It's going to be the totality of the schedule. Being a conference champ is one of the top priorities as is winning the games, so there's really not just one factor that is overwhelming the others. It's the body of work associated with the program."
In the
selection committee procedures
, released earlier this month, there is a brief mention about how strength of schedule will be evaluated. The committee will be given data from SportSource Analytics, which will provide stats on every FBS team, along with opponent records and opponents' opponents' records. Unlike the basketball model, which relies heavily on RPI, the committee will not use just one data point.
That means much of this is left up to interpretation. The Pac-12, for example, finished second in the ESPN Stats & Information
Conference Power rankings
to end the 2014 season. The Pac-12 plays nine conference games. The ACC, on the other hand, finished fifth in the same set of power rankings. The league decided to stick
with eight conference games
. Does this automatically mean the Pac-12 gets a built-in advantage based on playing a conference schedule that is perceived to be more difficult?
Nobody really knows until we see the committee pick four teams based on on-field results.
What we do know is three conferences have opted for nine league games. That is a big reason why the ACC will require teams to play at least one power-five opponent in nonconference per year, beginning in 2017. Notre Dame is included in that group; BYU is not.
Will that be enough?
The Pac-12 already plays a tougher conference schedule, plus most of its teams play power-five opponents. Last season, only four teams did not have at least one power-five nonconference game. Four -- including Oregon and USC -- had two.
"It's a wait and see," Miami athletic director Blake James said. "It will take some programs not making it to the final four and having the committee or someone come out and address that it was a scheduling issue that prevented them from being there. With that said, we all have to be cognizant of the fact that our schedules are going to be evaluated and you want to be one of the four teams. The challenge there is no one knows who is going to be the dominant program three, five, 10 years out, which is how we're doing our schedules. You can schedule an elite program right now and by the time you play them, they might not be an elite program and vice versa. It's a real challenge and it will be interesting to see how it plays out."
You saw examples of that throughout college football last year. Oregon had Virginia and Tennessee, power-five opponents, yes, but both teams finished with losing records. Ohio State scheduled Cal when the Bears were good, not knowing they would have a 1-11 season when the teams ended up playing. Perhaps more scheduling contracts will be broken in the playoff era, as teams jockey to get current elite teams on the slate.
[+] Enlarge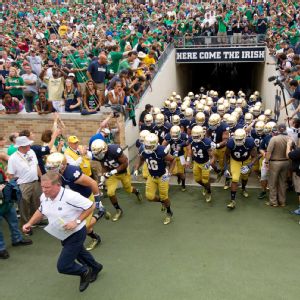 Matt Cashore/USA TODAY SportsACC teams get the opportunity to boost their schedules with Notre Dame.
ACC athletic directors also have the challenge of having Notre Dame on the schedule once every three years. League ADs already know when they will play Notre Dame several years down the road. So in years they play the Irish, do they add a second power-five team or take the brakes off so the schedule does not become too challenging?
"In Blacksburg, if we have Michigan and Notre Dame on the schedule, I think our fans would be fine with that," Virginia Tech athletic director Whit Babcock said.
Elite games like that are hard to find, because both parties have to be willing to play one another. That could make more scheduling challenges for everyone, especially since the Pac-12, Big 12 and Big Ten will have fewer nonconference spots open because they play more league games.
"The cost of guarantees continues to rise, too," James said. "You have three of the five conferences that are playing nine games so right away there are fewer games needed and geographically you want to try to stay within your area and schedule games that make sense for your fan base and alumni base. When you put all those things together it makes scheduling already challenging and I do think it will be more challenging in the future."
Given all the challenges and the uncertainty about strength of schedule during playoff evaluation time, ACC athletic directors left open the possibility that they could change their minds on scheduling. Like James said, it's wait-and-see.
"As we get through the first cycle of this new football playoff, I think it will be telling for us as to whether or not this decision is the right decision or whether we need to do something else," Florida State athletic director Stan Wilcox said. "I think we felt comfortable knowing we're not the lone conference out there, that we're comfortable being at eight."
March, 4, 2014
Mar 4
12:31
PM ET
Detroit Lions special teams coach John Bonamego is the latest name to be added to Notre Dame's annual coaches' clinic, scheduled for March 20-22.

Bonamego joins Jacksonville Jaguars head coach Gus Bradley, along with recently retired college and NFL coaches Dante Scarnecchia and Dan Radakovich.
Bonamego, a 26-year coaching veteran, just completed his 16th season in the NFL devoted to coaching special teams. He has worked for the Jaguars, Saints, Dolphins and Packers as well, in addition to working 11 years on the college level.
More information on the coaches clinic can be found
here
.
February, 20, 2014
Feb 20
5:30
PM ET
Dante Scarnecchia and Dan Radakovich are the latest coaches to be added to Notre Dame's annual coaches clinic, joining Jacksonville Jaguars head coach Gus Bradley as headliners for the spring event.

This year's coaches clinic will take place March 20-22.
Scarnecchia recently retired after a 44-year coaching career that included 32 seasons in the NFL, 30 of which were spent with the New England Patriots. Radakovich retired in 2008 after a 48-year career spent at numerous college and pro stops.
Last year's event drew names likes the Patriots' Bill Belichick, the Bears' Marc Trestman, the Bengals' Marvin Lewis and former Nevada coach Chris Ault.
More information is available
here
.
Official Visit: Imminent ESPN 300 Decisions