Notre Dame Football:

Daniel Smith
October, 16, 2013
10/16/13
9:00
AM ET
SOUTH BEND, Ind. --
Sheldon Day
is scheduled to speak with reporters Wednesday, as sure a sign as any that he will actually play Saturday after missing the majority of Notre Dame's last three games because of an ankle sprain.
[+] Enlarge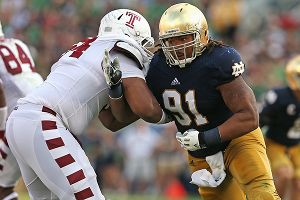 Jonathan Daniel/Getty ImagesNotre Dame is expecting sophomore defensive end Sheldon Day back after he missed the better part of the last three games due to injury.
Brian Kelly said that Day practiced Monday and is expected to play against USC this weekend, though the head coach had sounded pretty confident publicly about Day's condition going into each of the last three games. Day missed the Michigan State and Oklahoma games and was very limited in the Arizona State contest two weeks ago.
Versatile lineman
Kona Schwenke
had started opposite
Stephon Tuitt
in Day's absence.
"He doesn't stay blocked," Kelly said of Day. "One of the things that makes a defensive lineman a great player is he gets off blocks. Sheldon gets off blocks and is a great pass rusher. He's a guy that early in the season was a great pass rusher and wasn't staying blocked. He'll figure into our game plan on Saturday."
Kelly also said that, among players already ruled out for the season,
Chase Hounshell
(shoulder surgery) is the closest to returning to full strength, with the end possibly getting to put pads on within the next 10-14 days.
Doug Randolph
and
Nicky Baratti
(both shoulder) are in a light rehab process, while
Tony Springmann
(ACL tear) suffered an infection after surgery but is recovering well.
Kelly said that
Torii Hunter Jr
. probably would have been playing this year had he not suffered a broken left femur in during U.S. Army All-American bowl workouts, while
Daniel Smith
(ankle) and
Jarrett Grace
(leg) had successful surgeries following their injuries two weeks ago in Arlington, Texas.
Among those contributing this season, Kelly said that
Tarean Folston
has recovered from a hamstring injury suffered on his career-long 36-yard run in the Sept. 28 loss to Oklahoma.
"He looked better when we got a chance to run him out, and we expect him to be part of the mix for us," Kelly said. "That was the Oklahoma game moving forward. He just didn't feel like he could cut it loose. We had a play -- I think it was a series or two later -- where he was coming out of the backfield, and Tommy (Rees) overthrew him. He really couldn't cut it loose on a mesh route, and that's when we pulled him out of the game. He's a lot better. I think he's 100 percent. He feels a lot better, and he looked really good in practice yesterday."
October, 6, 2013
10/06/13
10:00
AM ET
Here is what we learned about Notre Dame after its 37-34 win over Arizona State:

1. This season is far from over
. The Irish got the win Saturday that they needed in the worst way and head into the bye week 4-2. As of now, Notre Dame will probably be favored in every game until the regular-season finale at Stanford. Its BCS hopes are fragile, but they are alive, as the Irish have something to shoot for when they return to the field in two weeks against USC.
2. Jones is having quite a season
. Many of us scratched our heads when Brian Kelly said during camp that
TJ Jones
could be a first-round pick. But it's hard to imagine where the Irish would be without the captain. Jones had eight catches for 135 yards and a touchdown. He returned a punt 27 yards. And he recovered an onside kick late to seal the win. (He was also credited with a sack after the game, though
something
tells me that may have been
Stephon Tuitt
.)
3. Loss of Grace a big blow to D
.
Jarrett Grace
was just starting to come into his own when he went down with what is likely a season-ending knee injury. The linebackers played well Saturday, but depth is increasingly becoming an issue among the front seven as the group has absorbed a number of injuries since the start of camp. Receiver
Daniel Smith
may be lost for the year with an ankle injury, too.
July, 29, 2013
7/29/13
12:00
PM ET
Yup, I spent most of my Sunday watching the top 2012 games on ESPNU. One more month ...
March, 14, 2013
3/14/13
5:30
PM ET
Our series continues with the wide receivers and tight ends.
Starters returning
:
T.J. Jones
Players returning
:
DaVaris Daniels
,
Davonte' Neal
,
Daniel Smith
,
Chris Brown
,
Justin Ferguson
,
Luke Massa
,
Troy Niklas
,
Ben Koyack
,
Alex Welch
Players departing
:
Robby Toma
,
John Goodman
,
Tyler Eifert
,
Jake Golic
Newcomers
:
James Onwualu
,
Corey Robinson
,
William Fuller
,
Torii Hunter Jr.
,
Mike Heuerman
,
Durham Smythe
,
Jacob Matuska
The breakdown
: The biggest hole will clearly be left by Eifert, who broke a number of records at Tight End U. Watching the development of the converted linebacker Niklas, along with the growth of Koyack and recovery of Welch (ACL tear), is important to keep an eye on.
Still, Notre Dame has to feel pretty good about what they return among their pass-catchers, especially in light of the Discover BCS National Championship. Jones and Daniels were two of the few who brought their A-games on Jan. 7 against Alabama, and both look like legitimate go-to options heading into 2013. Expect to see plenty of
Everett Golson
-to-Daniels connections over the next three years.
Neal is an interesting prospect considering he spent the majority of his freshman season simply waving the fair catch signal. He was ESPN's No. 8 overall prospect for a reason, and he should have the chance to show off his athleticism in the slot more now with Toma out of the picture. Brown, meanwhile, made arguably the biggest offensive play of the year for the Irish and, because of his speed, is someone defenders need to keep a close eye on whenever he takes the field.
Onwualu and Robinson enrolled in January and should have a leg up on the other newcomers when fall camp commences.
August, 6, 2012
8/06/12
9:00
AM ET
SOUTH BEND, Ind. — The LaBar Practice Complex speakers began blaring Chiddy Bang's "Mind Your Manners," and Notre Dame's fall camp was off and running Saturday. Soon enough, following the initial jogging and stretching, media members allowed in for the first portion of the first practice got to see the tempo drill, with
Everett Golson
seeing first-team action there.
Here's what the first- and second-team offense looked like in the drill. (And before we run away with Week 1 starters, let's remember that there were no pads, no defenders and 28 remaining practices before the Navy opener.)
First team: QB Everett Golson, RB/WR Theo Riddick, WR John Goodman, WR T.J. Jones, WR Robby Toma, TE Tyler Eifert, LT Zack Martin, LG Chris Watt, C Braxston Cave, RG Mike Golic Jr., RT Christian Lombard
Second team: QB Andrew Hendrix/Gunner Kiel, RB/WR George Atkinson III, WR DaVaris Daniels, WR Daniel Smith, WR Davonte' Neal, TE Alex Welch/Ben Koyack, LT Jordan Prestwood, LG Conor Hanratty, C Matt Hegarty, RG Nick Martin, RT Tate Nichols
So what do we make of Golson taking the first snap of practice No. 1?
"He had a better spring game in our evaluation, so he got the first shot," coach Brian Kelly said afterward. "Andrew had a really good practice today, so there's a chance he could be the first tomorrow. I think that's kind of where we are right now. We're so close with those guys at this point."
When asked later if what he saw of the signal callers Saturday matched up with what he had heard about their progress from the summer, Kelly said: "I was pleased with all of them, and I was pleased with
Tommy Rees
. He was out there coaching all the quarterbacks and it just reaffirms the kind of kid he is to me."
Also worth noting was the absence of
Cierre Wood
, who dressed but did not participate. Kelly said there was some medical paperwork that Wood had not taken care of, but he is physically fine.
On a sour note, the football career of offensive lineman
Brad Carrico
is over because of chronic foot problems. Kelly said that Notre Dame is in the final stages of getting Carrico a medical scholarship, which would not count against the team's limit of 85.
Elsewhere, the team officially
released its 2013 schedule
.
Aug. 31: Temple
Sept. 7: at Michigan
Sept. 14: at Purdue
Sept. 21: Michigan State
Sept. 28: Oklahoma
Oct. 5: Arizona State (in Arlington, Texas)
Oct. 12: Bye
Oct. 19: USC
Oct. 26: at Air Force
Nov. 2: Navy
Nov. 9: at Pitt
Nov. 16: Bye
Nov. 23: BYU
Nov. 30: at Stanford
Initial observations: The Irish have quite the home schedule, with MSU, Oklahoma and USC all coming to town. It will be tough to pick a night contest out of that trio, assuming, of course, that Notre Dame wishes to have a home night game for a third straight year. There are also two bye weeks in 2013. And as Lane Kiffin will undoubtedly point out, yes, the Trojans come to town following one, again.
April, 16, 2012
4/16/12
9:00
AM ET
SOUTH BEND, Ind. -- Notre Dame's coaches clinic Saturday made for a crowded audience inside the LaBar Practice Complex, as media members and more than 600 high school coaches were allowed to watch the Irish's 12th spring practice in its entirety.

John Goodman
,
Troy Niklas
and
Luke Massa
were the latest players to be injured. Brian Kelly said afterward that Goodman had a right ankle sprain and probably could have practiced; the Irish were just being cautious. Niklas, meanwhile, had been battling flu-like symptoms.
The prognosis is less favorable for Massa, who suffered what Kelly said was an injury to his anterior cruciate ligament that would likely require surgery.
Prince Shembo
, who had been suffering from turf toe, had surgery to insert a screw, which will likely shelve him for the next six weeks.
Dan Fox
was out once again because of the effects of a PCL injury suffered this spring.
Both
DaVaris Daniels
and
Daniel Smith
saw some time with the first-team receivers with Goodman out. The right side of the offensive line consisted of
Braxston Cave
, Mike Golic Jr. and
Christian Lombard
during tempo drills, with Golic, Nick Martin and Lombard facing off against the defense while scrimmaging. Cave does not yet know whether he will play in Saturday's spring game.
Kelly said that with the way things are playing out right now, Lombard has the inside track for the starting right tackle spot, with Golic and Martin likely battling it out for right guard.
The linemen had a little more riding on them Saturday, with the quarterbacks going live during scrimmaging. The biggest roars from the crowd, however, came during the rodeo drill and kick-coverage drill, with walk-on cornerback
Joe Romano
at the center of attention during two separate returns.
First, Romano got lit up by
Justin Utupo
, going to the sideline to recover for a few plays. Upon his return, Romano absorbed a vicious hit from
Josh Atkinson
, leaving the would-be tackler in his wake and firing up his teammates, who all gathered around him.
Following practice, Kelly clarified a comment that he made one night earlier during a speaking engagement at the Rockne Athletic Banquet in Chicago, as the rumor mill had swirled about the coach allegedly saying he was shooting for eight wins in 2012.
"No, that's not accurate," Kelly said. "What I said was that Notre Dame had not strung together three years in a row of eight wins or more, so if we win eight games next year or more, it will be the first time in 16 years [actually 19]. Thank you for getting that accurate.
"You shoot for eight wins around here, you won't be around very long. Believe me, trust me. My boss is up there, he already told me that. No 8-win seasons around here. We can build towards that, that's part of what we're doing is the building blocks of putting together a football program. We want consistency. The point of that whole statement was you need consistency, you need stability. Consistency is you can't have a 10-win season and then a three-win season, you've got to build consistency, and that's what we're all shooting for."
March, 28, 2012
3/28/12
9:00
AM ET
With Notre Dame a week into spring practice, the fifth-year players officially returning and the 2012 recruiting class finalized (we think), let's break down the Irish's complete roster, position-by-position, as it gears up for Year 3 under Brian Kelly.
We'll start with the offense today and delve into the defense tomorrow, with special teams coming Friday.
QUARTERBACK
The players:
Tommy Rees
,
Andrew Hendrix
,
Everett Golson
, Gunner Kiel
The incoming:
None
The breakdown:
Experience is the only real way to rank these guys, as Rees has 16 starts, Hendrix has played in five games, Golson has sat a year learning the offense and Kiel arrived on campus just two months ago. Nonetheless, that likely won't matter as Kelly goes to a square-one approach, opening the playbook from the beginning to allow for a fair chance for everyone. The decision -- which will likely be up in the air deep into the summer -- may prove to be Kelly's biggest so far with the Irish.
RUNNING BACK
[+] Enlarge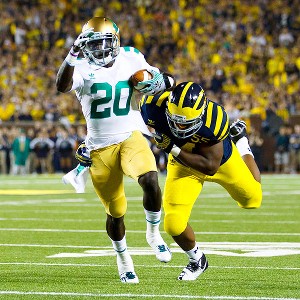 Rick Osentoski/US PresswireCierre Wood is still the clear favorite in Notre Dame's backfield, but the Irish have other running backs ready to vie for playing time.
The players:
Cierre Wood
,
Theo Riddick
,
George Atkinson
,
Amir Carlisle
, Cam Roberson,
Tyler Plantz
The Incoming:
Will Mahone, KeiVarae Russell
The breakdown:
Wood is the clear No. 1, as he was heading into last season as well. Riddick broke off a pair of huge runs toward the end of Saturday's scrimmage, and Kelly wanted both him and Atkinson to see more time back there as Wood rested with a minor quad injury. (Kelly said Wood did go in the rodeo drill earlier.) Both Riddick and Atkinson are capable of playing in the slot, and may end up seeing more time catching balls this season than taking handoffs, though Tony Alford will coach both regardless.
Carlisle, the USC transfer, is eligible to play in 2012 but out for the spring with a broken ankle. Where he fits in will be interesting, as carries may be hard to come by if Atkinson really progresses this spring in the backfield. The 5-foot-10, 185-pound Carlisle was featured on kickoffs last season with the Trojans, and there, or on the punt return team, may prove to be the fastest way on the field for him.
WIDE RECEIVER
The players:
John Goodman
,
T.J. Jones
,
Robby Toma
,
DaVaris Daniels
,
Daniel Smith
,
Luke Massa
,
Eric Lee
,
Nick Fitzpatrick
,
Ryan Liebscher
The incoming:
Justin Ferguson, Davonte Neal
The breakdown:
Goodman has talked about making the most of this last chance, and the coaching staff would not have invited him back for a fifth year had it not believed in him. Whether he can be a top target is up in the air, but he should bring some stability and leadership to a group loaded with youth. Jones has been solid through two years and Kelly has said he is on the cusp of breaking out. Toma has done everything asked of him and then some in the slot when replacing the oft-injured Riddick, and he may have the position to himself this year.
Daniels has the complete package physically, but he has yet to take a snap after redshirting last season. He was seen running with the 2s to start spring, but that could easily change with a strong showing. Smith, too, ran with 2s to open spring, but he must stay healthy first. Ferguson has the tools to compete for playing time upon arrival, but that could likely depend on how the incumbents step up in front of him. Neal is pegged as an athlete, but Kelly said there are no plans right now to play him at corner upon his arrival. He could possibly be a playmaker at receiver or on special teams.
TIGHT END
The players:
Tyler Eifert
,
Troy Niklas
,
Alex Welch
,
Ben Koyack
,
Jake Golic
,
Arturo Martinez
The incoming:
None
The breakdown:
We all know what Eifert can do, which is why he almost entered the draft this year. Niklas is the big question mark. And by big, we mean it literally. A switch from linebacker -- where he started one game last fall as a freshman -- to tight end for the 6-7, 252-pounder has many excited to see what the offense can do with a potential two tight end set. Everyone saw what the
New England Patriots
did last year with
Rob Gronkowski
and
Aaron Hernandez
.
It would be foolish to expect that much so soon -- both without
Tom Brady
as the Irish's quarterback and without Niklas having played the position since high school. How quick Niklas can master the playbook and blocking could go a long way in seeing some of these sets come to fruition. The move does leave some to wonder what this means for Welch and Koyack, but the duo is young and, according to tight ends coach Scott Booker, up for the challenge.
OFFENSIVE LINE
The players:
Zack Martin
,
Chris Watt
,
Braxston Cave
, Mike Golic,
Tate Nichols
,
Christian Lombard
,
Bruce Heggie
,
Jordan Prestwood
,
Matt Hegarty
,
Conor Hanratty
,
Nick Martin
,
Brad Carrico
,
Matt Tansey
,
Dennis Mahoney
The incoming:
Mark Harrell, Ronnie Stanley
The breakdown:
Cave will not be playing much, if at all, this spring as he recovers after injuring his foot last season. Golic, who started in his place, is the center with Cave out, but it would not be surprising to see Golic move to right guard upon Cave's return. Right now Lombard is manning the right guard spot, with Nichols at right tackle. How the second unit gets shuffled upon Cave's return to the starting unit remains to be seen, but to open spring, it consisted of Heggie, Prestwood, Hegarty, Hanratty and Martin.
March, 21, 2012
3/21/12
9:41
AM ET
SOUTH BEND, Ind. — Players and coaches emerged from the Guglielmino Athletic Complex just before 8 Wednesday morning to take to the Labar Practice Fields, officially kicking off spring ball for Notre Dame.
Media members were allowed in for the first half-hour or so, and here are some observations from the viewing:
Christian Lombard took reps with the first-team offensive line at right guard. Tate Nichols was next to him at right tackle.
Wide receivers T.J. Jones, Robby Toma and John Goodman ran with the first-team offense in tempo drills, which Tommy Rees began before Andrew Hendrix received some snaps. Everett Golson ran it with the 2s, hitting Daniel Smith several times.
Brian Kelly and Chuck Martin stayed with the quarterbacks once the team broke into position groups. Working in pairs (Rees and Hendrix, Golson and Gunner Kiel, who wore jersey No. 1), the signal callers warmed up throwing to each other, worked on footwork drills and later did rollouts together, throwing on the move.
Nothing breaking here, but former linebacker Troy Niklas, now wearing jersey No. 85, towers over the other tight ends. Ishaq Williams was wearing jersey No. 11. George Atkinson, who received several pitches out of the backfield while Golson was under center, was wearing jersey No. 4. Injured running back Amir Carlisle, wearing jersey No. 3, was on crutches.
February, 3, 2012
2/03/12
3:30
PM ET
Thanks again to those who stopped by for the weekly Notre Dame chat. The full transcript is available
here
.
A sampling:
Lucas (Indiana): With all the talk about the QB's and who might start...who is going to be the WR's that are going to step up? Is there anyone on the roster that the coaches are looking forward to see play or get more passes thrown their way? And is Theo Riddick a RB next season or WR?
Matt Fortuna (2:19 PM): Lucas, that's what makes the Greenberry loss hurt so much. Michael Floyd told the SBTribune this week he thinks Daniel Smith is a sleeper. I think TJ Jones is a very good receiver, but he's no Floyd (few are). I wouldn't be surprised if someone was moved there — be it Theo or Atkinson — with the newfound depth at RB.
Raphael (Chicago): how many players besides Floyd will get drafted this year?
Matt Fortuna (2:25 PM): Raphael, Harrison Smith definitely. Darius Fleming, Robert Blanton and Gary Gray likely will, too, though you never know when you get to those later rounds. Here's hoping a team takes a shot on Jonas Gray, too, though it's tough to gauge how recovered he will be at that time.
Andrew (Michigan): Matt you have to look at Golson's high school tape & know hes the guy to lead the Irish next year right? Theres no better athlete or arm in the group.
Matt Fortuna (2:28 PM): Andrew, you cannot make that assertion based on just high school tape. Sure, the skill set is there, but how will it measure up against elite college defenses, not HS ones? How will the kid handle all of the attention that comes with being the QB at Notre Dame? How will he bounce back from a mistake? None of this is to say Golson can't do it, and I am as anxious as anyone to see how his skills translate to the college level, but you can't say he's "the guy" based off just HS highlights.
Otto (CA): Do you got Matt Barkley throwing for 400 against ND?
Matt Fortuna (2:48 PM): Otto, ND probably won't be the only team he has a big day against, though the combination of a POTENTIAL title game spot and POTENTIAL Heisman candidacy up for grabs there could make that game interesting on many levels.
October, 18, 2011
10/18/11
12:36
PM ET
SOUTH BEND, Ind. — Brian Kelly entered his weekly news conference Tuesday with a camera crew following him.
"You guys all know the Republican debate is here today," he joked before taking the podium.
USC week is not exactly a political affair. And, despite
what Trojans coach Lane Kiffin may have said this week about the game being the Irish's Super Bowl
, a championship won't exactly be decided this Saturday, either.
Kelly understands the importance of this intersectional rivalry, but he isn't going to let it cloud his team's motive for the rest of the season:
Win out.
"We talked about that the other day. For us, we wanna get into a BCS game and we know what we have to do, and that is we gotta win each and every game we play," Kelly said. "So every game for us since going 0-2 has been that way. It's been the same focus for us. It's a huge game for us against USC, there's no question about the tradition and the rivalry. But if we beat USC and don't beat Navy, it doesn't mean much. So I think that's the perspective we take."
Notes:
Kelly said Manti Te'o (ankle), Ethan Johnson (ankle) and Daniel Smith (leg) are all cleared to play Saturday, though Johnson will not be able to go every play.
September, 18, 2011
9/18/11
3:02
PM ET
SOUTH BEND, Ind. -- Notre Dame was good enough Saturday to notch its first win of the season, but it was far from perfect.

One of those imperfections once again was in protecting the ball, as
John Goodman
fumbled a punt return deep in his own territory late in the fourth quarter. The gaffe by Goodman, in his second week as punt returner after
Theo Riddick
struggled in Week 1, might lead head coach Brian Kelly to re-evaluate the punt return position.
"Obviously we're disappointed that we put the ball on the ground again in punt returns," Kelly said during his weekly Sunday afternoon teleconference. "We'll have to talk about that later today when we have our meetings on special teams personnel. We feel like John's got great hands, he obviously turned the ball over late. We'll have to evaluate it. It's not certainly where we want to be, but it's not like we have a number of guys that we can go to, either. We felt like Theo and Goody were our two best. We may have to look at other players at this point, I really haven't decided that."
Kelly said
Robby Toma
is in the mix as one of those other players. Toma, part of the Fighting Irish's five-man receiving corp at the beginning of the season, has not made a catch through three games this season as Riddick's back-up in the slot position.
At the beginning of the season, Kelly said Riddick's breaks would come on offense, potentially opening the door for the 5-foot-9, 185-pound Toma to see more action because of Riddick's punt return duties.
Of course, Riddick's life as a punt returner lasted only a week, which might be only a week shorter than Goodman's.
"When we evaluated our punt-returners he was as sure-handed as anybody that we've had; he was last year, too," Kelly said of Goodman. "So hopefully it's just one of those things where he had a turnover and a tough time in the game and that's it. But like I said earlier, we'll continue to evaluate him because he was the best guy we had at the time."
Notes:
Lo Wood had an MRI today after aggravating his quad against Michigan State, but Kelly didn't think it was anything serious. ...
Daniel Smith
has been fighting a leg injury that forced him to not dress against MSU. ... Prince Shembo (family emergency) is expected to be back on campus today and in classes Monday. ... Reserve tight end
Alex Welch
(foot infection) is day-to-day. ... Danny Spond (hamstring) is still doubtful to play Saturday at Pitt, though he could be dressed for emergency use.
The latest from Gustin at The Opening
FBS INDEP. SCOREBOARD
Friday, 8/29
Saturday, 8/30