Notre Dame Football:

Devin Street
November, 8, 2013
11/08/13
2:00
PM ET
Does another tight contest await Saturday night when No. 23 Notre Dame and Pitt square off?


When Notre Dame has the ball
: The onus falls on the offense a little bit more this week as it tries to bail out a defense with no shortage of injuries. The expected return of
Chris Watt
at left guard will be big for a group tasked with slowing down Pitt defensive tackle
Aaron Donald
, who is arguably the best interior defensive lineman in the nation this season.
Tommy Rees
cannot afford to turn the ball over, and he and the rest of the offense will be helped a great deal if
Tarean Folston
runs on Pitt the way he did against Navy last week, as the freshman looked better than any of the other Irish backs during his breakout 140-yard day.
When Pitt has the ball
: Though Notre Dame's starting defensive line is probably at less than 100 percent health, the Panthers have been abysmal running the football this year, failing to reach even 25 rushing yards as a team in three games this season. They do, however, have a much better decision-maker under center in
Tom Savage
, who has two arguably the ACC's best receiving duo in redshirt senior
Devin Street
and freshman sensation
Tyler Boyd
. Street has struggled against the Irish in three previous matchups but is a smart, sure-handed route-runner who can make plays all over the field. Boyd was a running back in high school and Pitt is not afraid to get him the ball in several different ways to keep the defenses honest. Though nothing like the challenge of facing an option team the past two weeks, Notre Dame will have to again be cautious on the edges in defending Pitt's playmakers.
Intangible
: Notre Dame, as we know, has been dealing with a lot of injuries. So, too, has Pitt, though it expects the left side of its offensive line,
Adam Bisnowaty
and
Cory King
, to be fine Saturday night. This series has not been short on drama in recent years, and that could be the case again at Heinz Field.
Prediction
: Notre Dame 14, Pitt 10. Picture the 15-12 contest from 2011, just in a night atmosphere. And this time, both teams will have somewhat of an excuse, as it is later in the season and both are ailing. Nonetheless, the Irish survive one last test before a much-needed bye week.
November, 6, 2013
11/06/13
1:00
PM ET
SOUTH BEND, Ind. -- The package was called "Desperado," a phrase both Pittsburgh and Notre Dame fans would probably rather never hear or speak of again.
It was not discovered until the day after the Fighting Irish's triple-overtime win over the Panthers last year that cornerback
Bennett Jackson
and receiver
Chris Brown
, both No. 2 for the Irish, were on the field together when Kevin Harper's potential 33-yard game-winning field sailed wide right after a bad snap.
[+] Enlarge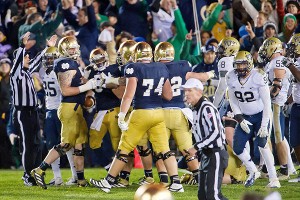 Matt Cashore/US PresswireEverett Golson's game-winning touchdown in the third overtime last season gave the Irish a heart-stopping victory over Pitt.
For the Panthers, it was an oversight that all but cost them a program-defining win for new coach Paul Chryst. For the Irish, it was a crisis averted, one of several minor miracles in a magical season.
It was another hold-your-breath moment in a series that, for one reason or another, has never lacked for drama. A primetime atmosphere awaits Saturday night at Heinz Field when the Panthers and the Irish square off. One team is fighting to clinch bowl eligibility, the other is clinging to BCS-bowl hopes and, well, here we go again.
"It happens," Pitt linebacker
Todd Thomas
said of the officials' error last season. "Two No. 2s on the field, it happens. Refs make mistakes, so everybody's not perfect. So it happens. So we just put the loss behind us and just carried on to the next week. But it happens. Everybody's not perfect."
Notre Dame has beaten Pitt by three points in each of the last two years, including a 15-12 tractor-pull of a contest in 2011 that both teams are best served to forget. The Irish are 6-3 against the Panthers since 2002, but eight of those games have been decided by eight points or fewer.
There have been seven total overtimes across two of those games -- a four-overtime Pitt win in 2008 and last year's three-overtime Notre Dame victory, its last close call on the way to the BCS title game.
"You know what, we're letting it go, it's old news," Pitt end
Bryan Murphy
said. "Whatever happened last year happened. We're not paying attention to it. We're just moving on from there. That's all last year. We were a different team, they were a different team. So we're not even concentrating on anything that happened last year."
Chryst echoed that sentiment during his Monday press conference in Pittsburgh, though tight end
J.P. Holtz
had a decidedly different tone when he
told reporters that he did not like Notre Dame, calling their coaches "really cocky."
The comments seemingly made their way back here to Irish coach Brian Kelly, who said Tuesday: "They don't seem to like Notre Dame very much, and they want to beat Notre Dame."
Though in just his fourth year at Notre Dame, Kelly is more familiar with Pitt than any other opponent in the last seven years, having faced the Panthers in each of his three seasons at Cincinnati before playing them annually so far while with the Irish.
He has also faced the Panthers' new starting quarterback, redshirt senior
Tom Savage
, who appeared in Rutgers' 2009 season-opener against the Kelly-coached Bearcats.
"A big kid, strong-armed, and obviously they like to throw the football with him," Kelly said of Savage. "He's got some talented receivers. We're going to have to prepare ourselves for a kid that likes to throw the football and has some weapons."
The best of those weapons, redshirt senior
Devin Street
, is two weeks removed from becoming Pitt's career leader in receptions. Though winless and held to 42 or fewer yards in each of his three contests against the Irish, Street has no particular distaste for the team he will face this weekend.
"We don't go in disliking anyone, but we definitely have a respect for Notre Dame and the tradition and that type of team," Street said. "But we don't hate them or anything like that. I think they're a great team."
Both teams are coming off consecutive games against option teams -- Pitt losing to Navy and Georgia Tech, Notre Dame beating Air Force and Navy.
And both will reconvene in two years, and roughly every three years after that, as part of the Irish's five-game-per-year scheduling agreement that takes effect next year with the ACC, which Pitt is finishing out its first season in.
"Everyone knows Notre Dame; Notre Dame is one of the most historic football programs in the country, and they always will be," Murphy said. "I think it's amazing to have a team like that on your schedule. That's always a primetime game for us. I think it's huge for our team going forward to always have that game because we always play great against them. It's always just an amazing game between us two, so I think it's important that we continue that matchup."
July, 19, 2013
7/19/13
9:00
AM ET
Notre Dame has topped Pitt by three points in consecutive closer-than-anticipated contests. Nov. 9 is the schools' last meeting before the Irish's ACC scheduling agreement kicks in. (They will then meet in 2015, again at Heinz Field.)
To read previous entries from this series, click
here
.

Offense: Devin Street, WR
. The second-team All-Big East receiver hauled in 73 catches for 975 yards and five touchdowns last season. The 6-foot-4, 195-pound senior had just three catches for 35 yards in last year's loss at Notre Dame and two for 21 in the 2011 contest, but Street is capable of breaking out at any time, as evidenced by his three 100-yard receiving games for the second consecutive year. The question is how quickly a new quarterback and complementary receivers will emerge around the Biletnikoff Award watch-lister.
Defense: Aaron Donald, DT
. Donald has been named to five different watch lists already, this after notching 18.5 tackles for loss, 5.5 sacks and a forced fumble in 2012. His 1.54 tackles for loss per game were a Big East-best last season, and he has been named All-Big East in each of the past two seasons (first team in 2012, second team in 2011). The 6-foot, 285-pound Donald had seven tackles and one tackle for loss in last season's loss at Notre Dame.
November, 3, 2012
11/03/12
3:18
PM ET
SOUTH BEND, Ind. — Greetings from Notre Dame Stadium, where it is surprisingly not so cold as both teams warm up.
George Atkinson III
, for those wondering, is on the field and looks ready to go, one week after not making the trip to Norman, Okla., because of the flu.
John Goodman
(back) is on the field warming up as well after missing the majority of the past three weeks.
Safety
Matthias Farley
,
according to NBC Sports' Alex Flanagan
, is wearing a cast on his right hand after injuring it last week against the Sooners. Brian Kelly said earlier this week that Farley will not be limited.
As for today's game, I'm interested to see how
Everett Golson
fares at home. He — and, frankly, the rest of the team — has not been particularly great in this building all season, and a quick start en route to an easy win could help the Irish's case from the eyeball test.
Speaking of eyeballs, it will be a lot easier to identify Pitt players today, as they have names on their jerseys. Coach Paul Chryst said they would get them if they beat Temple last week, and a 47-17 win will ease whatever confusion there may have been when looking for players on the field today.
Ray Graham
,
Devin Street
and
Lafayette Pitts
, who
were charged late this week with assault and conspiracy
, are on the field warming up as well after making the trip.
I'll be tweeting the action throughout the day, so be sure to
follow along
. We'll have postgame coverage, along with any in-game developments, up here on the blog as well, so be sure to check back as the Irish look to go to 9-0.
November, 2, 2012
11/02/12
2:30
PM ET
Devin Street
is coming off a career best 140-yard receiving day in Pitt's
47-17 rout
Saturday against Temple. The redshirt junior has team bests this season of 50 catches, 695 yards and four touchdowns.
Street brings the Panthers into Notre Dame Stadium on Saturday with the chance to knock off the nation's No. 3 team. Here, he talks about that opportunity, along with what has been working so well lately for Pitt's offense.
Note:
Street spoke with ESPN.com on Wednesday. On Thursday, he and two other teammates were charged with simple assault and conspiracy in connection with an incident last month.
All three will play Saturday
at Notre Dame.
Saturday was a career day for you numbers-wise. What was clicking for you and how do you try to build off that this weekend?
Devin Street
: Just comfortable with the offense. Little concepts. Definitely our offensive line protecting
Tino [Sunseri]
and giving him time. We had a great scheme going into Temple and attacked some of the holes in their defense, and I think we were pretty successful in the passing game.
That's three out of four weeks now that you've had at least 100 receiving yards. Is this as good as you've felt in your career?
[+] Enlarge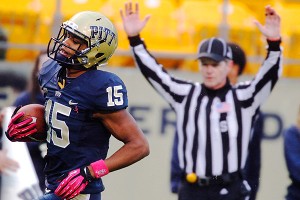 AP Photo/Keith SrakocicAn inexperienced Pitt offense will be counting on receiver Devin Street for guidance in 2013.
DS
: Yeah, I think so. I'm the most confident at this point. There's a lot of things thrown at me, different concepts, moving in the slot and everything like that. But the coaches are calling upon me and I just know in my mind I have to respond. But yeah, I'd say I definitely feel really comfortable right now.
When Tino Sunseri is playing the way he is, how much easier is it for you and everyone else?
DS
: I think it is easier for everyone else. I think Tino's more confident in me, but he's also confident in the offense, which allows us to click. And he has targets to throw to, especially with
Mike Shanahan
, too, throwing to
Ray [Graham]
out of the backfield. I just think we're all really comfortable with the new system, and I think it's coming together.
Is that as good as the offense has performed? What's the next step this week?
DS
: I think we definitely did some things well against Temple, but going back and watching the film I feel like we can improve on some things. I think we definitely are doing that this week, too, moving guys around to help, putting Mike at different spots and doing all different types of things. I think we can definitely do some different things, but at the same time I think we did a lot of things well against Temple.
It took longer than I imagine most fans and people outside the program probably wanted or imagined it would, but you guys are starting to click under a new coach right now. What has Paul Chryst done that has helped you guys ease into the flow and made the transition smooth?
DS
: Just with any coach I think it's different coming in with a new concept. And going out there and playing it and seeing it during the game is going be hard to adjust. Things are coming along, coach Chryst has put an emphasis on the little things and concepts -- we just keep going over and going over. Concepts that we need to refine, to think, our go-tos. We don't have a bunch of plays but we have a lot of plays that we're getting good at, so I think he's just definitely harping on that.
Notre Dame's defense is one of the best country. What do you see in the secondary that makes them so effective?
DS
: I think they're great athletic-wise. I think they have a great safety in
Zeke Motta
. He's a pretty good captain back there, doesn't let anything get behind him, can definitely come up and slow the run. I feel like their corners are definitely aggressive and athletic. I know they have a young corner [
KeiVarae Russell
], and he plays tremendously, like a veteran out there. I think they definitely do some things well. They're just a great group to complement their front three, who's tremendous.
What's the balance mentally for you guys as you go into a historic venue with the chance to ruin a team's national title hopes? How do you embrace that opportunity while sticking with the game plan?
DS
: I think we had a taste of it going into Virginia Tech, so we kind of know what it's like. That was another big opportunity, ranked opponent. So I feel like we know what it's like. We're just going to go out here and prepare -- not get too high, not get too low, like we always do. Just go out against Notre Dame and give them all we got. We know we have to play assignment football and can't get outside our element and start doing anything we want. We know we have to stick to the gameplan and give it 110 percent against those guys.
November, 1, 2012
11/01/12
9:00
AM ET
Please, anything but last year's 15-12 contest.
When Notre Dame has the ball
: Don't get cute, but don't be afraid to loosen the reins a little. No,
Everett Golson
has not finished a game inside Notre Dame Stadium that he has started, but he showed Saturday that with the right game plan and productive weapons around him, he can be more than just a game manager under center. Pitt's linebacker depth has taken a beating, as the Panthers last week lost
Dan Mason
and
Manny Williams
for the season, so running the ball should be no problem for an Irish squad that has eclipsed the 200-yard mark on the ground in each of its past two games.
When Pitt has the ball
: Pitt is coming off a 47-point output against Temple. What does that mean? It means the Panthers are the seventh team this season to score 40 or more points in its game prior to facing Notre Dame. Those previous six teams? None eclipsed 17 points against the Irish. The Panthers must do everything in their power to establish some sort of threat on the ground with
Ray Graham
and
Rushel Shell
. Quarterback
Tino Sunseri
is playing the best ball of his career, and if Pitt can open things up, it has receivers in
Devin Street
and
Mike Shanahan
who are capable of making big plays. But those are big ifs.
Intangible
: The word "trap" has not been thrown around much this week, probably because a simply awful Boston College team awaits one week later. Pitt is the closest thing to a threat of ruining a perfect record before the end-of-season USC trip, and I think the Irish realize that and won't let up.
Prediction
: Notre Dame 31, Pitt 6. The Irish must leave little doubt in games such as this for the potential beauty pageant that might come at season's end.
July, 26, 2012
7/26/12
10:30
AM ET
Week 9
: Nov. 3 vs. Pitt (at Notre Dame Stadium in South Bend, Ind.)
Time/TV
: 3:30 p.m. ET, NBC
Series
: Notre Dame leads all-time, 46-20-1
2011 record
: 6-7 (4-3 Big East; tied fourth place)
Head coach
: Paul Chryst (first year)
Returning starters
: Offense: 8; defense: 4; kicker/punter: 2


Top returners
QB
Tino Sunseri
, RB
Isaac Bennett
, RB
Ray Graham
, WR
Devin Street
, OG
Chris Jacobson
, DT
Aaron Donald
, LB
Todd Thomas
, S
Andrew Taglianetti
, S
Jason Hendricks
, S
Jarred Holley
, CB
K'Waun Williams
Key losses
DE Brandon Lindsey, DT Chas Alecxih, DT
Myles Caragein
, LB Max Gruder, CB Antwuan Reed
2011 statistical leaders (*returners)
Rushing
: Ray Graham* (958 yards)
Passing
: Tino Sunseri* (2,616 yards)
Receiving
: Devin Street* (754 yards)
Tackles
: Max Gruder (116)
Sacks
: Aaron Donald* (11)
Interceptions
: Jarred Holley*, K'Waun Williams*, Chas Alecxih, Brandon Lindsey, Andrew Taglianetti*, Todd Thomas*, Jason Hendricks*, Carl Fleming (1)
Three questions for ...
Big East blogger Andrea Adelson:
With four head coaches in three years, it is safe to say that the Panthers' program has been far from stable. How will the team benefit from Paul Chryst's simplified approach in his first year at the helm?
Andrea Adelson:
I think the potential is there for this team to stabilize itself in Year 1 for one big reason: Chryst likes to run the football, and Pitt has been a very traditional running team. Blue-collar, as they say. Last year under Todd Graham was an entire departure not just from the identity of Pitt football, but from the identity of Pittsburgh itself. Pitt has some quality running backs, so I think a emphasis on the ground game is much needed for the Panthers to return to any sort of normalcy.
It seemed like Tino Sunseri took the brunt of the criticism from all corners whenever things fell flat on offense last year. What does he need to do this year to make it all go away and become an effective leader on offense?
AA:
Great question. Believe it or not, Sunseri is going into his third season as the starting quarterback despite being roundly criticized for all three seasons. I think going away from the spread hurry-up will help him. He never really got the timing down, and was sacked many times because he just wouldn't get rid of the football. Getting more of a run-heavy, play-action attack is certainly going to help him. He just has to manage the game and limit all his mistakes, something he failed to do a season ago when he had more interceptions (11) than touchdown passes (10).
The defense is undergoing a bit of a makeover, especially in the front seven. How creative will new coordinator Dave Huxtable have to get to turn this into a solid unit?
AA:
Well he has an excellent secondary, with some pretty good depth at safety. So perhaps that means he can take a few more risks up front, or feel more comfortable playing man. The front seven is a big concern, particularly the defensive line. Aaron Donald returns after getting 11 sacks a year ago, but he moves inside. Besides him, there is little in the way of experience. But I will say that Huxtable did some great things with the defensive line when he was UCF defensive coordinator. I watched him turn undersized Bruce Miller into the C-USA Defensive Player of the Year. UCF traditionally played very well against the run, so that has to be encouraging for Pitt fans. Plus, a return to the traditional 4-3 will definitely serve this team better because it lacks depth and playmakers at linebacker.
'College Football Live' Extra: Biggest Plays
FBS INDEP. SCOREBOARD
Saturday, 12/20
Monday, 12/22
Tuesday, 12/23
Wednesday, 12/24
Friday, 12/26
Saturday, 12/27
Monday, 12/29
Tuesday, 12/30
Wednesday, 12/31
Thursday, 1/1
Friday, 1/2
Saturday, 1/3
Sunday, 1/4
Monday, 1/12