Notre Dame Football:

Don Niklas
January, 6, 2014
1/06/14
9:00
AM ET
What had been expected throughout the past month finally became official on Sunday when
Stephon Tuitt
declared for the NFL draft.
The move, while not surprising, is a major blow to Notre Dame's defensive line, which also loses nose guard
Louis Nix
to the pros, where he, like Tuitt, figures to be taken in the first round.
[+] Enlarge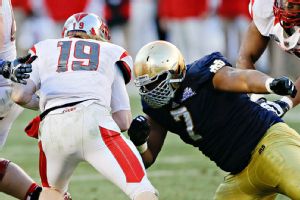 AP Photo/Frank Franklin IIStephon Tuitt led Notre Dame in sacks (7.5) and tackles for loss (9) in 2013.
Throw in the early entry of USF junior end
Aaron Lynch
, and the early parts of the draft could see three different former Irish defensive linemen hear their names called.
Tuitt became just the second player during Brian Kelly's four-year tenure to leave for the NFL before graduating, joining Minnesota Vikings tight end Kyle Rudolph. Before, Kelly's program had successfully re-recruited the likes of Nix,
Zack Martin
, Manti Te'o, Tyler Eifert and Michael Floyd.
Kelly had said that Tuitt received a second-round grade from the NFL advisory committee, though ESPN's Scouts Inc. rates Tuitt as the No. 11 overall player for the 2014 draft.
Tuitt had told the Notre Dame student newspaper, The Observer, back in October that he planned to return for his senior season, though he later said that he misspoke. He recently said that he was about a year away from graduating, and his mother had spoken strongly about the importance of his degree. But a rising stock and the departure of defensive coordinator Bob Diaco to UConn were likely too much to overcome in the end.
"I'm ready to take my game to the next level and do what what I love to do -- play football, compete and have fun," Tuitt told ESPN's Joe Schad.
Tight end
Troy Niklas
and running back
George Atkinson III
were the other two underclassmen whose paperwork Kelly had sent to the NFL advisory committee. Niklas received between a second- and a fourth-round grade, his father, Don Niklas, told ESPN.com. But Don said that the plan is for Troy to return to Notre Dame for his senior year and receive his degree.
The future of Atkinson remains less clear after he was suspended from the New Era Pinstripe Bowl for what Kelly said was a violation of team rules. Atkinson tweeted, and quickly deleted, that he was suspended for texting during a team meal. Kelly said after the game that he had not decided what effect the discipline would have on Atkinson's future with the program.
As for Tuitt, the leap to the NFL leaves the Irish thin up front, as they lose a mammoth pass-rusher who started all 13 games in a season that saw the line decimated by injuries. Tuitt battled through those himself, recovering from offseason sports hernia surgery and the added weight that came from that — in addition to an early-season back issue — to lead the team in sacks (7.5) and tackles for loss (9). He added his second career touchdown, too — picking off Michigan quarterback
Devin Gardner
in the end zone — after returning a fumble 77 yards for a score in the 2012 opener against Navy.
The 6-foot-6, 312-pounder notched 12 sacks in 2012, 1.5 off Justin Tuck's school single-season record, and he leaves Notre Dame with 21.5 career sacks, just three off Tuck's school record.
Underclassmen reserves
Isaac Rochell
and
Jarron Jones
saw extended playing time this season because of injuries in front of them, and they gained experience that will serve even more beneficial moving forward -- when they will be asked to do much more in 2014.
Tony Springmann
(ACL, infection) and
Chase Hounshell
(shoulder) meanwhile, are both currently on track to return this fall, adding depth to a unit that sorely needs it. Starting end
Sheldon Day
returns for his junior year as well and will enter the season as the marquee man up front, this after entering 2013 as the seemingly unknown commodity next to future draft picks Tuitt and Nix.
October, 29, 2013
10/29/13
9:00
AM ET
SOUTH BEND, Ind. --
Troy Niklas
had just returned from a week-long senior retreat at Servite (Calif.) High. Family and friends awaited back at the chapel to greet the teenagers. Niklas was among those who spoke upon the group's arrival, and he had his mother, father, sister and sister's boyfriend in the audience.
As he finished his speech, he looked at each in a moment of gratitude.
"Hey Mom," he said, "love ya."
"Hey Dad," he continued, "love ya."
"Hey Tara," he said to his sister, "love ya."
"Hey Shawn," he waved to Tara's boyfriend (and now-husband).
A interminable moment of silence set in, laughter filled up the room and Niklas had, again, captured a crowd with his unmistakable wit.
[+] Enlarge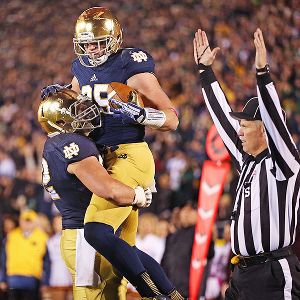 Jonathan Daniel/Getty Images)Troy Niklas enjoyed scoring a touchdown to help the Irish beat USC, his mother's alma mater.
Three years later, not much has changed for the now-6-foot-6½, 270-pound Notre Dame junior. Niklas has been among the Irish's biggest surprises this season, the latest in line at a place that has churned out pro tight ends like few others in recent years. His 20 catches for 328 yards are both third-best on the Irish, and his five touchdown grabs are one fewer than team-leader
TJ Jones
.
He has opened things up for Notre Dame on the field while keeping the vibe loose off it, be it with his attire or his one-liners, remarks that often relax the sometimes-awkward scene of dozens of reporters huddled around a player nearly twice their size, in search of any bit of information.
"He kind of gets it from his father," quipped Troy's father, Don. "I think a compassionate person is part of it, and that's a huge part of his personality, in terms of he wants people to feel comfortable. I think that is one of the driving forces behind being able to be fun-loving and communicative to a point where he wants other people to feel comfortable."
Niklas has made himself at home all over the field. His high school career featured time as an offensive guard, and he was recruited by Notre Dame as a defensive end. He started one game as a freshman for the Irish at outside linebacker and switched to the other side of the ball before last season, when he bided his time behind eventual first-round pick
Tyler Eifert
.
"All the other times Troy's just a nice guy, he's a very funny guy, he's always very popular at school and on our team," said Troy Thomas, Niklas' coach at Servite. "But once he got on the field he's just a different guy, he turned it on. He was that way at practice, and he's that way in the games. You just buckle up the chin-strap. He's still going to have fun out on that field, but he's definitely got a different mode to him."
Nicknamed "Hercules" for his physique, Niklas' motor became the source of viral attention this summer when
video of him tossing a blocking sled circulated across the internet
-- this in the days after the social-media world had become in awe of South Carolina end
Jadeveon Clowney
flipping one with the help of a teammate.
Niklas' feats of strength extend outside campus, with the Fullerton, Calif., native recently spear-heading a team effort for a service project at the South Bend Center for the Homeless, single-handedly raising nearly $3,500. As a senior at Servite, an all-boys Catholic school, he became a prior in the school's Priory program. In charge of roughly 80 kids, Niklas initiated a distribution idea, helping make about 800 goodie bags of toothpaste, toothbrushes, candy bars, first-aid items and pamphlets with religious cartoons to be handed out to homeless people students would pass by on the road.
That same year, Niklas lifted Servite to a 14-1 record and a second straight division title, a run that featured a memorable midseason touchdown off an interception from Mater Dei and future USC quarterback
Max Wittek
.
A score so memorable that, when prompted about the pick three days before this year's USC game, Niklas livened up an otherwise tight rivalry-week interview session with a much-needed infusion of dramatic color.
"I did," he said of the pick. "And ran it for a touchdown."
"In front of 30,000 fans, too," he added in an overstatement, just warming up.
"And it was on TV," he continued.
"And it was a big rival game."
"Oh, oh, oh, and by the way, we did win that game. But what do I know?"
This dalliance with the media lacked the farcical mustache he had grown out for a brief period of time a year earlier. And though fully clothed -- unlike the pre-Michigan pep rally last year, in which he ripped off his shirt and declared his love for pain -- Niklas' top did not say, "Beef: It's what's for breakfast," the phrase plastered on a shirt he wore to an interview one month earlier.
After the USC game, in which he had four catches for 58 yards and a score, Niklas emerged from the locker room in a flannel button-up, standing out among peers mostly decked in team-issued polos. He joked about having bragging rights over his mom, uncle and many other USC alums in his family.
In closing another exchange with a reporter who had a Spanish accent, Niklas caught everyone off-guard by saying, "Yo soy fiesta," a phrase popularized by New England Patriots tight end Rob Gronkowski, seemingly the life of every party.
"It comes very natural for him," Don Niklas said. "He doesn't try to be funny, it's just the way our minds work."
Freshman Quarterbacks A Growing Trend?