Notre Dame Football:

Dulcie Martin
December, 18, 2013
12/18/13
2:00
PM ET
Here is Part II of our conversation with Chuck Martin.
You had said that you were out of a job before Brian Kelly hired you at Grand Valley. What kind of influence has he been on your career?
"

Everyone knows I'm a lifelong Notre Dame fan, and that's the only place I ever really wanted to coach, so obviously it's a very difficult decision to not stay there. But for me, for my family, for my career, this was the best move to put me in a position to get to where I want to go at the end of the day.

"

New Miami (Ohio) coach Chuck Martin
CHUCK MARTIN:
Once again, we got to work with some pretty good players. That's the starting point. We're different in a lot of, lot of ways. People that know us know we're pretty different people. But we're similar in a lot of ways when it comes to football, as far as competitiveness and confidence, and then obviously he's been running a program for, not the longest tenure in college, but he's been in charge for a long, long time and just being around him on a daily basis, it's just organizationally, and I always tell people he's the best off-the-field head coach in America. There's so many things that he gets done for the players in this program to make their lives more efficient, to make their lives more enjoyable, that you're always learning those things. That kind of stuff is obviously what I'll move forward with.
Did you learn even more these last two years, just being on the offensive side of the ball with him and calling the plays and whatnot?
CM:
Yeah, I would say more big-picture stuff, too. That's always where I was looking to him, as far as how is he handing certain situations, how is he improving the whole organization, how is he getting things done for the football program, how is he getting things done for our players that gives us a better chance for success. There's only so many ways to run routes and throw, sometimes that can be a little bit overblown. This, that and the other thing. But definitely the big-picture stuff is where you get the most value.
When news of your departure from Notre Dame broke, there were a lot of positive comments from the players -- congrats and whatnot -- on the new gig. What are you going to miss most about that group that you worked with these past couple of years?
CM:
These were incredible kids. Obviously they are so much more than football players at Notre Dame. And that's why Notre Dame has so much pride in its student-athletes, because they're truly student-athletes. We watched what they'd go through on a daily grind. It's so impressive. They're awesome kids from awesome families. Whenever you leave a job, you'll miss the school, you miss the people, in particular you miss the players. And they move on and graduate, too. But those are the things that you miss the most — the interaction with the people you work with, and the interaction with the kids you coach. Everyone knows I'm a lifelong Notre Dame fan, and that's the only place I ever really wanted to coach, so obviously it's a very difficult decision to not stay there. But for me, for my family, for my career, this was the best move to put me in a position to get to where I want to go at the end of the day.
The day you took the Miami job, news broke that Everett Golson was going to be re-admitted to Notre Dame. I'm just curious about what your relationship with him has been like and what kind of impression he left on you with the way he was able to recover these last couple of months and do what he needed to do to get back on track?
CM:
Just very proud of him. He's my guy, and I enjoyed all my time with him when he was there. I even enjoyed my time with him when he was a little bit afar. I'm just proud of how he's grown over the last few years, and he's an awesome kid with an awesome heart, and just figuring his way. He's already done so many special things at Notre Dame, and I know he's going to do a bunch more special things in his last couple of years. But very proud of how he handled it, and how he really started to take a situation that certainly could be a negative and turned it into a positive. And that's what you're always looking for kids to do. Kids don't hit a home run with every decision they make, and when they make bad decisions and they improve from these decisions that's when you know they're really turning into the type of person that they're capable of being.
There are reports of some guys from there possibly playing their fifth years with you. Can you speak to that yet?
CM:
I don't know that any of them are really spending a ton of time with that now. I think they've got finals right now and then they've got a bowl game to play. And if down the road they decide that that's something they want to do, obviously if they choose to move on from Notre Dame, I would obviously be interested. But on the other hand, they're just kind of handling their business and finishing their semester and finishing their season. We'll kind of see where that takes us in the future.
December, 18, 2013
12/18/13
9:00
AM ET
Chuck Martin was hired as head coach at Miami (Ohio) on Dec. 3, and he has jumped right into his new duties as he tries to turn around a team that went 0-12. The former Notre Dame offensive coordinator has a family to move, a staff to fill out and recruits to connect with as he assumes his second head-coaching job.
ESPN.com caught up with Martin on Monday night. Here is Part I of that conversation.
What have these last two weeks been like for you? I imagine little sleep, a lot of traveling and a lot of meeting with new faces.
Chuck Martin:
Yeah, it's been crazy, and obviously there's a lot of things to get up and running, and hiring a staff, and trying to get going in recruiting, and trying to figure out the lay of the land of the place you just got hired. So yeah, it's been good, but like anytime you change jobs it's a little bit of a whirlwind. But you get going and you work as many hours as you can every day, try to get as much stuff you can get done, knowing that you'd like to get more done but it's not going to happen. So you just keep plugging away and keep grinding.
Did you find a house out there yet? How's the living situation going on with the family and everything?
[+] Enlarge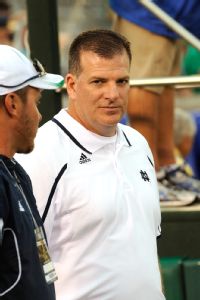 AP Photo/Joe RaymondChuck Martin has coached offensive and defensive units as part of his training to be a head coach.
CM:
We haven't gotten that far yet (laughs). I'm down here by myself, and as soon as (his wife) Dulcie can get down here we'll look for a place. We'll try to get settled as soon as possible. We'll figure that out. But we're trying to get through the last week of recruiting and then try to get a plan for over break because a lot of people can take a little time off here but we're way behind so we've got to have a plan for how we can get some work done even though we're in the dead period.
When you first got there and got to meet the players and the personnel, what was your initial impression of what you had to work with?
CM:
Well in that case, you never know -- when you don't have as much success as you'd like, there's a lot of different reasons for that. The one thing that I was very, very pleased with was that we have good kids and they like each other. We don't have like a fractured team. … There (wasn't) some big issue within the framework of your team, so that's obviously a good starting point. If you have good kids that like each other and they have some resemblance of a team going in, then it's something you can build on and start. And again, for me, we didn't get into a whole lot of what's good, what's bad, what's been done great, what's been done not-so-great. It was just kind of, we're going to put in our own systems, from offseason strength and conditioning to how we handle academic stuff, to obviously new systems on offense and defense, and then we're going to start recruiting kids to our system for the future. But in the short term we're going to try to develop the kids we have and just go full-steam ahead. So we don't spend a lot of time trying to figure out good, bad or indifferent or what we have. We just say, hey, this is our team right now and let's start developing the players and let's get better for next fall.
During your introductory press conference you mentioned Ara Parseghian. Have you two touched base since you took the job?
CM:
I have not. I was actually, it's funny, I was at Armando's (barber shop) the day I was taking off and Ara was in there the day before and had told Armando that, 'Hey, we've got to get a good coach at Miami of Ohio.' So just the fact that Ara Parseghian was talking about a job that I was getting ready to take was pretty special for me. It kind of makes you pinch yourself and makes you pretty excited. If this place is important to Ara Parseghian and I'm the one in charge of getting it turned back around, that's pretty awesome.
How have you or will you go about filling out your staff?
CM:
We got some guys on board. I think they're
releasing them (Tuesday) or (Monday night) at some time
. We've got about four or five guys hired and we're in the process of filling our last three or four spots, so we're plugging away. It's something you want to get it working but also, it's like a giant puzzle -- got to get the pieces to fit right. You want to make sure that everybody can complement one another. And some guys hopefully bring some attributes to the table that other guys don't have. So as you start to fill in and then you get to those last couple spots, you might be looking for some key things you don't have yet on the staff to try to fill those keys. But it's a fun process, you'd like it go very quickly, but also you're here for the long term and you want to get the right people to build it the right way.
Your coaching career has been anything but conventional, especially at Notre Dame, moving from safeties coach to offensive coordinator. How do you think having your feet in all of these different spots at all of these different programs is going to help you in running your own program?
CM:
Yeah. It started back when I took over for Coach (Brian) Kelly at Grand Valley. Spent 12 years on defense and only coached on defense and I moved to offense then with these days in mind. I'm only 45; I'm hoping I coach a lot longer. My plan back then, it wasn't by accident that I moved to offense. I had a plan that I was going to be a head coach, hopefully for a long time, and that to know both sides of the ball and have true experience on both sides of the ball and not just be a one-dimensional head coach would not only benefit me in running an organization, but also benefit me when I get a job where I can probably add just as much to one side as you can to the other. So obviously going to Notre Dame and having the experience of going as a defense guy and then flipping to offense halfway through, that's why I was excited about the opportunity. You keep growing and learning in college football; you never stop learning. You've got to stay up with all the new wrinkles every day. When you have the experience of bouncing back and forth like I had, you kind of take turns with what everybody's doing, and now I feel obviously that will super benefit me when I get here.
Notre Dame Uneven, Still Gets The Win