Notre Dame Football:

Florida Gators
March, 22, 2014
Mar 22
9:15
PM ET
MARIETTA, Ga. -- The Nike SPARQ combines have grown with each passing year, and on Saturday there was a record turnout. If the 1,993 prospects who attended weren't impressive enough, the performances by several top prospects who came to compete certainly left spectators turning heads.
Here is a rundown of some of the event's top performers.
ESPN Junior 300 running back Taj Griffin posted one of the top SPARQ scores of the day. Griffin checked in at 5-foot-10, 174-pounds, ran a 4.41 40-yard dash and a 4.35 shuttle, had a 46-inch vertical leap and a 36-foot power ball toss for a combined score of 124.29. On the recruiting front, Oregon, Clemson, Florida State, Ohio State and Tennessee continue to stand out the most.



2015 RB Taj Griffin @tg__7 with the highest SPARQ score of the day in Atlanta. pic.twitter.com/SaY2QZLPrE

— Gerry Hamilton (@HamiltonESPN) March 22, 2014

No. 3 junior offensive tackle Chuma Edoga posted an impressive score of 94.65. After measuring at 6-4 and weighing 276 pounds, Edoga ripped off a 5.01 40-yard dash, a terrific 4.69 shuttle and had a 33.8-inch vertical jump and 37-foot power ball throw. Following his impressive effort, he said his top four schools in order are Tennessee, Southern California, Georgia and Stanford with a decision likely on May 25, his birthday. The big news might have been that he currently prefers the Volunteers, but his mother is in the corner of the Bulldogs and Cardinal.
No. 252 prospect C.J. Sanders made the trip and did not disappoint. He checked in at 5-9 and 176 pounds, ran a 4.57 40-yard dash, had a blazing 4.09 shuttle run, leaped 36.5 inches and tossed the power ball 41 feet. On the recruiting front, USC, Notre Dame and Georgia are the latest to offer, joining Duke, Northwestern, Stanford, Tennessee, Vanderbilt, Mississippi State and Ole Miss. He visited USC last week, and lists Reggie Bush as his childhood idol. Sanders is the son of former Ohio State and NFL wide receiver Chris Sanders. His mom played basketball at Michigan. He reports his family favors Duke and USC early on with a decision slated for the summer.
Ben Cleveland is already considered one of the top offensive line prospects in the country, and the 6-7, 317-pounder showed why Saturday. He clocked a very impressive 5.22 40-yard dash and 4.87 shuttle, and had a 25.8-inch vertical leap and 41.5-foot power ball throw for a score of 99.78. He has offers from Georgia, Clemson, Florida, South Carolina and Texas with Alabama expected in the near future. He made an unofficial visit to Clemson two weeks ago.
Class of 2016 prospect
Class of 2015 running back Jaylen Burgess posted a 118.44. The 5-10, 214-pounder ran a 4.66 40-yard dash and a 4.38 shuttle, and had a 36.7-inch vertical leap and 42.5 power ball throw. He is receiving interest from Tennessee, Vanderbilt, Clemson, Duke and a number of other ACC schools. Duke and Tennessee are the coaching staffs Burgess talks to the most. He posted more than 1,500 all-purpose yards as a junior.
Class of 2016 linebacker and defensive end Charles Wiley checked in at 6-3, 203 pounds. He clocked a 4.68 40-yard dash and 4.45 shuttle, and also leaped 35 inches and threw the power ball 34.5 feet. He has an early offer from Virginia Tech.
Class of 2015 athlete Jeremiah Mercer is flying completely under the recruiting radar. While he had to sit out the 2013 season due to transfer rules, he made his mark Saturday posting a score of 97.47. The 5-11, 163-pound running back and wide receiver ripped off a 4.48 40-yard dash and 4.18 shuttle, and added a 36.2-vertical leap and 31-foot power ball toss. He is receiving interest from Vanderbilt and Mississippi State and lists Florida State as his dream school.
Class of 2016 inside linebacker Tyler Reed posted a very impressive score of 104.91. After measuring 6-2, 234 pounds, Reed ran a 4.96 40-yard dash and 4.59 shuttle, and had a 35.5-inch vertical leap and 41-foot power ball throw. He recorded 130 tackles as a sophomore.
Class of 2015 running back Eric Montgomery posted a 115.47, one of the day's top scores. The tailback checked in at 5-11, 185 pounds, ran a 4.46 40-yard dash and a 4.19 shuttle, and jumped 36 inches and threw the power ball 38 feet. On the recruiting front, Kentucky, Cincinnati, Ole Miss and Mississippi State, among others, are showing interest.
September, 10, 2013
9/10/13
11:00
AM ET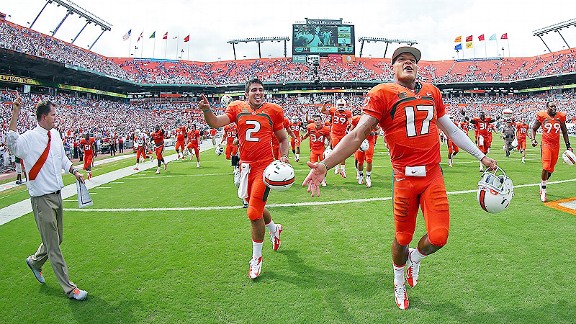 Mike Ehrmann/Getty ImagesThe Miami Hurricanes celebrated an upset win over the Florida Gators on Sept. 7.
For four months, ESPN The Magazine will follow the march to the Vizio BCS National Championship, moment by moment, culminating in our Story of the Season double-issue on Dec. 27. Every Tuesday, Mag senior writer Ryan McGee will pick the previous week's biggest moments and tell you why they'll have the most impact on potential BCS title matchups. If you disagree, send a tweet to @ESPNMag and tell us why your moment matters more, using the hashtag #StoryoftheSeason. Who knows? Your moment (and tweet) might just end up in our issue.
---
ON PAPER,
Week 2 didn't exactly appear overrun with BCS-altering showdowns. But by the time the final whistle had blown in the Pacific time zone, there were indeed dashed postseason hopes scattered among the wreckage.
If Week 1 was the Saturday that the FCS-FBS line officially blurred, then Week 2 was the Saturday that the BCS storylines officially started to take shape. Let's just call it Power Shift Saturday. And let's start in South Florida.
The previous five times the Florida Gators and Miami Hurricanes played, the winner finished the season ranked in the top 5 in the AP poll. The programs have been on-again, off-again rivals, part of a longstanding, round-robin tourney (along with Florida State) to be the kings of the Sunshine State.
Sensing that this will be the final regular-season matchup between the two teams for the foreseeable future, the oft-maligned Sun Life Stadium crowd actually showed up. Officials even uncovered extra seats, a practice normally reserved for the Orange Bowl, not Hurricanes fans who don't typically bother with the drive from Coral Gables.
With the heightened stakes, the blood was up early on both sidelines -- early as in before the game started. During warm-ups, the two teams started edging closer and the jawing became so intense that game officials had to give a polite warning. "There was so much smack talk, I can't even describe it," Miami quarterback
Stephen Morris
said after the game.
To open the game, the Gators' offense, led by
Jeff Driskel
, marched down the field on an eight-play drive, only to fumble in Miami territory. They marched again on a seven-play drive that bled into the second quarter, only to have Driskel throw a pick inside the Miami 5. And again they marched, only to have an 11-play drive stall after a failed fourth-and-1 at the Miami 16. Finally, a 12-play drive ended on a
Trey Burton
fumble in the red zone, with less than a minute to play in the half.
Still, the Gators' defense gave the offense a chance to win, eventually locking down what started as a runaway Hurricanes offense and limiting them to less than 2 yards per rush.
With seven minutes remaining in the game, Miami led 14-9, but Florida was driving (again), with a third-and-3 at the Canes' 16-yard line. Driskel took the snap from the shotgun and immediately fell into the habit that plagued him all day: His eyes betrayed him.
As soon as he had the ball, he was looking right, where two wide receivers were running quick outs. With an onrushing Miami defender in his face, Driskel rocketed a pass toward the sideline and wideout
Quinton Dunbar
, who was at the Miami 7, just beginning his turn to the quarterback.
"This is where you see Driskel get himself into trouble as a one-level thinker," an NFL scout told me on Sunday, watching film of the play on my laptop. "It's a boom-boom play; he's not supposed to take a lot of time, but damn, he never even considered another option. He already had his mind made up who the ball was going to, come hell or high water."
The play had a designed safety valve, which was Burton, running toward the sideline at the 12. Instead, Driskel fired it past Burton to Dunbar, who was cut inside by cornerback
Tracy Howard
, who essentially iced the game with an interception. The Gators did get the ball back, but turned it over (again), this time on a Driskel fumble deep in their own territory. Florida's final TD made the 21-16 result look closer than the game was.
"[Driskel] does this the whole game," the scout said, taking my laptop and scrolling back to the second quarter, when Driskel appeared to be first-option only, gunning blindly into nearly quadruple-coverage for an INT. "That play was designed to the running back on the left. If he's not there, then he's got a clear out to run. But again, he'd decided where he was going with it before the play even started. You can't be a real title contender like that. Did you see Tennessee against Western Kentucky? Ball hawks. That team might intercept this kid five times."
If the Vols do so on Sept. 21 in Gainesville, Florida -- which dropped from No. 12 to No. 18 in the AP poll -- is nearly guaranteed an opening SEC loss. During the Will Muschamp era, the Gators are 19-9. In those 19 wins, they've committed 18 turnovers, good for a plus-20 turnover margin. In the nine loses, that margin falls to minus-21.
As for the power shift, The U scored its first win against a top-15 opponent since 2009 and easily its biggest since knocking off No. 3 Virginia Tech in 2005. The Canes, which went from unranked to No. 15 in the poll after the win, reinforced the ACC media's preseason decision to vote them as the Coastal Division favorites. But more importantly, they reinforced the ACC itself. For the second straight week, the conference knocked off a highly ranked SEC foe. The coach who earned that first power-shifting win was quick to acknowledge the trend.
"How about that ACC?" Clemson's Dabo Swinney said as he wrapped up his postgame news conference Saturday after trouncing South Carolina State. "Spunky little league."
Then he threw up Miami's trademark "U" hand gesture and walked off the stage.
Of course, he doesn't have to face the Canes during the regular season, unlike Jimbo Fisher and Florida State, who do on Nov. 2.
---
Georgia, the team that Swinney and Clemson beat Aug. 31, last week knocked off the team that the Tigers hope to beat on Nov. 30: Jadeveon Clowney and South Carolina. The Dawgs' 41-30 win over the then-No. 6 Gamecocks also indicated a significant power shift. UGA snapped a maddening three-game losing streak to its SEC East rival. Yes, Georgia still managed to make the SEC title game the past two years, but the South Carolina losses always dogged its potential BCS title game status. Should Aaron Murray and company return to Atlanta this season, they still will have the Clemson loss hanging over them. But if the Tigers win out (they will certainly be favored in all of their remaining games), then they could potentially meet the Dawgs again in Pasadena. Then again, South Carolina could ruin the party for both if it beats Clemson in Columbia, something it has done in four straight seasons.
Michigan's 41-30 victory over Notre Dame signified a bit of a power shift: The Wolverines managed to beat a ranked opponent, something they did only once in five tries last season. Meanwhile, the Irish, who were ranked No. 14 last week, failed their first test of 2013 after beating an all-star list of schools during their improbable unranked-to-BCS title game run of 2012. Last season, Michigan lost to South Carolina (No. 11), Ohio State (No. 4), Alabama (No. 2) and yes, Notre Dame (No. 11). Now both teams have done something they couldn't a year ago -- one beat a ranked team, and the other lost a regular-season game.
Speaking of power shifts ... was it really just eight years ago that Texas and USC played for the national title at the Rose Bowl? In case you need to be reminded, both suffered surprising upsets Saturday. And if you're a member of either of those fan bases, safe to say you're also upset. The Longhorns fired one-time wunderkind defensive coordinator Manny Diaz after just two games, a decision accelerated by BYU's unthinkable 550-yard rushing performance. As for the Trojans' fall (at the Coliseum, no less), the closing minutes of the loss to Mike Leach's Washington State squad were played among "Fire Kiffin!" chants. USC has lost seven of its past nine games; Texas has dropped three of its past five.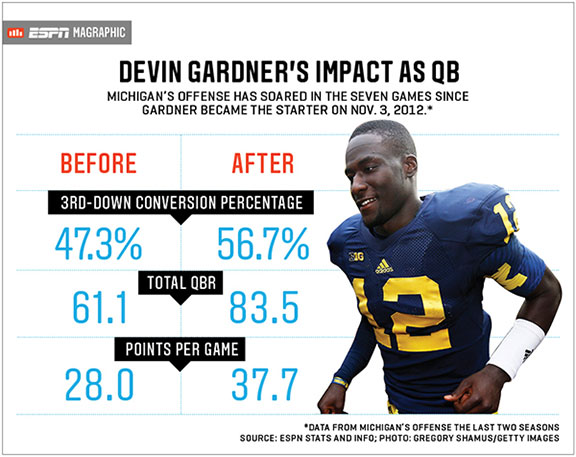 ESPN The Magazine
October, 12, 2012
10/12/12
2:38
PM ET
Is Notre Dame for real? (Skip.) Is Notre Dame for real? (Skip.) Is Notre Dame for real? (Skip.)
Yes, the college football punditry and peanut gallery can sound like a broken record. The Fighting Irish are 5-0 and ranked seventh, and almost every sign suggests legitimacy, but, well, we've been down this road before. And not only with Notre Dame. It wasn't too long ago that everyone was blowing kisses at Florida State -- the Seminoles are
finally
back -- before it became a national punch line or cautionary tale, however you wish to view a loss at NC State.
Notre Dame plays host to No. 17 Stanford on Saturday. The Cardinal might present the Irish their toughest test yet. Stanford, after all, beat USC. Whipped the once-No. 2 Trojans at the line of scrimmage, no less.
Of course, Stanford also wilted against Washington, making a Huskies defense that would get decimated by Oregon look stout.
[+] Enlarge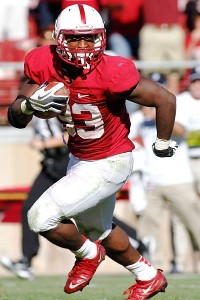 George Nkitin/AP PhotoStepfan Taylor and Stanford can perhaps clear the national title picture a bit by toppling undefeated Notre Dame.
The gist here is there is still a lot of fog over the college football season. We all say stuff, perhaps even with a feigned certainty -- Alabama is unbeatable! -- but we don't really know. The season remains rife with variables and plot twists, even with the first BCS standings being released Sunday.
There are 14 undefeated teams in the Football Bowl Subdivision (Ohio State isn't eligible for the postseason due to NCAA sanctions). Some teams mostly feel -- fairly or unfairly -- like curiosities: three in the Big East (Cincinnati, Louisville and Rutgers), Ohio, Louisiana Tech, Oregon State and Mississippi State. Others own undeniable heft: Alabama, Oregon, South Carolina, Florida, West Virginia, Kansas State and, yes, Notre Dame.
Odd that this weekend's Red River Rivalry feels so far off the radar, although both Texas and Oklahoma could play roles in winnowing the contenders and pretenders. The Sooners still have dates with Notre Dame and West Virginia, while the Longhorns conclude the season against Kansas State.
The "what ifs" are rampant. Such as: What if Alabama, Notre Dame and Oregon all finish undefeated; who then plays for the title? Or switch out Oregon with West Virginia or Kansas State. There are the multiple unbeaten quandaries, and then there are all the best of the once-beaten comparisons, such as: Can USC get back into the national title hunt?
Again, so many variables in our penultimate season yoked by the lovely BCS system. It's difficult to predict how pollsters will react. And don't even start with the computers. With strength of schedule, it's not just what your team has accomplished, but what all its foes did. And all its foes' foes. Etc., etc.
What's also interesting is that the march toward clarity isn't always linear. At any moment, a couple of upsets can put a boot print in our consensus expectations. For example, what might have happened last season if LSU had been nipped in the SEC title game?
The good news is a page will turn next week. If Kansas State and West Virginia both survive tricky road games this weekend -- the Wildcats are at Iowa State, and the Mountaineers are at Texas Tech -- they meet in Morgantown on Oct. 20, so one of the Big 12's two unbeatens will fall.
Same goes for the SEC East. If No. 3 South Carolina manages to win at No. 9 LSU on Saturday, a visit to No. 4 Florida on Oct. 20 seems like the Rubicon for the division. Only one unbeaten will remain in the division, just as only one unbeaten -- Alabama or Mississippi State -- can emerge from the West.
And, if everyone then holds serve, we could have an epic No. 1 versus No. 2 matchup in the SEC title game.
But, alas, that's getting ahead of ourselves.
We started with the notion that Stanford will provide a nice test for Notre Dame's legitimacy. The Cardinal, after all, are riding a three-game winning streak in the series.
But we know past success doesn't guarantee future results. Just look at your 401K. Or the Fighting Irish's storied history.
Is Notre Dame for real? Heck, is anyone for real?
It's probably best to turn to one of history's great college football pundits at times like this. As Socrates once noted when his preseason picks imploded, "I know one thing, that I know nothing."
Or, more charitably, at least very little.
June, 2, 2012
6/02/12
8:19
PM ET
By
Jared Shanker, ESPN RecruitingNation
| ESPN.com
ANGOLA, Ind. -- Long rumored to be a heavy Notre Dame lean, four-star outside linebacker
Jaylon Smith
(Fort Wayne, Ind./Bishop Luers) ended all speculation with a pledge to the Fighting Irish on Saturday at the inaugural R.A.S Football Camp hosted by Dallas Cowboys linebacker
Anthony Spencer
at Trine University.
The 6-foot-3, 215-pound Smith is ranked No. 46 in the ESPN 150 and is the top prospect in Indiana. He reported offers from Alabama, Florida, Illinois, Indiana, Iowa, Michigan, Michigan State, Nebraska, Oklahoma, Mississippi, Purdue, Tennessee, Texas A&M and USC.
"Every (Notre Dame) coach has the same stand character-wise," Smith said. "Other coaches tell you what you want to hear, and I saw that with my brother."
Rod Smith
, a running back, is entering his sophomore season at Ohio State.
Smith is Notre Dame's top 2013 commit, its third commit in the ESPN 150 and its 13th overall.
January, 19, 2012
1/19/12
10:15
AM ET
Notre Dame entered 2011 as the
Associated Press' preseason
No. 16 team, expectations high and a BCS-bowl berth in sight.

Things didn't go according to plan. But were the Irish the biggest disappointment of this past college football season?
Turns out they'll have to settle for No. 2 in that category.
CBSSports.com's Brett McMurphy
broke down the preseason AP poll
, using it as a measuring stick to see whom the voters were right (or close to being right) about while acknowledging those they whiffed on. McMurphy listed the 48 schools that received a vote in the preseason poll and calculated the difference from where they finished in the final poll.
The numbers showed that preseason No. 8 Texas A&M, at minus-41, was the biggest disappointment of 2011, with Notre Dame right behind the Aggies at minus-33. Ohio State (minus-31), Mississippi State (minus-29) and Florida (minus-27) rounded out the top five disappointments. Those five, plus Missouri (preseason No. 21, minus-8) and Auburn (preseason No. 23, minus-4) made up the seven schools that were not ranked in the final poll after being ranked in the preseason.
Preseason unranked Baylor (plus-36) finished as the biggest surprise.
And, in a reassuring sign for sportswriters everywhere, No. 7 Stanford, No. 14 TCU and No. 19 Georgia finished in the exact same spots as their preseason rankings.
November, 1, 2011
11/01/11
4:45
PM ET
A majority of the college football world's attention will be focused on Tuscaloosa, Ala., this weekend as No. 2 Alabama hosts No. 1 LSU in what many are calling the game of the century.

With that in mind, let's take a look back at some of the notable AP No. 1 vs. No. 2 games involving Notre Dame.

Thanks to ESPN Stats and Information for the help.

Nov. 13, 1993
No. 2 Notre Dame 31, No. 1 Florida State 24
Shawn Wooden batted down eventual Heisman Trophy winner Charlie Ward's pass in the end zone to seal the Irish's upset win. The next week, however, top-ranked Notre Dame suffers its only loss of the season, falling to No. 17 Boston College. FSU beat Florida and then Nebraska in the Orange Bowl to win its first national title. Notre Dame eventually topped Texas A&M in the Cotton Bowl to finish No. 2 in the polls despite its earlier win over the Seminoles.

Nov. 19, 1966
No. 1 Notre Dame 10, No. 2 Michigan State 10
The two led the AP rankings for six straight weeks, with Notre Dame entering this game on top. The Irish came back from a 10-0 deficit but, with the ball in its own territory with less than two minutes left, settled for a controversial tie. They finished the season No. 1. The Spartans finished second.

Nov. 9, 1946
No. 1 Army 0, No. 2 Notre Dame 0
With scalpers getting a reported $250 per ticket for the game at Yankee Stadium — no small amount 65 years ago — Johnny Lujack made a key diving tackle of Army's Doc Blanchard on a potential touchdown run, keeping the game a scoreless tie. Army, which entered with a 25-game winning streak and was a two-time defending national champion, fell to No. 2 after a close 21-18 win over Navy in its finale. Notre Dame, which entered the contest 5-0, ended the season ahead of Army, securing the national title.
Good Luck Playoff Selection Committee