Notre Dame Football:

Frank Shannon
September, 28, 2013
9/28/13
7:11
PM ET
SOUTH BEND, Ind. -- Oklahoma escaped Notre Dame Stadium with its second-ever victory over the Irish,
winning 35-21
. Here are a few quick takeaways from this contest:


It was over when:
Facing a third-and-3 from his own 46 early in the fourth quarter,
Blake Bell
hit
Sterling Shepard
for a 54-yard touchdown pass in which Shepard simply outran Irish linebacker
Jarrett Grace
. Shepard then caught the two-point conversion pass to give the Sooners a 35-21 lead.
Game ball goes to:
Oklahoma's defense gets to share this honor today. The Sooners picked off
Tommy Rees
three times and brought pressure early and often. Oklahoma was able to convert all three turnovers into touchdowns, including a 24-yard pick-six by
Corey Nelson
on the game's first drive.
Frank Shannon
's interception on the next Notre Dame offensive play helped set the Sooners up with a 14-0 lead not even three minutes into the game.
Stat of the game:
During a contest in which Notre Dame finally established its ground game and got creative on offense by sprinkling in backup quarterback
Andrew Hendrix
here and there, the easy answer is turnovers. Notre Dame gave the ball away three times; Oklahoma gave it away zero times. It is sometimes that simple, as we saw last week in an ugly offensive game that the Irish were able to pull out against Michigan State thanks in large part to forcing the game's only turnover, which they turned into a touchdown.
What it means:
At 4-0, Oklahoma has to feel good about its chances in the Big 12, especially after seeing Oklahoma State lose to West Virginia earlier Saturday. Notre Dame, meanwhile, will likely have to win out to make a BCS bowl game after falling to 3-2 on the season. The Irish's next test comes next week against Arizona State in Arlington, Texas.
September, 24, 2013
9/24/13
10:00
AM ET
NORMAN, Okla. -- Oklahoma believes its defensive front and linebackers have improved after a season full of disappointing production from both groups a year ago.
The Sooners get the chance to prove it on Saturday when they travel to South Bend, Ind., for a rematch with Notre Dame. The Fighting Irish won the battle in the trenches during their 30-13 win over OU in 2012.
"If you go to the University of Oklahoma, you have a sense of pride," defensive lineman
Chuka Ndulue
said. "Last year, what happened in the fourth quarter, they flat out beat us. It's in the back of our minds, because we're prideful players."
[+] Enlarge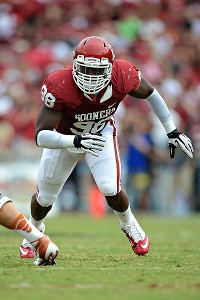 Matthew Emmons/USA TODAY SportsChuka Ndulue said last year's loss to Notre Dame has stayed with him for a couple of reasons.
After a horrible end to the 2012 season, OU's defense is off to a terrific start this season. The Sooners rank among the top 20 nationally in yards allowed (291.3), rushing yards allowed (100.67), yards per pass attempt (5.06) and third-down conversion percentage (27.3 percent). The defensive line and linebackers have looked faster, more athletic and more aggressive this season, helping OU's defense get off to a quick start.
Yet they haven't been tested like the Irish's offense can test them.
This year's Sooners defense was built with stopping Big 12 spread offenses in mind while remaining versatile enough to adapt to power running attacks if needed. Mike Stoops' vision for his defense will be put to the test by Notre Dame, which can spread defenses with multiple receivers and line up with bigger personnel to employ a power running attack.
So don't be surprised if OU debuts a four-man front for the first time in 2013. The Sooners have relied on a three-man front for the first three games, getting more speed and versatility on the field with linebacker/pass rush specialist
Eric Striker
. It makes sense for Stoops to bring Ndulue or another Sooners' defensive lineman to get bigger in those situations when Notre Dame decides to try to lean on its power running attack.
"We can get in and out of a three- or four-man front, that's not a problem for us," said Stoops, who spent the offseason talking about his desire for the Sooners' defense to become more versatile in 2013.
No matter what personnel or scheme changes the Sooners utilize, they will need better play from their defensive line and linebackers in the rematch. Better play could start with a different mindset. Asked what he learned from playing the Irish in 2012, Ndulue's answer was revealing.
"Dominate the man in front of you," Ndulue said. "You have to have the mindset that you're going to embarrass them, just be a dawg, be a D-lineman."
OU hopes to have a pack full of dawgs along its defensive front on Saturday, and defensive tackle
Jordan Phillips
could be in the spotlight. The redshirt sophomore is emerging as a quality defensive lineman and finally fulfilling the promise he showed during his first two years on campus, when teammate
Gabe Ikard
called him "the next Gerald McCoy". He has been a force in the middle of OU's defense to start the season.
"He's maturing, he knows he can be a very productive and good player," Stoops said. "Taking that next step has become more important to him. He's become a more prideful player who works harder and is becoming more consistent. You can see the light starting to go on, so we certainly hope he continues to work like he has, because he's perfect for what you're trying to do in there."
OU's linebackers entered the season with redemption on their minds after having a minimal impact on the Sooners' defense in 2012. This season, linebackers
Corey Nelson
(20) and
Frank Shannon
(19) rank 1-2 in tackles. They'll need to show their versatility and toughness against the Irish, as they'll find themselves in coverage situations on one play, then facing an offensive lineman in the running game on the next.
"I feel like they've showed that [versatility] the first three games," cornerback
Aaron Colvin
said. "Of course, this will be on a bigger stage, but I feel like they've done a great job all year, and I don't expect anything different this week."
September, 23, 2013
9/23/13
10:00
AM ET
NORMAN, Okla. -- Is Oklahoma a BCS title contender? Or a pretender?
Those questions will start to get answered on Saturday when the Sooners visit South Bend, Ind., to take on Notre Dame.
[+] Enlarge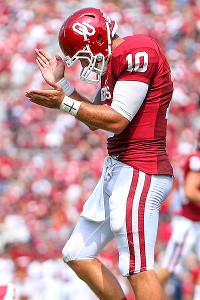 Kevin Jairaj/USA TODAY SportsIf Blake Bell can help the Sooners control tempo and execute in the red zone, OU's chance of winning at Notre Dame increases.
Turnovers, third down efficiency and sacks are obvious statistics that point to the eventual winner. But here are five overlooked stats to keep on eye on if the Sooners hope to knock off the Fighting Irish.
Rush attempts:
OU will want to establish the running game and be much more balanced than it was during its 30-13 loss to ND in Norman last season. The Sooners passed the ball 52 times and ran 24 times in that defeat.
Why it matters:
If OU's rushing attempts surpass 35, that likely means the Sooners are having success on the ground, particularly on first down. Four- or five-yard gains on first down will increase the chances of second down rushes. One- or two-yard gains will not. If the Sooners can run the ball, their odds of winning increase significantly.
Tackles for loss:
The Sooners need to play the majority of the game on Notre Dame's side of the line of scrimmage. OU had two tackles for loss against the Fighting Irish in 2012 as Notre Dame was never really taken out of its comfort level despite starting a redshirt freshman quarterback in Everett Golson.
Why it matters:
Mike Stoops' defense has been much more aggressive this season with more blitzing and a one-gap scheme along the defensive line. Those moves were made to get more penetration into opponent's backfield. If OU has five or more tackles for loss on Saturday, that's a great sign. If not, its defense could be losing the battle in the trenches.
Tackles recorded by Sooners' linebackers:
OU's leading tacklers after three games are
Corey Nelson
and
Frank Shannon
. Last season, the Sooners' leading tacklers were safeties Tony Jefferson and Javon Harris. Jefferson and cornerback
Aaron Colvin
combined for 21 tackles in OU's loss to ND last year, a sign that the defensive line and linebackers were subpar at best.
Why it matters:
Nelson and Shannon have played extremely well, along with pass rush specialist
Eric Striker
. If Nelson and Shannon are making plays sideline-to-sideline and Striker is getting pressure on ND quarterback
Tommy Rees
, the Sooners defense will have the chance to dominate the game. If OU safeties
Gabe Lynn
and
Quentin Hayes
are making the majority of the tackles, that means Nelson and Shannon aren't stepping up their game against the run or pass.
Red zone efficiency:
People often talk about how the Irish came into OU's house and dominated the Sooners in their last meeting. OU was 1 of 5 in the red zone in that loss, a negative state in a game that was tied 13-13 with just under 12 minutes left in regulation. Clearly, the Sooners weren't that far away from leaving Memorial Stadium with a win. Worse yet, they were 1 of 3 in goal-to-go situations that evening.
Why it matters:
Scoring points and capitalizing on opportunities decide games, particularly games between two quality opponents. The Sooners can't expect to win if they make consistent trips into the red zone and don't come away with points like they did in 2012.
Blake Bell
scored OU's lone touchdown last season, so the Sooners should be able to come up with ways to use Bell's skill set to make things harder on ND's defense. OU was 4 of 7 in the red zone and 3 of 4 on goal-to-go situations against Tulsa on Sept. 14 -- Bell's lone start this season -- but they'll need to be even more efficient against the Irish.
Time of possession:
There are several games where time of possession is irrelevant in this era of college football. This game will not be one of them. ND won the time of possession battle in 2012, as the Irish generally controlled the pace of the game.
Why it matters:
If OU can control the ball and maintain possession, it'll help take the crowd out of the game, potentially making things a lot easier in Bell's first collegiate road start. Obviously, if the Sooners can score five touchdowns on drives of two minutes or less to start the game, they'll take it. But the much more realistic scenario is to try to control the pace of the game by maintaining possession, much like the Irish did a year ago.
'College Football Live' Extra: Biggest Plays
FBS INDEP. SCOREBOARD
Monday, 12/29
Saturday, 12/20
Monday, 12/22
Tuesday, 12/23
Wednesday, 12/24
Friday, 12/26
Saturday, 12/27
Tuesday, 12/30
Wednesday, 12/31
Thursday, 1/1
Friday, 1/2
Saturday, 1/3
Sunday, 1/4
Monday, 1/12